In Vegas, there's winners and losers. And God knows I've been both.
By the Numbers
16K

Population of Las Vegas and environs in 1940

2M

Population of Las Vegas and environs in 2015

40M

Visitors to Vegas each year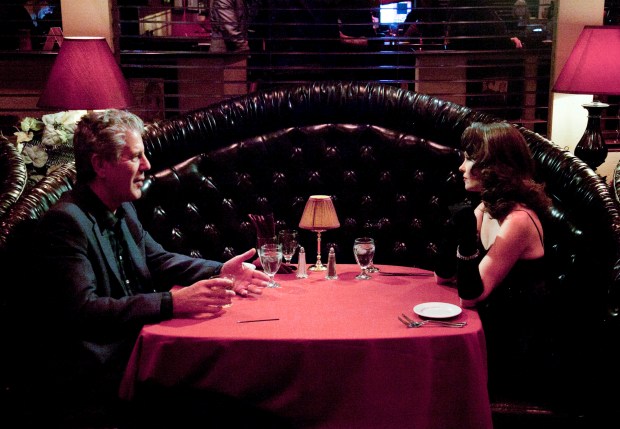 The Hunt for 'Old Vegas'
There are few places in Vegas that preserve the Rat Pack culture of cool quite like Bootlegger Bistro (see below for details), where Bourdain met up with Laura Shaffer, known in this town as the Noir Nightingale, for drinks and nostalgia.
"The Bootlegger has the reputation for being a locals joint, and it is, but there's a lot of out-of-towners, too, sentimental fools like me who, if they don't miss Sinatra, definitely miss Dino and Louis Prima and Keely Smith," Bourdain said.
But it doesn't matter if it was five years ago or 50. The town has always ended like this—an abrupt cut in the desert racks on the horizon.
Shaffer doesn't just sing here; she conjures the long-lost greats of Old Vegas, she says.
"What I do, anyway, it's part jazz, part nostalgia, but obviously I do it with a heavy dose of nostalgia because I'm recreating the whole look, not just singing the old songs, which is what makes it fun for me," she says.
Bootlegger Bistro
7700 S Las Vegas Boulevard
Las Vegas, NV
702-736-4939
Bourdain suggests: Veal parm, fettuccini Alfredo, steak, shrimps, iceberg wedge with bleu cheese.
Vegas is a town designed to make you not think, just separate you from your money in as pleasurable a way as possible.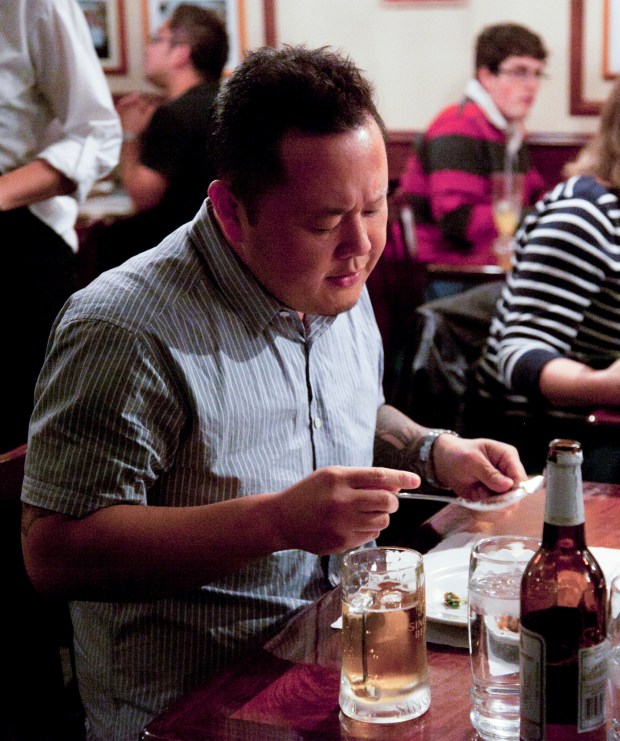 Best of Asia
Las Vegas is a U.S. Asian cuisine hub, says chef Jet Tila.
"What I love about Vegas Asian food is on one street you have the best Szechuan food, the best Cantonese food, you drive down the street and you get the best Thai food," Tila told Bourdain over Northern Thai classics at Lotus of Siam.
It's all about gambling.
"A dude with a $2 million to $10 million credit line who wins is going to go eat a $10 Chinese meal because it's the closest thing he has to home food," Tila said. "I'm going to go eat Asian food, I'm going to come back and I'm going to drop $5 million more and then go home."
Lotus of Siam
953 E Sahara Ave A5
Las Vegas, NV
702-735-3033
What Bourdain ate: Puffed crispy rice salad with preserved pork sausage, jackfruit salad, pork curry braised down with garlic and ginger.
Eats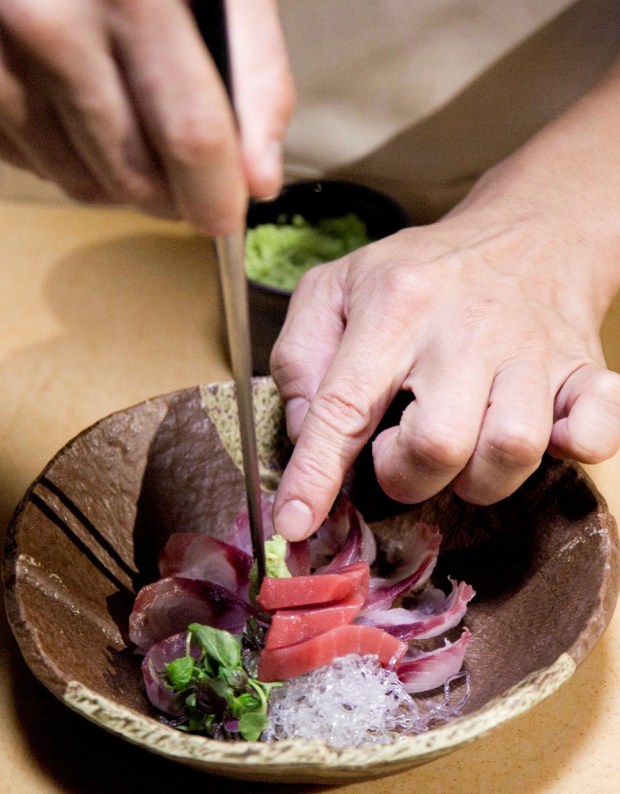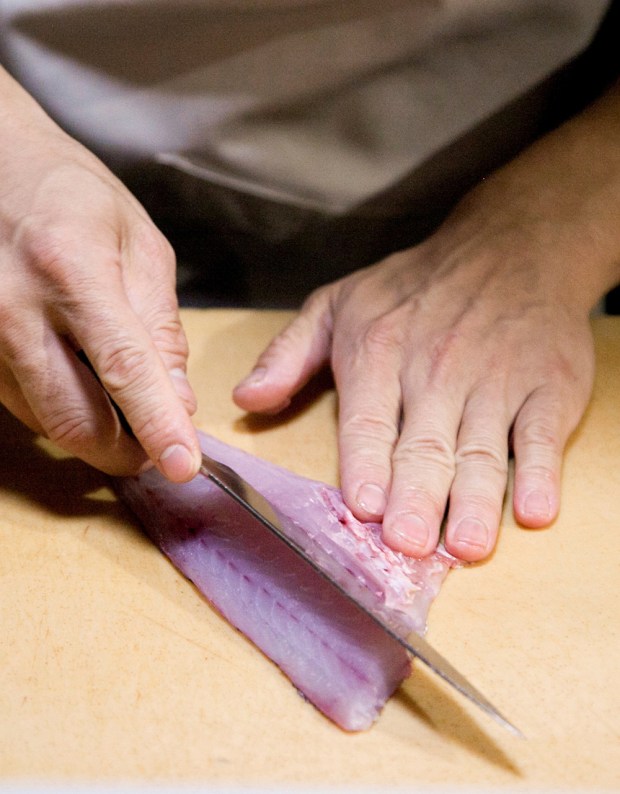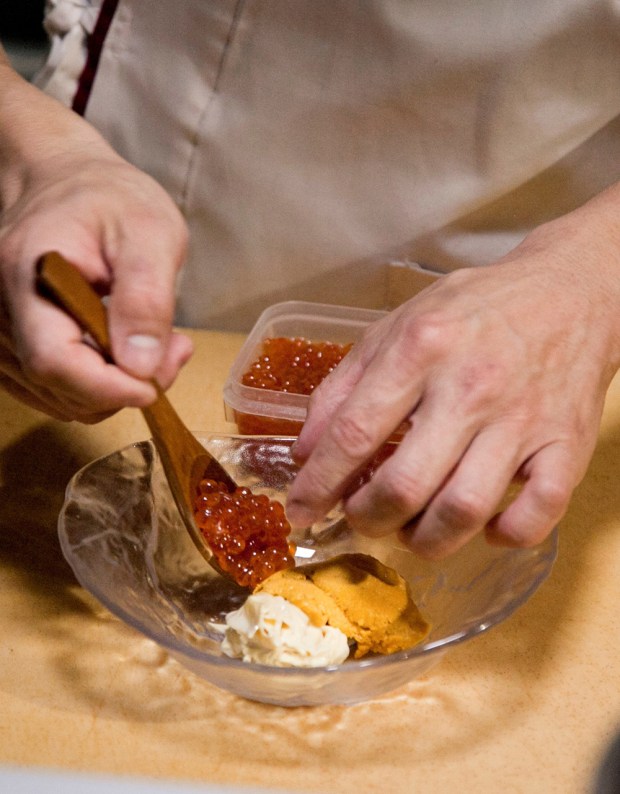 Inside the Cosmopolitan Casino
3708 S Las Vegas Boulevard
702-698-7000
What Bourdain ate: Iberico ham and bean soup with roasted garlic; nitro almond cup, a frozen shell made from a puree of Marcona almonds, filled with almond milk espuma and finished with Andalusian caviar; mussels, olives with an escabeche "air;" truffle egg, a gelee of truffles formed into an egg shape with an actual yolk suspended in the center; crispy chicken skin escabeche; salt-roasted foie gras and clementine sauce; secreto de cerdo en papillote.
1116 E Charleston Boulevard
702-384-7377
5030 West Spring Mountain Road
702-367-3511
What Bourdain ate: sea urchin, tuna, Japanese river crab, hasaki sashimi, hasaki belly, juicy deep-fried chicken, hamachi belly, and fish collar
1 South Main Street
702-386-7227
There were rules then, a way that things were done, and when they weren't done, there was always the desert and a hole in the ground.
Bird's eye view of history
Benny has been working as a croupier at Caesar's since it opened in 1966.
"I've dealt to Diana Ross, Harry Belafonte, Sinatra, Sammy Davis," he tells Bourdain.
"Sinatra was not supposed to be particularly amiable at the table," Bourdain says.
"Sinatra was class," Benny answered. "He was class. He was a gentleman. But those were the days. But it's nice now, too."
Sidekicks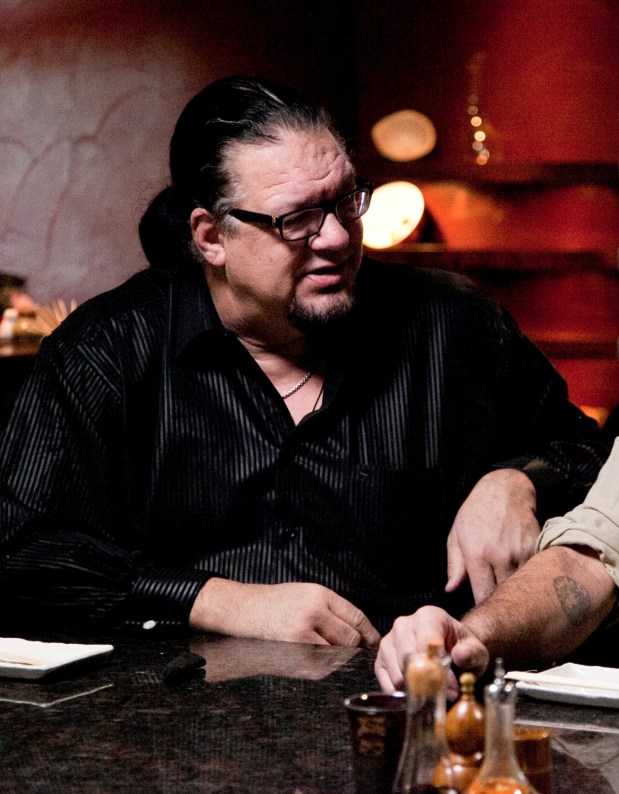 Anthony Bondi: Artist born and bred in Las Vegas.
Jet Tila: Former Vegas chef and authority on Thai food.
Laura Shaffer: The 'Noir Nightingale;' Vegas vocalist.
Penn Jillette: Magician behind hit magic act Penn and Teller.
Michael Ruhlman: Chef and author of food-related classics including "The French Lottery Cookbook" and "Soul of a Chef." Bourdain's perennial partner in crime.
Oscar Goodman: Former Vegas mayor and defense attorney for the mob.
In Vegas, nothing is permanent.