Whitechapel Road in London's East End is lined with bustling stalls selling papayas and scarves and rainbow dust mops. Men in skullcaps known as taqiyahs and women in hijab fashion dominate the walkways. The intoxicating smell of freshly-fried jalebi pastry lingers in the air, and, sometimes, Somali songs can be heard in the distance.
The street brims with life, but beyond the halal stores, traditional English bakeries, and advertisements for Jack the Ripper tours is a business that carefully orchestrates the details of what comes after. Wedged tightly between an Islamic bookshop and the city's largest mosque is England's first funeral home for Muslims, open 365 days a year—whether it's Eid, Christmas, or New Year's Eve.
In the front office of Haji Taslim Funerals, where more than 1,000 services are arranged every year, the phone does not stop ringing. For the people who bury the dead, there's never time to rest. This is especially true for Muslim funerals, where success is measured partly by speed.
The dead must be buried as soon as possible—often within 24 to 48 hours—and sometimes the process, from final breath to cemetery, takes as little as four. The city's growing Muslim population, which is heavily concentrated in East London, has almost doubled, from around 600,000 to over one million people between 2001 and 2011, according to census figures. The increase means a growing need for burial services, too.
"It is he, (Allah) Who gives life, and causes death," says the Koran, "and to Him, you (all) shall return."
Haji Taslim Funerals often facilitates this return, easing the Muslim dead into the eternal afterlife with dignity and devotion. When relatives of the deceased, brandishing green death registration papers are buzzed inside the office, the place erupts in greetings.
"Salam alaikum."—peace be unto you.
"Salam alaikum."
Prices and procedures are discussed, arrangements to cemetery grounds are made. When a death occurs, the paperwork is arranged in this narrow, busy space, filled with raspberry-tinted waiting room chairs.
The basement is where the bodies wait.
On the ground floor of the East London Mosque, right next door to the front office, they rest, separated by gender and laid on metal tables in sanitized rooms with clinical lighting. White cloth is ripped with precision by two men. The cloth divides so easily in their hands, it's like they're pulling apart a piece of Kleenex. The bodies are washed, a procedure in which families are invited to participate, covered in a shroud (men require three shrouds and women five), prayed over and then lowered, without a coffin, six feet underground where they will eternally face toward Mecca, the holiest site in the Muslim faith.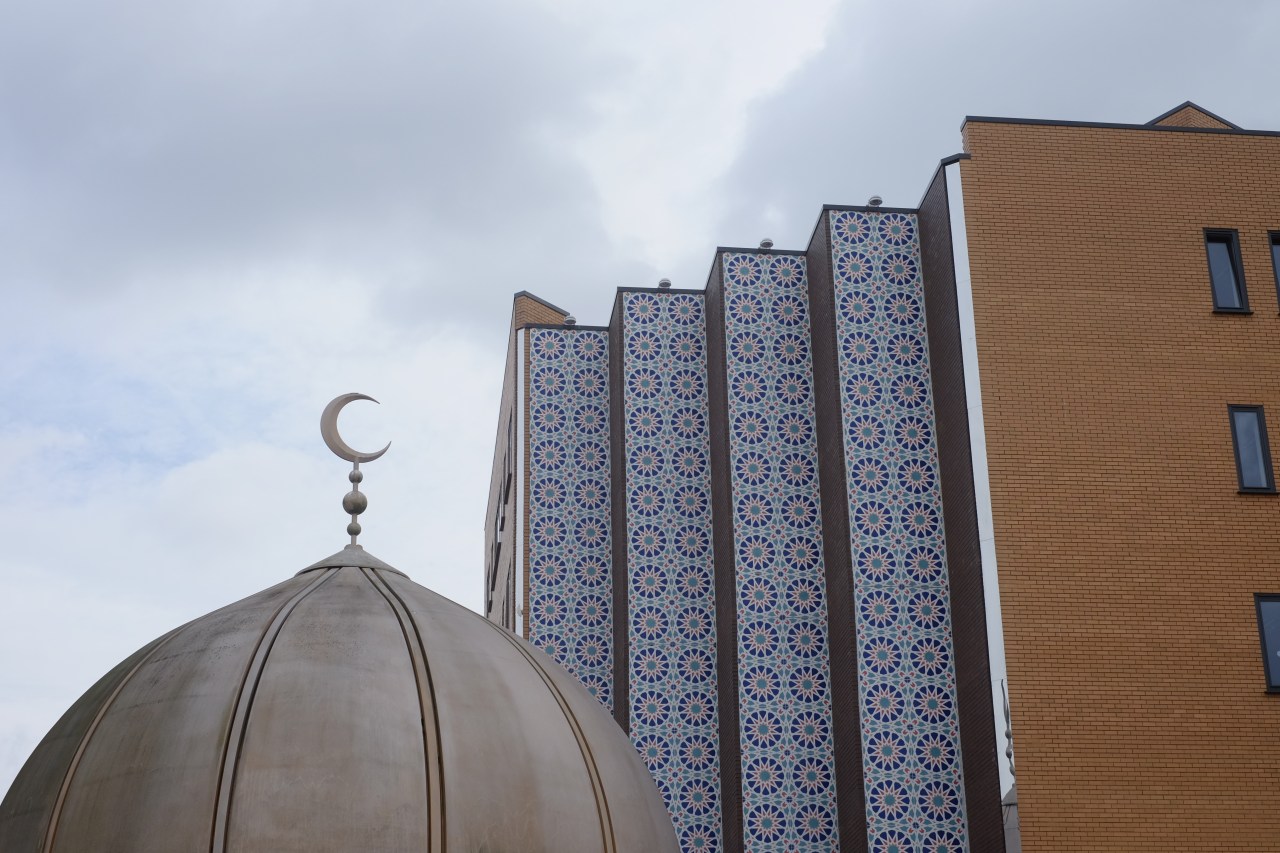 Murders, suicides, stillbirths, and expiry from old age—Haji Taslim's has seen it all, a unique window through which to observe Britain's diverse Muslim community. "We have seen paupers, we have seen Kings," says Gulam Taslim. There was Said bin Taimur, the sultan of Oman, who was exiled to the United Kingdom by his son and later died in London. There were the casualties of the 1980 Iranian Embassy siege; those killed during the 2005 London bombings; drug overdoses; AIDS victims.
"It started out as a necessity," he says of Haji Taslim Funerals, the business his father Syed Haji Taslim Ali founded. "There was no one else doing it."
Ali opened shop in 1960 when England saw its first significant wave of South Asian immigration. He and his son became Britain's first Muslim undertakers, working to meet the needs of a community adapting to life in an unfamiliar country.
"We were just a two-man band and that's how we did it," says Taslim, whose father was Bangladeshi and mother Welsh. Before getting into the funeral business, Ali was also known for setting another precedent: He opened England's first halal butcher shop in Liverpool. Years later, when the family moved to London, he once again set up shop. This time, however, he also opened a mosque in the basement. Ali's wife would help cut the meat, which customers collected after midday prayers.
At first, it was difficult for Taslim, then a young boy, to deal with the funeral business's stark reality. "I was very frightened, at first, of the dead. We've seen some horrible things," he says, his voice growing somber. But in more than four decades of daily interactions with death, he's learned to put emotions aside.
Taslim is semi-retired but comes in weekly to oversee the business, which runs at all hours thanks to the work of his daughter Habiba, her cousin Abu, and a motley crew of staff who are more family than colleagues. They crack jokes and tease one another between frenzied bouts of work. Among the crew is Jim Page, a born-and-bred Eastender and hearse driver, the only non-Muslim of the group. Page appreciates the fast pace of the job. "No lingering," he says, rushing between driving appointments.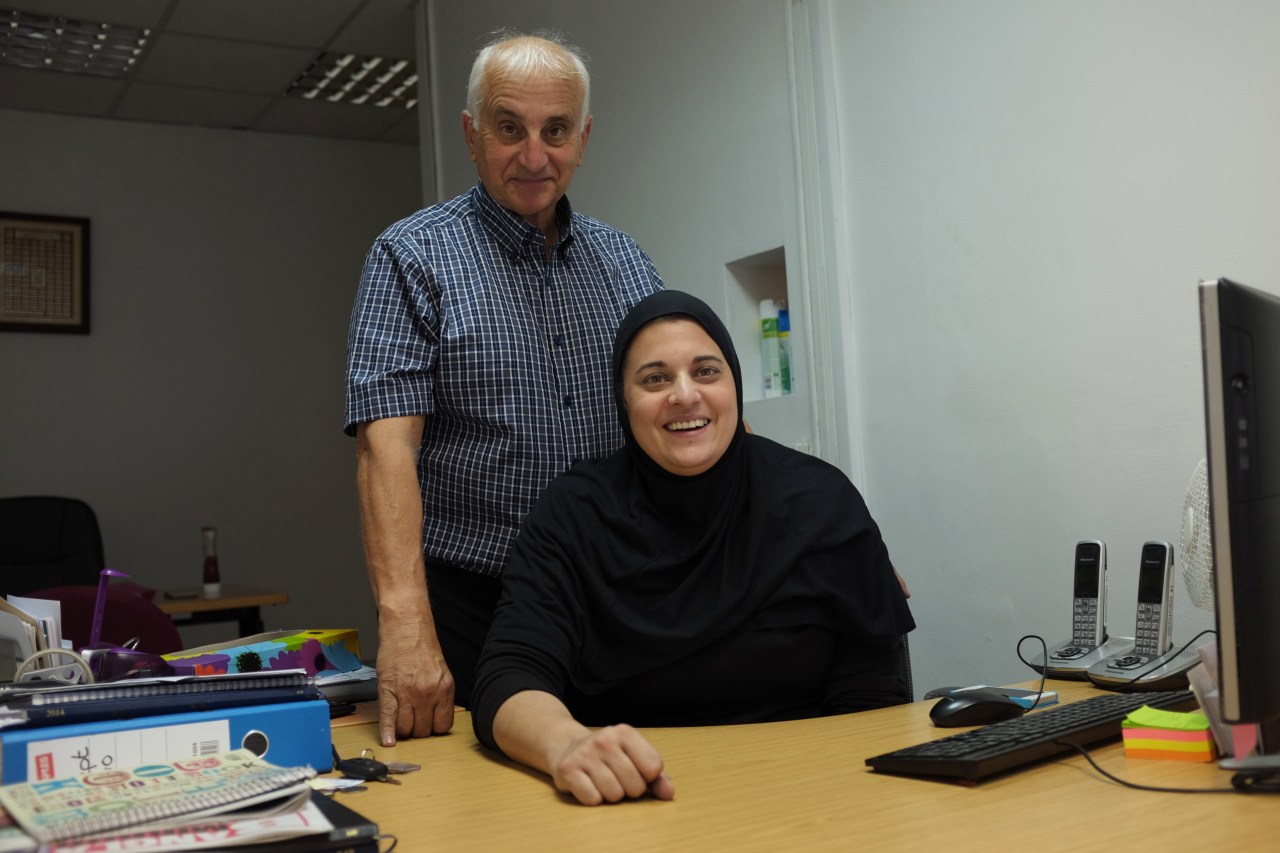 Taslim has a commanding presence, speaking eloquently and honestly, whether you're a friend or stranger. Words are not wasted; eye contact is always maintained. An automobile enthusiast and Freddie Mercury fan, he's an adventurer with the energy of a man decades younger.
"He's 66 going on 16," Habiba says. Moona, his other daughter with whom he worked for 20 years until she became a teacher last year, agrees. "He is a nutter. He's getting older, but he hasn't slowed down in any way."
Taslim scuba dives; he's driven by car and motorcycle across the U.S.; ten years ago, he rode his Goldwing motorbike thousands of miles through Iran, Afghanistan, and Bangladesh; in Kandahar, he gave his motorcycle to the Taliban, who transported it to Kabul where he flew and picked it up.
Earlier this year he was in Jerusalem; in the next few weeks, he's off on another multi-city trip to the U.S.; in 2015, he'll make his yearly pilgrimage to Bangladesh.
"Why do you do it?" I ask.
"I might not have the chance tomorrow," he says. "I might have a stroke. I might become a cripple."
He might end up back in his funeral home, this time as a customer.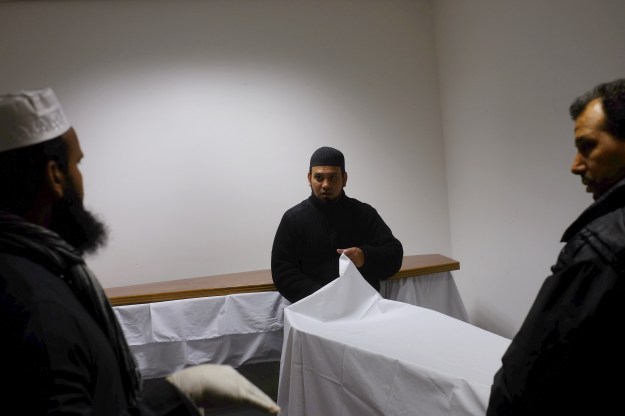 When I ask Habiba if seeing death on a daily basis has changed her, she says that she'll never go to sleep without resolving an argument. "Working in this kind of environment, you kind of appreciate every minute, every day," she says. "You haven't got time to fall out with your family."
Taslim, who used to be part of a popular Jewish youth group and now loves going to mass at Christmas because he enjoys the carols, embraces Britain's multiculturalism. "I love a person for what they are," he says. "That's the way I always viewed life."
With a diverse customer base—including people from Pakistan, Kosovo, Cyprus, Somalia, and Tunisia—the business has seen changes over the years. More Muslim immigrants are now being buried in the UK instead of having their bodies repatriated to their homeland. Haji Taslim's liberal approach means the funeral home does its best to fulfill personalized requests, whether a family is looking for a strictly orthodox funeral, or one that involves the Lord's Prayer, or a Harley Davidson motorcycle with a sidecar fitted for a coffin (a feature Taslim can provide).
"We don't judge anyone," says Habiba, who processes an electric energy. "It's not our job. That's God's job. We will take in anyone if we can help them."
The Turkish community, for example, often requests services that include limousines, flowers, and even a horse-drawn carriage, the mark of a classic Cockney funeral service.
"They want the kind of designer funeral," Taslim says. "They want it nicely done with some dignity, with some respect and some pageantry."
This liberal approach and the fact that the business has been featured in widely disseminated documentaries has led to some criticism. For example, Muslim women have chided Habiba for working with men.
"I was collecting human remains," she says, exasperated. "I wasn't kissing him, touching him, or having sexual relations with him, do you know what I mean? I haven't got time for people like that."
Jim the driver, who has worked here for 17 years, has also been called a traitor by a non-Muslim customer, an accusation he summarily dismisses. "In all walks of life you got what I call the Neanderthals," he says.
Jim often drives burials to Gardens of Peace, the only Muslim cemetery in the UK. Founded in 2002 on the outskirts of London, it's also the largest in Europe and has the capacity for 10,000 graves.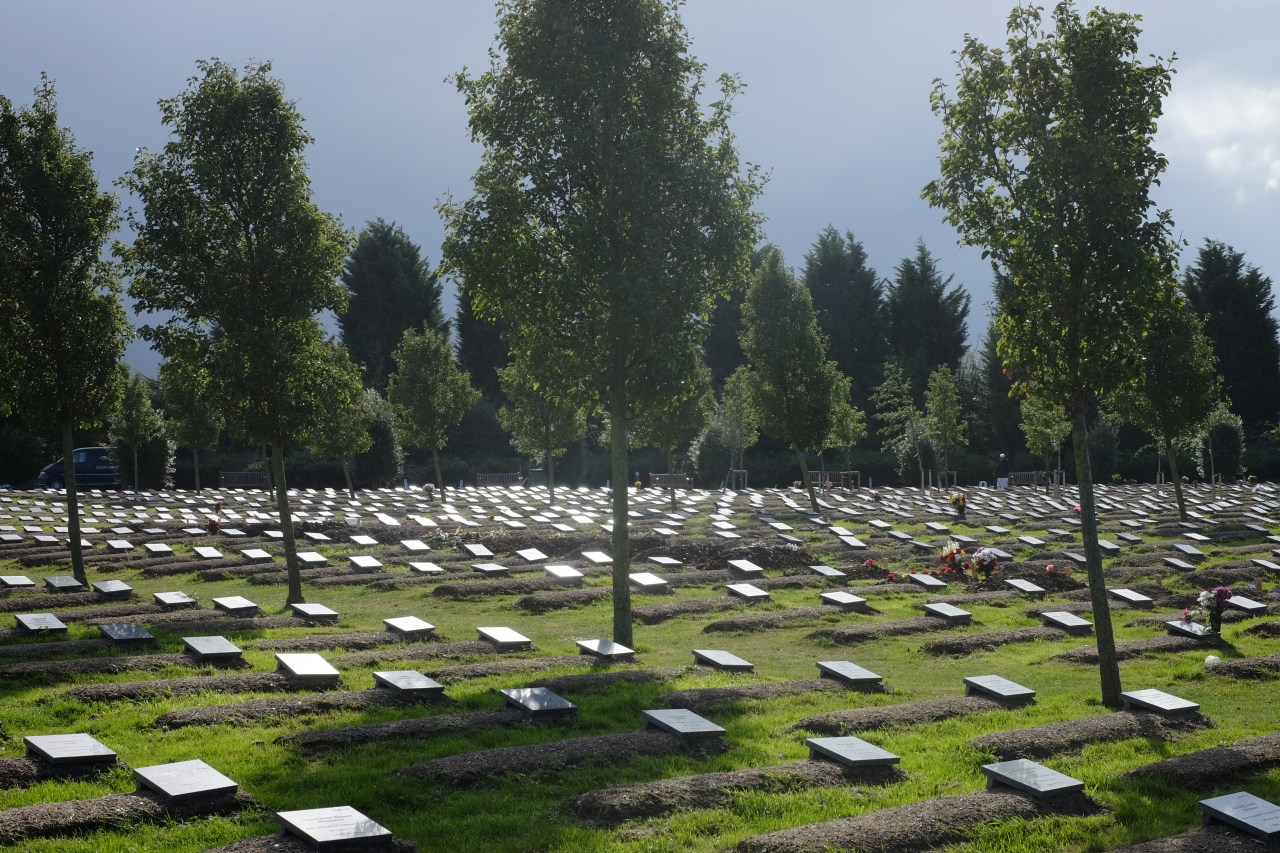 On the day I visit, Mohamed Omer, one of the six original founders of the cemetery, picks me up from the train station and gives me a detailed tour around the grounds. Gardens of Peace includes areas for miscarriages, stillbirths, children, and adults all neatly segmented off in their own individual sections. All graves, marked by a square slab of marble with the deceased's name, are identical, giving the land a beautifully solemn kind of symmetry. The cemetery includes fig trees and olive trees, body washing facilities, an Ottoman courtyard, and prayer room.
It's also run as a charity, funded directly by the community, for the community. Burials can be performed any day of the year, including public holidays, and non-Muslims are encouraged to visit. Omer sees this as a way to encourage understanding of the Muslim faith in a city where rhetoric about the community can often be charged.
"We invite people from different faiths to come and learn what Muslim burials are all about," he says. "We are not terrorists, we are not here to kill people—quite the contrary, we are a peaceful community and we respect nature."
At Gardens of Peace, coffin burials are only performed when a body is badly decomposed or there is a risk of contamination, which means 99 percent of the deceased go directly into the earth. Flowers are discouraged (donations to a favorite charity is offered as an alternative), but in another telltale sign of Britain's multiculturalism, they are seen intermittently sprinkled across the cemetery. Grieving often knows no rules or guidelines and Omer understands this well.
"Everyone must leave this cemetery with the sense of feeling that, 'At least I've left my next of kin in a place that is peaceful and I can be content that I have left the person in the right place,'" he says.
Burial space is a pertinent issue in London; some have warned space for the city's dead will run out by 2016. Gardens of Peace is particularly feeling the pressure. Omer and the other founders anticipated that the 21.5 acres they bought at auction would last them 75 to 100 years. But after just 12 years of operation, they are at 85 percent capacity and have been forced to buy more land.
As I walk with Omer through the cemetery, I realize how much Gardens of Peace lives up to its name. Surrounded by lush greenery, including dozens of varieties of trees and flowers, immaculate landscaping, and the leveling of kings and paupers by uniform mounds of dirt and ash green marble slabs, it's a place ripe for contemplation and self-reflection.
I drift back to what Gulam Taslim, the Muslim undertaker, said the first day I met him. What had he learned from a life in which death was a constant theme?
"Every day is a bonus," he said with conviction. "Every day is a bonus."
Originally published on Roads & Kingdoms on October 31, 2014.