I grew up in Boyle Heights and East Los Angeles. When I was about 14 years old, I got involved in a party crew called East Los Angeles Aztek Nation, which was part of the Latino rave scene. We met up to organize events together. We discussed who would design our flyers, who would DJ, and how the party would get promoted—all before social media, and even the internet. For many of us, it was as an alternative to gangs.
The parties took place in residential backyards and industrial warehouses throughout Los Angeles. Like in most youth subcultures, music played a key role. We listened to techno, house, and new wave. We loved DJs like Richard Humpty Vission and DJ Irene and bands like Depeche Mode, The Cure, and Rock En Espanol.
Party crews were made up of 30 people or more, and allowed young men and women like me to engage in resistant cultural practices. At a time when Latino communities in Los Angeles were often disempowered and criminalized by the public school system, party crews and raves were our way of organizing for the sake of unity.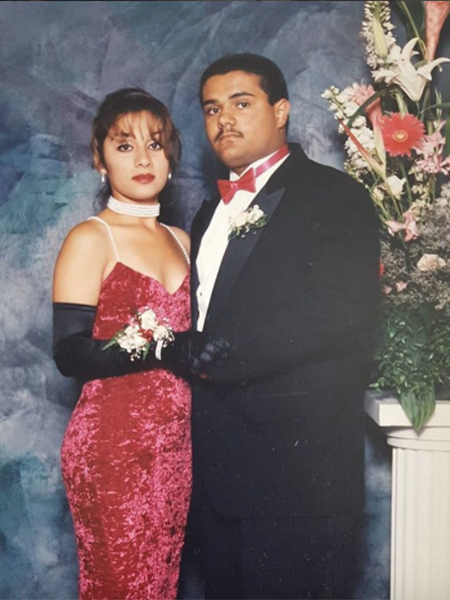 Years later, as an adult, I began researching my culture and history. I wanted to read and look at images of brown bodies on the dance floor and backyard parties, cruising the boulevard or anything that had documented the sub-cultures that existed in the midst of L.A.'s violent past. But I wasn't finding anything.
In 2015 I started the instagram feed "Veteranas and Rucas" to create a digital archive of the Chicana youth culture in southern California from the 90s and earlier. People submit their snaps of developed photos through direct message with information like the city and year, and who was in the photo. Through this platform, people from my community could represent themselves the way they want to be represented, as opposed to having outsiders survey their culture.
What inspired me to create "Veterans y Rucas" is seeing my neighborhood, Boyle Heights, change, and feeling that I needed to find a way to preserve its history. That's why I came back, and why I'm collecting stories; this project is how I am serving Boyle Heights.