One of the finest restaurants in Madagascar's capital Antananarivo lies hidden behind a wall. No sign hints at the culinary joys that await visitors inside the colonial villa that is barely visible from the dark street. You either know how to find your way to Chez Mariette, the restaurant of the infamous Malagasy chef, or you don't. After a minute of intense knocking, a young man opens the heavy gate and leads the way inside.
A decaying charm radiates from the villa. The head of a zebu, a kind of humped cattle found in Madagascar, hangs next to the entrance, eerily watching the visitors and discouraging smokers from lingering. Inside, scratched up wooden furniture and heavy red tablecloths are reminiscent of long-gone days when women wore silk gloves and men always paid the check. The dining room looks like a location in a film noir.
For tonight, it's not gangsters present but two ministers and their entourage. They wine and dine in a private room, entertained by a singing quartet that delights the posse with Malagasy ballads and the national anthem which, incidentally, was composed by Mariette's late husband.
The star herself, Mariette Andrianjaka, is standing in the back of the villa behind a simple fireplace. The 84-year-old has long suspended her actual kitchen, due to renovation, she says. There are no signs of renovation. Nowadays, she cooks with a little fireplace behind her kitchen. The room is filled with accolades and newspaper articles praising her work. "It doesn't matter where you cook as long as you know how to combine the ingredients," she says before yelling at her kitchen staff to prepare the entrées.
It doesn't matter where you cook as long as you know how to combine the ingredients.
Mariette is a veteran of Malagasy-French fusion cuisine. She was an apprentice in the 1960s to the late Michelin three star luminary Charles Barrier in France and has cooked for celebrities and dignitaries from around the world. Paloma Picasso was among her guests, as was Prince Albert of Monaco. She has been running Chez Mariette for 25 years. Back in the day, over 80 men and women worked for her. Now, only a few employees remain.
There is no choice on the menu, and no waiter asks questions about allergies, gluten intolerance, or offers a vegetarian option. At Mariette's, everyone is having the same three-course menu—and it is sublime.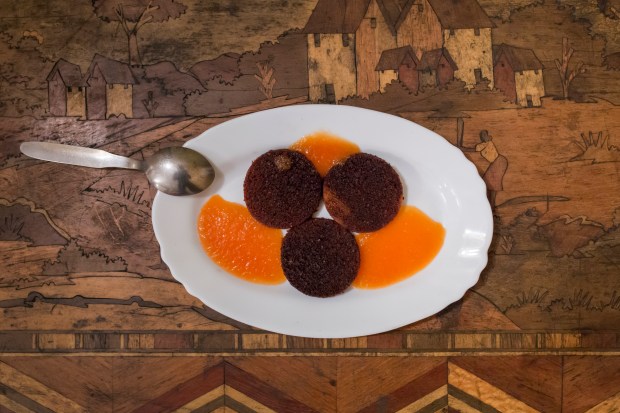 The feast starts with swordfish and prawns in coconut sauce with rice on the side. (No meal in Madagascar is ever complete without rice.) The sauce carries hints of lime and ginger, the fish is perfectly cooked. The second course consists of turkey in various shapes and forms, including a roll stuffed with dark meat, making the dish appear reminiscent of maki sushi. For dessert, Mariette serves a cake made of peanuts and honey with red papaya nectar that manages to taste simultaneously wholesome and indulgent.
Mariette bows when her guests inevitably applaud the food, but only slightly. She's familiar with praise. "I don't care who I cook for, dear," she says. "All of my guests are my favorite guests."