No one knows how the Belgian does it. It's two o'clock on a Tuesday, and his restaurant, only reachable by a 40-minute hike in the scorching sun, is full. There's even a line of people curling around the side, which the staff squeezes through with a distinctly Marseillais exasperation.
But it's not just access that makes this restaurant an anomaly: at Chez Le Belge, there is no electricity, no running water, and only a handful of very basic dishes on the menu.
The Massif des Calanques, an exceptional natural landscape that stretches over 12 miles on the coast of the Mediterranean sea, counts over two dozen calanques, narrow fjord-like inlets framed by steep limestone cliffs. Each has its own personality and use: Sormiou has a tiny harbor, Pierres-Tombées has the nudist beach, and Marseilleveyre has Chez Le Belge.
To get there, drive or take the bus to Callelongue, a tiny fishing village 9 miles south of Marseille's Vieux Port. The trail begins after the last house on the right. It's a fairly easy walk, but bring water because there is very little shade. You can also take a dip at the calanque of La Mounine, at about three-quarters of the way.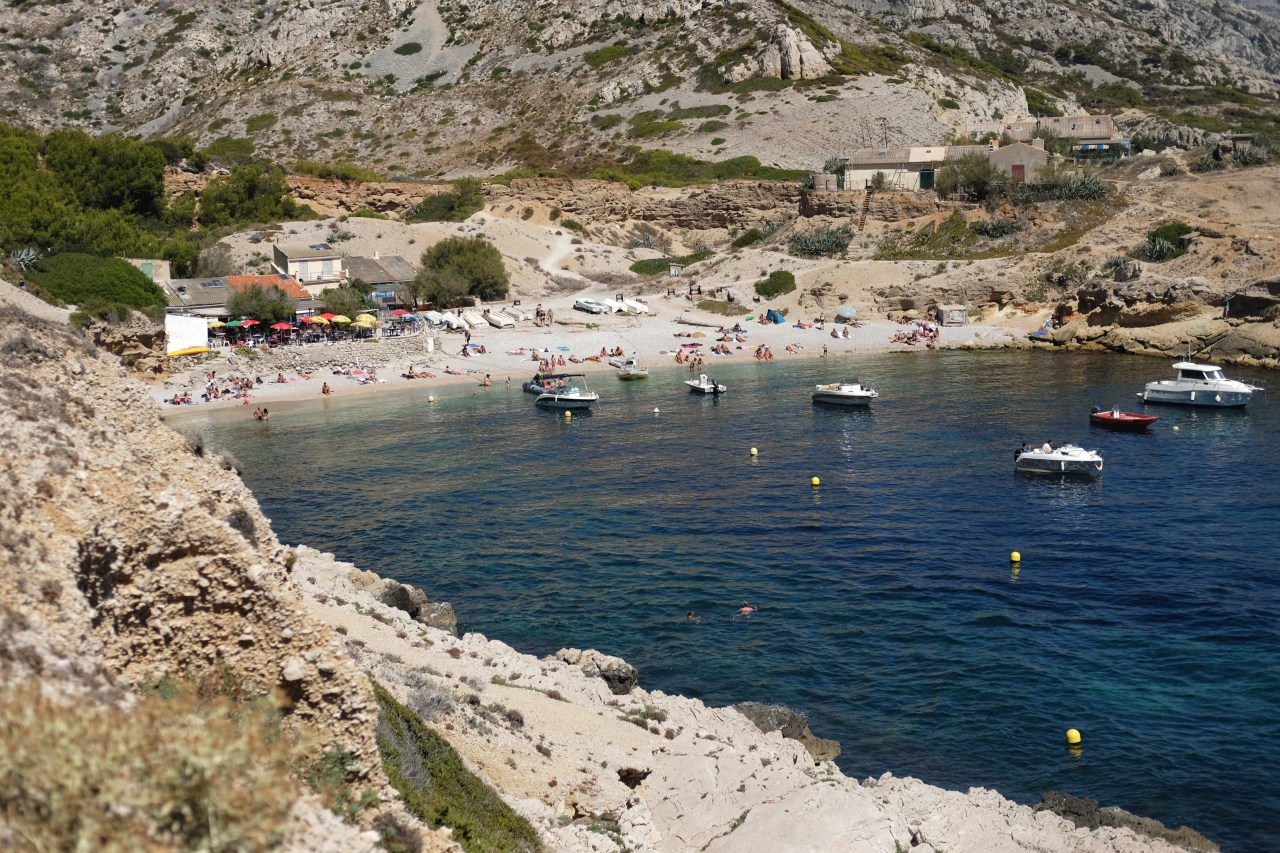 This afternoon in Marseilleveyre, about a dozen boats bob in the crystal clear water, sparsely populated by swimmers—despite the high summer temperatures, water in the calanques remains cold throughout the year because of underground streams coming from the mountains. Less intrepid visitors take naps and sunbathe under the loud buzz of the cicadas.
Perched above the small beach, the terrace of Chez Le Belge counts around 30 plastic tables crowded with uneven chairs, which my neighbor is quick to blame after falling backward. "I swear it's not the rosé" she tells me, embarrassed, as her friends laugh. Her skin is dark brown and wrinkly from way too much sun.
On the menu, there are more wines than dishes. I order both mains: spaghetti bolognese and a salade niçoise.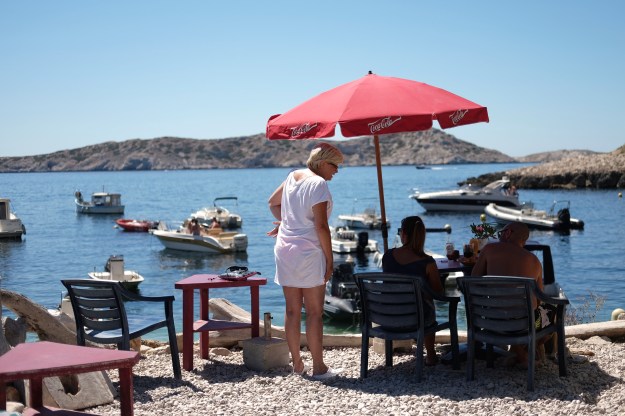 Various sources claim that the waitresses at Chez Le Belge are the owner's daughters. Apparently, the third generation of the family also works here now, 30 years after the place opened. I have so many questions for them: how do they wash the dishes? How do they keep their wines cool? How do they operate without a phone? How do they stock up? But they unfortunately decline to be interviewed. The mystery will endure:
You could forgive a restaurant like Chez Le Belge for serving mediocre food. It almost wouldn't matter, considering its spectacular location and less-than-basic setup. But the spaghetti overflowing with grated cheese and the crudely-cut niçoise are perfect. Perhaps this is the true taste of comfort after the effort, as the French saying goes.
Calanque de Marseilleveyre
Marseille, France
For opening times call the automated voice mail at (+33) 6 58 23 67 44