My Uber driver looked skeptical when I told him my dinner destination: a restaurant located on the outskirts of Marseille's last arrondissement, where the sleepy fishing villages dissolve into the savage wilderness of the calanques. "You know where to go once I drop you off?" he asked. Now I was confused; there had been directions on the website after all. "It's down some stairs?" With the laughter that is reserved solely for locals amused by deluded tourists, he shook his head. And that is how I found myself being led by hand, up and down a series of rocky "paths" cut into the headland, with only an iPhone to light the way on the moonless night. Mounting the final crest I was greeted by an astonishing vision: the azure waters of the Mediterranean lapping at the base of the rock face, illuminated by the beacon-like restaurant cradled by the surrounding cliffs.
"Marseille," I thought, "it loves to be different."
This dinner marked the final stop of a bouillabaisse tour, although I couldn't order it here at La Baie des Singes, not having given the requisite 48 hours notice. I had to content myself with the soupe de poisson: a concentrated broth of local rockfish—the basis of bouillabaisse and what Le Petit Nice chef and die-hard Marseillais Gérald Passédat considers its "soul." These days the former fisherman's stew doesn't lend itself to spontaneous organization, and this is what interested me: I wanted to understand how this regional icon—a soup so famous it has its own charter—came to be so burdened by reputation and tradition. What is the real bouillabaisse?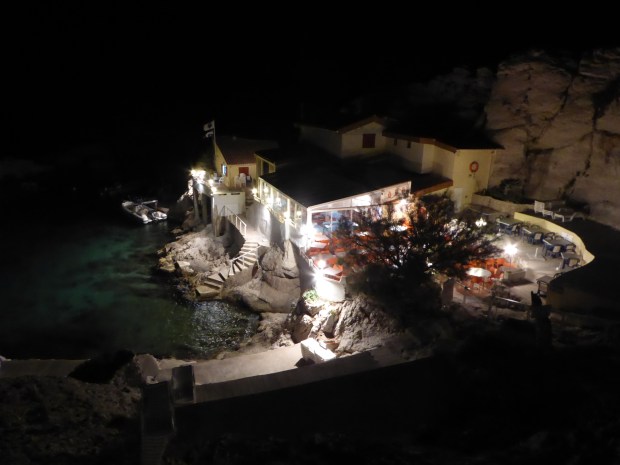 Every aspect of bouillabaisse is shrouded in myth—even the origin of its name is the subject of speculation. There are those who say its etymology results from cooking instructions in the regional language Occitan for "bolh" (boil) and "abaisser" (lower the heat), but Passédat (amongst others) supports the alternative theory that an early incarnation of the soup was served to the poor by a local abbess, and the name is a conjunction of bouillon (soup) and abbess. One thing not up for debate is the soup's modest origins. There's a consensus that this dish was born from necessity, rustic fare made by boiling the rejects of the day's catch in salty seawater, seasoned with local olive oil, garlic and saffron. With each spoonful I could taste the Mediterranean's signature notes but also what Passédat calls the city's "rebel spirit."
Marseille's reputation as an agent provocateur stems from the 16th century, when it seceded from the French monarchy for a brief period to form its own city-republic. This strong urban identity and inherent suspicion of the powers-that-be, and specifically Paris, was probably reinforced by decades of bad publicity as the crime capital of France. Attend an Olympique Marseille versus Paris Saint-Germain match and you're guaranteed to catch a glimpse of this infamous mutiny, with supporters gleefully shouting their best-known and favorite chant "Paris, Paris on t'encule." But here, in gustatory form, it's found in the seductive hint of anise, the stimulating warmth of chili, and the aggression of raw garlic in the rouille—a pungent sauce thickened with bread, and an essential element of the dish. These flavors dance on top of the uncompromisingly gritty texture of the fish stock, which derives its intense flavor from the robustly flavorful, salty seafood produced by Mother Mediterranean.
For Passédat, bouillabaisse embodies Marseille's tendency to go against the grain; even in the most chic renditions the bones are always left in the fish—this steadfast refusal to pander to taste or convenience is a testament to its contrary nature. His interpretation, although served in a Michelin three-starred restaurant, is an homage to the dish's humble roots, making the most of the local flavors and flying in the face of more traditional versions, albeit at a very refined level. Passédat has gone back to basics, deconstructing the classic but at the same time maintaining a pure approach to ingredients served across several courses. His rouille is based on an original recipe, uncompromising in its strength and spices, while the clam and mussel carpaccio recalls a youth spent collecting shellfish on the rocky outcrops that jut out from the coastline that forms the city's border.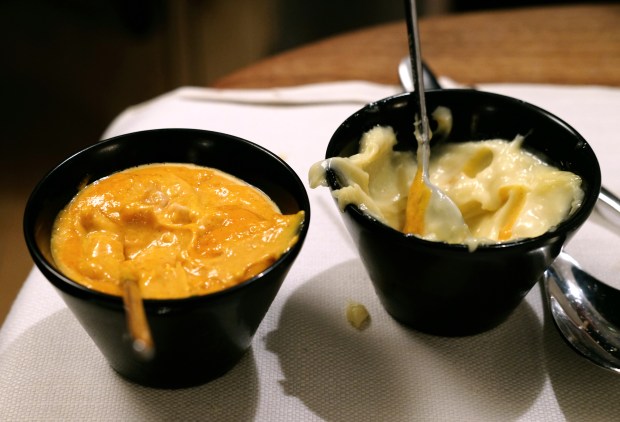 The soup has inarguably come a long way from its humble beginnings. With the price for a "véritable" (real) bouillabaisse starting at an already-exorbitant 55 euro per head, which can escalate far higher depending on the establishment, has the rebel sold out, casting aside its "populaire" (working class) background for a new bourgeois life?
This gastronomic gentrification can be attributed to two main causes. First, there are ecological factors: as the amount of fish in the Mediterranean has decreased over time, the seafood has become more expensive. Antoine, a Marseillais fisherman who has been selling his catch at the daily fish market held at the Vieux Port for 30 years, laments the plundering of local waters, explaining that each year he has to go further and further for his haul. He, like many others, assures me that you don't want to eat a bouillabaisse that costs less than 50 euros—such as those offered at many of the touristy restaurants that line the Vieux Port—because the low price indicates frozen, imported seafood.
The second reason is that, like many regional delicacies in France, bouillabaisse has been consciously commodified. The Bouillabaisse Charter was established in 1980 by a group of local restaurateurs. Gabrielle Galligani, co-owner of restaurant Le Rhul and daughter of former owner Alex Galligani, one of the founding members of the Charter, explains that the idea was to protect bouillabaisse from being associated with the tourist trap version made from poor quality fish. The charter opens with a statement that it is "impossible to standardize cooking," yet it goes on to prescribe a list of possible ingredients, including fish species. A "real" bouillabaisse must not deviate from this list and conform to strict service requirements.
Galligani attests that the model unabashedly borrows from the heavily regulated AOC (appellation d'origine controlée) system. AOC originated in France and since its earliest incarnation in 1411 has transformed terroir into a marketable category, restricting the labeling of products with names associated with specific geographic regions, such as Champagne and Roquefort. Galligani defends the Charter, insisting it still plays a role in assuring the reputation of this emblematic dish. But is the closely guarded cultural status of bouillabaisse at odds with the frugal philosophy behind its very creation?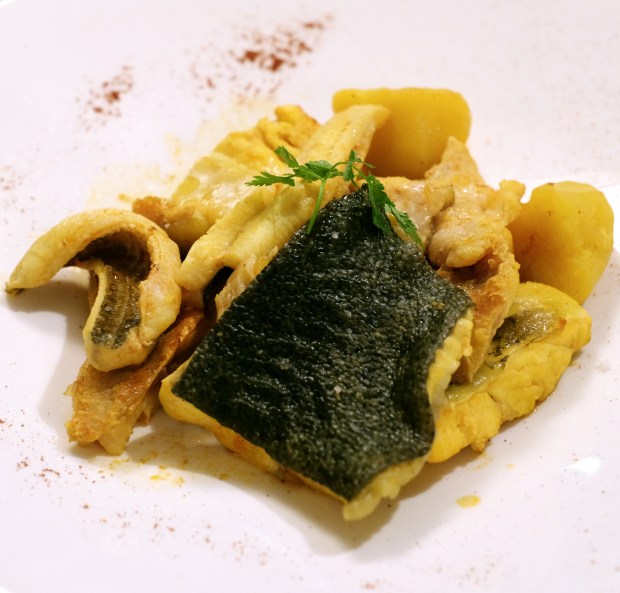 Marseillais clearly have a strong affinity for their culinary emblem, and the ritual of the meal still resonates with locals and tourists alike. Galligani recounted being moved by a group of students who recently dined at Le Rhul, paying their bill with a collection of small coins that they had been saving all year for an annual treat. Every Marseillais worth their salt has a favorite restaurant, with most favoring Chez Fonfon (a charter signatory) or Chez Michel (non-charter), though Le Rhul often rates a mention. Wanting to experience what is, at least from Le Rhul's point of view, the spiritual home of the dish, I tried my first bouillabaisse there. Le Rhul is a shrine to bouillabaisse. The house-made broth is sold in take-home bottles. Copies of the charter grace each table. Diners are provided with bibs embroidered with an image of the dish. The dining experience transports you to a time where spectacle reigned supreme. My meal was like a theater performance: the presentation of the fish, the flourish as the soup was poured. Unfortunately, the notoriety of dishes like bouillabaisse means expectations become difficult to live up to, let alone surpass. While it was interesting to see the classic version served in all of its fanfare, it felt a little staid, and I'm not certain that it was worth the hefty price tag.
It's perhaps unsurprising that in a city known for its renegade streak bouillabaisse's protected status has also inspired its fair share of culinary dissent. A new generation of chefs are doing their bit to loosen up the dish's straitjacket, committing Bouillabaisse Charter blasphemy in the process. In fact, many of this vanguard are openly dismissive of the charter as a marketing ploy. Sylvain Robert, born and bred in Marseille, created his bouillabaisse burger—"for fun"—in 2006 and it became a menu staple after he opened L'Aromat in 2009.  Although a conscious revival of the soup's working class past was not the aim, Robert admits that making good food more accessible is part of his cooking philosophy. Lionel Levy doesn't hail from Marseille but after 13 years is firmly ensconced in his adoptive home. Now the executive chef at the Intercontinental Hotel Dieu, bringing across the best-selling bouillabaisse "milkshake" that he first served at Une Table au Sud was a non-negotiable condition of his post.
Levy is quick to defend the place of the traditional version, saying that the strength of regional cuisine rests on the transmission of these recipes, adding "without the traditional bouillabaisse, the milkshake would not exist." Perhaps this is what really matters—an ongoing dialogue between protected classics and subversive experimentation. Attempting to regulate bouillabaisse will never suppress the desire to stick it to the status quo that has come to be synonymous with Marseille. As for me, I'll possibly need to wait until the next time I raid my yearly savings to enjoy another "real" bouillabaisse; for now, I'll content myself with the soul of the dish and stick to the fish soup.