Cocina Laura [Closed]
Eje 2 Oriente 517, Ciudad de México
Lunch date: Mexican boxer Jorge Lacierva, his father Jorge Senior, and his son, Alexis.
Toltecas 12, 06200 Ciudad de México
Bourdain had: A michelada (from a nearby stall), migas (hambone broth prepared with garlic, onion, peppers, and epazote, thickened with stale bread and leftover tortillas).
Breakfast dates: Jorge Pedro Uribe Llamas, popular blogger on Mexico City society and author of El gran libro de la ciudad CDMX; Alfonso Hernández, renowned historian of Tepito's underworld and director of the Centro de Estudios Tepiteños (Center for Tepito Studies).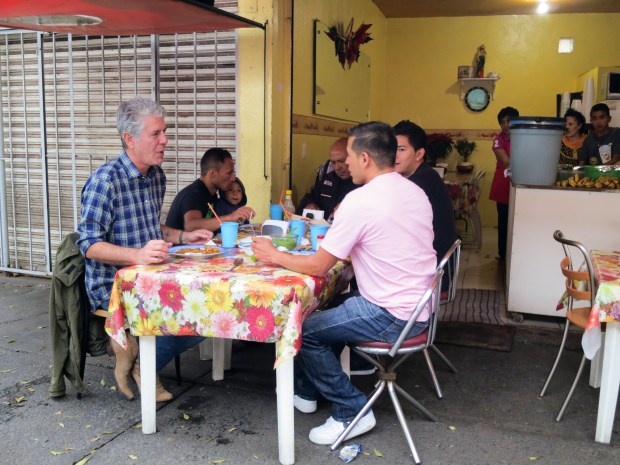 Tonalá 133, 06700 Ciudad de México
(+52) 55 5264 4291
Bourdain ate: abalone with chiles, lemon, and brown butter; confit of suckling pig, topped with grandma's salsa and served on a tortilla.
Lunch date: migrant worker–turned–Máximo Bistrot chef Eduardo García.
Guadalupe Victoria, 62000 Cuernavaca, Morelos
Bourdain had: drinks.
Drinks date: Javier Sicilia, poet and activist against drug violence.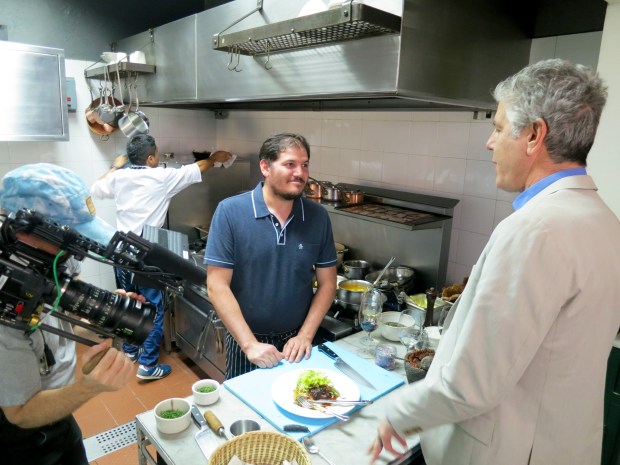 Juárez Maza, 68090 Oaxaca City, Oaxaca
(+52) 951 278 7315
Bourdain had: barbacoa tacos, consommé, tlayudas (perhaps best described as a Oaxacan pizza), Jarritos soda.
Lunch date: Casa Oaxaca chef and restaurateur Alejandro Ruiz Olmedo.
Restaurante Tlamanalli
Avenida Juárez 39, Teotitlán del Valle, Oaxaca
(+52) 951 524 4006
Bourdain had: mezcal; seguesa (mole-and-chicken dish); cow and pork brains cooked with chiles, tomatoes, and yerba santa.
Lunch date: Chef Alejandro Ruiz Olmedo, chef and restaurateur behind Restaurante Tlamanalli; Abigail Mendoza and her sisters.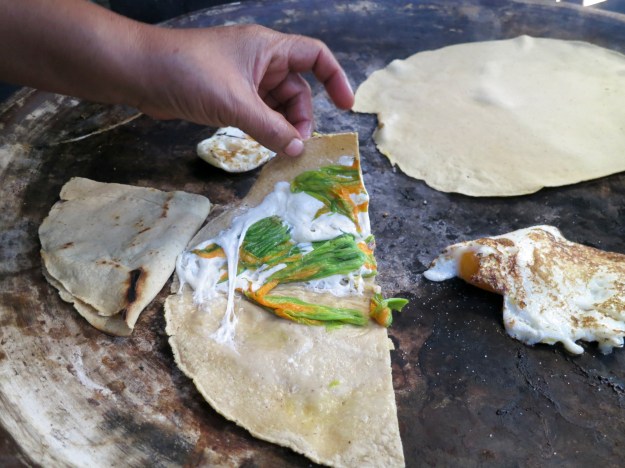 Bourdain spoke to anticapitalist street artist Yescka
 at:
Asamblea de Artistas Revolucionarios de Oaxaca – Espacio Zapata
Calle General Porfirio Díaz 505, Oaxaca City, Oaxaca
(+52) 951 126 7110
Dinner with an investigative journalist
Bourdain has dinner in the private home of Anabel Hernández, investigative journalist and author of the groundbreaking exposé Narcoland: The Mexican Drug Lords and their Godfathers.