I've been a fan of Mexico City and its historic center since I arrived for the first time in the late 1980s. I loved the vestiges of the past that lingered like so many pentimenti in an old master's painting. I loved the portrait photographers with huge cameras, quack doctors who could cure cancer as well as athlete's foot, the stores offering appliances whose designs hadn't been updated since the 1930s.
Food, of course, caught my attention as well. I loved the alluring aroma of smoke wafting out of brightly painted taquerías, their walls darkened by decades of grilling and frying. I ate tortas de pavo at a 100-year-old joint that only served turkey—it was Thanksgiving there year-round. Bow tie–clad waiters served extinct soft drinks and midnight breakfasts at the timeworn Café Cinco de Mayo. Old-timers imbibed tequila at century-old cantinas, reminiscing about better times.
Fast-forward to the 21st century. Globalized modernity has infiltrated and gnawed away at this marvelous museum of urban yore. But much remains if you know where to look, and traditional Mexican food can still be experienced at the source.
Start at the busy northeast corner of Avenida Arcos de Belén and Calle López. Here you'll find the Mercado San Juan Arcos de Belén, a bustling, popular food market, where locals go to shop and especially to eat. Walking up Calle López (against the traffic), enter the first door on the right. Glistening golden chickens twirl in a roaster, their fragrant juices dripping over caramelized onions. They're tempting, but I suggest you walk by and stop at the next stand, a nameless purveyor of flautas, so named for their flutelike shape. Rolled tortillas stuffed with roast lamb are deep-fried and served under a verdant, mildly piquant salsa, sour cream, and shredded cabbage. A stroll through the market reveals a world of fast food Mexican-style, from carnitas to tortas, tostadas to gaily colored aguas frescas (fruit waters), and lunch counters offering inexpensive comida corrida, a set meal of several courses, usually for under $5. But I would pass on all of it and continue out and up Calle López.
The next stop is Taquería González, at the corner of Vizcainas on the right. "Los mejores tacos del centro histórico," the sign boasts, and the constant crowds suggest that they are indeed the best. Try a campechana, which combines longaniza (a spicy red sausage), chopped fine and mixed with suadero (sauteed beef) on the griddle. Tacos are best augmented with black beans; one of several colorful house-made salsas; and nopales, strips of cactus paddle, grown in huge quantities in the city's rural southern end.
At Calle López 101, across the street, take a look at Gran Cocina Mi Fonda, a time warp of a place that harkens back to midcentury simplicity. Pale-yellow pine tables, surrounded by mint green walls many times repainted, host regular customers who enjoy phenomenally cheap Spanish-Mexican dishes like fragrant paella, juicy roast chicken, and smoky lentil soup.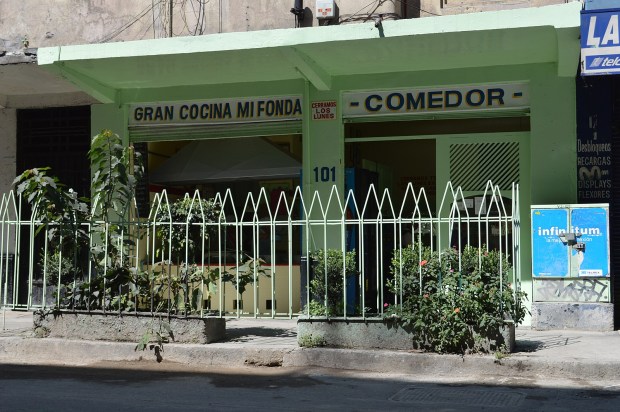 Continuing north on López, Ricos Tacos Toluca, on the left at the corner of Puente Peredo, offers taco specialties associated with the State of Mexico, particularly with the area around the state capital, Toluca, just west of Mexico City. The star here is the shockingly green chorizo verde, which hangs next to bright red links of longaniza, as though they were fatty Christmas decorations. It's loaded with pine nuts, raisins, and an assortment of fresh herbs, and it tastes a bit like sweet Italian sausage. Also worth sampling is the cecina, a pounded salted beef that's typical of the region.
In the middle of the block on the same side of the street is La Pilarica (number 77), an archetypal self-service Mexican bakery, where customers pile their trays with pan dulce, chosen from a mountain of varieties, for a late-night snack or breakfast.
Next stop and essential eating is around the corner on Ayuntamiento. El Caguamo is a free-standing shack renowned for its seafood. Four types of ceviche, fried fish, or a hearty shrimp soup should satisfy anyone's maritime cravings.
Across the street at Ayuntamiento 21, sandwiched between the two entrances for the citywide liquor chain La Europea, is the classic place to sample tacos al pastor: El Huequito, which means "little hole in the wall." This standing-room-only operation, the original of which is now a large chain, was founded in 1959 and claims to be the first place in the city to make tacos al pastor, a quintessential Mexico City dish introduced by Lebanese immigrants. Marinated pork, stacked and grilled on a revolving spit, is sliced off by the expert taquero, bathed in a moderately hot salsa, and strewn with chopped onion and cilantro before being rolled up in a small tortilla. The meat is juicy and succulent, with a smoky grilled aroma that lingers. The balance of salty, spicy, sweet, and umami is just about perfect.
Backtracking slightly, walk south down Calle Aranda, past the Molinera El Progreso—the best spice shop in town—and slip through the swinging doors at Las Duelistas (number 28) for a liter or two of pulque. Made from the freshly fermented sap of the maguey, pulque has been an important drink since the time of the Aztecs, transitioning from sacred in the pre-Hispanic period to the commoner's drink under colonization. In the late 20th century, pulque lost its appeal, as tequila, mezcal, and especially beer—courtesy of some very aggressive anti-pulque marketing—took over. Most pulquerías were dives, the lowest places possible to drink yourself into oblivion. Respectable women rarely entered but could buy discreetly from small side windows. Gradually the number of pulquerías dwindled from hundreds to a few dozen. In the last 10 years these rowdy saloons have been making a comeback, as young chilangos take new pride in all things autochthonous. Las Duelistas, recently redecorated with vibrant rock-and-roll, Aztec-style murals, opened its doors in 1930. Having survived the worst of the recent downturn, it now serves pulque, fruit- and vegetable-infused curados, and light snacks (free of charge with a drink order) to a mostly young crowd, observed with bemused curiosity by a clutch of old-timers. Try a curado—my favorite is apio (celery)—or a taro (glass mug) of unflavored pulque natural. It's viscous, yeasty, and its lightly masked alcohol content creeps up on you.
If you can still walk a straight line out of Las Duelistas, exit left onto Aranda, and then take the first right on Ernesto Pugibet. Passing the small park dedicated to radio personalities of the past—Mexico's famous XEW studios are around the corner—you pass a graceful 19th-century building that was once a cigarette factory, not unlike the one where Carmen worked in the eponymous opera.
The final destination begins past the recently refurbished facade of the Mercado de San Juan, the city's gourmet paradise and my favorite market in the world. I shop here at least once a week, with a chef's open mind. Maybe I'll buy a plump duck from Michoacán. Perhaps Pescadería Santander will have gotten in some glistening scallops on the half shell or fresh oysters to pop open and devour on the spot. A rack of lamb might inspire. I've walked in thinking "Lyonnaise butter and cream fest" and left with fresh pea shoots, shiitakes, clams, and tofu instead. I stop to chat with the López family at stand 142 and sample their latest artisanal cheeses, accompanied by a glass of nice rioja, or, if it's lunch hour, I sit down at Doña Juana's (284), a stool-only eatery, for one of the best set lunches in the city and a real bargain at just 40 pesos (about $2.50). Check out the edible insects, exotic meats and fruits, the wild mushrooms, sold both fresh and dry. After, stop for a rejuvenating coffee at Café Triana, the espresso bar with the orange counter.
I prefer neither the first, popular market nor the second, more elitist one. I love them both. This is Mexican gastronomy—and Mexican culture, for that matter—at its best, where the old and the new, the future and the past, live side by side.
C0-published with the new Roads & Kingdoms Mexico City Travel Guide.