I recently visited my 31st Mexican state, the state of Tabasco, completing a mission I set out on several years ago while on tour as a musician with Mexican pop star Marisela: to dine at the fondas (mom-and-pop restaurants serving regional cuisine), markets, stands, and hallowed temples of modern Mexican chefs throughout the entire country.
Saying "Mexican cuisine" is like saying "European cuisine," as Mexico's 32 distinct regions (31 states plus Mexico City) are a culinary maze of subregions, pre-Hispanic recipes, neighborhood specializations, and rumors of magical dishes you have to chase on a bus to a remote village with ingredients unknown to even the most thorough investigators of Mexico's traditions.
"Mexican cuisine doesn't really exist," says Enrique Olvera, Mexico's most famous chef, in an interview with Eater. "People need to stop talking about 'Mexican cuisine' and instead talk about Oaxaca, Veracruz, Merida, the Central Valley."
The foods of the states of Yucatán, Chihuahua, Chiapas, and Nayarit are as different as those of France, Germany, Britain, and Slovenia. In Mexico City there are dishes you can find only in the neighborhood of Tepito, like migas (pork-leg-bone soup thickened with breadcrumbs and tortillas) and cabezas (chicken-head tostadas). The carnitas (confit-style pork) in the cities of Quiroga, Uruapan, and Sahuayo have subtle differences. And even a dish like enchiladas rojas (red enchiladas) varies from region to region in its style of tortilla, chili pepper, and salty cheese sprinkled on top.
While there are timeless Mexican plates that will remain until the end of days—mole (a main dish consisting of a thickened mixture of chilies and other ingredients), birria (pit- or oven-roasted goat in a spicy sauce), tacos de canasta (steamed in a basket)—new ingredients, ideas, and trends emerge in Mexican gastronomy each year.
So let me share a photo album of my quest to explore the delicious foods and fascinating culinary traditions of Mexico.
Aguascalientes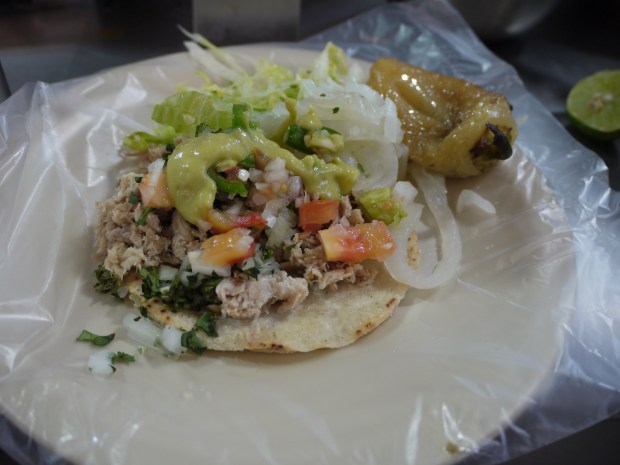 The red pozole (pre-Hispanic hominy stew) and red enchiladas I ate with my grandmother's first cousin Chelo are some of the best in Mexico, while goat and lamb birria and suckling-pig tacos at the Mercado Juárez, chased with pickled chile de bola (fresh chili cascabel), make for a glorious Sunday-morning feast. I can't leave town without eating bolillos con crema (bread rolls stuffed with Mexican cream, ham, and pickled jalapeños) or the carnitas in San Francisco de los Romo delivered by my primos (cousins) in a grease-soaked paper bag. Chichi-sounding antojitos (appetizers) like esmeriles (gorditas) and chiquiadas (fried quesadillas) are fitting for one of Mexico's most industrious states. At the Feria Nacional de San Marcos, Mexico's biggest block party (not even the Mexican Revolution could shut it down), flautas (fried rolled tacos), tacos piratas (flour tortilla with carne asada and melted cheese), guava rolls from Calvillo, and a parade of amazing antojitos are devoured to prepare for a month filled with tequila and beer.  
Baja California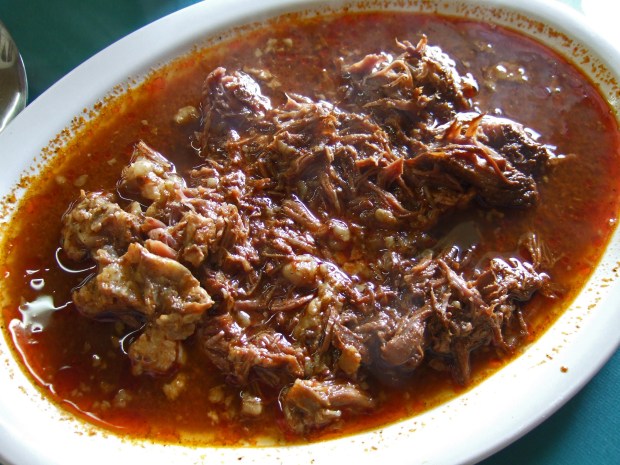 The inventive dishes here are the surest example of Mexico's evolution in authentic cuisine. Baja draws from the nearby states of Sonora, Sinaloa, and Jalisco, among others; but its olive oil, vineyards, and impressive seafood—combined with a lack of any single tradition—opened the door for modern Mexican chefs to cook with sea urchin, geoduck, abalone, and lamb and pair them with exceptional wine. Sea urchin tostadas, geoduck ceviche, lard-fried lobster, and spider crab a la diabla (devilishly spicy) in the fishing villages of Puerto Nuevo and Popotla are approachable luxuries, while seafood tacos, carne asada in Mexicali, carne adobada tacos (regional name for tacos al pastor), beef birria, and steak tortas (sandwiches) served on ciabatta-style buns form a newish street-food culture. Just over an hour south of the world's busiest border crossing, lamb and suckling pigs roasted in a caja china (Chinese box) and fresh shellfish served with chenin blanc are as Mexican as Pedro Infante. In Baja, birthplace of the Caesar salad, the sky's the limit.  
Baja California Sur
The southern end of the jagged, saberlike Baja peninsula is the business end in terms of condos, resorts, and bars. Although it has few culinary traditions to match its picturesque lagoons, bays, beaches, and exotic Vizcaíno Desert, the selection of local shellfish—like chocolate clams—more than makes up for it. The fresh catch and clams in La Paz and Loreto draw fishermen from around the world, and I'll never have chocolatas fresher than the ones we pulled up after a day of scuba diving off the island of Coronado, shucked by the dive master, who had a bag of Key limes and Salsa Huichol hot sauce at the ready. On three occasions, driving the length of the peninsula, I made obligatory stops for fresh baked pan dulce at El Boleo, in one of the peninsula's many sleepy towns. Santa Rosalía is noted for French clapboard houses and a prefab church, fashioned by Gustave Eiffel himself, built to support the Compagnie du Boléo mining company's efforts. Other delights include licor de damiana (wild shrub liqueur), luxurious pen shells called callo de hacha, and sweet bean empanadas. Plenty of contemporary seafood restaurants offer something other than the sunburns and hangovers I've seen on tourists at Los Cabos International Airport, waiting to catch a flight home from one of America's spring break capitals.   
Campeche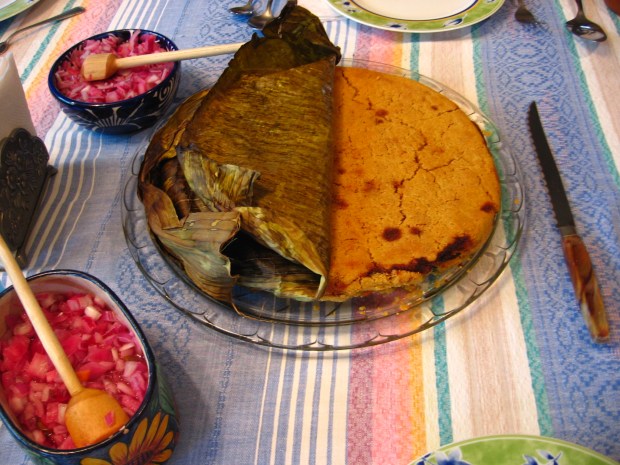 The three states that form the Yucatán Peninsula (Yucatán, Quintana Roo, and Campeche) share dishes like pan de cazón (dogfish enchiladas), pámpano en escabeche (pickled pompano), dogfish panuchos (tacos with a bean-stuffed fried tortilla), and dogfish-stuffed chile x´catic (a local fresh chili pepper). However, this oil-rich state relatively untouched by tourism is Mexico's pumpkin seed capital and therefore the place to try deer in pipián (a pumpkin seed sauce related to mole) and hen in achiote (an essential condiment of the tristate region). There are a unique variety of tamales, like pibipollos (large tamales), as well as seafood cocktails of local fish and other seafoods, including Campeche's famed octopus, eaten throughout the country. Other unique preparations are ham cured in brandy and wine; cochinita pibil (achiote-marinated pork) of course; caviar campechano (mullet roe); and plates featuring various aromatic herbs and greens from traditional cooking, like chaya, hoja santa, hierbabuena (spearmint), and epazote. It was on a brief stay in the capital, a walled city erected to defend itself against 17th-century raids by pirates such as Francis Drake, Roche Braziliano, and the murderous Henry Morgan, that I discovered, much to my disappointment, that no one eats mariscos (seafood) at night in Mexico.   
CDMX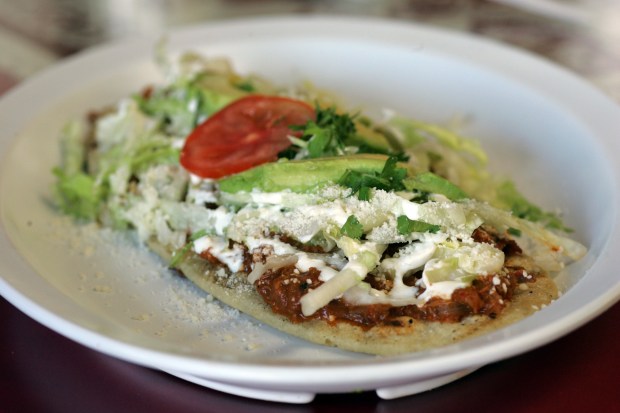 Mexico City is one of the greatest street food cities in the world. Quesadillas, tortas (de chilaquil; de tamal; and cubanas, the loaded-with-everything torta), pambazos (potato and chorizo in a chili-dipped and fried roll), tlacoyos (stuffed masa diamonds), gorditas (stuffed masa pockets), huaraches (sandal-shaped masa boats), and an endless selection of antojitos line the streets in a parade of stands run by creative cooks. Its markets, fondas, and tianguises inspire many of the best chefs in the world, presenting modern sketches of Mexican traditions etched onto a canvas of masa. The culture of comida corrida (fast food), cantinas, mezcalerías, and pulquerías exists to nourish and pacify one-fifth of the country's citizens. One could spend their days here exploring the countless possibilities of the taco: al pastor, de guisado (filled with stews and braises), de canasta, and de fritanga (fried in a stainless-steel disc), to name a few; but the torta fuels all transactions, from the carb-intensive guajolota (tamal sandwich) and torta de chilaquil to the pile of cold cuts, cheeses, vegetables, and beans in a torta cubana or the old-school de bacalao (salted cod). In Barrio Tepito, a neighborhood famous for its defiant residents and resistance to outsiders, the migas, superloaded tacos, and delicious offal dishes hint at the unique Mexico City cuisine found only here.
Chiapas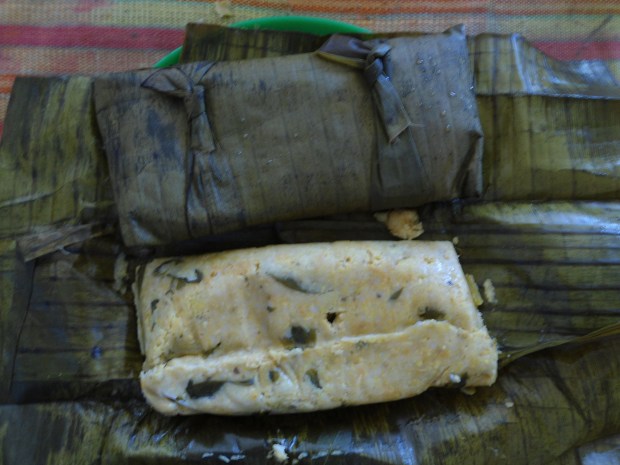 The jungly tropical home of fine Mexican coffee and Zapatista guerrillas employs many ingredients found in the Mayan heart of Guatemala for such interesting dishes as tamales de chipilín (an edible leaf), tamales pictes (made of corn), shutis (river snail soup), chanfaina prepared with beef offal, and the unique queso de bola de Ocosingo. Cochito (roasted pig) is a typical plate; but more exotic dishes with armadillo and iguana can be found in addition to bread soup made with an Old World/New World blend of French-style baguette, hard-boiled eggs, plantains, raisins, and local vegetables. There are ancient beverages like pozol (masa with cacao), taxcalate (made with toasted corn, chocolate, pine nuts, achiote, vanilla, and sugar), and comiteco (fermented agave). Near the coast you'll encounter delightful preparations of dogfish and freshwater langoustines.   
Chihuahua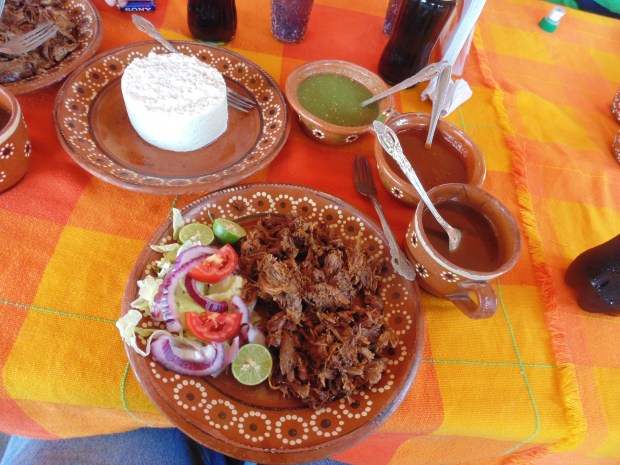 Mexico's largest state by land area, known for its desert and Copper Canyon, contains five major climate zones and is a mecca of northern Mexican carne asada, fine cheeses made by Mennonites lured to Mexico during the Porfiriato, and artisanal flour tortillas. Burritos filled with simple stews, chile relleno burritos, quesadillas with Mennonite cheese, and montados (burritos with a chile relleno, stew, and melted cheese) are some of the roadside offerings in Villa Ahumada, a required stop when driving between Ciudad Juárez and the city of Chihuahua. Pit-roasted beef barbacoa, beef jerky stew, pork head tamales and dishes prepared with chile pasado (a roasted and dried chili chilaca that adds a smoky, spicy punch), highlight northern flavors. They're juxtaposed with tesgüino (corn masa beverage), izquiate (chia seed water) and yorique (corn and goat)—pre-Hispanic cuisines of the Rarámuri, Mexico's famed ultra-marathon runners. Chihuahua is also the center of production of sotol, a non-agave distillate made from the dasylirion wheeleri, or desert spoon.
Coahuila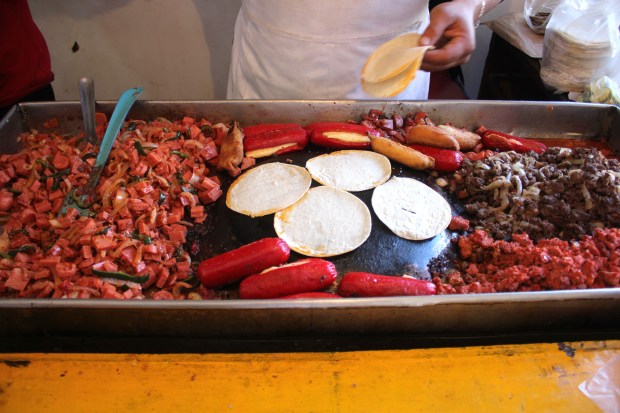 Welcome to the Mexican capital of elotes, where street corn vendors offer multiple preparations, including my favorite—topped with Mexican cream, chipotle salsa, and melted yellow cheese. The gorditas here are made with flour as are the tortillas, which are filled with local stews and braises. Corn tortillas are used for tacos de discada, which is a saute of chopped hot dogs, chilies, peppers, onions, and lunch meats. Cabrito en chile ancho (baby goat), pan del pulque (pulque bread), picadillo (ground beef dish), and fine cuts of steak are local attractions, as is the first winery in the Americas, in the arid climate that's part of the sotol denomination of origin. International Day of the Nacho, on October 21, pays homage to Ignacio "Nacho" Anaya, who invented nachos in 1943 at the Victory Club in the border town of Piedras Negras. So let it be written, let it be done: Nachos are 100 percent Mexican.
Colima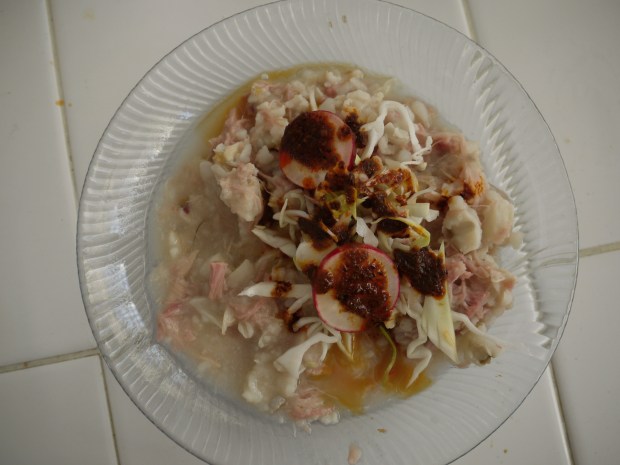 An exploration of this Pacific coast state begins with its beverages: tejuino (fermented masa), tuba (fermented palm flower), bate (made with chan seeds), and Comala punch, a pomegranate-infused mezcal from the state's white village, where all the buildings' facades have been painted white. Local stews include pepena (offal stew), cuachala (chicken and corn), and tatemado (pork in chilies). A sweet mold covers enchiladas dulces at the fondas, where you'll also want to try sopitos (thick tortilla with beans and chilies) and pozole seco (dry). On the beaches of Tecomán, pescado a la talla (whole grilled fish) and fish ceviche made with grated carrots set the local version of Pacific coast seafood apart from that of nearby states. One of the most fun cantinas in Mexico, Don Comalón, in the pueblo mágico of Comala is a must-stop for its scene. I enjoyed many trips here, including the time our band got arrested because our singer didn't show and the crowd rioted, causing $100,000 of damage. My saxophone, which remained with me at the hotel, was the only instrument to make it out in one piece. After giving an affidavit, I went out for a nice bowl of pozole seco.  
Durango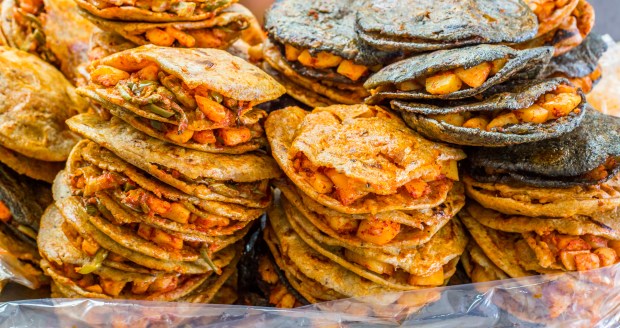 Some of the best mezcal in Mexico is found in this landlocked, rugged state, where the mole de Analco and pipián remind us that great mole is found in almost every Mexican state. Gorditas transition to corn masa here, and they are especially good filled with huevo perdido (eggs and chili guajillo); the beef jerky stew, pork leg in pulque, frijoles blancos, and enchiladas in peanut sauce will excite a feeling of discovery for a little-known destination. Hurray for chicharrones de vieja (goat carnitas). Durango is part of the mezcal denomination of origin, and some of the best distillates in Mexico are made here using the cenizo agave.
Estado de México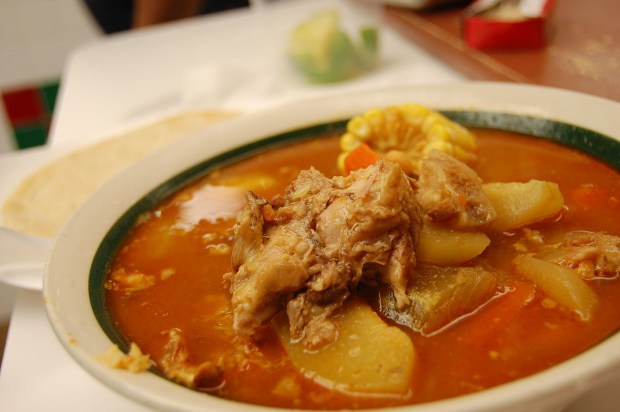 The state surrounding Mexico's capital stands out with a temperate, moist climate. It is second only to Hidalgo in lamb barbacoa, and it's where you'll find Mexico's stuffed-sausage artisans making red and green chorizo, head cheese, obispo (white sausage), and longaniza (spicy sausage). An impressive list of pre-Hispanic dishes that originated here are served at the roadside restaurants in La Marquesa park: rabbit mixiotes, fava bean patties, tamales de ollita (shaped into little pots), blue-corn tlayudas, pepeto (pork, chilacayota, and fava bean stew), river shrimp, and ant eggs and grubs, as well as present-day treats like soft-beef-jerky tacos, green chorizo tortas and carnitas of every imaginable cut. Mole de olla, a stew-like mole of vegetables, meats, and dried red chili peppers, is a popular dish in the region.
Guanajuato
This north-central Mexican state, where the revolution that drove Spain from the continent began, is the preferred place for American expats to retire. Perhaps it's because of the guacamayas (tortas filled with chicharrones); the tempting sweets in Celaya; or the enchiladas mineras (red enchiladas), served with chicken, potatoes, and carrots fried in the same red salsa. Carnitas are great here, as is the barbacoa, which can be done with lamb, young goat, or wild boar. Cebadina, a local carbonated beverage of pineapple vinegar, jamaica (hibiscus flowers), and tamarind waters, will settle your stomach after your eating frenzy. In 1974 my grandparents took me to visit the state's fascinating colonial capital to see the momias (mummies) after having the best carnitas I've ever had, a meal that woke me up to the pleasures of traditional Mexican cuisine beyond my grandmother's kitchen.  
Guerrero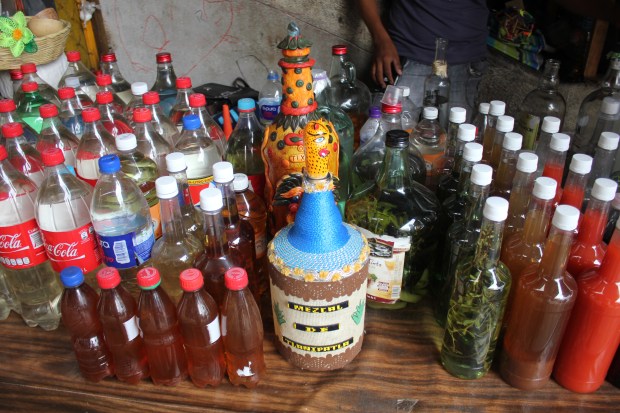 The cultures and regional options here are some of the most diverse in Mexico, starting with its pozoles: white, green, black bean and corn, seafood, and elopozole (made with fresh corn). Moles (teloloapan, típico guerrerense, de iguana, red, pipián, and more), exceptional mezcal (some aged in glass buried in the ground), and outstanding seafood make this state a contender for one of the top five food regions in Mexico. I dream about caldo de cuatete (fish stew), crab soup, and relleno de puerco (roasted pork sandwich). One could devote their life to documenting this region, as there are simply too many dishes and ingredients to list. The Afro-Mexican region in the Costa Chica is unexplored; after reading about tamales de tichinda (filled with shell-on mussels), it's on my bucket list. I love being here on a Thursday night, when el jueves pozolero goes down and cities like Acapulco serve white and green pozoles with the entertainment, often a drag show of artists impersonating popular Mexican singers.
Hidalgo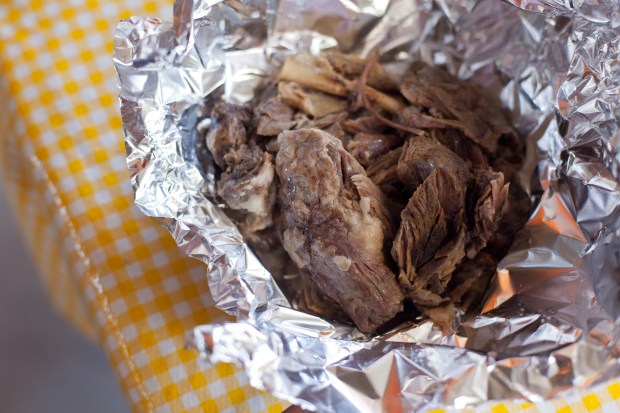 Since pre-Hispanic times, Hidalgans have been arguably the best cooks in the country. Even today most cooks in Mexico City's cantinas are from this state, because they have all the recipes. Weekend-only lamb barbacoa is king; as masters of pit cooking, they prepare whole chicken during the week. Ximbo, another weekend specialty, is a mix of proteins like pork, fish, and chicken, wrapped in maguey spines and cooked underground. Maguey flowers and palm flowers are cooked in a variety of preparations; and pastes, a pastry brought by the Welsh, have been adopted and filled with both savory and sweet Mexican mixtures. The Otomi culture included a luxurious menu of insects: escamoles (ant eggs), grubs, cicadas, beetles, and salamander and their larvae. The Mexican plane is ideal for growing magueys for pulque, while the rest of the state's craggy terrain is rich in minerals. I hired a cab out of Mexico City just to eat barbacoa here, where I had an epic meal in Tezontepec that began with lamb sweetbreads, quesadillas, and perfect consommé, followed by pinkish cuts of pit-roasted lamb and vibrant, lean pancita (offal-stuffed intestines) prepared au naturel, without a marinade of chili pepper paste. I can remember every bite like it was yesterday.  
Jalisco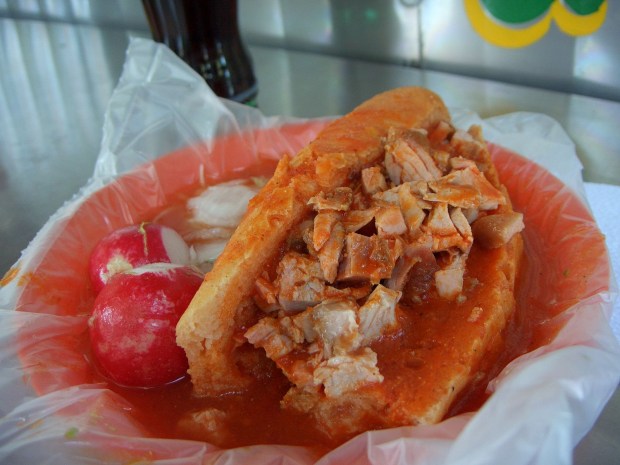 No state has had a bigger impact on Mexican food in the U.S., since tapatíos (people from Guadalajara) and Jaliscans in general have been one of the largest regional groups of Mexican émigrés to the U.S. This is classic Mexico: birria, carnitas, red and white pozole, antojitos like tacos dorados, flautas, and tostadas piled high with pickled pig feet or skin. Its tequila and mariachis have brought fame, and its high-quality breads bring in visitors to try local sandwiches like the fiery torta ahogada (drowned sandwich) and lanche (regional sandwich). Other notable dishes are carne en su jugo, tacos al vapor, pipián, mole ranchero, and a variety of dairy products (it's the largest cheese-producing state in Mexico). The microclimates produce marked differences in the tequilas made in the lowlands and highlands of Jalisco. My passion for tequila began here, in a hotel in Tepatitlán, when I bought a bottle I liked off the back bar.
Michoacán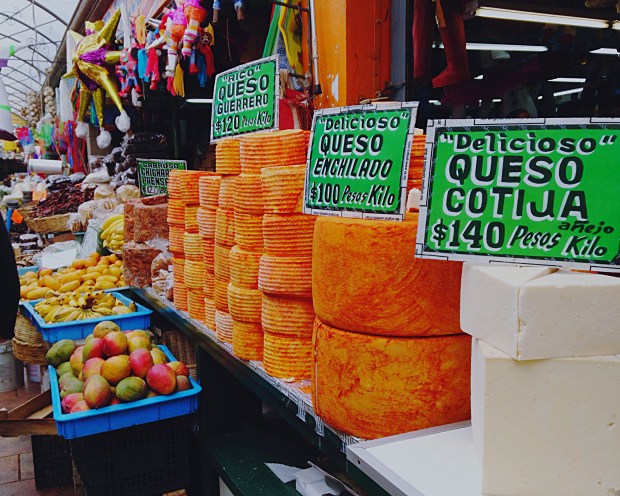 There's much more to the state than its rivers, streams, fabled Lake Pátzcuaro, and iconic monarch butterflies. It's where the pre-Hispanic food paradigm of corn, beans, and chilies was presented to UNESCO in 2010, which recognized traditional Mexican cuisine as a cultural heritage of humanity. I once took a taxi from Morelia to the artisan town of Quiroga just for a few tacos' worth of the world-famous sticky, sweet carnitas at Tacos Caramelo and sampled other subregional versions of Mexico's confit-style whole pork in Uruapan, Sahuayo, and the Tierra Caliente. The superlative enchiladas placeras in Pátzcuaro are mounds of glory, and the state's many magical dishes—aporreadillo (beef jerky, eggs, and salsa), sopa tarasca (spicy tomato soup), pozole batido (purple-corn pozole), colorful and aromatic atoles, morisqueta (beans, rice, and stewed pork), and moles like atapakua (spicy stew)—are delicious native wonders from the Purépecha culture. This is also the avocado capital of Mexico, supporting your avocado toast addiction. It's where the real queso Cotija hails from, and it's a place to enjoy local mezcal and charanda, a sugarcane distillate.    
Morelos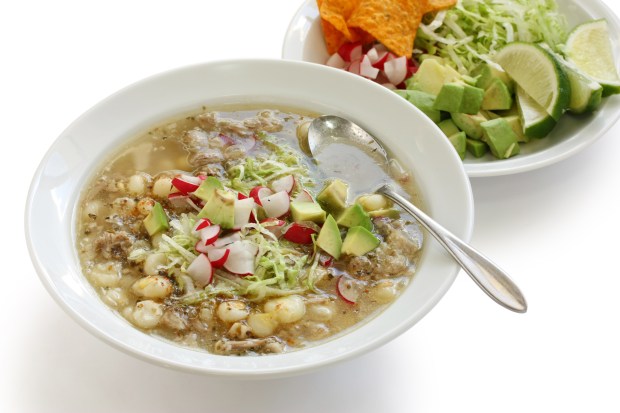 They make a serious taco de guisado here, and they call it the taco acorazado, or "battleship taco." It's stacked with rice, milanesa, mole from the nearby state of Guerrero, nopales, and salsa. And the tacos de cecina (soft jerky) Yecapixtla are second to none. Just an hour away from Mexico City, it's well worth the drive for fish mixiotes (cooked in maguey paper), quesadillas filled with huitlacoche and squash blossoms, clemole (a traditional Mexican soup), bone marrow tostadas, white pozole, pickled doves, and live beetles full of herbal notes. An older gentleman once convinced me to add beetles to my taco acorazado, so I trapped them in the mole so they wouldn't fly away—savage! Though the area is not part of the denomination of origin, traditional mezcal is produced here; and real mezcal aficionados respect the product first, the protectionism last. Maybe the best meal I've had in Mexico was cooked at the home of Rubi from the pre-Hispanic stall in the Tepotzlán market, El Tlequil. We dined on rabbit in seven chilies, and tlaltequeadas (amaranth and pulque–based patties) covered in amaranth mole accompanied by beetle salsa and hand-slapped corn tortillas.   
Nayarit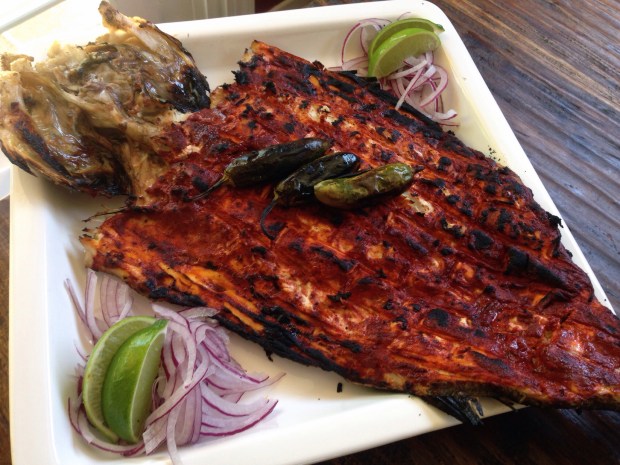 No one does traditional Mexican seafood better than Nayarit, with its cocktails, ceviches, aguachiles, callo de hacha, shrimp tamales, the original pescado zarandeado (whole grilled fish), and tlaxtihuille, a pre-Hispanic mole made with shrimp. The seafood stews, shrimp al mojo de ajo (with butter and garlic), a la diabla (spicy), borracha (drunken), and cucarachas (hard, fried shell-on shrimp) are made with the freshest product in Mexico; and shrimp pate, smoked mullet, shrimp albondigas (meatballs), and sea bream chicharrón-style just scratch the surface of this oceanic bounty. The trip I took in a rundown boat across a serene lagoon to Mexcaltitán de Uribe for pescado zarandeado is my own personal hajj. The land-based dishes—tostadas de chanfaina (offal), pipián, and the simply mouthwatering panela-cheese tacos—provide a brief departure from the state's outstanding beach cuisine at Playa Novillero, San Blas, and Sayulita.    
Nuevo León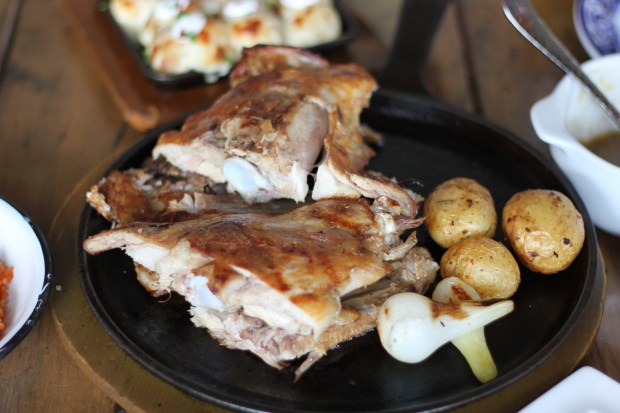 Regios (people from the capital city Monterrey) are masters at grilling fine cuts of steak (like agujas, cañitas, and ribs) over an open flame and are the originators of al pastor, cabrito al pastor, and whole roasted kid. Young goat is also used in cabrito en salsa, machitos (roasted chitterlings), and fritada (kid offal cooked in its own blood). Here tacos al pastor are called tacos de trompo, named after the vertical spit they're cooked on. If you want something more substantial, gringas (roasted pork and cheese in flour tortillas) and piratas (carne asada and cheese in flour tortillas) are the way to go. You can enjoy local dishes like machacado (beef jerky scrambled with eggs), asado rojo (pork in red chili peppers), and cortadillo (stewed beef and potatoes in red chilies) in tacos mañaneros (morning tacos de guisado) and gorditas. Mexico's first modern Mexican restaurant, Pangea, by chef Guillermo González Beristaín, is in the affluent town of San Pedro Garza García but will move to a new address this month. It's a place I have to visit each year.
Oaxaca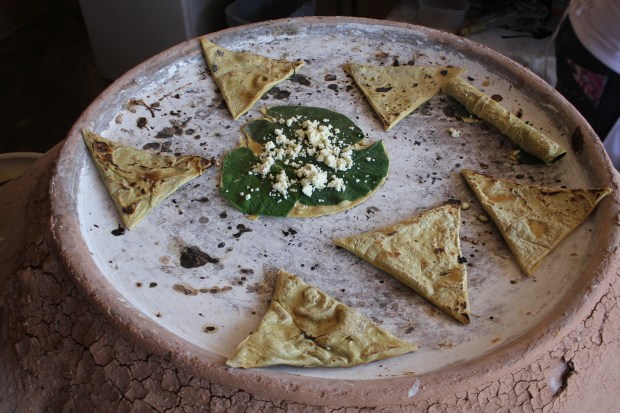 Oaxaca, Mexico's largest indigenous region and home to 18 of the country's 65 Native American cultures (half of Oaxacans are not fluent in Spanish), is a land of countless moles: black, red, tesmole (souplike version), green, yellow, de caderas (goat), and many more. There are over 200 in all. It's also the spiritual capital of mezcal production in Mexico. No other Mexican state is more celebrated for its iconic plates—tlayudas (large tortillas), chapulines (fried crickets), goat barbacoa, tamales with mole, tacos de cazuela, molotes (fried masa with potato and chorizo), chileajo (pork and chili pepper stew) — and quality masa products like tetelas (triangles), quesadillas, and memelas (large masa boats). Popular foods of the Zapotec people dominate the subregional cuisines found in Oaxaca's tropical latitudes, where climates vary by elevation. Oaxaca maintains a rich tradition of pre-Hispanic dishes from caldo de piedra (stone soup), tejate (broken maize and cacao drink), and totopos istmeños (baked tostadas).
Puebla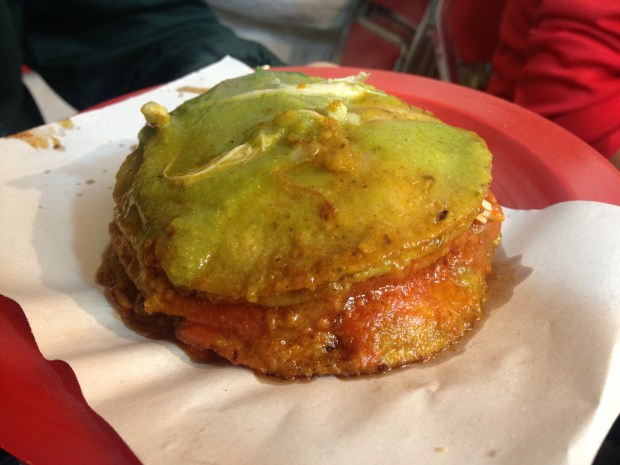 Oaxaca's next-door neighbor and contender for the title of Mexico's mole hub is known for mole poblano, pipiánes (using a pumpkin-seed base), mole de caderas (using goat), mole rojo (red), chiles en nogada (chili relleno) as well as its regal tortas: cemitas poblanas (tortas with an artisanal sesame seed bun, chanclas (drowned sandwiches) and guajolotes (a type of pambazo). The world's oldest evidence of corn cultivation is in Tehuacán, and the earliest settlements in present-day Mexico are found here as well as in the Central Highlands. Puebla has truly special antojitos: chalupas (small tortillas with salsa), tacos al pastor and tacos arabes served on a pita-style flour tortilla, tacos orientales, and tacos de harina. Huauzontles, or wild greens, are cooked in mole or tomato sauce, and Catholic convents still craft some of the most notable sweets in the republic. To date, my favorite mezcal, made with the papalote agave, is from here, a state not included in the mezcal denomination of origin, which has led me to the conclusion: F*** the D.O.—just drink mezcal.
Querétaro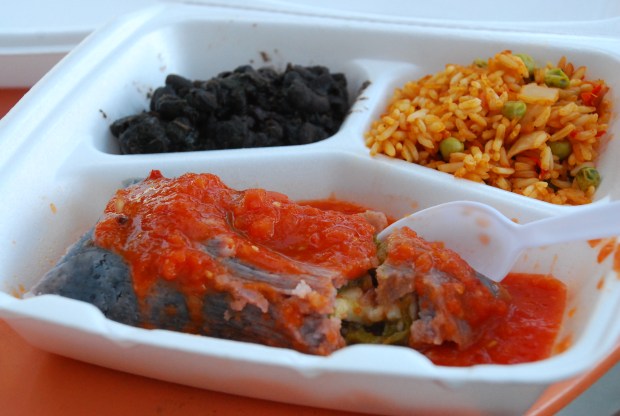 In the rugged mountains of the Bajío, this former silver-mining province became a hotbed of revolutionary action under the oppressive rule of Spain. Today, in a modern Mexican revolution, it's producing artisanal cheeses served on cheese boards at Mexico's top restaurants. In addition to the traditional foods of the Bajío, dishes from the Huastec people form the state's gastronomy. Typical antojitos include bocoles (masa pockets), tacos de arriero, tamales muertos (made with blue corn), and enchiladas queretanas, served with chicken, potatoes, and carrots. The carnitas are good here, and you're in for a unique taste of Mexico with budín de huitlacoche (corn smut pudding), kid cooked in pulque, lengua mechada (tongue stew), and the zacahuil, a giant tamal cooked in a pit.
Quintana Roo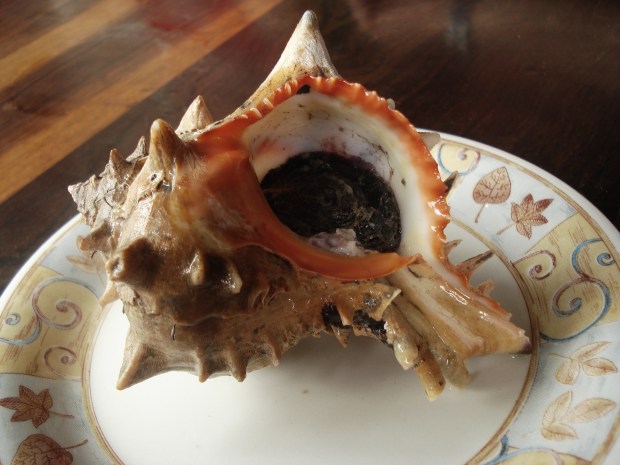 If you want to see the real Quintana Roo, get away from the tourists in Cancún to explore ancient Mayan ruins and take in a cuisine tinted by achiote, recaudos (marinades), and pre-Hispanic herbs. The various recaudos used in Mayan cooking are a distinct culinary tradition studied by all cooks serious about the cuisine. The easternmost Mexican state is one of the most densely forested areas on the planet. There are tropical forests, savanna, mangrove forests, and the Great Mayan Reef. There are also many tamales to enjoy and lots of plates with dogfish, like dogfish empanadas, and sea snail dishes such as ceviche de caracol and breaded sea snail. A large local crab is cooked in butter, and the Mayan rarity tepezcuintle en adobo (rainforest rodent cooked in adobo) as well as chirmol de pato (duck in black achiote) employ traditional methods for exciting dishes that set this locale apart from the other states of the Yucatán Peninsula.  
San Luis Potosí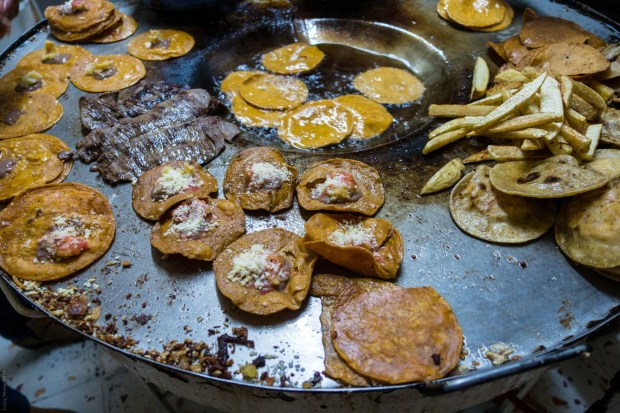 Located mostly on the Mexican Plateau, this north central state shares borders with eight other states (the most in Mexico). Its famous evening snack of enchiladas potosinas is an antojito of enchiladas lightly fried with chicken, potatoes, and carrots that is prepared at stands also serving tacos rojos. Enchiladas rioverdenses, another local style, come filled with potatoes. Tamales huastecos (wrapped in banana leaf) are a filling meal popular among potosinos, as are volcanes, a type of taco where the corn tortilla is toasted on a comal then covered in melted cheese, roasted meats, and condiments, like a tostada. Try the pastel indio (tamal casserole), fiambre (beef tongue, chicken, and pig feet), guiso borracho made with pulque, and acamayas (langoustines); or fire up the barbecue for some rattlesnake and open a bottle of local mezcal to share with friends. The zacahuil, a giant tamal wrapped in papatla (a pre-Hispanic plant) leaves roasted in a pit, was somewhat of an elusive, mythical dish to me. So after I checked in at a hotel in Ciudad Valles, I grabbed a cab, sure my food-sleuthing skills would land me the whole enchilada (or tamal in this case). As soon as we turned the corner, there were five zacahuil stands, on a busy street just over the wall of my hotel parking lot.
Sinaloa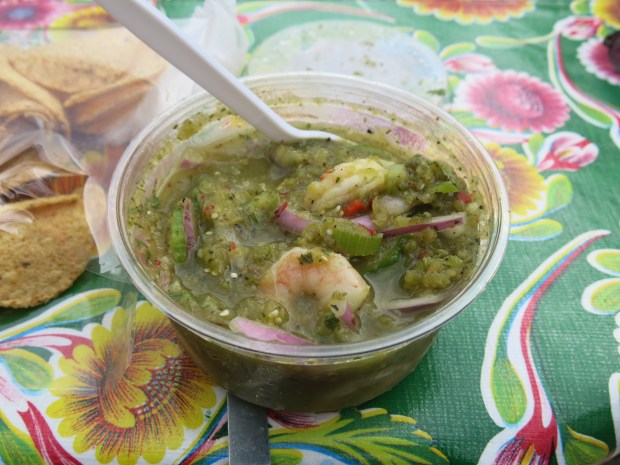 Mexico's most infamous state and home to El Chapo is a favorite of mine for its warm coastal plain. I have access to a condo in Mazatlán, where delicious surf-and-turf plates deliver big flavors. In Los Mochis and Culiacán, fresh raw seafood botanas (snacks), ceviches, aguachiles and cocktails are dusted with the popular flavors of the chuchería (candy shop)—chamoy, tamarind, and Tajín. Sinaloa takes more liberties with its seafood than its southern neighbor, Nayarit, adding soy sauce and cans of vegetable juice to mixed seafood tostadas, stacked seafood towers, and snacks. But in the southern cities of Mazatlán, Escuinapa, and Villa Unión, seafood cocktailing more closely resembles the austere preparations of Nayarit. Pescado zarandeado, the state dish, is prepared with a richer marinade, often mixed with mayonnaise. Sinaloa's barra fría (cold bar) and barra caliente (hot bar) techniques and dishes are emulated all over Mexico and the U.S. In Mazatlán, chorreadas (roasted meats, melted cheese, and lard on a toasted corn tortilla), vampiros, and tacos de carne asada fill the night air with smoky goodness. Everyone's grandmother makes the best chilorio (stewed pork in red chili peppers).
Sonora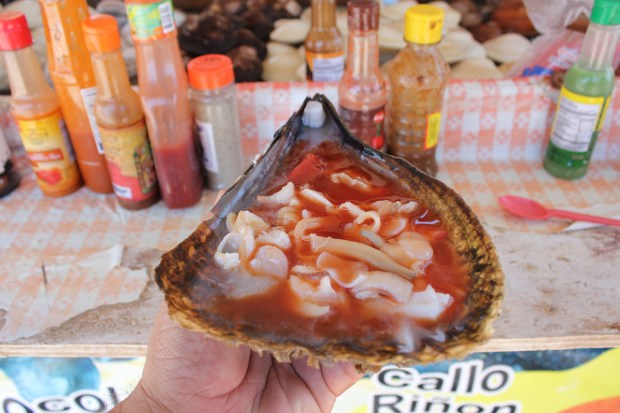 Along with Nuevo León and Chihuahua, Sonora is a center of carne asada and northern Mexican cuisine. Fine cuts of fire-roasted cabrería, arrachera, and New York steak are served in tacos and parrilla style, set on a hot brazier for making your own tacos with artisanal flour tortillas called sobaqueras. Burritos de machaca (beef jerky), carne con chile, chivichangas (fried burritos, same as chimichangas), burritos percherones (large steak burritos), burritos filled with northern stews, and Sonoran hot dogs draw a hungry crowd. You'll find the best tacos de cabeza in Mexico here. It gets brutally hot in the summer, but I love this place; and Hermosillo might be the Mexican city I've spent the most time in outside Tijuana. It has great tacos, burritos, and bacanora, a local style of mezcal. Just an hour from Hermosillo lies Bahía de Kino, on the Sea of Cortez, a nice getaway for amazing seafood dishes with local crab, callo de hacha freshly shucked from its massive shell, and cahuamanta (manta ray stew). That last is fine hangover cure in Mexico's No. 1 surf-and-turf state.
Tabasco
If you didn't have grilled pejelagarto (a pre-Hispanic fish known as alligator fish in the U.S.), pejelagarto en chirmol, or tamales de pejelagarto, you didn't really go to Tabasco, a state whose copious rainfall sustains its many rivers and lush rainforest cover. The finest chocolate in Mexico comes from here, and you can get it in tablets for cooking and in handcrafted, pre-Hispanic beverages made with cacao. This was the last state I visited on my journey, and it confused me more than anywhere else. Dishes like albóndigas de chaya, fish stuffed with chilies and green herbs, plantains stuffed with picadillo, iguana stew, armadillo scented with acuyo (an herb also known as hoja santa), and chocolomo, a soup of offal and brains, are more often served with ñame (yam), boniato (sweet potato), and yucca than tortillas. "We eat tubers more than tortillas," says chef Gabriela Ruíz, who showed me around Villahermosa. If this is Mexican food and Chihuahua, Chiapas, Baja California, and Oaxaca also showcase Mexican cuisine—so entirely divergent and completely detached from what most people think of as Mexican food—I may just have to start over. I know nothing.
Tamaulipas
The story of this northeastern arid Gulf state could end with stuffed crab, huatapé de camarón (shrimp mole), and tortas de la barda, a mega-loaded torta served with chile verde as a salsa. But there's more to taste in the most remote municipalities of the tequila D.O. Count this region as a sleeper hit with such dishes as enchiladas de Tula (open-faced), sweet gorditas, tamales de chilpan (made with seven chili peppers), mole de olla with lentils, masitas tamaulipecas (masa soup), mole de pollo Tula-style, and spit-roasted kid. And you can't forget one of Mexico's most ubiquitous plates: carne asada a la tampiqueña, a carne asada combo suitable for a big appetite. On my return flight to the U.S. I spotted a stand near the airport and wheeled my bag over to have a torta a la barda, a stacked sandwich finished with chile verde, wetting the ingredients with tart, spicy tomatillos rich with browned pork ribs—maybe the best sandwich I've had. Ever.
Tlaxcala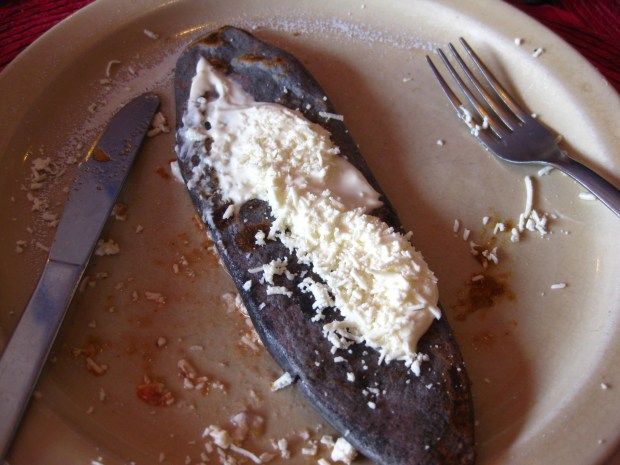 Mexico's smallest state is the cradle of pulque and maize culture, where a bunch of varieties are cultivated. Even the street corn is interesting; blue and purple corn are used as well as the seasonal cacahuazintle. Drinking pulque here will make you turn your nose up at the swill served in Mexico City's pulquerías. Lamb barbacoa, a bunch of edible insects, tlatloyos (regional name for tlacoyos) stuffed with fava beans and garbanzos, cream of huitlacoche soup, mixiotes (meat cooked in parchment) with various proteins, huauzontle fritters, mole de epazote, pipián with chicken, and a roadside gem of pit-roasted chicken stuffed with cactus, chilies, and prickly pears. I brought chef Tim Hollingsworth here on a tour to the home of a traditional Tlaxcalan cook for mole de prieto, a pre-Hispanic mole thickened with masa and corn tortillas, eaten with chileatole (spicy savory corn porridge), tamales tontos (unfilled tamales used as utensils), and hand-slapped corn tortillas—all prepared on a clay comal with a metate, molcajete, and weathered hands.
Veracruz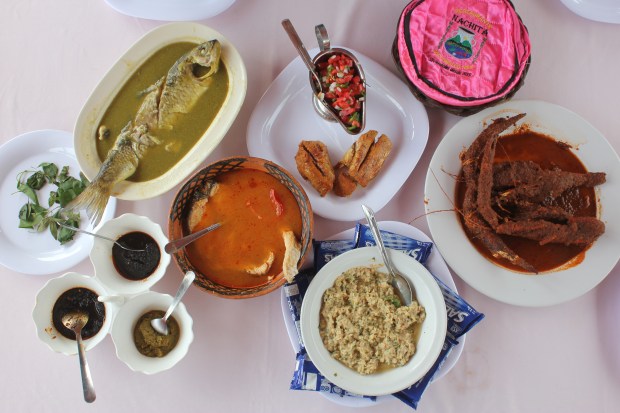 From the north to the south, Veracruz has drastically changing topography and cooking styles. Its most famous dish, pescado a la veracruzana, is a tourist's whim that makes many locals turn a half smile in frustration. Zacahuil, a giant pit-roasted tamal, mole de Xico and mole Naolinco-style, chilpachole (spicy seafood stew), tamales stuffed with local herbs, and flor de izote (yucca flower), langoustines in salsa verde, chileatole, tesmole, huatapé (shrimp soup–like mole), pambazos (minus the bread dipped in chili sauce as in Mexico City), and stuffed jalapeño barely scratch the surface of one of Mexico's top three culinary states. Along with Chiapas, Veracruz is one of the most important coffee-growing regions in the country. Veracruz is a favorite among white American cookbook authors, who often turn to the unimportant pescado veracruzano for their marquee dish, yet little is known of the many layers of pre-Hispanic dishes from one of the most diverse indigenous populations. My return trip is already on the books.
Yucatán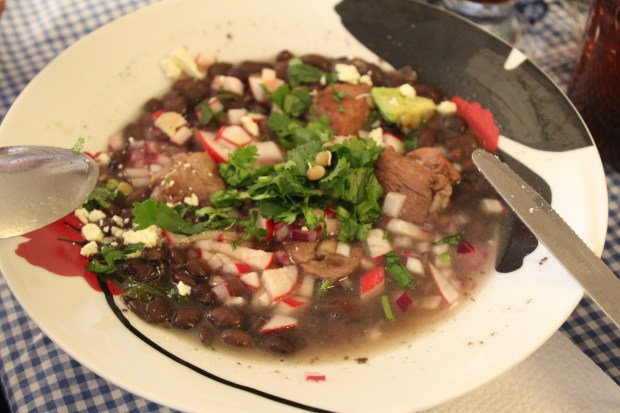 The crown jewel of the tristate region is plentiful in flora and fauna and full of exemplary Mexican dishes. Cochinita pibil (roasted pork), panuchos (bean-stuffed tortillas with turkey), salbutes (fried tortilla with turkey), papadzules (tortillas filled with hard-boiled eggs and covered in a pumpkin-seed sauce), relleno negro (turkey in black recaudo), kibis, and sopa de lima (lime soup) are a few preparations every fan of Mexican cooking wants to master. Just like Oaxaca and Puebla, Yucatán is a state Mexican chefs study for its recaudos, salsas, and cooking techniques. It has a wide selection of tamales, including the sizable mucbipollo, relleno de queso (a dish made with Dutch Edam cheese specially marketed to the area), and octopus cooked in its own ink. Frijol con puerco, a delicious comfort-food dish, and artisanal longaniza are specialties in Valladolid and Mérida, a popular location for American expats that has a beautiful colonial town and is a destination for contemporary Mayan cuisine.
Zacatecas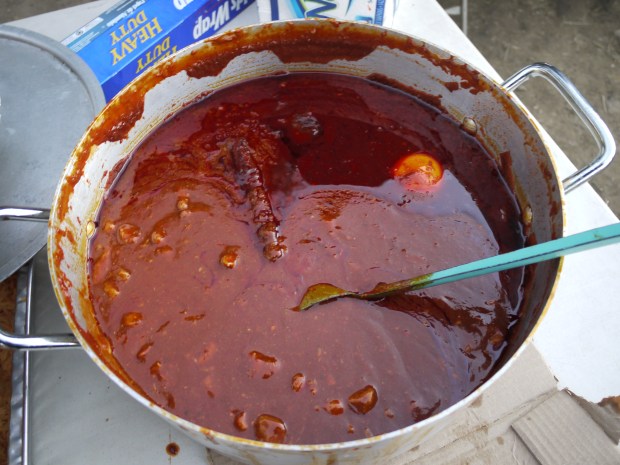 Asado de boda, a sweet wedding mole, is motivation enough for visitors to befriend as many zacatecanos as possible in order to get wedding invites to try this dish. The cool, dry climate of this mineral-rich state is ideal for growing cacti. Local fondas specialize in goat birria and red pozole, and street vendors offer a rainbow of freshly picked prickly pears. Gorditas made from corn masa are cooked on a comal and filled with provincial stews like beef birria, shredded beef, cactus, or beans. In the town of Jerez, tostadas of pickled pork rinds with red salsa is a reminder that one should try to pass through small towns looking for such limited bites. Mezcal and pulque are produced here from local agaves, and nothing is more refreshing than agua fresca made with prickly pears. Thanks to the jerezanos behind Burritos La Palma, the northern Mexican–style burrito joint and tortillería has become an emblem of Zacatecan cuisine and made its way to LA and Orange County.