I've been thinking a lot about woman-knowledge, a term coined by the African-American healer Luisah Teish to describe the collection of recipes, skills, cures, and other variants of community sustenance shared across generations of women.
I'm in Oaxaca, on a creative retreat with a group of 13 women. Being the only woman of color in the bunch, I'm particularly interested in the Afro-Mexican communities of the region. For five days, I want to absorb the stories, triumphs, failures, and wisdom of Indigenous Oaxacan and Mexican women artisans and creatives who have carved their own paths using their women-knowledge, passed down generationally through a myriad of skills.
How will I do this? Mostly by eating.
Eating in Oaxaca is a crash course in the indigenous woman-knowledge so lovingly and proudly preserved by the Zapotec and Mixtec women from the Isthmus of Teuantepec to the Valleys of Oaxaca. It is also a direct byproduct of stringent gender roles in communities where women tend to the home, their children, husbands, and extended families.
Visitors come here for two reasons: the old-world quaintness of the colonial city of Oaxaca, and the food. Mole, chapulines (grasshoppers), flor de calabasas (squash blossoms), quesadillas, tetelas, tamales, hot chocolate, and mezcal are all Oaxacan cuisine staples, all perfected in the indigenous kitchen.
I spend a week eating in every manner imaginable, from the ubiquitous food stands near the zócalo (main square) to trying out chiles in the massive Benito Juárez market, and from the homemade breakfasts at El Diablo y La Sandia to a breathtaking dinner of fish tacos and avocado and chepil salad at the Enrique Olvera-helmed Criollo. I indulge in mezcal whenever it is presented to me, which is often and everywhere.
Indigenous cooks use seasonal squash blossoms for a soup dressed with chepil—a pot herb that is strangely classified as a weed in the U.S. and tastes a bit like an under-ripe green bean—to make sopa de flor de calabaza, thickened with masa or pureed Oaxacan corn, a firmer, richer, and more savory corn than what we get in the states.
My favorite version of the dish was made by Chef Abigail Mendoza, owner of Tlamanalli, an almost cavernous but warm space in the village of Teotitlan del Valle. Chef Mendoza opened Tlamanalli at the age of 20 to share her woman-knowledge of Zapotec cuisine and has taught courses in Africa and Europe.
Chef Mendoza makes squash blossom soup in the kitchen she runs with her four sisters. As one sister checks in on the pots of soup, slowly simmering, another is straining jamaica (dried hibiscus flowers) for an agua fresca, and yet another cuts and arranges floral arrangements. They all wear their hair in the traditional braids woven with ribbon, and traditional Zapotec embroidered dresses.
Oaxacan cuisine relies on seasonal ingredients found at farmers markets, and food grown on family and ancestral lands. The Mendoza sisters source their ingredients in the same manner.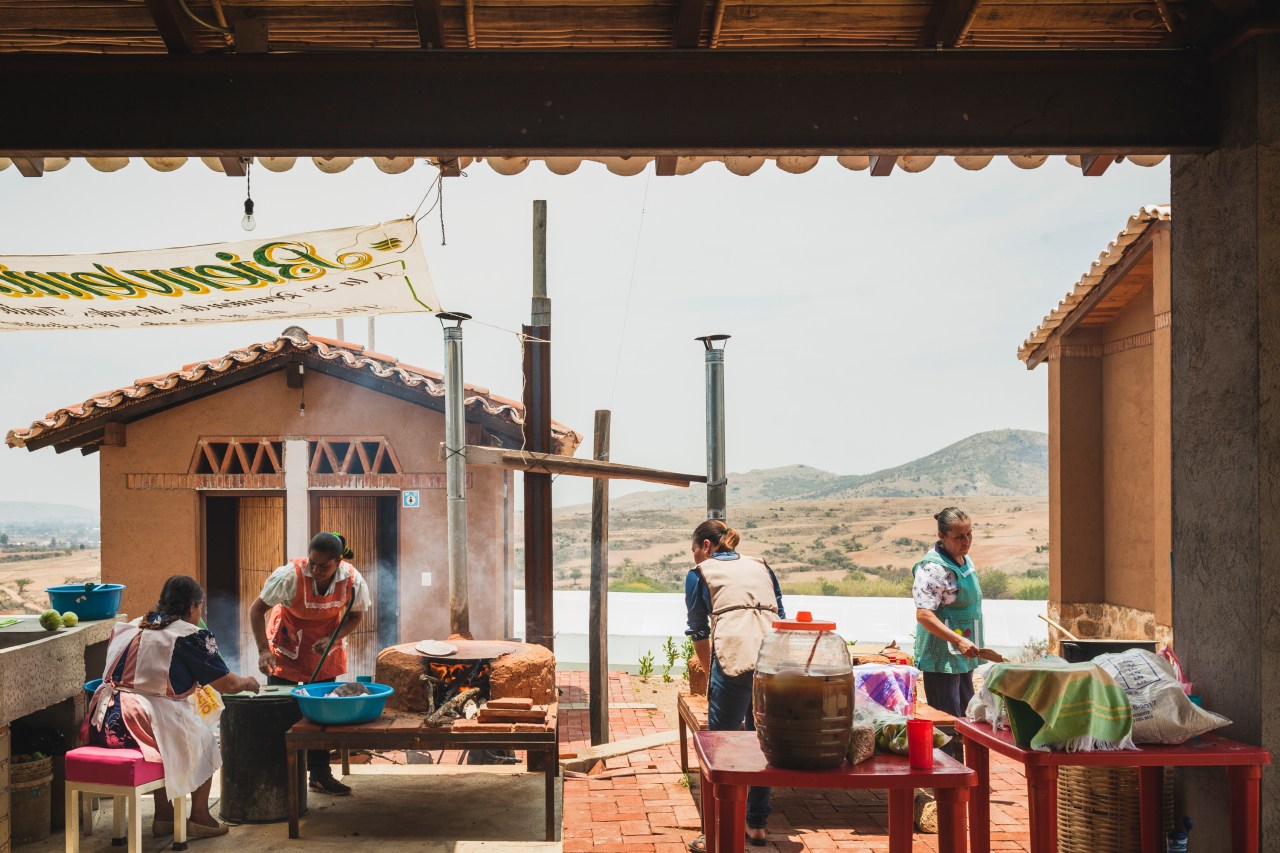 In Santa Catarina Minas, about 45 minutes outside of Oaxaca City, Graciela Angeles Carreño, a fourth generation mezcalillera, recently inherited her family's distillery. She's one of a few women working in mezcal production, a field previously closed off to them due to long-standing superstitions about women's moon cycles affecting the quality of mezcal.
Carreño focuses on the agave's distinctly feminine qualities: the plant has a reproduction cycle of nine months and can terminate reproduction if the temperature does not allow for the successful growth of new plants. A dedicated evangelist of mezcal, she is making room for a new generation of mezcalilleras. Her mezcal accompanies a lunch of paper-thin pieces of beef, cooked on an open grill and basted in its own rendered fat while blue corn tortillas are cooked on the coal, a smooth griddle placed over a wood burning fire, often found outside homes all over Oaxaca.
Unlike our other meals, we are invited to help Carreño and some of the indigenous elders who are busy charring tomatoes over an open fire for salsa, mixing blue corn masa, shaping the tortillas, and gently placing them on the comal to be baked. There are no measuring cups, just hands and minds with precise measurements and perfection through repetition. Stumbling over our gringo-fied, marble-mouthed Spanish, we resort to gesture and observation as a means of communication. A few generations of women from all over the world, connected in the act of creating sustenance.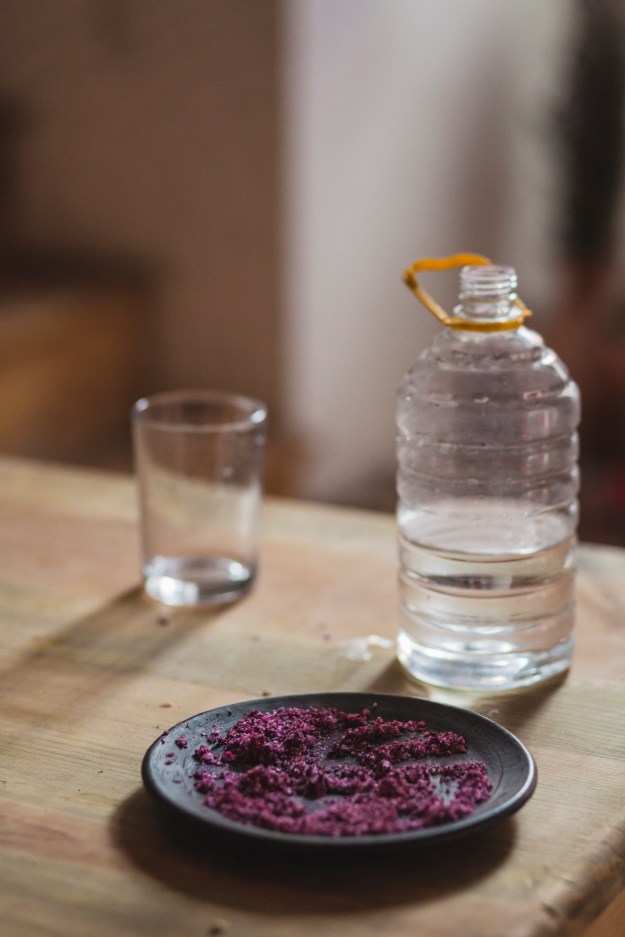 When we sit down at our large, family-style table adorned with an agave leaf centerpiece, Carreño makes a toast: "To us, las mujeres fuertes!"
Carreño is part of a new vanguard of young women are creating exciting Oaxacan food, like Paulina Garcia, an expert in food preservation techniques—from pickling and fermenting to canning mango vinegar, tamarind jam, and an incredible pâté made of wild mushrooms. Though a fermentation kitchen like Suculenta could feel contrived elsewhere, food preservation here feels like a fusion of traditional and new school Oaxaca; an exchange of knowledge, creating hybrid traditional foods.
But the real spark comes at Zandunga, in Oaxaca City's central district, where Doña Aurora Toledo, from the Isthmus of Tehuatepec, serves me a small ground beef appetizer with shredded Oaxacan cheese on a tortilla along with a sweet plantain croquette. I am certain the accompanying pickle, a pickle I'd eaten many times before as the child of a Haitian immigrant, has roots in West Africa. In fact, the menu at Zandunga tastes incredibly Caribbean to me. I am suddenly reminded of how my grandmother grew chepil in her backyard, and that she taught me how to make piklis out of cabbage, carrot, and scotch bonnet pepper.
Doña Toledo grew up on the opposite side of the Costa Chica region, where an estimated 200,000 African slaves were brought over during the Atlantic Slave trade.
All my meals felt familiar—the flavors spoke to my own ancestral woman-knowledge. And with that revelation, it felt as though it was deeper than generational, that perhaps the gatekeepers of our cultures have found a way to preserve and share ideas across expanses, across the imaginary borderlines of country, state, race, and class to create the sustenance that keeps our species going.