Inspired by our grandmothers' arroz con leche (Mexican rice pudding), this quinoa and almond milk breakfast pudding is fragrant and flavorful: the protein and fiber give you endurance for your day. Make a pot ahead of time and store individual servings for easy breakfasts throughout the week.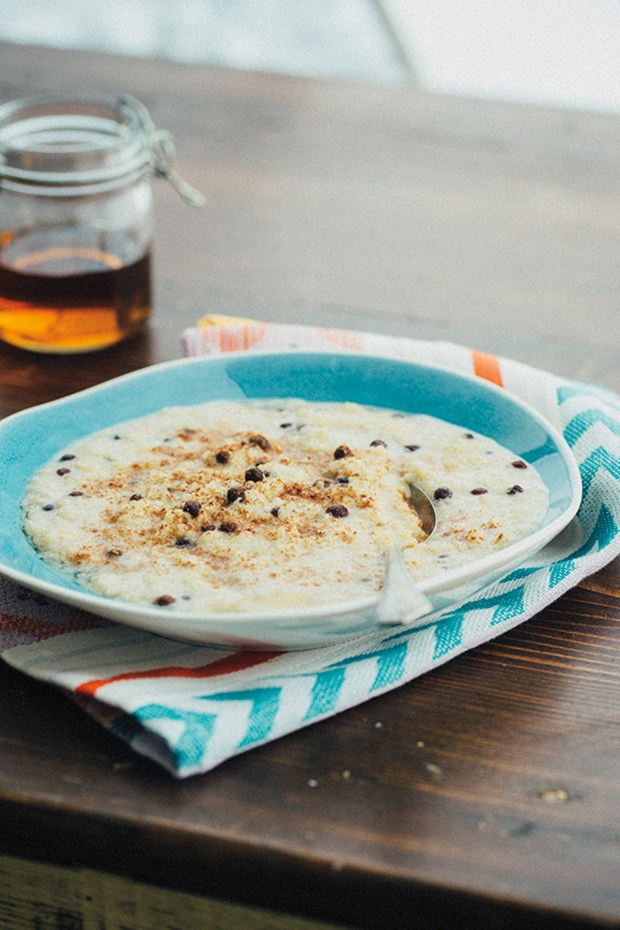 Ingredients:
(Serves 6)
1 cinnamon stick, preferably Ceylon or canela Mexicana
3/4 cup (175 mL) quinoa
1 long strip lemon peel
1/2 tsp sea salt
4 cups (1 L) unsweetened almond milk
1/3 cup (80 mL) pure maple syrup, plus more if needed
1/4 cup (60 mL) currants
1 tsp pure vanilla extract
ground cinnamon, for sprinkling
Preparation:
In a saucepan on high heat, bring cinnamon stick in 1 ½ cups water to a boil. Reduce heat to medium and simmer for 10 minutes to produce a "cinnamon tea." Remove from heat and discard cinnamon stick.
Place quinoa in a fine-mesh strainer and rinse under running water until water runs clear. Heat a dry saucepan on medium heat, add quinoa, and gently toast it, stirring, until it dries out, about 5 minutes.
Add cinnamon tea, lemon peel, and salt, and bring to a boil. Reduce heat to low, cover, and cook for 15 minutes, until all water is absorbed. Add almond milk, maple syrup, and currants. Raise heat and return to a boil. Reduce heat to low and cook uncovered at a low simmer, stirring frequently, for about 15 minutes, until much of liquid has been absorbed but mixture is still loose. Quinoa will continue to thicken as it sits. Remove from heat. Stir in vanilla and remove lemon peel.
Let sit for 15 minutes. Taste and adjust sweetness with more maple syrup, to taste. Serve warm in small bowls sprinkled with cinnamon or portion into small lidded jars and store in refrigerator for quick weekday breakfasts.
Recipe originally published in Decolonize Your Diet: Plant-Based Mexican-American Recipes for Health and Healing by Luz Calvo & Catriona Rueda Esquibel. Published by Arsenal Pulp Press, 2015.