Arrive at the house of a mineiro (a resident of Minas Gerais) and you will find a piece of tasty cheese sitting on the kitchen table with a knife lying next to it, inviting you to try.
There are more than 30,000 cheesemakers in Minas Gerais, according to the state government. While many families make cheese just to have a good, fresh product at home, for Marly and Joel Leite, it's a source of income.
"Our livelihood comes only from cheese," Marly Leite says.
It's a skill they learned as children from their grandparents. And they have a connection with caseiculture, or cheesemaking, even in their last name: Leite means "milk" in Portuguese.
At Fazenda Caxambu, a farm in Sacramento, a town in the interior of the state, the Leites and their two children (both in their twenties), sister-in-law and nephew work seven days a week in the production of cheese, which includes getting about 105 gallons of milk from 35 cows. The Leites make about 40 rounds of cheese (each about 28 ounces) every day.
Recently the Leites' potent Senzala cheese has gained prominence, and vendors need to get on a waitlist to purchase it, which can take months.
That's because in June, their Senzala won a super gold medal, the top award in each category, at the 2017 Mondial du Fromage in Tours, France. More than 47 countries were represented, with over 700 types of cheese. In addition to the Leites, 10 other Brazilian producers received awards.
"International awards help project the image of Brazilian cheese—and in this particular case, the Minas Gerais ones—in the world market," says Falco Bonfadini, an artisanal cheese merchant in São Paulo and one of the organizers of Prêmio Queijo Brasil, a competition for the best Brazilian artisanal cheese. "We Brazilians have always been bad at valuing what we do. When a contest like this gives value to our product, we stop to think, 'Yes, our cheese is pretty good.'"
 Bonfadini says local cheesemakers have taken steps to improve their products in recent years as Brazilians become more discerning consumers. "Today we are experiencing a moment of revolution and expansion in the countryside," he says,  "which has greatly changed the lives of many small farmers."
The Leites, for example, recently took a class promoted by a local nongovernmental organization, SerTãoBras, where they met Delphine Geant, a professor at l'École Nationale d'Industrie Laitière et des Biotechnologies (the National School of the Dairy Industry and Biotechnology, or ENILBio) in Poligny, France, one of the leading cheesemaking schools in Europe. Geanthe showed the Leites that they didn't need to remove the white mold that naturally forms on the surface of their cheese.
"We washed the pieces several times a day to prevent the mold from forming because we thought it could be harmful to health. We did not know that it could improve the taste and the texture of the cheese," Marly Leite says.
"We always cared about our cheese a lot," she continues. "Our grandparents taught us how to make them very fondly and with a lot of affection, which always made it very good. But with the knowledge we have gained, we have been able to make things even better."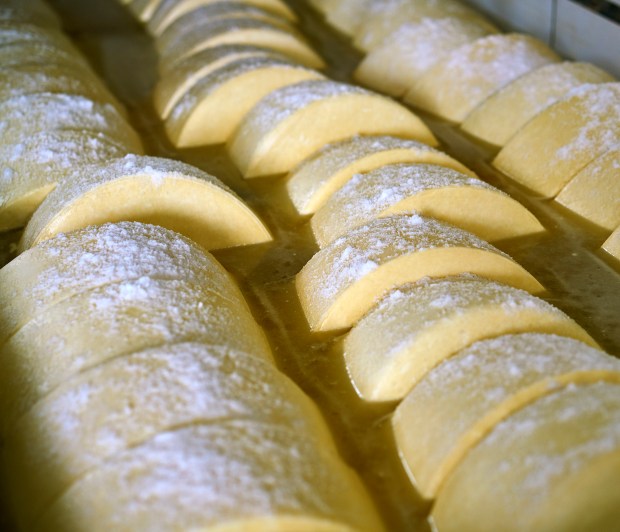 "And that was crucial for us to grow," she adds.
 Today the Leites know that a cheese's flavor varies, depending on its terroir—the conditions that give a food product its distinctive character, like altitude, climate, type of cattle, and feed used—as well as the time it takes to mature. Senzala comes from the microregion of Araxá and is aged at least 30 days.
The best-known traditional cheesemaking regions of Minas Gerais are Serra da Canastra, with more than 100 years of tradition, and Serro, the oldest cheese production region in the country and the first recognized with a geographical indication.
Guilherme Ferreira took over his unproductive family farm in the Serra da Canastra region some years after finishing veterinary school. He came across the work of the Association of Canastra Producers and decided to try his hand at cheesemaking, a family tradition.
"I am the fifth generation, and it was a tradition that was dying. I saw that I could have a very good product to work with and that the market was looking for quality and was willing to pay well for it," he says.
Ferreira says his initial focus was on equipment and raw materials.
"The quality of milk is determinant in the production of cheese, so we invest in machinery that reduces the possibility of contamination and also in the Caracu breed of cattle, which is historically connected to the region and has very good milk," he says. Today he has 45 cows that each produce about 65 gallons of milk per month. He also focused on organizing production and training his employees.
"At the time, I set a goal that in five years we would have the best cheese from Minas Gerais," Ferreira says.
Four years later, his Capim Canastra cheese was the first Brazilian cheese to receive an international award. He won a silver medal at the 2015 Mondial du Fromage.
"It was very big publicity … which made the demand increase a lot. But production remained the same, since we could not increase due to lack of capacity," he says.
According to Bonfadini, who is also the vice president of Comer Queijo, a recently created association to promote Brazilian cheese, Ferreira's prize was a milestone for Brazilian production and specifically for Minas. "From this moment on, many producers saw the possibility of working with quality and making more money," he says.
Despite their international success, many Minas artisan cheesemakers feel stymied by national bureaucracy and regulations, which make no distinction between artisanal and mass producers. So while they may receive a state inspection seal, they often do not have the seal of the Federal Inspection Service and are therefore barred from selling outside Minas Gerais.
In a controversial and much-publicized episode at last year's Rock in Rio music festival, food inspectors threw out 140 pounds of artisanal Minas cheese that chef Roberta Sudbrack had ordered, because it didn't have proper inspection seals. The resulting increased discussion led to the state government's simplifying regulations for artisanal cheese producers in Minas Gerais. Since February, certification has been condensed into five requirements, such as compliance with good manufacturing practices, herd health and workers' health.
There is ongoing federal discussion to allow Minas cheese to be sold in other states. One of Comer Queijo's roles is to create a consensus that satisfies both regulators and artisanal cheesemakers. "We need to create ways of inspecting the production without hindering it," Bonfadini says.
Ferreira, meanwhile, looks forward to more vendors outside Minas Gerais being able to sell his cheese. Late last year he built a cheese cave on his farm to better control the aging process. "My idea is that other producers in my area can use the space to age their cheese as well," he says.
Marly Leite is also involved in a project, with the help of ENILBio technicians, to build a cheese cave on her property that will be shared with other producers in the region. She says it will be the first aging center in Brazil made according to the French model.
"French people have a well established model of cooperation, of mutual aid among the cheesemakers. That is why they became a world power and were known for the great cheese they make," she says. "We want to do the same in Minas Gerais. We mineiros are helpful people. We get together to do things. In the end, we know that united we have more strength."