Though you can spot the city's skyline from where this road begins, Nolensville Pike is not a glamorous stretch of Nashville. Unlike downtown, it does not have neon bar signs in the shape of cowboys or flying pigs. And unlike 12th South, it does not have hip boutiques owned by celebrities. Rather, it's a four-lane road lined with tattoo shops, fast-food restaurants, and used-car lots.
Look closer, between the Burger Kings and Waffle Houses, and you'll spot the clues to this road's status as an international corridor. Taco trucks permanently post up at gas-station lots, and lines of Latino workers can be spotted waiting for lunch. Kebab shops tout their flatbread bakeries with a flourish of Kurdish script.
Nashville's community has grown more diverse of late. It now includes the nation's largest Kurdish population, and there's no better place to sample the tastes of that demographic boom than along Nolensville Pike. Follow along with the list below, and you'll see at least a dozen countries in a five-mile stretch.
InterAsian Market & Deli
This Asian market has rows of rice paper and Cantonese-style egg noodles twirled into nests. When a woman in heels hurriedly clipped in to ask about Thai chili paste, the owner reassured her. "Oh, we've got a lot," he said. "Too many." Besides the chili pastes and other treasures—from tins of tea to pickled duck eggs—it's the takeout banh mi made in the back of the shop that sate the taste buds most immediately. An 8-by-10 sign near the register modestly offers the options, including a tofu version, roast pork, double-meat, and ground pork, but the original banh mi remains a favorite. The sandwich arrives in tidy paper wrapping. Good luck leaving the parking lot before finishing off every crumb. With the crunchy pickled carrot, fresh sprigs of cilantro, a spear of cucumber, jalapeño, and papaya all tucked into the crackle of a French loaf, it's a noisy treat to eat. Alongside the vegetables and slices of pork, however, a musty smear of pâté and hot mustard keeps it grounded.
Address: 2160 Nolensville Pike, Nashville, TN 37167
Hours: 9 a.m.–8:30 p.m. Sunday through Wednesday; 9 a.m.–9 p.m. Thursday through Saturday
Contact: +1 (615) 742-3268
Cost: $3.66 for an original banh mi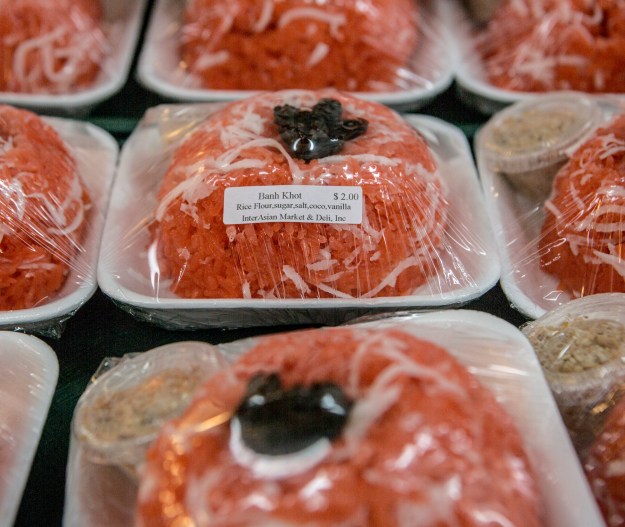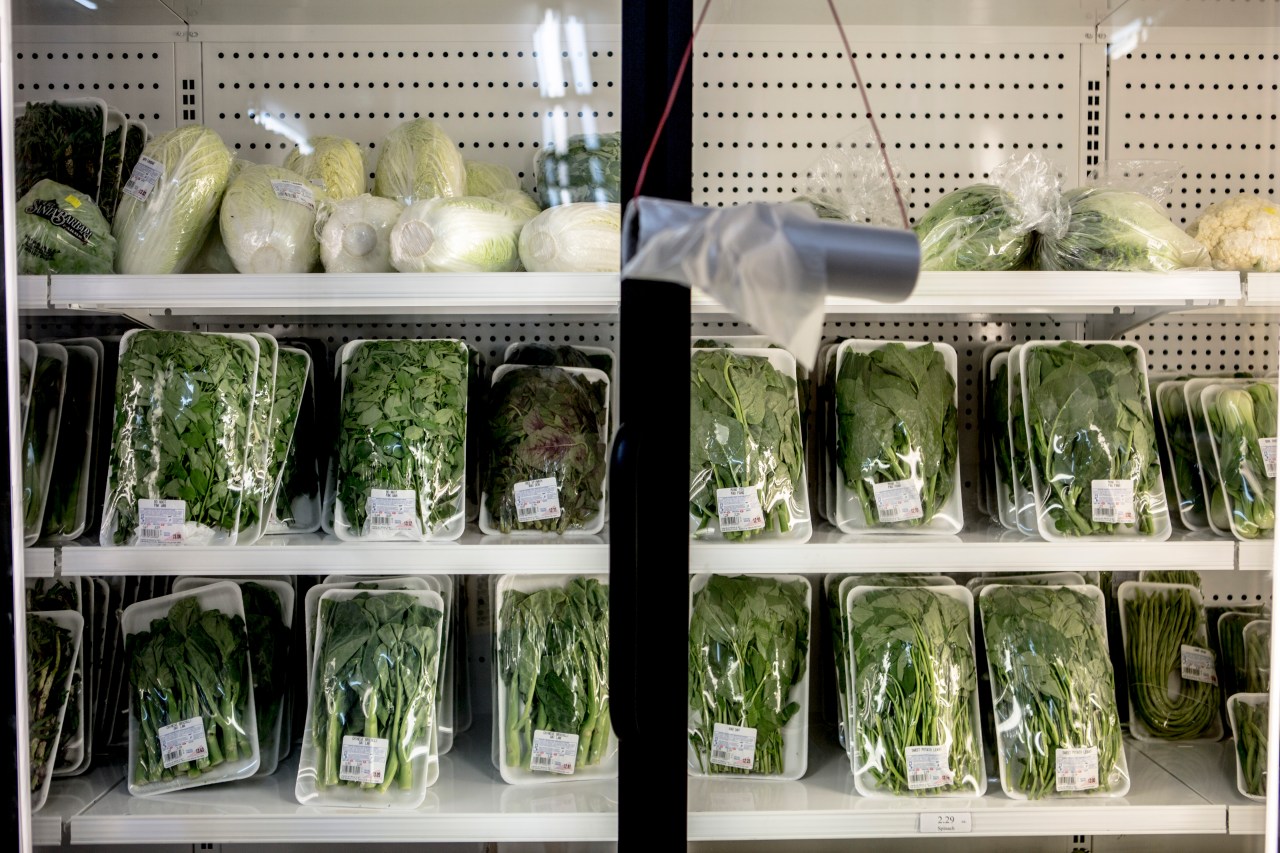 Mesa Komal at Casa Azafrán
Though it's not a restaurant per se, the community kitchen at this center for immigrant-focused nonprofits often throws the best food parties, such as a paella competition each year as well as lively cooking classes. More than 30 food-related entrepreneurs share kitchen space there year-round, to prepare dishes they learned in their home countries—everything from churros to empanadas and hummus. (The sharing of resources and space in the kitchen also leads to impromptu language lessons on the whiteboard in Spanish or Farsi.) While the center is called Casa Azafrán, the kitchen is Mesa Komal, meaning "table" and "community" in Spanish and Kurdish respectively, giving a nod to two large communities in the area. At the annual Christmas Bazaar, for example, guests can load up on loaves of Venezuelan bread stuffed with ham, cheese, and olives or on links of homemade chorizo and tea biscuits to serve with cups of Indian chai.
Address: 2195 Nolensville Pike, Nashville, TN 37211
Hours: 9 a.m.–5 p.m. weekdays; meetings with individual chefs by appointment
Contact: +1 (615) 320-5152
Cost: Varies by product
La Hacienda Taqueria and SuperMercado
When Barack Obama visited Nashville in 2014, he made a stop at this Mexican restaurant on his way out of town. Beyond its proximity to where the president delivered a speech, the restaurant has been a pioneering immigrant-owned business in Nashville since it opened in 1992. Visit on Saturdays and Sundays to choose from a special menu of goat or barbacoa, bowls of pozole rich with hominy and hunks of pork, or spicy menudo with tortillas made at the bakery next door. Be sure to save time—and room—for a browsing the market too. Stacks of tortillas can be purchased in bulk as well as bolillo loaves and pastries in every shape, from sugar-topped conchas in pastel hues to elaborately iced birthday cakes. Back near the butcher, there's a produce case with popular items like cactus, peppers, and tomatoes, as well as tubs of lard for cooking and crisp slabs of chicharrón for snacking.
Address: 2615 Nolensville Road, Nashville, TN 37211
Hours: 10 a.m.–9 p.m. Monday through Thursday; 10 a.m.–10 p.m. Friday and Saturday
Contact: +1 (615) 256-6142
Cost: $9.49 for the barbacoa platter with rice, beans, and toppings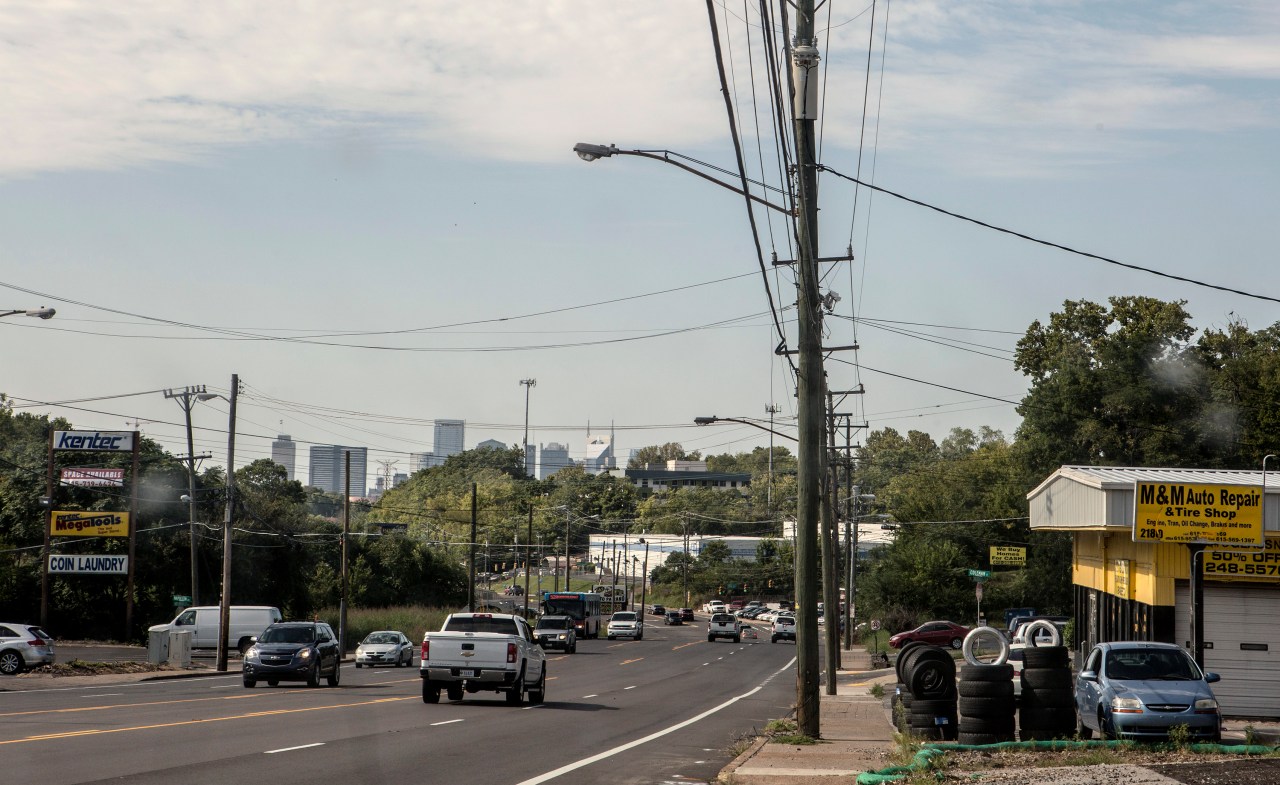 Pupuseria Reina La Bendición
Blink and you'll miss this tiny brick restaurant wedged into a row of shops, but it makes up for its stature with big, bold flavors. The namesake pupusas are a good choice. Served like corn pancakes, they are stuffed with a layer of cheese or a mix of pork and refried beans. Take a seat at one of the tables covered in red and white checkered tablecloths and you'll hear the pat pat pat of cooks making the dish amid the reggaeton coming from a corner TV. While the decor is modest—mostly Salvadoran soccer scarves and flags in a room painted royal blue and white—the pupusas come fully dressed. They arrive with tongs and a self-serve container of curtido, a shredded cabbage-carrot slaw spiked with jalapeños. You'll find hot sauces on the tables, as well as a thin, tangy salsa roja and a spicy green sauce. Though it looks innocent enough with its pale, avocado-colored hue, don't be fooled: That puree of peppers can light a person up.
Address: 3003 Nolensville Pike, Nashville, TN 37211
Hours: 8 a.m. to 9 p.m. Monday through Saturday, 8 a.m. to 8 p.m. Sunday
Contact: +1 (615) 243-8425
Cost: $2.25 for a pupusa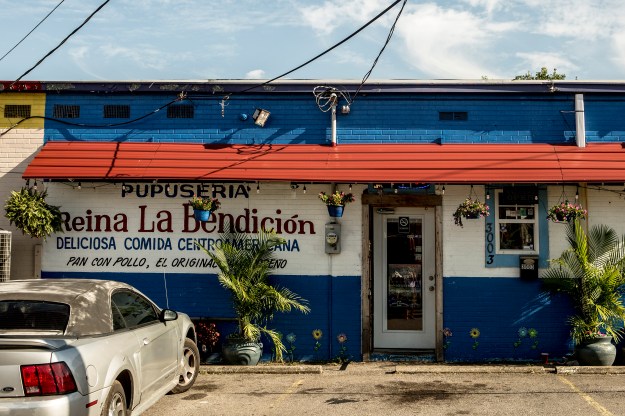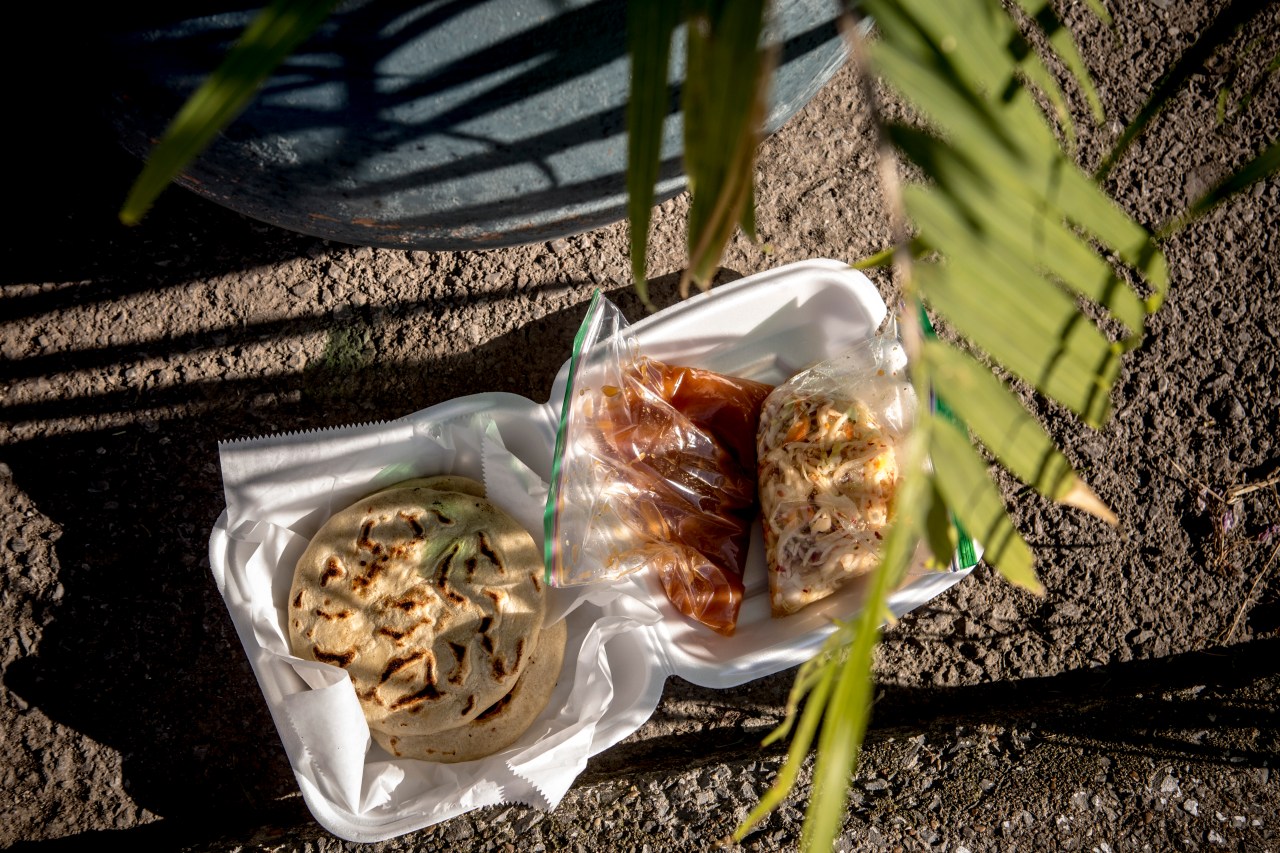 Gojo Ethiopian Cafe and Restaurant
Hana Gebretensae says learning to make doro w'et as an Ethiopian is a rite of passage. She learned to make the dish from her mother back in Africa, before coming to the United States about a decade ago. It's her favorite choice on the menu and a solid selection for anyone visiting Gojo, the modest Ethiopian restaurant she owns. The name translates to "home." Gebretensae's version of the dish includes two chicken legs marinated in lemon and sauteed in a buttery blend of spices, garlic, onion, and ginger. A hard-boiled egg comes alongside, with rolls of injera for scooping. The spongy, sourdough bread with a touch of tart flavor helps to cut through the rich cuisine. Finish with coffee, imported green from Ethiopia and roasted on-site.
Address: 415 West Thompson Lane, Nashville, TN 37211
Hours: 11 a.m.–9 p.m. Monday through Thursday; 11 a.m.–10 p.m. Friday; 11:30 a.m.–10 p.m. Saturday; 11:30 a.m.–9 p.m. Sunday
Contact: (615) 332-0710
Cost: $12.50 for doro w'et
Grassmere Grill & Kabob
Nashville. Nashvegas. Cashville. Little Kurdistan? Yes, it's one of Music City's many nicknames and also the name for the section of town where you'll find Khalil Numan's restaurant, Grassmere Grill & Kabob. Numan came to town like many Kurds as a refugee. He had been living in a Turkish camp before he made his way here and put the cooking skills he learned from his mother and grandmother to good use. Visit during buffet hours to make the most of your trip. You'll find a steam table loaded with a patchwork of color, like golden-lentil soup, stacks of spiced chicken thighs, or kibbeh kabobs with rice in shades of white or tinged with saffron.
Though the restaurant's hidden behind tinted windows in a shopping center with few frills, the lunch draws a colorful crowd to the table. Numan estimates that about half his customers are white American, and half hail from the Middle East or Mexico.
Address: 3802 Nolensville Pike, Nashville, TN 37211
Hours: 11 a.m.–8 p.m. Monday through Thursday; 11 a.m.–9 p.m. Friday and Saturday
Contact: +1 (615) 837-2567
Cost: $10.99 for the lunch buffet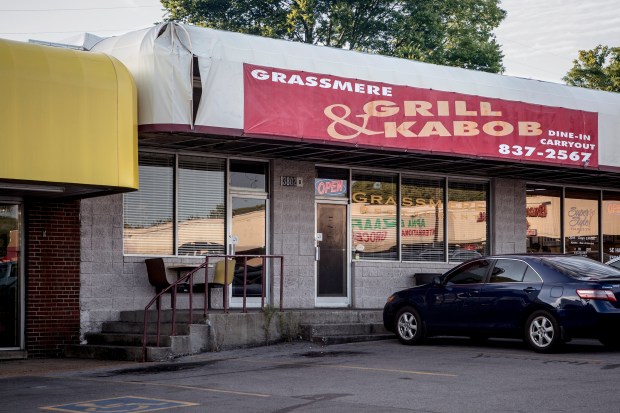 Azadi International Food Market
Walk across the shopping-center parking lot from Numan's Grassmere Grill and you'll find several Middle Eastern markets clustered around the Salahadeen Center of Nashville, a mosque. Each market has its specialty, such as the colossal sandwiches stuffed with shaved lamb from House of Shawarma, served at the shop inside the back of Newroz Market. The bakery at the back of Azadi Market is a must-see. Browse your way to the bakers between pistachio-flecked pastries, boxes of dates, and bins of almonds still in their shells. Alongside a halal butcher, packaging lamb and goat, and a small produce section, the bakers sell semolina and farina in bulk, as well as Turkish lentils the color of a fiery sunset. As the aroma of fresh bread beckons, you'll find stacks of lavash and sesame-studded flatbreads. The team of bakers wrapped in aprons and often hijabs work diligently to form loaves of dough and slip them in the oven to keep their stocks from selling out.
Address: 391 Elysian Fields Court, Nashville, TN 37211
Hours: 8 a.m.–8 p.m. Monday through Sunday
Contact: +1 (615) 315-0940
Cost: Varies by product
La Michoacana Premium
Prepare to be overwhelmed. Families often flood this shop during summer for cool, sweet treats, and it's the choices behind the case that can make decisions difficult. Beyond the tubs of ice cream, in flavors like tamarind and tequila, you'll find stacks of paletas in a rainbow of colors. Fruits or vegetables like strawberries or cucumber come entombed in some varieties, while others are chocolate-dipped and rolled in coconut flakes. As an area epicenter for Mexican treats, this shop also has the savory favorite Dorilocos, a snack in a single-serving Doritos bag that piles on pork skins, pico de gallo, and avocado. If you go for the sweets exclusively, as many do, it's good to know the mangonadas also seem to fly out the door in all their glory—mango sorbet drizzled in chamoy sauce, which gives it a kick of spice and salt. To get that taste in a different size, try it as a paleta, with pieces of fresh mango held together in a tart frozen pop, lightly spiced with chili.
Address: 3763 Nolensville Pike, Nashville, TN 37211
Hours: 10 a.m.–9:30 p.m. Monday through Sunday
Contact: +1 (615) 457-1385
Cost: $2 to $6 for ice cream, mangonadas, and paletas
Plaza Mariachi
Like the Epcot Center of Nolensville Pike, this higher-end food court, decorated as an outdoor Latin market, offers a world of choices under one roof. Here all the restaurant owners are locals. Live music by Latin crooners or mariachi bands perform at the plaza's center, while guests browse storefronts to choose their dinner. Fish in fresh lime might come from El Ceviche Loco, while grilled steak is served Argentine-style from Tres Gauchos. Traditional street tacos, Mexican pastries, and paletas can all be found among the boutiques and services at the plaza, which include a Mexican radio station and a folklore dance studio.
Address: 3955 Nolensville Pike, Nashville, TN 37211
Hours: 10 a.m.–9 p.m. Monday through Wednesday; 10 a.m.–11 p.m. Thursday through Saturday; 10 a.m.–10 p.m. Sunday
Contact: 615-373-9292
Cost: Varies by restaurant
Central Market
To find this shop with Bhutanese, Nepali, and Burmese goods, look for the American flag motif and Nepali script painted across the building. It sits near an El Rey Western Wear store. Owner Deepesh Subedi was born in Bhutan but spent a couple of decades in Nepali refugee camps before making his way to Nashville. Soon after he arrived, he noticed the lack of shops catering to people from Southeast Asia. So, while he worked toward his nursing degree, he took it upon himself to open Central Market in 2014. The small market and bodega next door are staffed by family, including Subedi's brother, who helped him open the shops. In addition to traditional Nepali dress, fabrics, and teapots, popular items in Subedi's community stock the shelves: jars of hot peppers and pickled radish or mango, and goat's milk chews. A selection of fresh produce also includes tiny fresh peppers, mangos, and spiny bitter gourd. Just up the road from the market, a group of Bhutanese and Burmese farmers grows vegetables they sell to restaurants, introducing diners across Nashville to the versatility of komatsuna and roselle leaves.
Address: 4722 Nolensville Pike, Nashville, TN 37211
Hours: 9 a.m.–9 p.m. Monday through Sunday
Contact: +1 (615) 712-6393
Cost: Varies by product