Tucked between Arizona and Texas in the American Southwest, New Mexico is often overlooked. Locals tend to prefer it that way, chuckling and rolling their eyes about being a missing state or being confused with Mexico but glad all the same that the state and its culture remain cloistered.
For those who venture into its landscape of peaks, high-desert mesas, and rock buttes, New Mexico quickly earns its nickname as the Land of Enchantment. Beyond its touristy plazas and high-flying hot-air-balloon events, the state reveals its character slowly to visitors attending Native American traditional dances, meeting farmers in villages dating to the Spanish colonial era, and sipping craft beer with its eccentric, big-hearted people for whom creativity is second nature. Discover the ins and outs of chile-loving New Mexico.
Your reading and viewing list: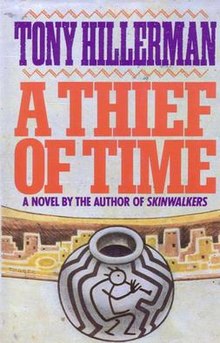 A Thief of Time by Tony Hillerman
American mystery author Tony Hillerman penned novels starring Diné (Navajo) tribal police detectives Joe Leaphorn and Jim Chee. Hillerman's books capture elements of the tribal landscape and culture from and for the mainstream, yet tribal members still largely accept his treatment of their customs. This, the eighth book (1988) in the series, rises to the top of popularity lists. The plot follows the trail of ancient pots stolen from reservation land and sold on the black market—a story all too real for tribal communities. Other novels in the series explore the Diné legend of skinwalkers (evil spirits who can disguise themselves as animals) and Zuni Pueblo's Shalako ceremony.  
Bless Me, Ultima by Rudolfo Anaya
Called the father of contemporary Chicano literature, Rudolfo Anaya is a New Mexico native-born son known for capturing his culture's richness. Bless Me, Ultima (1972) is his beloved classic. The novel describes Antonio Marez's coming of age as he's taken under the wing of Ultima, a curandera (a traditional healer). Anaya earned a National Humanities Medal in 2015 for his lifetime achievement as a Southwest writer.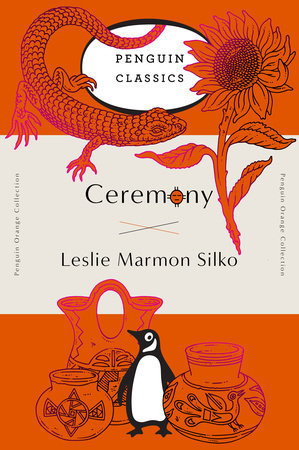 Ceremony by Leslie Marmon Silko
Laguna Pueblo writer Leslie Marmon Silko ranks as a leading Native American author, and her luminous novel Ceremony (1977) is part of the Native American literary canon. The story follows Tayo, a World War II veteran and former prisoner of the Japanese, as he returns to the pueblo and attempts to heal himself from the physical and spiritual wounds of war amid his tribe's rejection.
Death Comes for the Archbishop by Willa Cather
New Mexico's three primary cultures—Native American, Hispanic, and Anglo—may weave together, but there's tension in that warp and weft. In this 1927 fictionalized account of the life of Archbishop Jean-Baptiste Lamy (1814–1888), author Willa Cather explores a French bishop's attempts to establish Catholicism in a far-flung landscape where openly rebellious priests abuse their power over indigenous residents. Although it's fiction, it's an amalgamation of the state's history.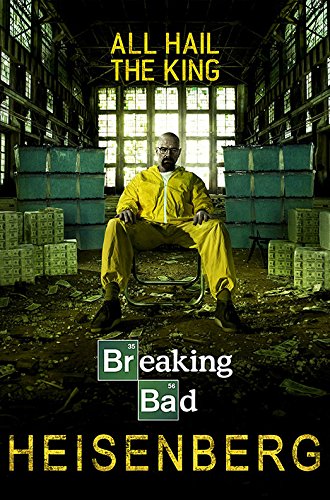 Breaking Bad (and locals' mixed relationship with the show)
This television drama captured America's attention as unassuming high school chemistry teacher Walter White transforms into a methamphetamine cook and drug kingpin. The show's last episode aired in 2013, but fans still flock to Albuquerque, where the show was set and filmed, to visit on-screen locations, from Walter's home to the car wash he worked at, then purchased to launder money. Much to the chagrin of locals, the show depicts New Mexico's metropolis as a meth-laden landscape where every woebegone high school teacher cooks meth and every fried-chicken joint is run by a drug smuggler. But that doesn't keep them from eagerly welcoming superfans-turned-tourists. The Breaking Bad prequel Better Call Saul only added to the state's stardom. (It has been a filming locale for numerous blockbusters.) A Breaking Bad–inspired movie began filming in the state in the fall of 2018.
Know before you go
1. Welcome to the Land of Manaña. "Why do something today when you could do it tomorrow?" locals ask. The state's laid-back vibe earned it the moniker Land of Manaña ("tomorrow" in Spanish) among its multilingual residents. It's an invitation to slow down and savor the moment. New Mexicans' easygoing natures carry over to their senses of time (locals regularly arrive 10 to 15 minutes late) and dress (you can wear boots and jeans just about anywhere there, even to the opera and the finest restaurants).
2. Get ready to eat some humble food. New Mexico's regional cuisine is unpretentious by nature. Mexican-style enchiladas, burritos, and tacos swimming in spicy chile sauce and salsa are inherently down home. The state's comfort food is even more so. Local favorites include burgers topped with chopped green chile, and fry bread (puffed fried dough) slathered with honey or piled high with taco fillings like ground beef, lettuce, and cheese. Another dish with a soft spot in locals' hearts? Frito pie: corn chips topped with chili and often served right in the bag.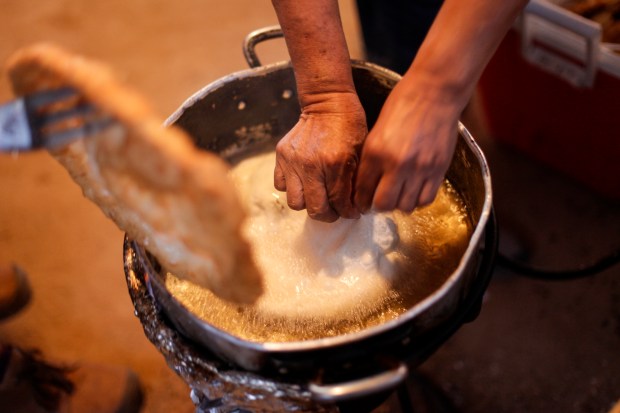 3. It's Christmas year round. Ordering New Mexico's signature chile-laden cuisine requires you to make a choice: Red or green? (It's the state's official question.) The handshake answer, "Christmas" gets you both. Which is hotter? That depends on the season and where the chile's from. Which is better? That's a debate local people have been arguing about and will continue to debate forever.
4. Rent a car and drive. New Mexico is the fifth-largest state in the U.S. and is home to only 2.1 million people. Most residents are huddled in the metropolitan areas of Albuquerque, Las Cruces, Rio Rancho, and Santa Fe. That leaves large stretches of the state relatively untouched and unpopulated. Driving down backroads and byways is a quintessential experience—through the red rock buttes of the northwest, the rolling grass plains of the northeast, or through the winding roads of the Rocky Mountains' southernmost reaches. When in doubt, take the long way.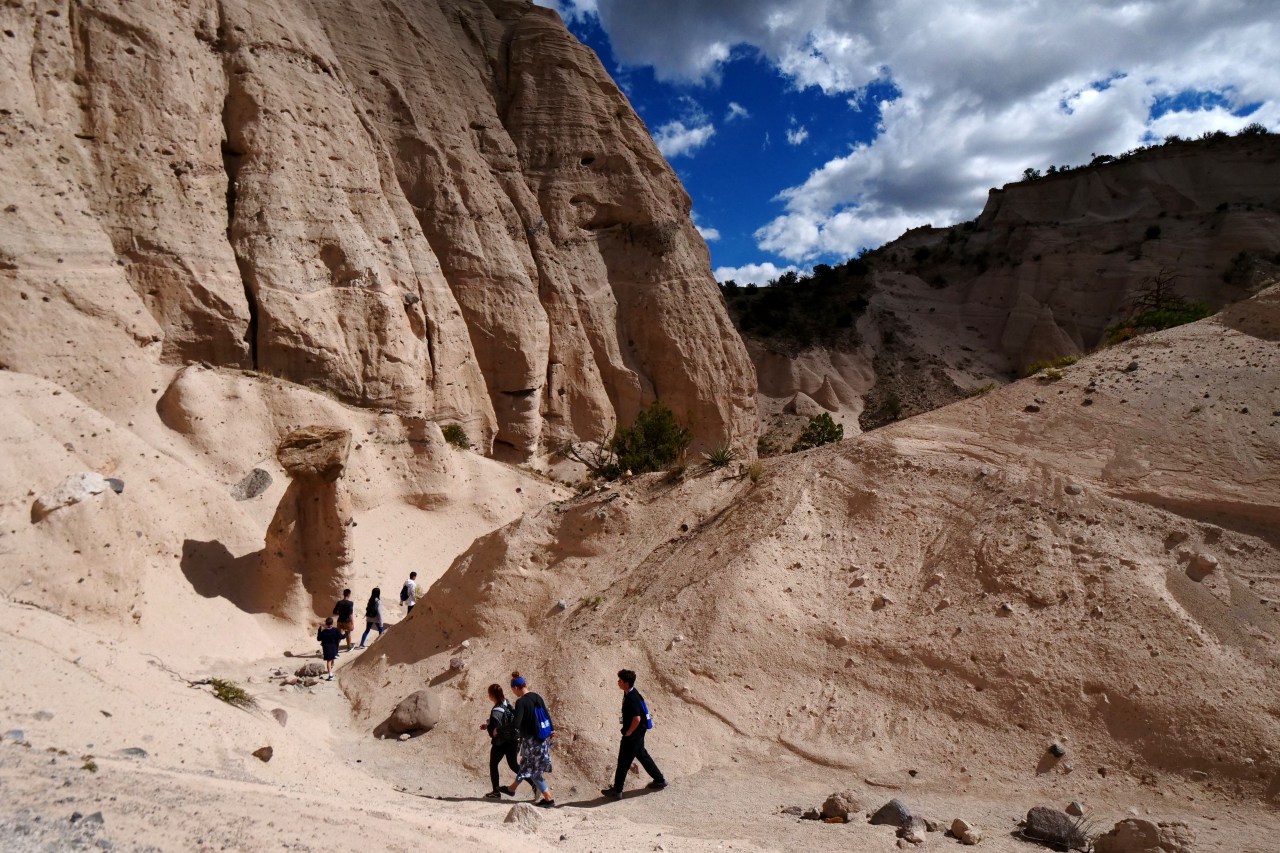 5. Take your hiking boots. Called a father of the modern conservation movement, Aldo Leopold spent formative time in New Mexico's wild places. He was instrumental in founding the world's first wilderness area in southern New Mexico, the Gila Wilderness, which has protected 872 pristine square miles since 1924. The state is now dotted with areas described by the 1964 Wilderness Act as "untrammeled by man, where man himself is a visitor who does not remain." Solitude and time in the backcountry are practically required here.
6. Watch traditional dances. New Mexico is home to 19 pueblos (Native American villages), two branches of the Mescalero Apache Tribe, and the Navajo Nation. Each governs its sovereign territory and follows its own cultural traditions. While some of those religious rites happen behind closed doors, others don't. Pueblos welcome visitors to feast days, holdovers from when 16th-century Spanish missionaries assigned each village a patron saint. Traditional dances (corn, harvest, butterfly, deer, buffalo, and others) are centerpieces of these festivities.
7. The state has one of the highest concentrations of Ph.D.s in the U.S. New Mexico is home to two national laboratories: Sandia National Laboratories in Albuquerque and Los Alamos National Lab. The latter descended from the Manhattan Project, the secret government project that created the world's first atomic bomb. The project's scientists worked on a remote mesa in northern New Mexico and tested their creation at White Sands Missile Range in southern New Mexico, ushering in the atomic age. That scientific past presides over the present. Ph.D.s are so numerous, you're likely sitting next to one at the bar—right alongside the famous writers and movie stars who go to the state to achieve anonymity.