To say Okinawa has a complicated history would be putting it lightly. Since the end of World War II, the Ryukyu island chain has been a beachhead for the U.S. military in the Pacific, a presence that has remained after control over the island reverted to Japan in the 1970s. Naha, the typhoon-weathered capital city, carries with it both a legacy of occupation and a fierce sense of independence. Despite local resentment of the U.S. military presence, American culture has profoundly impacted the island, bringing steakhouses and the occasional A&W restaurant to the souvenir-saturated tourist thoroughfare, Kokusaidori Street. While historical landmarks like Shuri Castle draw crowds, busloads of visitors inevitably flock to this main drag to buy T-shirts or sample a novelty cocktail in a shark-shaped glass to complement their teppanyaki. The garish commercialism can quickly overwhelm you.  
Still, Naha is seldom considered a destination unto itself. It generally serves as a jumping-off point for tourism centered around the small islands and pristine beaches across the Japanese archipelago. Amid the neon kitsch of Kokusaidori, however, a younger generation of Okinawans has begun to open unique establishments. Here's where to enjoy the best of this complex city's charm.
Where to caffeinate: Mahou Coffee
Located on the outskirts of the Makishi Public Market, this library-like space produces high-quality coffee under the supervision of owner and "drippist" Akio Yamazaki. The beans here are roasted locally at a facility just a few miles away in the Sakaemachi neighborhood.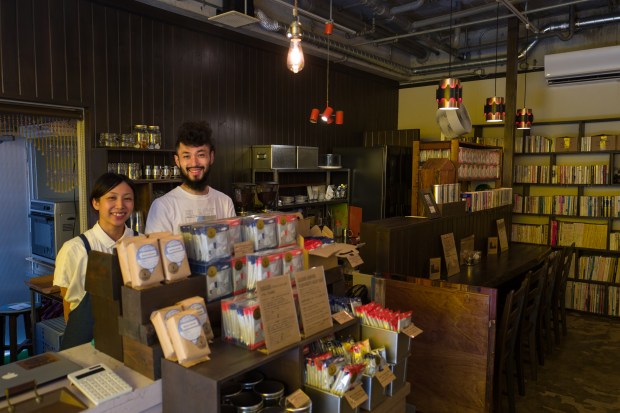 Where to eat Spam: Pork Tamago Onigiri Honten
Okinawans have an abiding love for Spam, a remnant of the lean post-World War II years. The humble meat product is served in onigiri (rice ball) form at Pork Tamago Onigiri Honten, which is also a short walk from the main drag of Kokusaidori and the Makishi Public Market. With a menu that features a selection of hefty, seaweed-wrapped goodness in varieties such as mustard-green-with-tuna and fried tofu, miso, and Spam, you'll have plenty to choose from.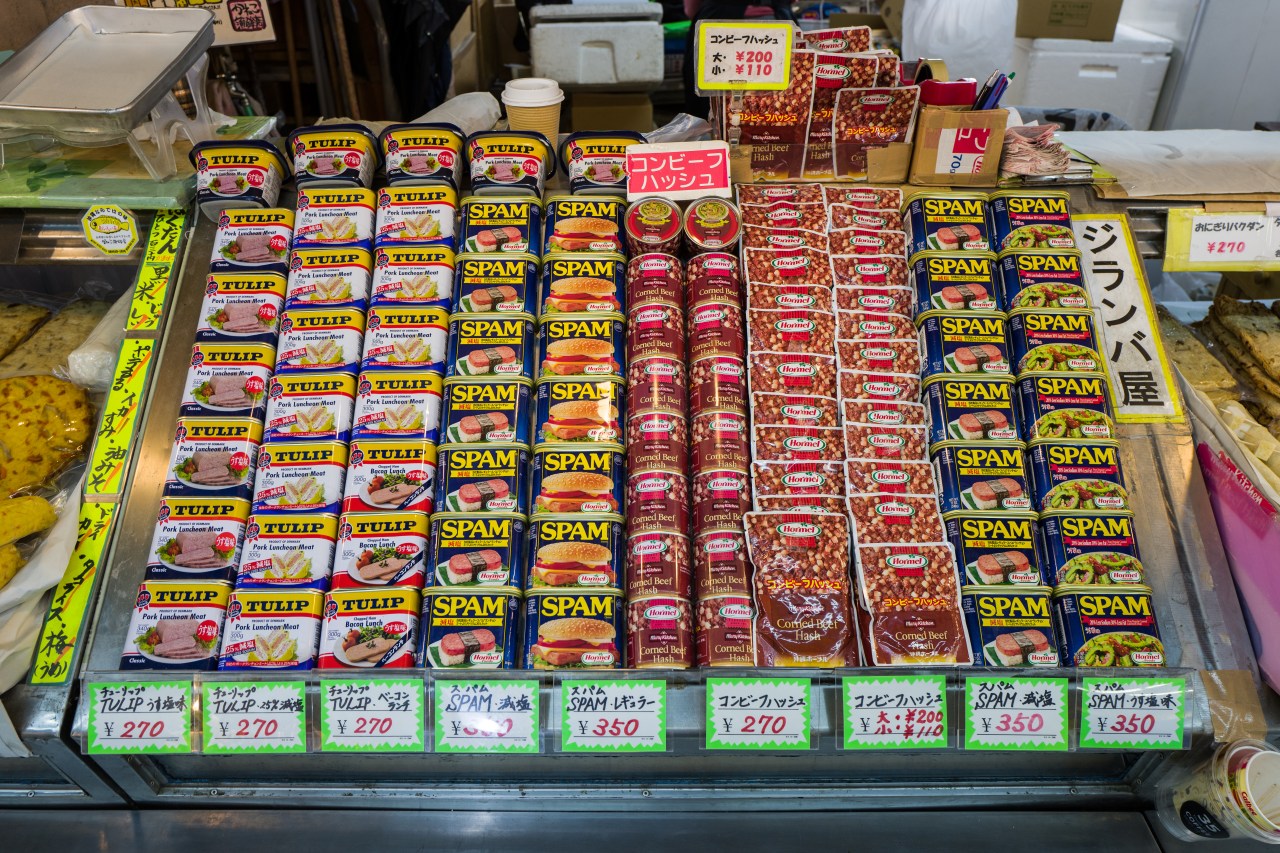 Where to buy unique gifts: Garb Domingo
There is so much more to Naha's retail scene than souvenirs. Sticking within the Makishi Public Market radius, start at Garb Domingo for more modern Okinawan ceramics and housewares than you'll find in the stores that dot the Tsuboya Pottery District.  
Location: 1-6-3 Tsuboya, Naha
Contact: (+81) 98-988-0244
Where to eat fresh fish: Makishi Public Market
Dive back into the Makishi maze to find the fish market. Smaller and more laid-back than the sprawling seafood temples of Tokyo and Hakodate, Makishi's vendors sell you no less beautiful products—either to take home or to be prepared in-house at any in the series of small restaurants on the second floor of the market.  
Location: 2-10-1 Matsuo, Naha
Contact: (+81) 98-867-6560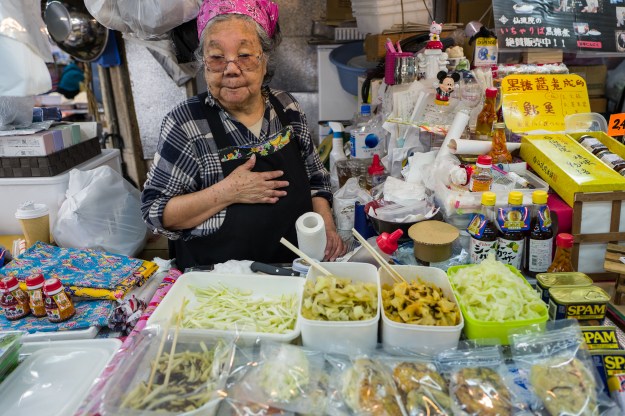 Where to buy records: RC Records
Head to RC Records for rare vinyl that leans heavily toward soul, punk, rockabilly, and Japanese garage rock. Bonus: It's right around the corner from Mahou Coffee, in case you need an espresso shot before digging through crates for hard-to-find albums.
Where to eat meat skewers: Arakoya
Skip the steakhouses and teppanyaki joints that dot Kokusaidori and head to the low-slung strip of mama-san bars and karaoke joints known as Sakaemachi. Amid the cubbyholes and late-night drinking establishments, you'll find Arakoya, a shrine to grilled skewers of local Okinawan pork, beef, and lamb. Ask for omakase: This will get you a selection of delicious flame-kissed morsels just begging to be washed down with frosty Orion beer.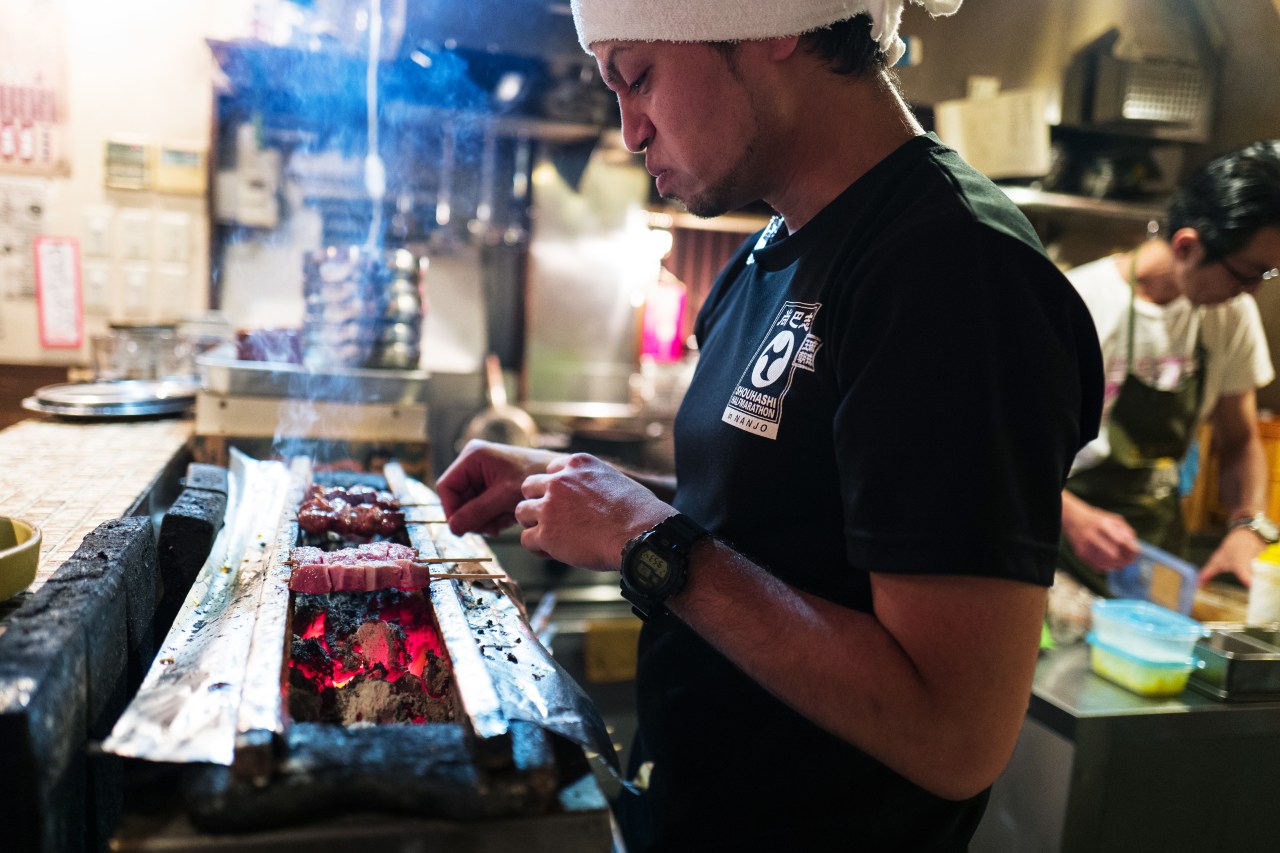 Where to drink: Utagoe Kissa Haru-Chan
Around the corner from Arakoya, highballs and karaoke await at Utagoe Kissa Haru-Chan. This small second-floor bar serves a younger crowd than most of the mama-san joints in the area. The star of its show is owner Haru Tsukino, who keeps the party going late—and has an exceptional voice.
Utagoe Kissa Haru's Bar