Calle Elisa Cerra 801
San Juan, Puerto Rico 00907
(787) 388-7434
Bourdain had: drinks.
Drink dates: Hermes Ayala, freelance journalist for outlets including Vice and HuffPost; Laura Moscoso, journalist specializing in data visualization and multimedia.
PR-149 Km. 26
Ciales 00638
(939) 777-8597
Bourdain ate: corn fritters with ham; plantain soup; pastel al caldero (pork marinated in bitter orange, taro root, green plantain, squash, garbanzo beans); morcilla (blood sausage).
Lunch date: Liza Fournier Cordova, Chicago-born Puerto Rican teacher.
Medianía Alta,
Loíza 00745, Puerto Rico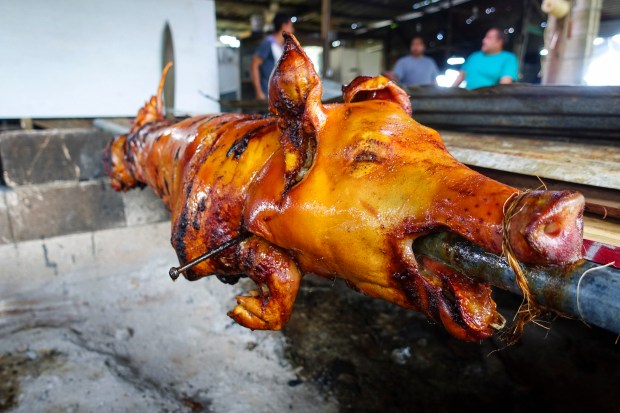 Guaynabo 00725,
Puerto Rico
(787) 789-4706
Bourdain ate: Slow-roasted pork, gandinga (pig heart, liver, and kidney stew), rice.
Lunch dates: Apa Ramos, ranch owner; Rosa Maria Ramos, Apa's sister and chef; Xavier Pacheco, chef who favors long-forgotten Puerto Rican culinary traditions.
P.O. Box 500
Vieques 00765
Bourdain ate: grouper stuffed with lobster and white eggplant, wrapped in banana leaves and grilled over mesquite; mashed plantains with sofrito; (pitorro) lágrima de monte/teardrop of the mountain liquor . 
Lunch dates: Jorge Cora, farm's founding director; Ana Elisa Pérez Quintero, co-director, farmer, and educator; chef Xavier Pacheco. La Finca Conciencia is a supplier to locals and local restaurants of honey, fruit, vegetables, medicinal herbs.
Tito Auger's home
Bourdain ate: sauteed chicken gizzards with green bananas, codfish fritters, carne guisada (beef stew), traditional mofongo (mashed plantains).
Dinner dates: Tito Auger, beloved singer-songwriter and lead singer of rock band Fiel a la Vega; Cristina Rivera-Miro, Auger's fiancee; Ricky Laureano, Jorge Arraiza, and Pedro Arraiza (Fiel a la Vega band members); friends.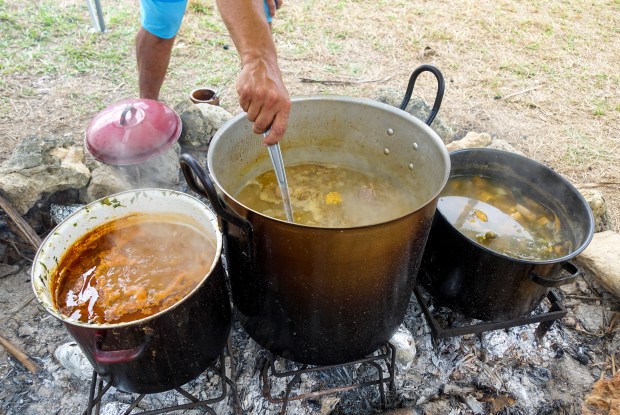 Valle Costero
Puerto Rico
Bourdain ate: Sancocho (beef stew with yuca, plantains), fresh-caught grouper, red snapper
Lunch date: Edgardo "Pocho" Levalle, Glemisse Pagan, Joaquin Alonso, Eric Gerena Matias, Suzette Quiros, Nestor Rodriguez, Omar Saade, Veronica Gonzalez Rodriguez, and Vanessa M. Rahls Sallis. Campamento Rescate Playuela is an encampment of protestors trying to block the construction of a beachside resort and casino.
Home-cooked meal from chef Erica Connelly
Bourdain ate: Lobster, conch salad, coconut arepa.
Lunch date: Chef Erica Connelly, her son Carlos "Carlito" Connelly, her friend Elda L. Guadalupe Carrasquillo, along with two of her nieces and her mother at her private home in Vieques.
Meal on the water
Bourdain ate: salted cod marinated in coconut milk and seared, root vegetables, escabeche (fried local mackerel and vegetables), avocado salad
Lunch date: Xavier Pacheco, chef.