A formerly Orthodox Jewish, Korean-born chef is making Japanese food while being interviewed by a Southern-raised Korean who only speaks English and French: is it the beginning of a politically incorrect dad-joke? Could be. Is it unusual? In this place—Queens—perhaps more than in just about any other place in the United States, the answer is no.
Head down Jackson Ave away from the 7 train in Long Island City, and you'll be rewarded with Mu Ramen. (Keep an eye out for the lantern, so you don't walk by it an awkward number of times, holding your iPhone with the compass app open.) Owned and operated by chef Joshua Smookler, this ramen-ya began life as a pop-up in a bagel shop. There is exposed brick. A communal table with succulents. Sleek wood, lit by trendy pendant lights. Attractive people with strollers keep filing through the door. What makes this place different from any one of a thousand other spots in New York?
The chef? The ingredients? What made this place impossible to get into for more than a year? (Pro-tip: go early on a Tuesday or Wednesday and sit at the counter.)
Ramen, good ramen, has been a staple for quite some time. We've seen waves of different Asian foods crest in popularity since the country went ramen-mad a few years ago: Korean food is having its (really long) day, Filipino food has stirred up controversy via halo-halo, and, of course, Vietnamese pho is pho-real mainstream. (Sorry.) So, it's unsurprising that when Bourdain went to talk to people who run restaurants in Queens during an episode that celebrates diversity, Smookler was on the list.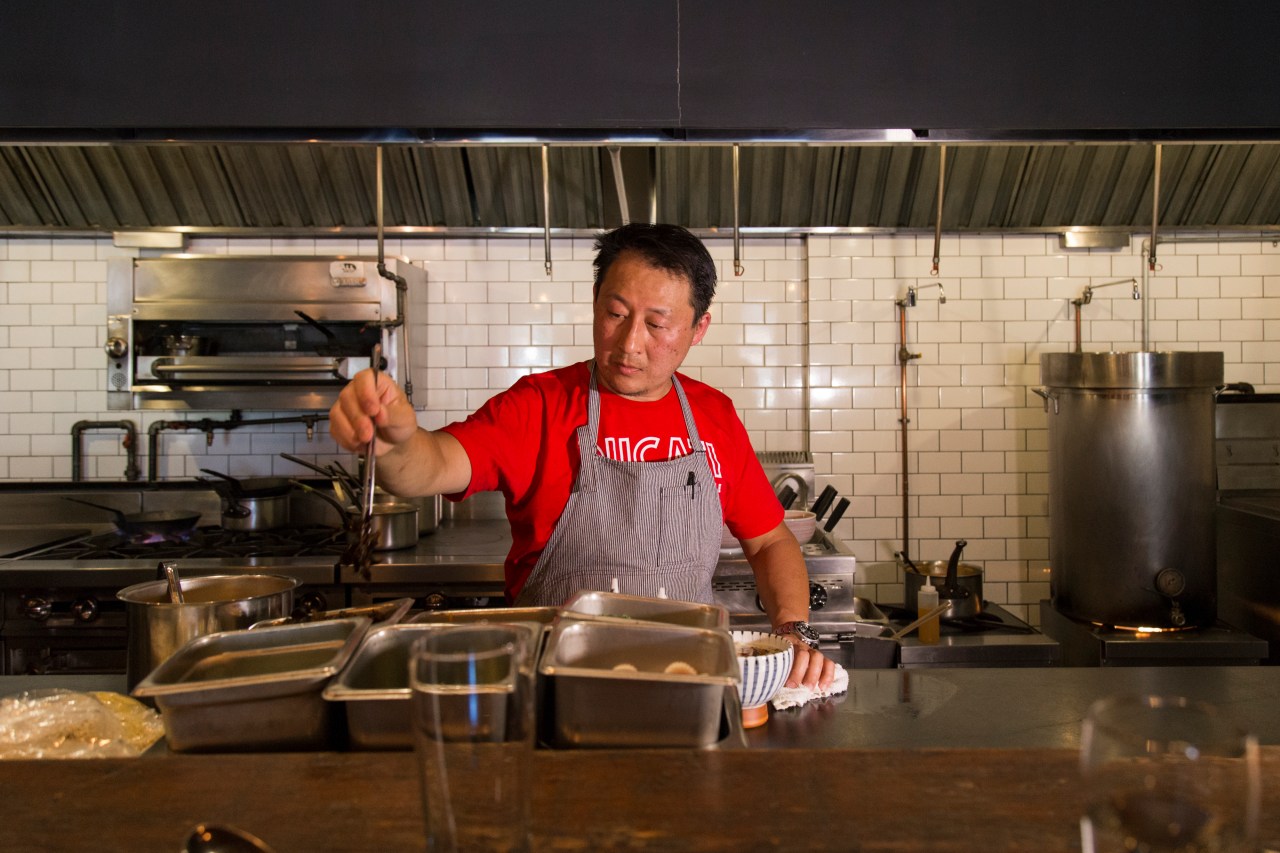 Smookler was born in Korea and adopted by an Orthodox Jewish family on Long Island; I was brought here to the States from Korea as an infant and raised on catfish and cornbread down south. We instantly bonded over this. The first thing he says to me when I show up is: "Are you Korean?" I say yes, then mention my odd upbringing. "How did that go?" he chuckles. "Yeah…" I answer, "What about you?"
"Not too good."
There's a pause. Talking about awkward childhoods is boring, and food is interesting, so we move on.
Smookler fell into the restaurant industry by accident. On a summer break before med school, he went traveling across the country. After running out of money, he turned where many broke people do: being a waiter. Med school never happened.
"When I came back to New York after being cross-country, I was the wine director at David Bouley, Bouley Restaurant. It was a lot of work. Bouley was at the top of his game, so it was a really great time; the commitment to it was pretty intense, working about 100 hours a week. It was really tough but very rewarding. I don't think I would be here where I am right now if I hadn't done that."
Why is that? Smookler answers, "It's about reputation; working for someone like Bouley or Thomas Keller, it opens doors. I don't think opportunity is possible without it."
Smookler went on to be a captain at Per Se during the early, glory days, long before its fall. He attempted to open a restaurant in Brooklyn, but were set back by a real estate investment that fell through. Smookler and his wife had already settled in Long Island City and, "We canceled the restaurant and we were pretty destitute. We had no money, we were getting eviction notices, so I told my wife, 'We're going to open a ramen shop.'"
The rest, as they say, is (much-written-about) history. To sum it up: Smookler and his wife went looking for a place that was closed at night so that they could open a pop-up. Everyone said no until finally, the owner of Bricktown Bagels said yes. Smookler and his wife, Heidy, worked like crazy, Pete Wells put them at the top of his ramen list in 2014 and months later Jackson Avenue had a new place to eat. Cut to 2017, and Smookler is sitting down with Anthony Bourdain and Cosme Aguilar for a discussion on Bourdain's "Parts Unknown." Not a bad ride, so far.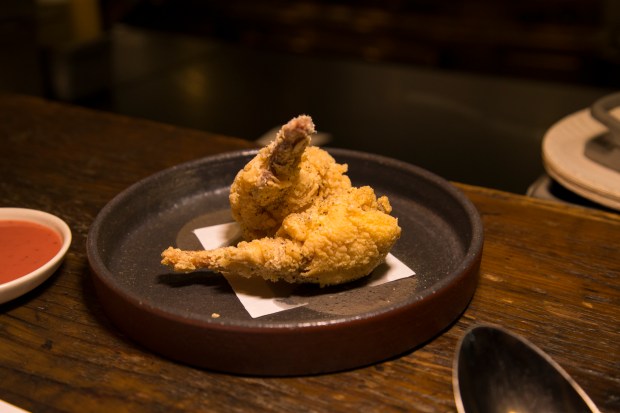 Why Japanese food? "I don't—I have no idea what I'm doing. I don't know anything. I have no idea how to make Japanese food." Is he being self-effacing? Given the wild popularity of his restaurant, he's doing something right. "But you know, the reality is, that I always think that whatever you do in life, you should always do the best you can or don't do it at all. A lot of it's you know, research. If you research, then you learn how to make things."
"It's just trial and error, so I guess my style is more about research. I want to make a certain dish, and I want to take people on a kind of journey, you know? It's just constant research—I look at it more as…a scientific approach as opposed to just a feel."
Okay, well then, why specifically ramen? "I don't know. I've just always liked noodle soups, and I think it's also because being Jewish—you know having matzoh ball soup—that was like our home meal, chicken soup. There's something very homey and comforting about it. You know, a friend of mine in L.A. used to take me around to all these ramen shops and I used to go, 'I don't get it.' It doesn't taste that good. I don't get this whole ramen thing. So I didn't even really like it in the beginning, but then I came back to New York and I went to Ippudo. And that was it. But I only liked one dish, and that dish had tonkotsu."
"The most familiar ramen we have on our menu here is the tonkotsu. I wanted to know what makes good tonkotsu, and I noticed that it was the viscosity of the broth, good, but not overly thick. When people make tonkotsu too rich it's because they're emulsifying it, but there are certain things that happen when you do that. One of the things is that after you eat it you feel just so heavy and disgusting. And I don't like that feeling, but I still wanted richness. I'm always going for layers of flavor. So like, our tonkotsu has four layers of flavor—I'm looking for layers of flavor so it's a little bit more complex. And I'm looking for very clean flavors. So it's rich, but not heavy." Having chased my share of noodles, I can confirm: Smookler's silky tonkotsu is luscious and so good, but both times I ate it, I managed to stay awake after the meal. (It's important to know that in my world, Noodle Nap is a thing.)
The house signature ramen has a broth that echoes sul lung tang, a Korean oxtail soup that pretty much anyone unfortunate enough to have done karaoke in K-town 'til the early hours will recognize as the magical hangover preventative that it is. The house specialty also—as Smookler explains it to me—contains half-sour pickled cabbage and corned beef, because, he says, with a smile, "I'm Jewish."
When I make ramen, there's a lot of Korean in it
Bourdain asked Smookler, on the show, about his Korean heritage—Smookler, Bourdain, and Aguilar sit down to a Korean meal together in Flushing, for what is undoubtedly some of the episode's porniest of food porn. They briefly discuss the Korean restaurant that Smookler will never open, because, he says, he doesn't know anything about Korean food. But, he says he gravitates towards those flavors. I ask him about how that affects his food. What about kimchi (which is definitely not kosher)?
"The first time I had it, it just literally transported me home. You know, being really young in Korea—it's like just taste memory, very startling, very powerful. Certain food, it always brings back memories and it's not about the dish, there's just something about the flavor itself that brings back very strong memories. So yeah, even when I make ramen, there's a lot of Korean in it, but most Koreans don't recognize it. I can't help it, I just sort of gravitate to it."
What would Chef Smookler do if he could do anything? The dream, he says, is to do a full tasting menu, something with which he has experimented in the past. "But it has to be craveable. You go to these four, five hour long dinners and you eat all of these bites, and it's all about technique, 'look at my technique.' But you start to lose people's attention after a little while. I think a tasting menu should be two hours, the food should be craveable, and you shouldn't have this hollow feeling after—you shouldn't have to go and get a burger when you're done."
So what's next? Smookler is waiting on a wood-burning oven to arrive from Spain. "We're gonna be doing burgers in the summer, and the reason I'm doing the burgers is because the burger is the cult food of America, much like ramen is the cult food of Asia." Naturally, however, Smookler is arranging for delivery of sides of beef that he and his team will butcher and blend—he's applied the principle of his research-oriented approach to this next, new project. But don't think that the ramen is going anywhere anytime soon.
I think about the idea of an "iconic" Queens food item. It would have to somehow include all of the many cultures represented in the boro. I think it would, by necessity, have to be one of those inglorious food mash-ups that websites are so keen to produce videos of—you know, the egg roll inside of a burrito wrapped in a pizza, or whatever. (You know what I'm talking about.) But Queens deserves better than that; it deserves this silky, meaty bowl of Jewish-Korean-Japanese-American ramen.