Cocktails are too expensive. If I'm out and having at least 3 drinks, I'm drinking beer. Besides, consider the proto-cocktail. It's a rather basic thing. You take some intoxicating elixir, stir with Mary Poppins approved spoonfuls, and voilà, Bob's your uncle. While beer and wine have this storied past of millennia, cocktails are barely refined. Not to mention—a pint of beer's just bigger. There's more to love. But I digress, I'm a curious drinker too. Sure, I want to know what you're doing with that bottle of Byrrh back there. What the hell is Byrrh anyhow?
In New York City, you have this rather massive potential audience at a cocktail bar, but how do you get them to you physically? It's not merely a matter of offering something exciting. I mean you already have every culture of the world in Queens—you might even discover a new country here—but the borough has long suffered from train traffic irregularities and the sheer amount of great options in the city for such a niche form of entertainment like cocktails. But now that gentrification has hit that critical mass, Queens—for anyone unfamiliar—has become a cocktail destination. True classics are being served with masterful balance and bartenders are calling themselves mixologists.
Some of the city's best beer comes from Queens, too. Transmitter's Farmhouse brews are killer good, and SingleCut's Weird and Gilly is one of my absolute favorite IPAs anywhere. And quite frankly, when I first moved to the city, searching for work as a bartender in Manhattan was rough. My midwest bar experience was like a Trump University GED. But the second I hit it off with my current boss in beautiful Astoria, Queens—well, I quickly began rethinking my bias on the contemporary mixology scene. Not only is Queens amazing in its diversity; Queens is welcoming. Queens can change you, and it sure changed my tune on the cocktail.
The Luchador
The most interesting aspect to me about eating and drinking is actively acquiring tastes. It's like you're always working on something, and work is good. Personally, I love a savory cocktail. At District Saigon in Astoria, our inspiration tends to begin with the ingredients in our Vietnamese kitchen. For example, we had already infused some mezcal with tamarind, so I paired that with the red bell peppers I'd been itching to juice. From there I had the thought to do something with shiitake mushrooms, so after a day or two in some Scotch, they found their way into the mix as well. My fellow bartender, Ivy Phan, was toying with some beet juice. A few sweetening experiments later someone found the flavor reminiscent of gazpacho, which then drove the concept to completion, ultimately opting for Oloroso sherry in lieu of the beets. You'll have to be feeling pretty motivated to tackle this beast of a recipe, but if you're up to the challenge it will be worth it. Alternatively, come visit us as District Saigon to get your buzz on.
Ingredients:
1 lime wedge
3/4 oz tamarind-infused mezcal (recipe follows)
1/2 oz shiitake-infused blended Scotch (recipe follows)
1/2 oz Oloroso Sherry
1/4 oz Cointreau
1/2 oz lime juice
1/2 oz red bell pepper juice
1/2 oz green veggie juice (recipe follows)
1/2 oz mint simple syrup
1 tsp rice vinegar
1 egg white
2-3 dashes celery bitters
2-3 dashes orange bitters
mint sprig, paprika, and black pepper for garnish
rocks glass with a partial salt rim
one large ice cube
Preparation:
Rub the exposed flesh of a lime wedge along part of the rim of your rocks glass. Gently roll this portion of the glass in salt, taking care not to saturate it to the point of clumping.
Add all the ingredients to the cocktail shaker and shake to thoroughly emulsify the egg white. Add ice and shake a second time to chill.
Strain into a partially-rimmed rocks glass over one large ice cube and sprinkle a pinch of paprika and black pepper atop the fluffy white head.
Garnish with a sprig of mint and serve.
Tamarind mezcal
Infuse one bottle of mezcal with 4-5 oz tamarind paste. Strain after 24 hours.
Shiitake Scotch
Infuse one bottle of blended Scotch with 6 or 7 large dried shiitake mushrooms. Strain after 48 hours, being sure to squeeze that earthy goodness out of each saturated mushroom.
Green Veggie Juice
(makes about 12 oz of juice)
1 medium-sized cucumber, peeled
3 stalks of celery
1 seeded jalapeño
1 green bell pepper
1 tbs lemon juice, or to taste
¼ tsp Tabasco, or to taste
salt
Juice all ingredients.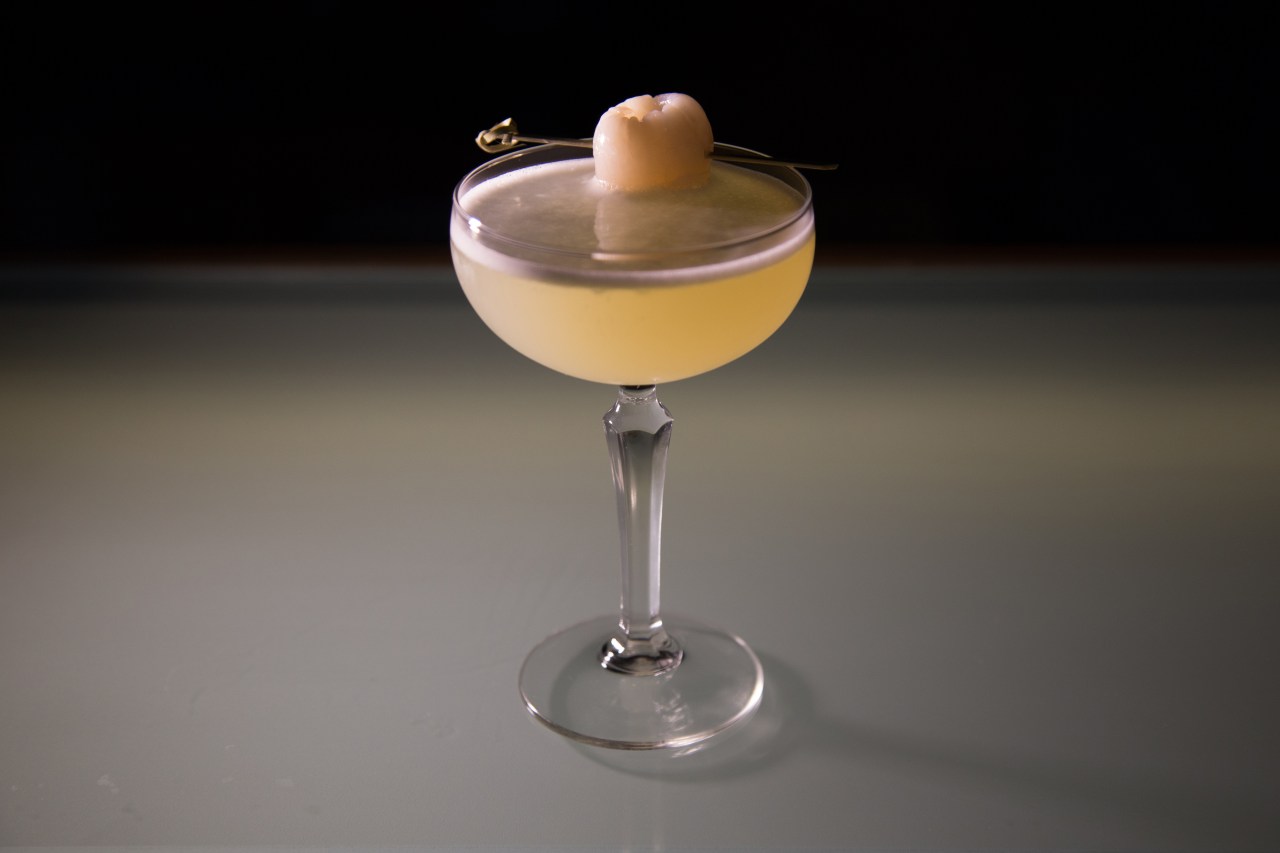 Lychee Lime
A bottle of booze comes with a nugget of story to digest, and its quiet tale meets with the experience of whoever chooses to swill it. These infinite combinations feel to me like a unique brand of storytelling, and in Queens you have the entire cosmopolis right there in a bar engaging in it. But liquor also remains this primal thing; flame the meat, chew the food, drink, and over time we've learned together to ease the burn. The most basic recipes are rediscovered for their simplicity as well as their nostalgia. The bottles are the language; the cocktail's a conversation.
Everyone expects a lychee martini from a Southeast Asian restaurant, so we made a lychee daiquiri instead… and not some Parrothead slushy. The simplicity lends itself to trying out a variety of rums to find your favorite. The Lychee Lime is our most successfully simple cocktail.
Ingredients:
1 tsp basil seeds, pre-soaked in water until gelatinous
1 1/2 oz white rum
2 oz lychee juice
3/4 oz lime juice
3/4 oz lemongrass simple syrup (recipe below)
lychee fruit for garnish
Preparation:
Place into a coupe glass a teaspoon of basil seeds previously immersed in water (similar to chia seeds, when immersed in hot water, the outer epidermis of basil seeds forms a gelatinous bubble exterior).
Add the remaining ingredients to a cocktail shaker filled with ice and shake.
Strain the drink into the coupe glass containing the basil seeds.
Garnish with a skewered lychee fruit.
Lemongrass Simple Syrup
(makes about one quart)
4 oz of chopped lemongrass (frozen or fresh)
2 cups water
2 cups sugar
Put lemongrass and water into a saucepan and bring to a boil.
Remove from heat. Then add sugar, stirring until it dissolves completely.
Let the mixture sit in a cool, dry place for at least 24 hours.
Strain into a squeeze bottle for use.