Romans are proud of their city's unique cuisine and borderline obsessed with their historic dishes. It's one of the reasons local dishes dominate the city's tables and other Italian regional cooking is treated as exotic and distinct. Many of Rome's recipes were developed over the past 150 years as the city grew from a hungry rural village into a booming European capital of over 4 million. While the city's economy has improved significantly, Romans continue to celebrate their humble and historic cucina povera (dishes fashioned from poor cuts of meat and offal) as a way to stay connected to the past. Today trattoria menus, butcher shops, supermarkets, and even fast food joints proudly showcase these ingredients.
To find the cucina povera in Rome, look no further than the trattoria. These informal restaurants are ubiquitous and serve simple classics that draw on local ingredients and long-established recipes. I would wager that every trattoria in town serves trippa alla Romana (Roman-style tripe), strips of honeycomb tripe cooked in tomato sauce and seasoned with Pecorino Romano and mint, at least a few times throughout the week. The dish is so synonymous with Rome's cucina povera that variations are nearly unheard of and only occasionally will you encounter tripe in another form. One example is Francesca Barreca and Marco Baccanelli at Mazzo, who, eager to push their local cuisine beyond the strict recipes of the past, serve deep fried strips of tripe in their small dining room in the Centocelle district.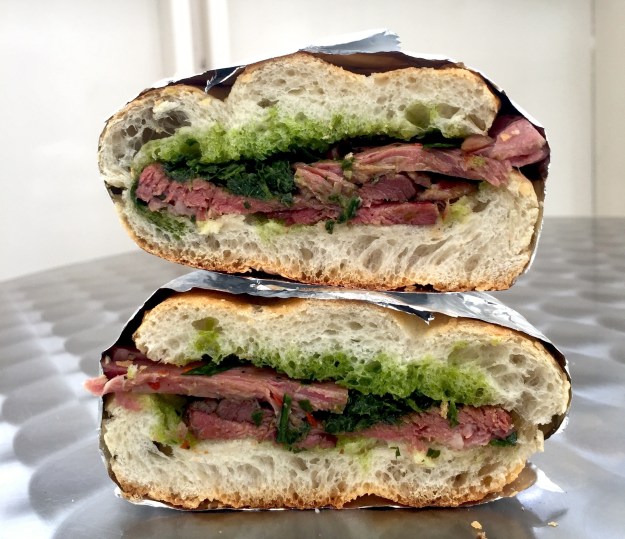 You're more likely to encounter variations of coda alla vaccinara (oxtail stew), though their modifications are rather restrained. Some cooks, like Giuseppe Ruzzettu of Tavernaccia da Bruno, prefer a humble version of this traditional dish and simmer oxtails in a celery-rich tomato sauce. Others, like Claudio Gargioli of Armando Al Pantheon, enrich their sauce with cacao, pine nuts, and raisins, elevating a peasant dish to a noble level by adding what used to be considered prohibitively expensive or festive ingredients.
Seasonal offal dishes keep Roman diners excited throughout the year and they are especially good at Cesare al Casaletto, where Leonardo Vignoli prepares spring lamb in various forms including coratella, a stew combining heart, lungs, and liver with artichokes. In the summer, Vignoli serves fettuccine con rigaje de pollo, an earthy tomato-based pasta dish made with chicken gizzards, livers, and hearts. At Arcangelo, chef Arcangelo Dandini makes his version of rigaje de pollo without tomato, and in doing so trades earthiness for elegance.
Due to Italy's financial crisis, Romans have adjusted their dining habits over the past five years or so, and increasingly seek out fast food rather than restaurant dining. Rome's cucina povera figures heavily into these new fast food and street food trends. Places like Trapizzino and Mordi e Vai serve sandwiches stuffed with Roman classics like lingua in salsa verde (tongue with parsley and garlic sauce), dutifully preserving—and promoting—the city's cucina povera in a form that is accessible to all.