Seattle's never had a single signature dish the way that Philly has cheesesteaks and Maine has lobster rolls. Still, it says something about our port city that the closest candidates—teriyaki and pho—are adopted and adapted from other countries.
A few neighborhoods feature foods from specific corners of the globe. Drive up Highway 99 just north of the city limits for a big concentration of Korean restaurants (my favorite: Sam Oh Jung, 17425 WA-99, in Lynnwood, for its unbeatable icy, vinegary mul naengmyeon), or head northeast to the Pinehurst neighborhood for modest Ethiopian sit-down spots. The Chinatown-International District is, as you would guess, the place for bargain banh mi or dim sum. Want to start a fight? Ask loudly whether the xiao long bao at Dough Zone (504 5th Ave. S.) beat the ones at Taiwanese chain Din Tai Fung, which has three local outposts.
For the most part, though, Seattle's distinct neighborhoods burst with restaurant representation from around the world. Many restaurateurs even take local ingredients and fuse them with dishes from their own ethnic backgrounds, so you'll find salmon banh mi (Yeh Yeh's, 19915 64th Ave. W., Lynnwood) and kimchi quesadillas (Marination Station, 1412 Harvard Ave.) or old-fashioned frozen custard parfaits topped with togarashi-dusted pecans (Trove, 500 E. Pike St.). In fact, if Seattle has a food signature, maybe it's simply a very international approach to eating well.
Amandine Bakeshop
For 15 years Sara Naftaly was the pastry chef at her husband's acclaimed French-Northwest fusion restaurant, Le Gourmand. When it closed, the British-born, Paris-raised baker finally realized her dream of starting her own bakery. Its treats are unlike those of any other in Seattle, including toasty slices of English malt loaf slathered in creamery butter and a little freezer case of French macarons glacés. Take coffee and pastries upstairs to relax on the mezzanine.   
45
th
Stop N Shop & Poke Bar
Hawaiian poke seemed to invade Seattle overnight—it's even available by the pound at Costco. The best place to get it sounds even less likely: the rear counter of a convenience store, where it's as easy to grab a pack of Marlboros as a bag of chips. We recommend the salmon and tuna combo; it's a healthy serving of each composed in a bowl with edamame, pickles, and imitation-crab salad. The long line moves fast, and there's counter space for eating in.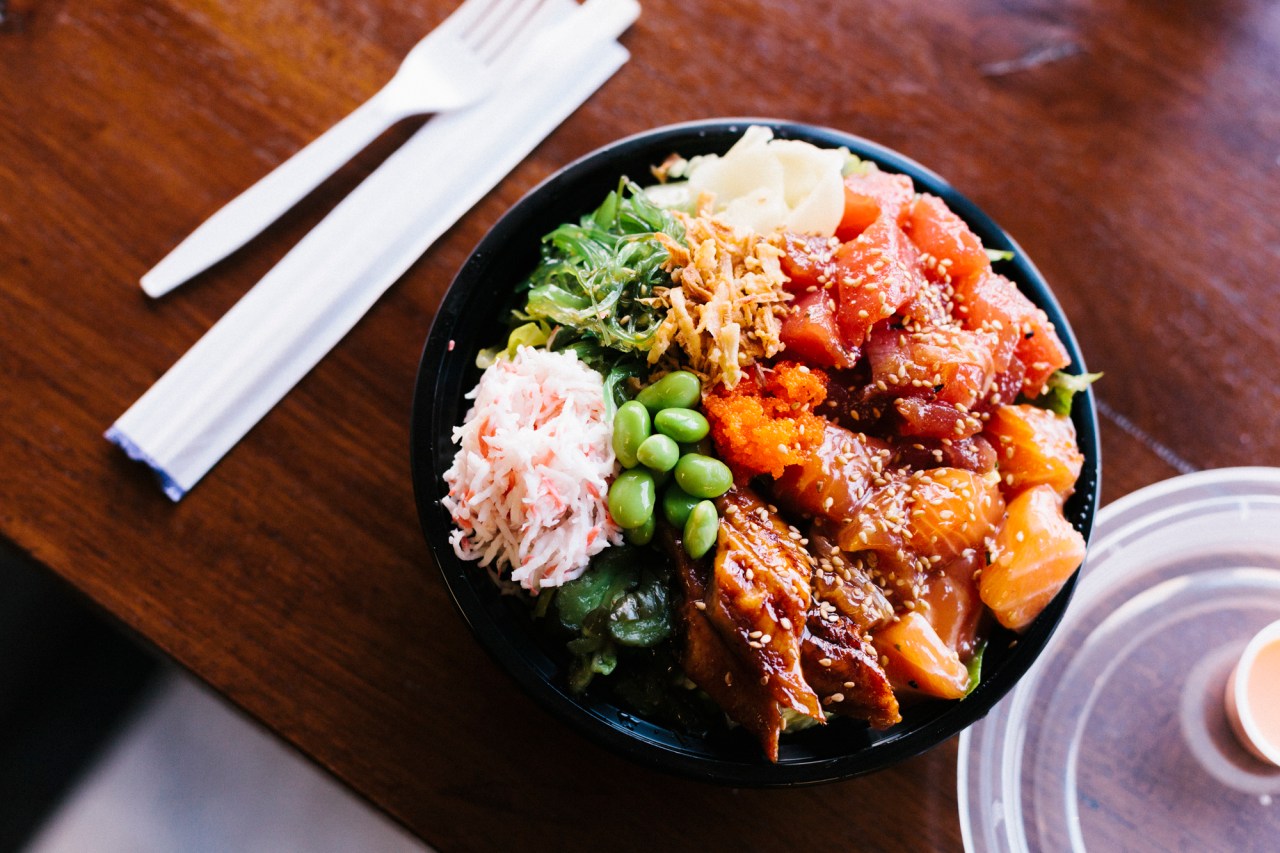 Il Corvo Pasta
The concept is simple: two or three daily pastas cranked out on antique machines. Each shape is matched with a seasonal sauce, most recently hollow perciatelli noodles paired with Sicilian seafood stew and daisylike fiore noodles in a creamy kohlrabi sauce. Mike Easton's business is weekday only, lunch only, and always worth waiting through the ever-present line for. At $9.95 a plate, the price-to-quality ratio can't be beat.
Noodle Hut
The phone rings off the hook with takeout orders at this tiny strip-mall restaurant advertising Thai home-style cooking. Wait instead to snag one of two bare sit-down tables and luxuriate in wide house-made rice noodles served in traditional sauces or with special additions like Dungeness crab. Add an order of crisp fried green beans, and other spicy specialties that taste perfect when transported just a few feet, from stovetop to mouth.
Location: 8418 Bowdoin Way, Edmonds, WA 98026
Hours: 11 a.m.–3 p.m. and 4:30–8 p.m. Tuesday–Saturday
Contact: (425) 423-7718
Cost: Most entrees run $7.95–$8.95
Hood Famous Bakeshop
A college administrator and a popular hip-hop singer are behind this teeny takeout bakery specializing in Filipino pastries. Chera Amlag and husband Geo Quibuyen (Prometheus Brown, of Blue Scholars) collaborated on what they thought was a one-time restaurant pop-up, only to watch demand soar for their brilliantly purple ube cheesecake. Amlag left her education job to bake full time, hoping to showcase favorite flavors from her childhood and give food from the Philippines a wider audience. Look for sour calamansi and floral pandan treats in addition to the ubiquitous ube.
Address: 2325 1/2 NW Market St., Seattle, WA 98107 (note: not wheelchair-accessible)
Hours: 11 a.m.–8 p.m. Thursday–Sunday
Contact:(206) 979-2253
Cost: Varies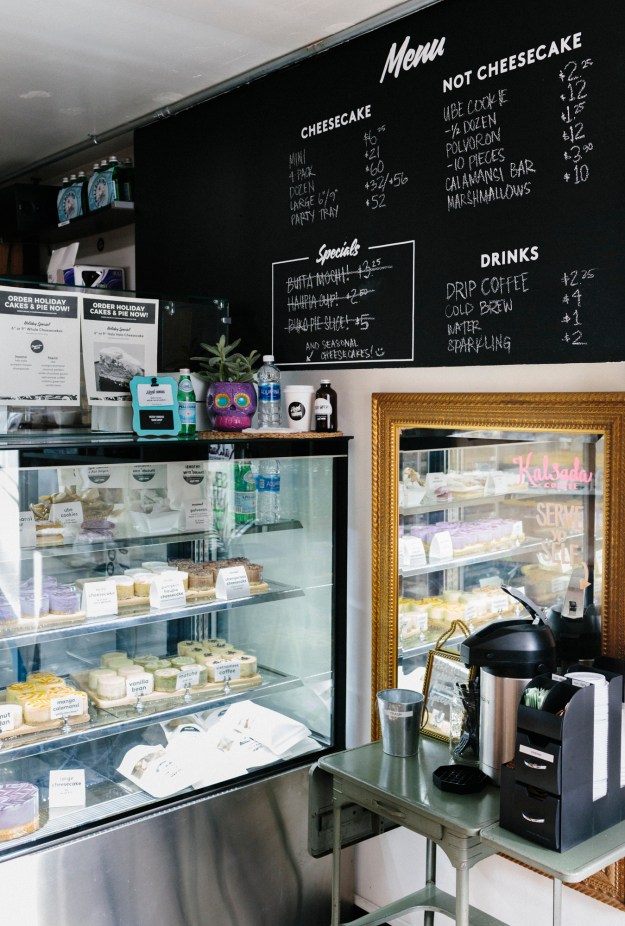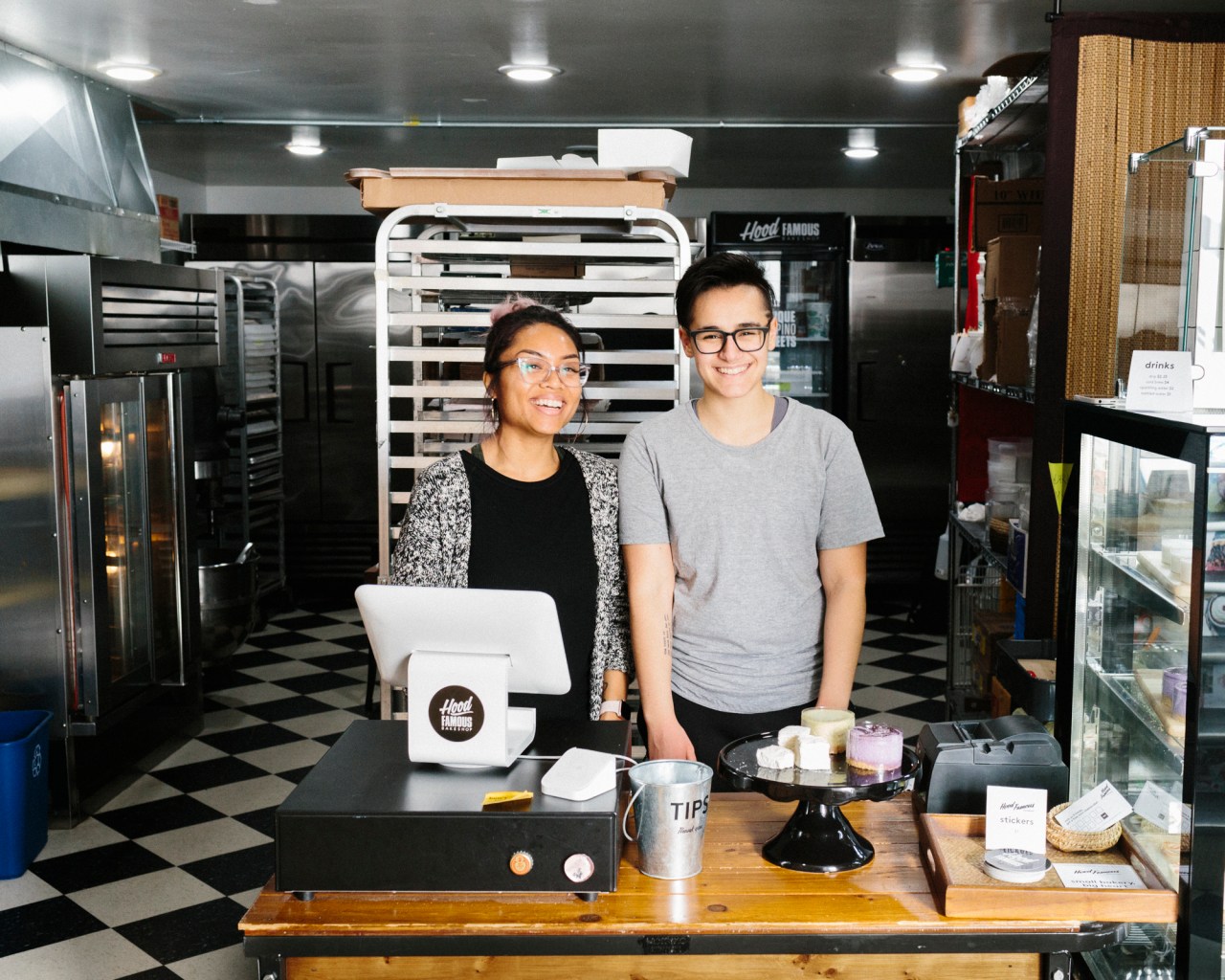 Old Ballard Liquor Co.
It's no longer easy to find lutefisk in Seattle at Christmas, a big change from the decades when Scandinavians were the city's largest ethnic group. The Ballard neighborhood is now populated with more condos and bars than shipyards and Nordic fishermen. But it's also got places like this craft distillery, known for its aquavit—but also for house-made pickled herring. The distillery's small cafe is loved for herring boards and snittar (snacks) on flatbread, plus weekly specials like cod soup.
Poppy
James Beard Award-winning chef Jerry Traunfeld spent 17 years cooking prix fixe farm-to-table feasts at four-star restaurant The Herbfarm before opening his own modestly stylish spot. It's both the most northwest and the most international place to eat in town: the thali platters include 5 to 7 small plates where global flavors find unexpected harmonies. Traunfeld might put berbere spice and pomegranate in his black beans, while complementing his Washington-caught salmon with a Goan coconut curry. All dishes are served with tandoori-baked naan, and herbs are, in season, plucked from the small backyard garden.
Location: 622 Broadway E., Seattle, WA 98102
Hours: 5–10:30 p.m. Monday–Thursday; 5–11:30 p.m. Friday–Saturday; 5–10 p.m. Sunday
Contact: (206) 324-1108
Cost: $7 happy hour thalis, $29 to $31 for entrees
Kamonegi
The wooden dowels hanging on Kamonegi's wall aren't there for show. Owner Mutsuko Soma, one of the few U.S. chefs serving handmade soba noodles, relies on the pins to roll out fresh buckwheat noodles so perfectly proportioned you'd swear they were machine made. Slurp them with hot broth and seasonal additions like matsutake (mushrooms) or in cold dipping sauces. The 30-seat spot is short on elbow room but long on gorgeous dishware and welcome features like a nonalcoholic shiso-ume soda and a colorful pickle plate.
Location: 1054 N. 39th St., Seattle, WA 98103
Hours: 4–10 p.m. Tuesday–Thursday (dinner service begins at 5 p.m.); 4–11 p.m. Friday–Saturday (dinner service begins at 5 p.m.)
Contact: (206) 632-0185
Cost: Soba entrees run $11–$24
Revel
Some call Rachel Yang's food French-Korean, but the only guarantee at this happening spot—and it's a good one—is that the flavors will be eclectic and electric. Don't miss an order of noodles, preferably the curry-scented Dungeness crab–and–seaweed version, or plump dumplings stuffed with short rib and pickled shallots. Corned lamb and mizuna salad with nuoc cham is another unlikely but unbeatable favorite. Pro tip: If wait times are unbearable, you can order from the Revel menu at neighboring bar Quoin.
Location: 403 N. 36th St., Seattle, WA 98103
Hours: 11 a.m.–2 p.m. and 5–10 p.m. Monday–Thursday, 11 a.m.–2 p.m. and 5–11 p.m. Friday, 10 a.m.–2 p.m. and 5–11 p.m. Saturday, 10 a.m.–2 p.m. and 5–10 p.m. Sunday
Contact: (206) 547-2040
Cost: $11–$19
Roll OK Please
For many people, "software engineer at Microsoft" sounds like the ideal Seattle job. But Shama Joshi found a better one for herself—CEO, head cook, and bottle washer of a food truck dishing Indian street food. She specializes in kathi rolls and other dishes seldom available in a tandoori- and biryani-obsessed restaurant world, winning fans for fillings that include spicy goat karahi gosht and homemade paneer.
Pho Bac
These gargantuan bowls of Vietnamese noodle soup are inexpensive, warming, satisfying, and spicy. They're also everywhere in Seattle, and everyone's got an opinion on which version is best. The biggest face-off pits fans of Pho Bac, Seattle's original pho chain, against defenders of Pho Than Brothers, known for serving a free cream puff with each order. I believe Pho Bac has the edge, especially at its Little Saigon flagship in the boat-shaped red building.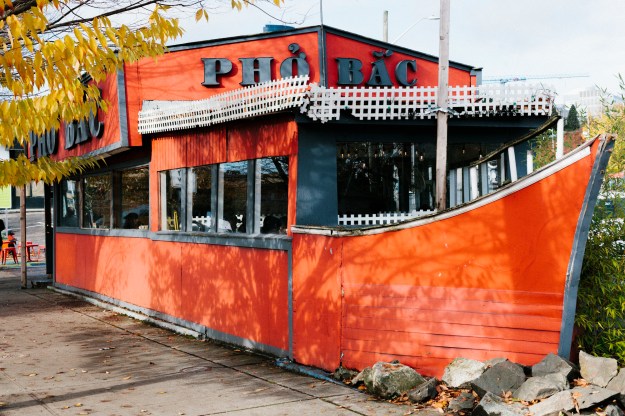 Thanh Son Tofu
Local supermarkets carry tofu and soy milk from this factory, but it's freshest at the modern retail outlet where plain and pandan-scented soy milk are served still warm. Takeout tofu by the pound comes plain or flavored (lemongrass is popular), and there is usually a line for the surprisingly cheap banh mi.
Uwajimaya
In 1928 Fujimatsu Moriguchi started his family-run food business by selling homemade steamed fish cakes from the back of his truck. Sent to an internment camp in World War II, he returned to Seattle to found Uwajimaya, a Japanese specialty store that has expanded into a sprawling superstore of Asian foods. Stop by the giant headquarters, still family owned, for expertly cleaved roast duck, fish tanks carrying fresh uni in season, aisles of ramen and aisles of rice, plus scent-o-rific durian.
Un Bien
The short story on Un Bien is that it's worth standing in block-long lines on an otherwise-unremarkable arterial for lusciously messy Caribbean sandwiches. The longer version: Seattle diners freaked out in 2014 when they heard that Paseo, a (bear with me) different restaurant beloved for Caribbean sandwiches, was shutting down. For a few days it seemed that nothing more important was happening in the city limits. Paseo reopened under new ownership but without the original owner's recipes. The original owner's sons opened Un Bien. Tuck in with the pleasant knowledge that you can now pass a pop quiz in Seattle sandwich history.