Oh happy day. July 8, 2014. Bright sun. 90 degrees, dry heat. Strip mall. A father and his teenage daughter handing out free cans of Cannabis Energy Drink ("like Red Bull but with hempseed oil," says dad. "You'll still pee clean," adds daughter). A few elite stoners bivouacked overnight to be the first in line. Spokane Green Leaf is about to open its doors for the first time, ready to sell recreational marijuana legally. End of prohibition. End of government lies. End of all haters. "Watch the anger level in Spokane go down starting today," says a customer who hides his face when a camera comes out.
We are making hemp history.
Mike Boyer, 30, is a union janitor and security guard who sometimes works at car auctions. He got off work yesterday, went home and showered, then came to the storefront to be the first in line. He's wearing an absolutely insane tie-dyed shirt featuring a chipmunk and a very stoned gnome. The media—Al Jazeera America, the local network affiliates, the Inlander alt weekly—arrive to take pictures at 1:30 p.m., when the shop is empty; and then right at 2 p.m., when the doors first open, a mountain of a bouncer named Jody Cleveland checks Boyer's ID to see that he's 21.
Boyer buys 4 grams of Sour Kush and thrusts his hands in the air. "First customer!" he yells and then races out to high-five the hundred or so people waiting in line outside. He invites all the media to his house for a tasting afterward.
The television guys seem genuinely interested. The next day Boyer would contact the media again to say he had been fired from his security job—apparently a zero-tolerance employer—after his bosses spotted him on TV and made him take a drug test. Online commenters at the local newspaper's website were divided about whether he was a dillweed or just a dufus. Boyer says he's looking for another job, hopefully in the marijuana industry.
Spokane Green Leaf is the only shop in Spokane or anywhere in the eastern half of Washington that is open for business on this first day of legal recreational drug sales. The legalization was approved by ballot initiative in November of 2012. Legal weed shops will be regulated by the Washington State Liquor And Cannabis Board, which I remember from my years in Seattle as the monopoly that ran liquor stores that were never open when you needed them. They are no longer the exclusive sellers of hard alcohol in the state, but they've brought their enthusiasm for bureaucracy to the legal weed trade. A sampling of the rules: stores cannot be within a thousand feet of a park or school or library. Retailers are allowed one 1,600-square-inch sign with their business name.
The resolution of their security cameras must be at least 640 by 470 pixels. The board held a lottery for the 334 licenses it granted, but the rigorous seed-to-sale tracking and other complications meant that very few of the approved stores could open on time, and those that did had a shortage of product. On opening day only one shop in all of Seattle was doing business.
The good news at Spokane Green Leaf is that there is plenty of weed. Co-owner Kirk, who doesn't want to give his last name, says that he has approximately 8 pounds for sale, something north of 3,600 grams. That's a lot of little baggies.
Who will be there to stand tall for the drug dealers? While everyone else seems to be enjoying the pregame giddiness, Moose is here representing the street dealers, whom the state of Washington is trying to put out of business.
Moose stands in the shade, as large as his name, wearing an oversize T-shirt with scripture from Proverbs 25:28: "He that putteth his trust in the Lord shall be made fat." He moved here from the Midwest seven months ago for a "fresh new start in the marijuana world." He says he's been smoking since he was 7, dealing since he was a teenager, and growing almost as long. And when he looks at this latest innovation in marijuana—an upscale retail shop with air conditioning, free bottles of water, a lacquered hardwood counter and little 2-gram baggies of weed going for $50 each—he sees not just legalization, but gentrification. The well-to-do get to smoke weed legally. Everyone else still risks imprisonment and ruin.
North Spokane is not a rich community. The endless commercial strip along North Division Street that leads from Spokane Green Leaf to the city center is a testament to the American middle class and its shrinking margins: some upscale places like the NorthTown Mall, but also plenty of Golden Corrals and Arby's, closeout furniture stores, e-cig emporia, buy-gold shops, even a Hobby Lobby for topical measure. And more than anything, there are lanes and lanes of high-speed traffic. "No one drives here," wrote a local columnist, "unless they're trying to get somewhere else very, very quickly." Yes, a few drive-up coffee kiosks mark this as Pacific Northwest territory, but otherwise this could be any place in America where people need better jobs, more money, and more protection from the endless war on drugs, even in a state that just legalized weed.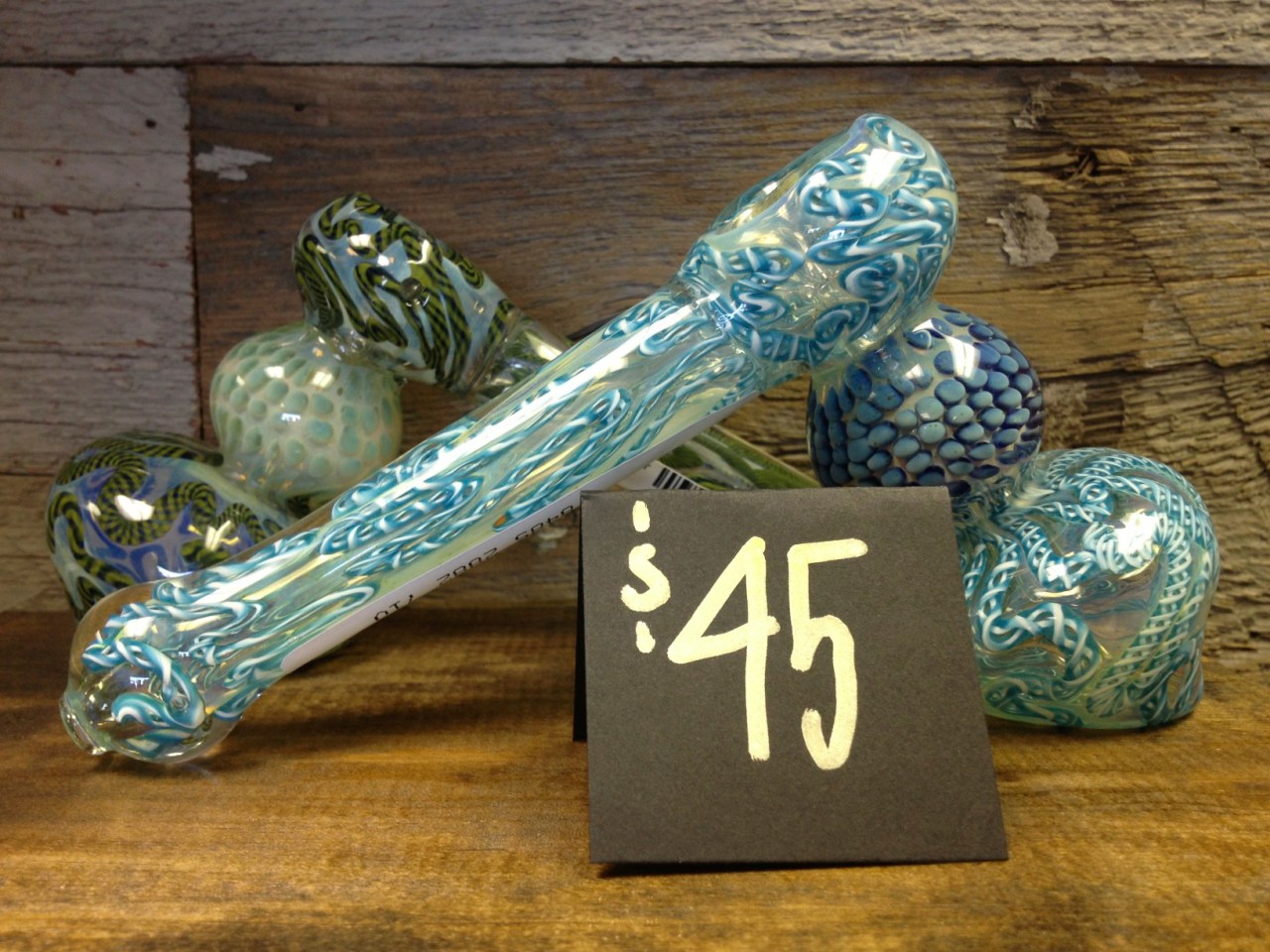 "Everyone I know smokes weed. My mom, my friends, everyone," Moose says. "But they can't afford this, so what they do keeps being illegal." He points east past the Baskin-Robbins, across North Division. "Down there is a grow house, three blocks down. Or go a mile the other direction and there's more," he says. "Right now I can go get Strawberry Crush, Lemon Haze, Pineapple Express, all the good stuff, for $150 an ounce," he says. Spokane Green Leaf is only selling 2-gram and 4-gram baggies today, one per customer; but at its prices an ounce would cost $700.
Even medical marijuana is just a form of means testing, Moose says. "Getting a medical card just means that you paid a doctor $150," he says. "If you don't have that kind of money, then you're going to get arrested."
It's more than a theoretical complaint for Moose. He did 31 months in federal prison after getting caught with 2 pounds of weed in Kansas. "It ruined my whole life. I lost my home. I lost my job," he says. "They took everything and then called me a felon."
It's a heavy story. I ask Moose instead how he got his name. "We all grew up with animal nicknames," says Moose. "It came from football. The speedy little halfback was Squirrel. You know how they say you gotta shoot a moose twice? It took more than one tackler to take me down."
It's easy to see why Moose is a bit cynical about the co-owner Kirk, who is looking pleased and busy and says he has trademarked the phrase "It's legal" as the tagline for his shop. "That guy can sell for whatever he wants, but because I'm a 'troubled kid,' because I grew up selling weed, I can't even get a grower's card now. Do you think he ever grew this before it was legal?"
One more thing: The government, he says, is profiting off the hard work that drug dealers and growers put in for decades, specifically, the cultivation of the strains that will now legally blow your mind. "The government just busted us and busted us in the '80s and '90s and kept the strains," he says. "The only reason why weed is so good is because people like me, who really care about experimenting with the plants, made it that way first."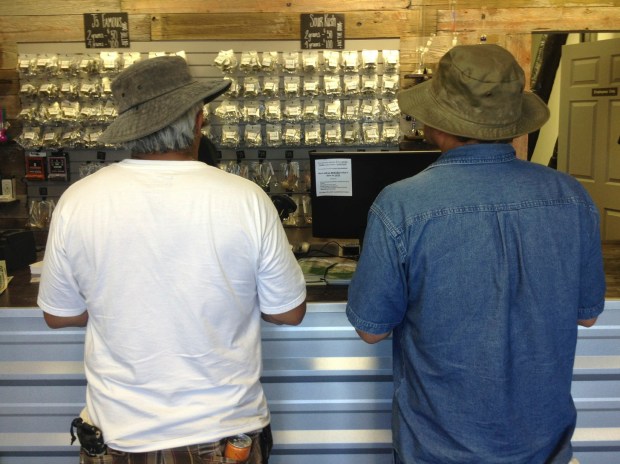 The government stands to profit handsomely. There's a 57.5 percent tax built into each baggie: The producer/processor pays a 25 percent tax, the retailer another 25 percent, and then the sales tax goes on top at 7.5 percent. [As one reader points out, the cumulative effect of those taxes is actually even higher.] But who among the opening-day crowd will really become a repeat customer? Tony Yeaw, 27, sits in the sun and sums it up brightly: "I'm here for the historical value," he says. "I may never come here again." Most people in line look like they might have a dealer or two on speed dial.
Kirk, for his part, doesn't think his shop will end the drug dealers, at least not quickly. "You look at the end of prohibition, and it took five to seven years to squeeze out the bootleggers."
Caitlyn Finger, 24, and Chad Welsh, 25, aren't worried about the street dealers. They're just happy to have new jobs of their own. Fingers worked as a youth counselor and at a library. Welsh was in retail, working the floor at an e-cigarette store and later selling cell phones. Both saw the Craigslist ad for "customer service SUPERSTARS": $12 an hour, must be able to pass criminal background checks. An added perk they tell me about on opening day: employee discounts.
Just around the corner is Satori, an annex to an existing head shop that is the second of three licensed shops in Spokane. They weren't able to get their certification in time to open on the first day, but they'll be providing competition soon enough. So Green Leaf is counting on Finger and Welsh to make a difference. "We want to hire very experienced people, experienced users. Customer service ought to be able to ask 'What are you going to do today? Mountain biking? Hiking? Just sitting on the couch?' and then make a good recommendation."
They try this a bit, but they need to work on the pitch. Welsh tries to upsell a glass pipe. They are not allowed to show off the product beyond holding up a baggie from behind the counter. Customers can't hold it or smell it or feel it.
There's not a lot of talk about body effect. I find myself missing Nicola, the enthusiastic glassy-eyed Italian who works behind the bar at 420 Café in Amsterdam. That man can get you high just talking about the weed.
None of the owners wants to be on camera or give their last name. "My family's been supportive—but you do worry about security,"  says one. For starters, this is a cash business. No credit card company will accept payments from them, and lines of credit are so far impossible. (Numerica Credit Union is offering up to $5 million credit lines to growers, but not to retailers as of yet.) By the time they sell out their 8 pounds, Green Leaf will have taken in $90,000 in cash at the store, and they'll have to haul it to some bank branch in person.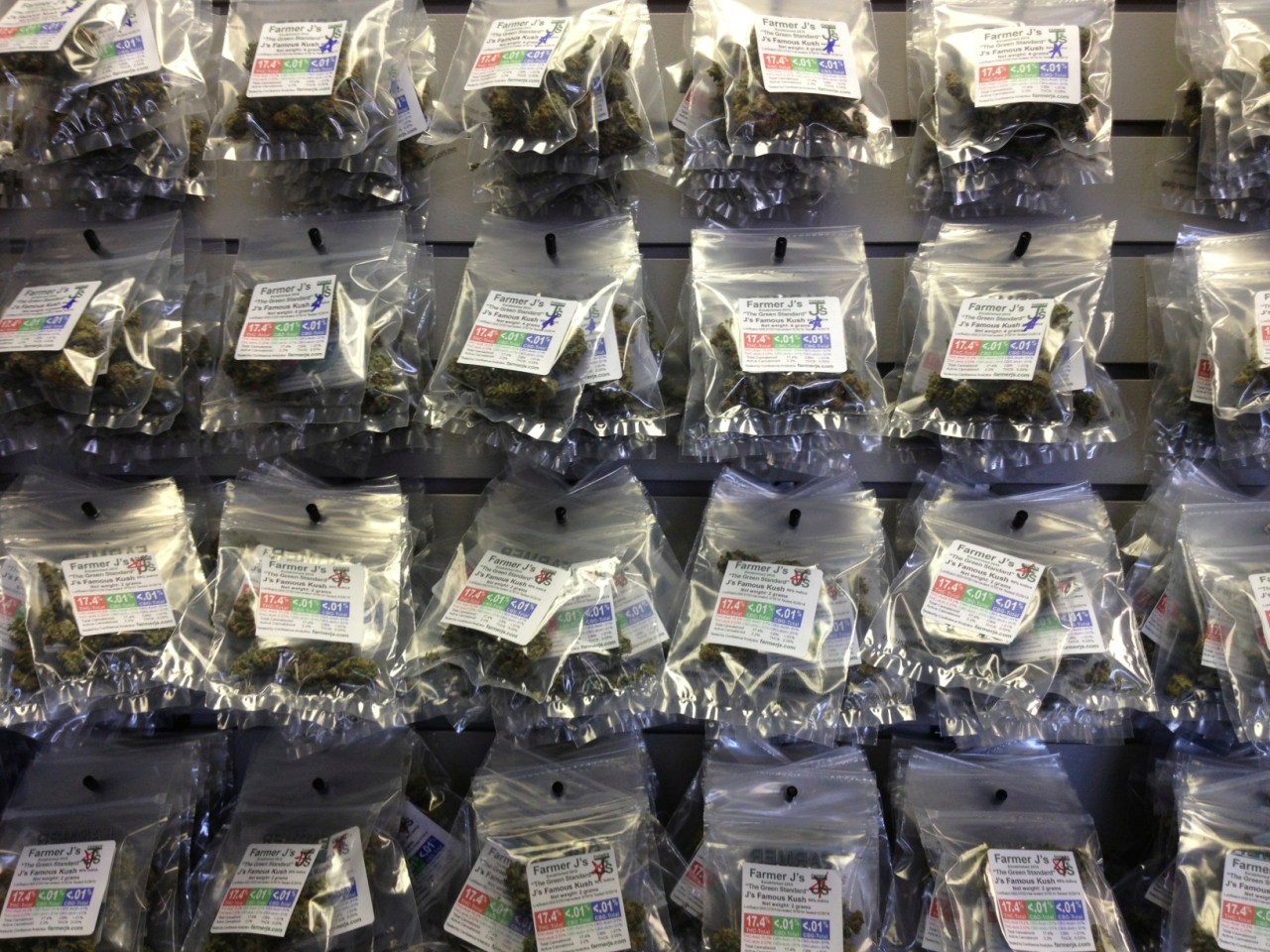 Deep in the Liquor Board FAQ is this:
Q: Will non-Washington residents be able to purchase marijuana?
A: Yes, but the marijuana products are to be consumed in Washington.
I am not a resident of Washington. But I can buy, so I do. Two grams of Farmer J's Famous Kush, which has an "old-school taste" and "strong sweet skunk aroma." Of the two strains for sale, it's the weaker: 17.4 percent THC instead of 20.4 percent in the Sour Kush. Truth is, I did all my best smoking back when I lived in Seattle, when the world was dank and weed was illegal and cheap and everywhere. I'm no THC hero anymore—haven't been for years. I'm now more of an old-man smoker, a bit worried about the pure, debilitating high of today's superstrains. I'm also worried about this part of the FAQ:
Q: The initiative says I cannot consume marijuana in public. What is the definition of "in public"?
A: Initiative 502 states that it is unlawful to open/consume a package of marijuana or marijuana-infused product in view of the general public.
That presents a problem for the traveler. I'm staying at the Davenport Hotel, an old, gaudy thing that has no rooms that allow smoking. Is the fourth-floor outdoor terrace, where cigarette smokers go, "in public"? I ask a bellman who looks like he might know his way around a bong and a bag of chips for guidance. "It's, umm, frowned upon here," he says. The Riff, a little dive with a fenced-in outdoor patio, lets people smoke out back, he says. But it's a drive from the hotel, and I'm sunburnt and tired from the blue-sky day at the strip mall. I decide to head for the terrace.
It's a small joint I rolled, and I have trouble keeping it lit. I glance over the railing. Can they see me from the street below? Is someone coming from inside the hotel? Can they smell the weed up in the hotel rooms? Yes, there it is, that warm, familiar feeling I was looking for: not the feeling of getting high, but the feeling of breaking the law.
Originally published on Roads & Kingdoms on June 10, 2014.