Chengdu is quietly becoming known as the coolest city in China. Previously recognized as the place for pandas and hot pot or simply a jumping-off point for a trip to Tibet, visitors are being wooed by its quiet charms. A friendly atmosphere, emerging subcultures, and a relaxed pace give Chengdu a particularly welcoming vibe and make it more approachable than the big cities on the east coast.
Historically, Chengdu has been characterized as a lazy city. It has a more relaxed approach to life and business. Although the city is now booming financially and developing at breakneck speed, it has retained the reverence for personal time so integral to its ethos. The concept of leisure is woven into the fabric of society; it cuts across socioeconomic lines and manifests as a cultural value. People here take the time to enjoy their lives. That expression of relaxation is a tangible thing, a wave that hits you almost as soon as you land.
To get the most out of Chengdu, it is important to embrace this attitude, slow down, and enjoy yourself. Don't worry about sites and tourist attractions—the best way to learn the local customs is through food and drink, and they are the best way to start to get to know the city. Embrace this epicurean approach to life and make eating your main event each day. Everything will happen on the way to your next meal.
8:00
am
Funan River
175 Yi Huan Lu Xi Yi Duan, QingYang GongShangQuan, Qingyang Qu
Chengdu Shi, Sichuan Sheng
Get Directions
Start the day off with a nice walk along the Fu Nan River, which weaves its way through Chengdu's downtown. In the early morning, the riverside promenades buzz with the energy of the city's early risers. Middle-aged women perform elaborately choreographed dances for exercise, retirees practice tai chi, and old men set up for a day of fishing from the elevated banks. Somehow while occupying the same physical and aural space they manage to exist in harmony and are dodged by those out for a run or walking their dog. It's a wonderful early-morning parade of sounds and color and the best way to wake up to the city's vibrancy.
9:00
am
Chuan Yang Guan Noodle Shop
6 Jixiang St, Qingyang Qu
Chengdu Shi, Sichuan Sheng
Get Directions
Head north from the river toward Ji Xiang Alley (past the overcrowded and commercialized Wide and Narrow Alleys) and pull up a stool at Chengdu's best dumpling shop. The Chun Yang Guang Noodle Shop is a neighborhood institution and is packed throughout breakfast and lunch. Locals come for the flavor, not the decoration. It is one of a dwindling number of places in the city's center that still serve up bowls of the internationally famous dan dan noodles—now on the decline as people seek larger, heartier portions of zhajiang noodles. But the real draw here are the chao shou (Sichuan dumplings in chili oil). All noodle dishes are served in 1-liang (50-gram) portions, so order a few and get a variety of styles. Don't forget to scoop up a serving of the homemade spicy pickles, and cool the breakfast heat by drinking a bowl of hot noodle water from the copper kettles provided.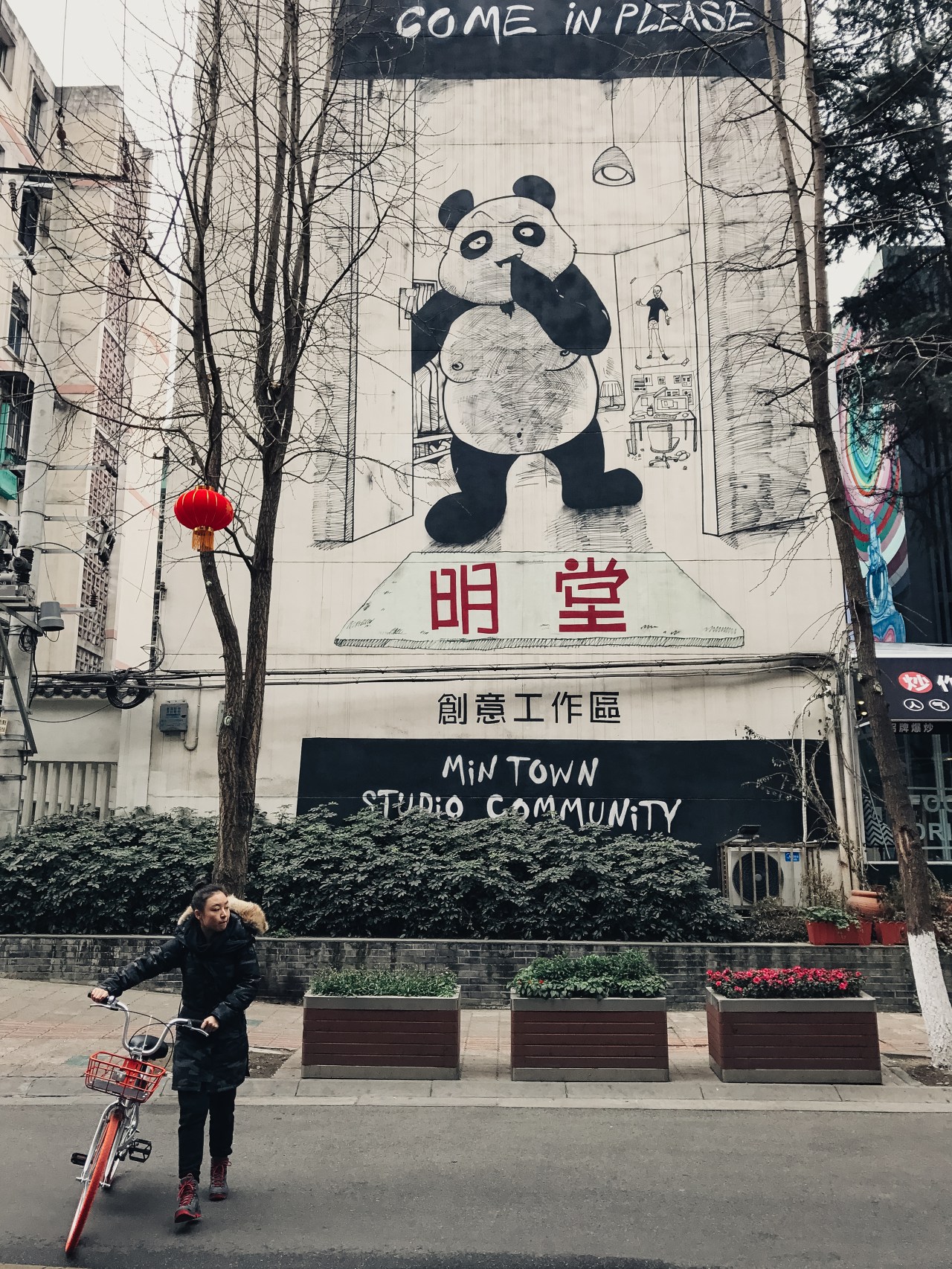 10:00
am
Kui Xing Lou
Qingyang Qu, Chengdu Shi, Sichuan Sheng
Get Directions
Tuck down the alley just past the noodle shop on your left and hop over to Kui Xing Lou, one of Chengdu's hippest streets. As this area gentrified, it avoided the block-by-block commercialization that has occurred elsewhere, evolving into a gingko-lined lane with everything from local reflexology clinics and stalls selling chicken feet, duck necks, and other organs to hipster coffee shops and bakeries. Since it hosted an art and music festival three years ago, the building facades have been transformed into huge murals painted by local graffiti artists. At the head of the street find the NU Space, which houses an art gallery, workshop, and coffee shop in the daytime and one of Chengdu's newest and coolest underground music venues at night.
11:00
am
Qing-Yang Xiao Qu Market
6 Qingyang N Rd, Jinniu Qu
Chengdu Shi, Sichuan Sheng
Get Directions
Continue your march northwest across Xi'an Road and toward the Qing-Yang Xiao Qu Market, one of Chengdu's biggest and best outdoor markets. There is nowhere better to learn about a city's connection to its food than at a bustling wet market. Sprawled over three alleys and woven around a block of apartment buildings, the streets are filled with fresh, local, and seasonal produce, butcher shops, tofu makers, noodle producers, pickle vendors, and tables and storefronts covered with chilies, Sichuan peppercorns, and innumerable spices and fermented sauces. Float your way through the stream of vendors, patrons, electric bikes, and friendly market dogs toward the prepared food at the back, but not without trying a fresh Sichuan peppercorn. Unpasteurized, it's nothing like its exported cousin. Let the floral, citrusy fragrance tango on your tongue before you feel the burn. If you're in the mood for a quick snack, traditional Chinese baked good—such as flaky pastry filled with rose paste—are cooked up in a few stalls near the fruit section.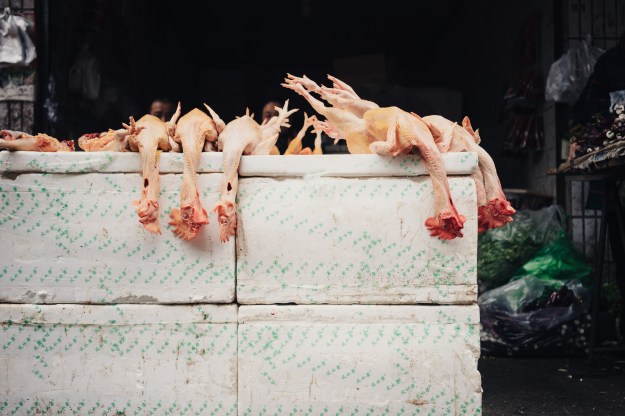 Pop into the makeshift public tea house across the street at the west end of the market. Dozens of old men bring their birds in little bamboo cages to chirp, sing, and socialize while the men sip tea, smoke cigarettes, and play cards.
12:00
pm
Huang Cheng Old Beef Restaurant
RenMin GongYuan, Bao Jia Xiang, 81号附24 邮政编码, Qingyang Qu
Chengdu Shi, Sichuan Sheng, China 610015
Get Directions
After a quick linger, carry on a few blocks southwest (by foot or by taxi) toward Baojia Alley near the west gate of People's Park and find the Huang Cheng Old Beef Restaurant for a classic Sichuan lunch. Opened by the Zhang Brothers in 1984, this is one of the oldest, least-changed restaurants in the city, having managed to escape the surrounding development. It's an unpretentious small storefront, sandwiched between an apartment building and a construction site for more high-rises; its tables spill out onto the street. It is the quintessential Chengdu "fly restaurant," and despite its unassuming appearance has droves of regulars who flock to it from across the city to gobble down the old-school Sichuan fare. On the menu? Beef—and pretty much only beef. The charismatic brothers and their cousins who help run the place tell you what you want and then bellow instructions on the preparation style back to the kitchen. "One fried, one steamed, one in chili oil, and a soup." The brothers are proud of their restaurant yet humble in manner. The place does simple standards such as fuqi fei pian (cold beef in chili oil) that capture the Sichuan flavors you came for. Food aside, this place is also one of the best in the city for experiencing the culture of food-based hospitality and the "hot and noisy" restaurant atmosphere.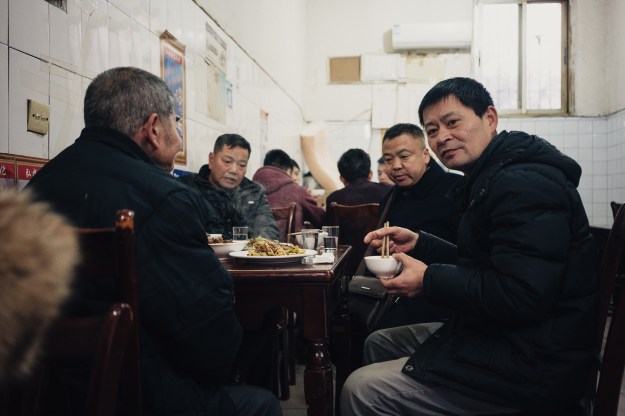 1:00
pm
People's Park
9 Citang St, RenMin GongYuan, Qingyang Qu
Chengdu Shi, Sichuan Sheng
Get Directions
Time for a rest of sorts, but not before a little more excitement. Head back out Baojia Alley and across the street into People's Park. The park is well known—and for good reason—as the "noisiest park in the world," but it's one of the best places in the city for people-watching. Aside from the gardens and greenery, the squares are filled with dance troupes, senior choirs, full bands, martial artists, amateur karaoke-ers equipped with mobile speakers, and performers of all types, all competing for attention. Locals and tourists are drawn to the park for its jubilant atmosphere. Small walkways are lined with retirees and sheets of white paper bearing the stats of their unmarried adult children and grandchildren. It's a sort of offline dating site, started in the pre-internet era.
2:00
pm
Heming Tea House
Citang St, RenMin GongYuan, Qingyang Qu
Chengdu Shi, Sichuan Sheng
Get Directions
Make your way to the waterside Heming Teahouse for an eclectic crowd or to the Nong Yin Tea House in the southwest corner for a more relaxed cup. Tea, like food in Chengdu, is largely unpretentious and more about the atmosphere and the opportunity to converse. It's how people in Chengdu relax; many will spend a whole afternoon deep in discussion or playing a game of majiang (mahjong) while chomping through a dish of sunflower seeds. Order a cup of jasmine tea, kick up your feet, and chill.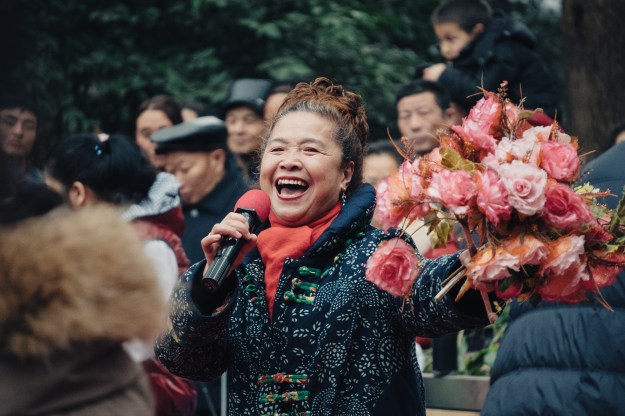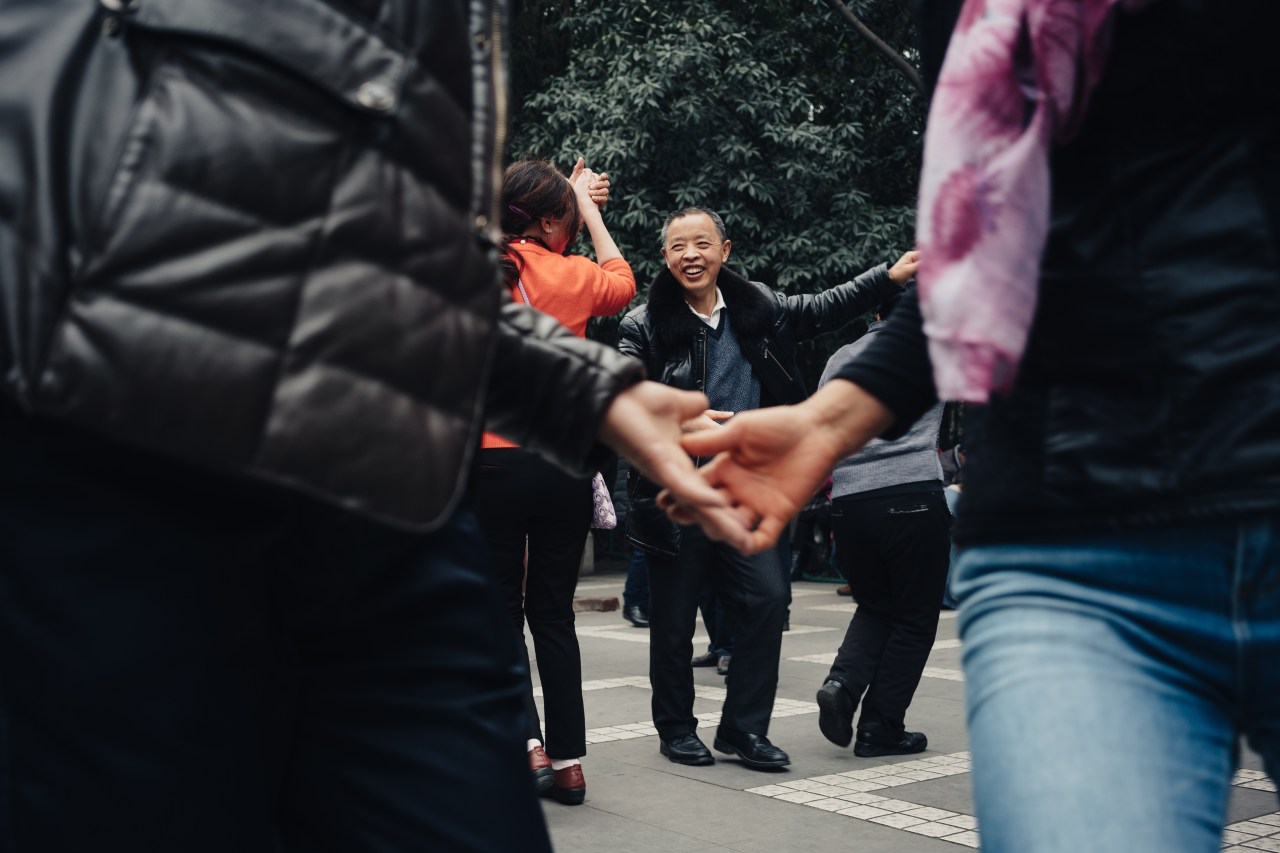 5:00
pm
Kang Er Jie Chuan Chuan
99 Zhongdao St, ShuYuanJie, Jinjiang Qu
Chengdu Shi, Sichuan Sheng
Get Directions
After a nice break grab a taxi and head toward Kang Er Jie Chuan Chuan on Zhong Dao Street, not far from the Second People's Hospital. This locally famous restaurant sprawls onto the street under a makeshift roof and is packed every day for lunch and dinner. There's always a wait after 5 p.m., but part of the eating culture here is the firm belief that dinner is the main event of the evening. Waiting an hour for a table isn't likely to scare a true fan away, and it shouldn't deter you, either. It will be worth it.
6:00
pm
Kang Er Jie
China, Sichuan Sheng, Chengdu Shi, Wuhou Qu, ShuangNan ShangQuan, Zhixin Rd, 2号附5号 邮政编码: 610041
Get Directions
Hot pot is the star player of Sichuan food internationally, but in its origin and essence it is a Chongqing thing. Chuan chuan is, I would argue, the dish most characteristic of Chengdu. While it does not vary greatly in form, each version represents a different cultural facet of the city's cuisine. Hot pot is becoming more and more upscale and pushing the limits of the cuisine in terms of design, presentation, spice, and price. Chuan chuan remains more laid-back and emblematic of that golden approach to food in Chengdu: It's about the flavor and the fun and not the box it comes in. Unlike the flaming hot pot as a centerpiece of the table, chuan chuan ingredients all come on sticks (to which chuan refers) and are cooked in one oily, spicy master stock in the kitchen. The available options range from spiced beef, dried tofu, and mushrooms to all manner of vegetables, and—for the eaters seeking a more texture-based experience—a full range of innards such as chicken gizzards.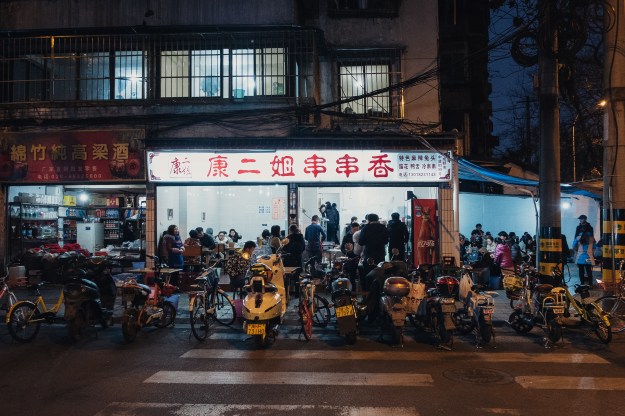 At Kang Er Jie, the sticks are served in the classical way, not in their sauce but dry on a metal pan. The flavor is deep and complex, based on a variety of ingredients—including douban (fermented broad-bean paste), cassia (Chinese cinnamon), cardamom, fennel, bay leaf, and beef lard—in addition to the chili oil, chili peppers, and Sichuan peppercorns that dominate the stock. The ma (numbing) and la (hot) elements create a warm glow in the mouth that accentuate the other flavors, rather than stealing the spotlight, and send you into a sweat. Chuan chuan is often served with crushed chilies and peanuts instead of the sesame oil and garlic dipping sauce that come with hot pot, so it creates enough heat that you will want to chase it down with a few ice-cold Snow beers. Chuan chuan sessions are very much a celebration, even if just a celebration of the food itself—and many a shot of light beer fuels the boisterous hot and noisy atmosphere. Ordering is easy as well: Just grab the sticks you want from the fridges in front of the kitchen, pile them in a basket, and hand them to the staff, who deliver them once they're cooked. If you are on the adventurous side, Kang Er Jie does a big business in rabbit heads, duck tongues, and pig brains as well as more mainstream fare. These specialties are slathered in a thick, spicy sauce that's heavy on the umami. Chuan chuan, though, is an exploration of texture and its relation to flavor more than just the flavor itself.
8:00
pm
Temple House Jing Bar
81 Bitieshi Street – 笔帖式街81号 邮政编码, Jinjiang Qu
Chengdu Shi, Sichuan Sheng
Get Directions
For many, dinner is where the party starts (for some it's where it ends), but Chengdu is also quite well known for its vibrant nightlife. Baijiu, the local 120-proof sorghum spirit, pairs well with the spicy cuisine, but there is a range of more approachable options for after dinner as well. Head to Hugo's Brew Pub in the south of the city for Chengdu's best selection of domestic craft beers, including some from the local Harvest Brewery. Craft beer has exploded in China over the last few years, and this is a great place to check out what's developing in the country's new brewing traditions. For a more upscale sip, try the Sichuan Negroni at the Temple House hotel's Jing Bar. Made with Osmanthus-infused gin and Sichuan peppercorn–infused Campari, it's a creative blend of tradition and modernity.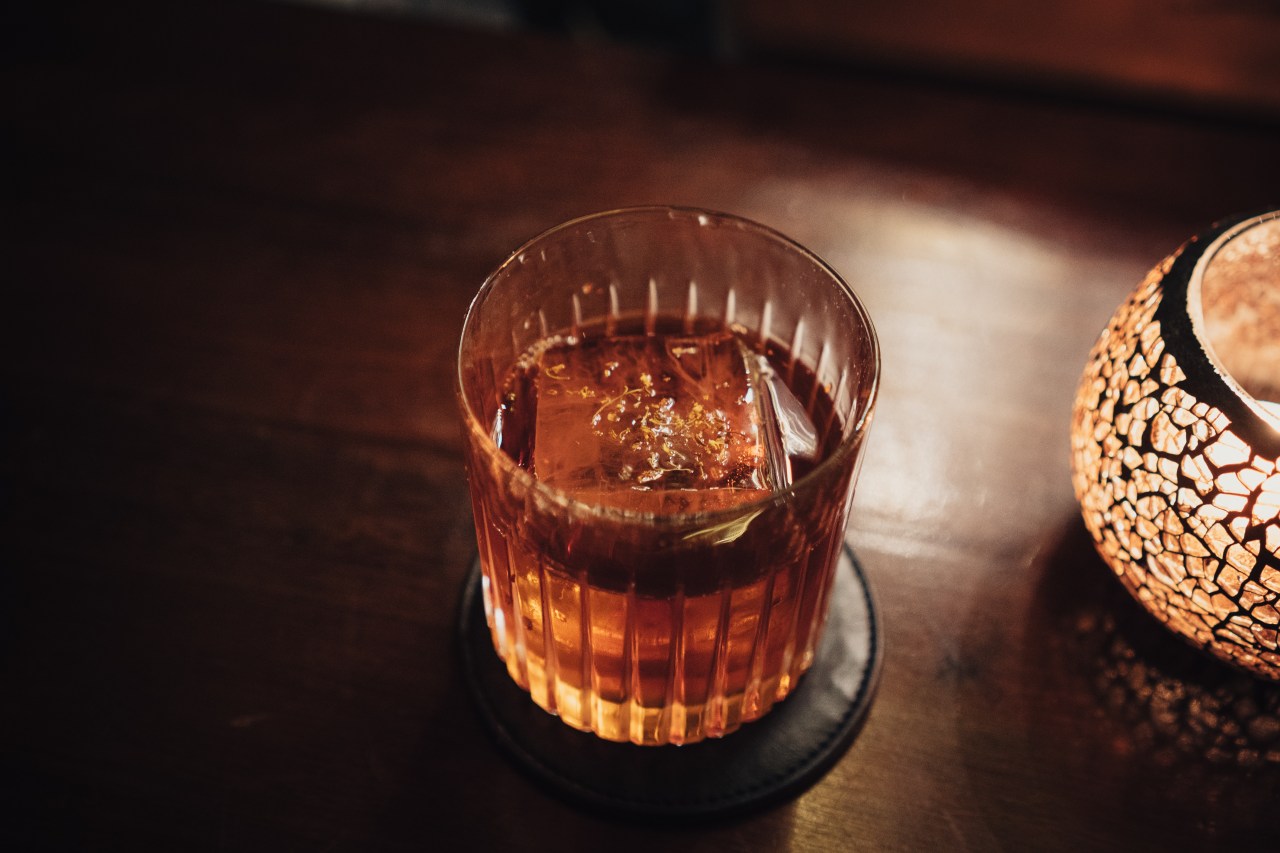 In Chengdu, allow space for unexpected adventures—spontaneous encounters around the table create some of the most memorable experiences in the city. But while the feeling is laid-back, take notice of the city growing around you and the intense development. It won't look the same the next time you are in town.
Jordan Porter is the founder of Chengdu Food Tours.