Decades before I understood the cultural and historical information stored in the soulful nourishment of its sweet, spicy, and umami warmth, I routinely answered "tomato bredie!" whenever asked to name my favorite dish. The soft chunks of lamb falling off marrow-filled knuckles, the potatoes reddened by the lamb fat, and the spicy tomato notes were a comfort food, warding off the chill of Cape Town's wet winters and offering, however briefly, emotional succor on a plate. It's still a favorite signifier of my South African roots—the culinary dimension of which is distinctly Cape Malay!—which I prepare for my family in Brooklyn, New York, when the weather turns chilly and my thoughts turn to the beautiful city where the mountain and the sea are not antonyms, but neighbors.
Tomato bredie is home cooking, and every household has its distinct take, though the basics are the same. It could be made with boneless cubed lamb, but what would be the point of eschewing the umami depth that comes from slow-stewing lamb bones? And it's at its best when served with turmeric-yellow begrafenis rys (funeral rice).
Here's my recipe.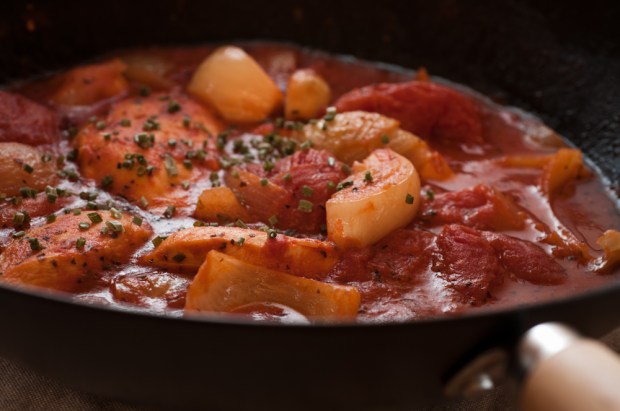 Ingredients:
(Serves 6 to 8)
4 pounds lamb neck or knuckles cut into 1 1/2 inch pieces
2 large onions, chopped
1 cinnamon stick
1 teaspoon fennel seeds
3 cardamom pods
5 cloves
2–3 teaspoons Aleppo pepper (depending on taste for heat), or a chopped, fresh, hot green chili
2 bay leaves or 4–6 kefir lime leaves if available
4 cloves garlic, crushed
2 inches of ginger, finely chopped
1 teaspoon cumin powder
1 teaspoon coriander powder
2 pounds ripe roma or other tomatoes, skinned and diced (you could substitute with two 14-ounce cans of diced tomatoes)
1 cup chicken stock
1 cup water
2 teaspoons sugar
2 tablespoons Mrs Ball's hot fruit chutney (substitute with apricot jam)
1 tablespoon Worcestershire sauce
2 teaspoons fresh thyme
1 teaspoon fresh marjoram
4 medium potatoes, quartered
Preparation:
Season lamb pieces with salt and pepper, brown in a vegetable oil in a heavy-bottomed pan, and remove with slotted spoon to a plate that will hold the juices released before you return them to the pot.
Saute the onion until translucent in the oil used to brown the meat, then add the cinnamon stick, fennel seeds, cardamom, cloves, Aleppo pepper, bay leaves, garlic, and ginger. Fry for 2 minutes longer. Add the cumin and coriander; stir and fry for a further 2 minutes. Add the tomato (if using fresh tomato, blanch to ease the removal of the skin, and dice).
Let the mixture simmer and get acquainted and settled for 5 minutes; then return the meat (and any juices from the plate on which it sat after browning) to the pot, and stir.  Add the chicken stock and water (meat should be covered) as well as the sugar and return to the boil; then reduce to a simmer.
On the stove top, keep this simmering on low heat for at least 2 hours; but bredie is even better when made in a Dutch oven, which allows you to place it in a 300-degree oven for the same period.
Add the chutney, Worcestershire sauce, fresh herbs, and potato, and cook for a further 30–45 minutes until the potatoes are soft. Then let stand for at least 20 minutes.
Salt and pepper to taste. Serve with begrafenis rys or your preferred rice.
Like any meat stew, tomato bredie tastes even better the next day. But if you're going to refrigerate it a day before eating, leave out the potatoes. Add them when reheating, slowly, giving them 40 minutes or so to cook. (Refrigeration allows you to skim off some of the excess lamb fat—something you should do even if serving hot.)