Mudbugs, crawdaddies, crayfish.
The red freshwater critter is known by many names throughout the South, but in Cajun Country, you simply call them crawfish.
The crawfish, which resembles a tiny lobster, is such an important part of Louisiana cuisine that lawmakers designated it the official state crustacean in 1983. Although there are no official statistics about how much of the shellfish is consumed in Louisiana, state producers say crawfish harvesting brings in roughly $120 million each year. So, yeah, crawfish is a big deal in Louisiana.
Here are a few ways locals like to prepare them.
Crawfish Boil 
Crawfish season runs from November through June, which means weekends are filled with crawfish boils. It's a pretty simple formula. Throw several pounds of crawfish, potatoes, corn on the cob, onions—other veggies are welcome to join—in a big pot, and add garlic, bay leaves, lemons, salt, and seafood-boil spices. You can buy premixed Cajun spice blends, which generally include some combination of cayenne pepper, red pepper flakes, peppercorns, oregano, and sometimes coriander seeds, mustard seeds, dill seeds, and allspice.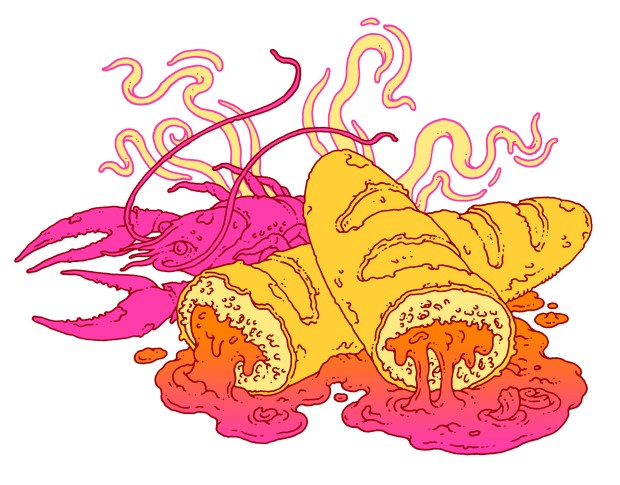 Crawfish Bread
Crawfish tails and gooey melted cheese inside crusty bread. What more could you want? A staple at the annual New Orleans Jazz & Heritage Festival, crawfish bread contains seasoned crawfish cooked in butter with onions and peppers, melted cheddar or mozzarella (or both), and mayonnaise, then baked atop a loaf of French bread. If you need a fix and can't make it to Louisiana, John Ed Laborde, who started making the dish more than 30 years ago, now ships the melts across the U.S.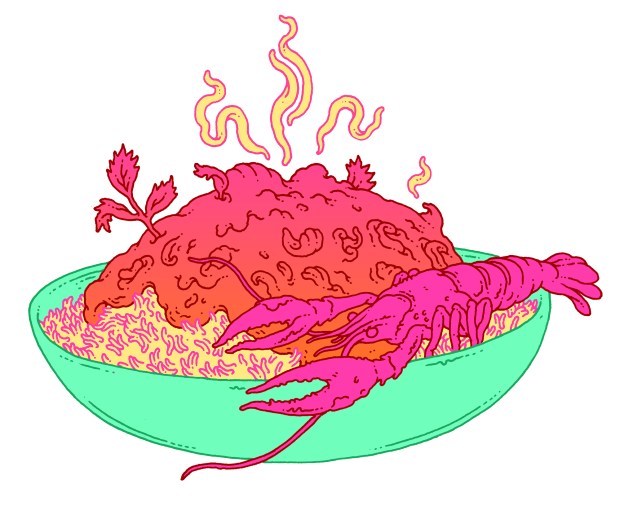 Crawfish Étouffée
In French, étouffer means "to smother." In this dish the crawfish are covered in a rich sauce made of roux (a mix of flour with oil, bacon fat, or butter), salt, cayenne pepper, and what is sometimes referred to as the "holy trinity": onion, bell pepper, and celery. The trio is a variant of the French mirepoix—onions, carrots, and celery—and is used as a base in many Cajun dishes. Étouffée, which can also be prepared with shrimp, is served over white rice.
The town of Breaux Bridge, in St. Martin Parish, Louisiana, claims to be the birthplace of crawfish étouffée, and in 1959 the state legislature designated it the Crawfish Capital of the World.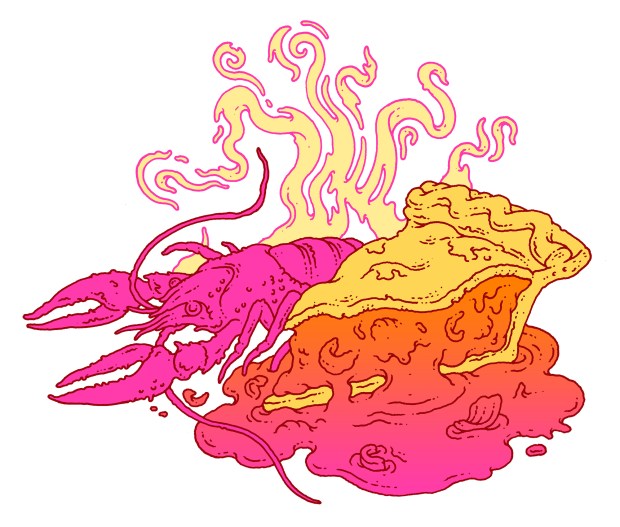 Crawfish Pie
Think crawfish étouffée but with a flaky crust instead of rice.
Crawfish Gumbo
Jambalaya and gumbo are big in Louisiana. In fact, gumbo is Louisiana's official state cuisine. The rich stew is generally made with roux, Cajun spices, and the aforementioned holy trinity. Whatever protein goes in is up to you, but in Louisiana crawfish is always a good choice.