As a longtime resident of Stone Town, Zanzibar, I still get lost winding my way through its mazes, which reveal one surprise after another. From ornate Omani architecture hailing from the days when sultans reigned to Hindu temples built by descendants of Gujarati traders and the Bantu sounds of kidumbak drumming in the air, Stone Town vibrates on a multicultural frequency.
For centuries Arabs, Persians, Indians, Chinese, Europeans, and Africans have converged on Stone Town, one of the oldest centers of trade along the Swahili Coast. Also known as Mji Mkongwe (Old City), the city has narrow passageways that its residents used to share with donkeys, cows, and chickens. Today the bustling, walk-friendly city still promotes itself as the island's commercial center, where a cacophony of merchants vying for your time and attention compete with zipping motorcycles and ringing bicycles. Amid the organized chaos, residents catch a few winks or play a game of bao on the numerous shaded baraza (long stone benches) next to sleepy cats, oblivious to the day's twists and turns.
Stone Town feels like a village where a single zigzag around the historic maze will earn you longtime friends. It's also a city inundated with tourists, so there are relentless entrepreneurs (otherwise known as hustlers) who can rattle first-time visitors. The solution is simple: Get to know Stone Town residents and they will love you in return. As the unofficial birthplace of the Swahili language, knowing a few Swahili greetings like Mambo? Poa! (How are things? Cool!) goes a long way in creating friendly, mutually respectful encounters.
There's more than just one perfect day to be had in this grand yet quaint city, where there are many opportunities for island hopping, ocean dipping, bazaar shopping, and stargazing from vintage verandas or tearooms in the clouds. I highly recommend taking an official historic tour of Stone Town, provided by either Kawa Training Center or private local guides. No matter how your day unfolds, make sure you do two things: Look up and get lost.
8:30
am
Jaw's Corner
At the intersection of Sokomuhogo, Cathedral, and Baghani streets
Zanzibar
Get Directions
After the first call to prayer, the city awakens to the sounds of chirping birds, shuffling feet, bicycle bells, and the long pour of hot coffee at Jaws Corner, Stone Town's favorite outdoor coffee joint in the heart of the city. Elders dressed in long kanzu and kofia gather on the baraza with 20-somethings in hip jeans and T-shirts to sip their morning coffee from small porcelain cups while chatting about the day's news.
This is the ultimate spot to perch in the cool shade and take in the morning scene: Bicycles nearly collide while children dressed in school uniforms skip to school and laborers quickly push carts through the narrow roads. For just 224 shillings (10 cents) you can grab your first cup of coffee and eat it with a classic Zanzibari sweet like mandazi (large square doughnuts), visheti (sugared doughnuts), or kashata (coconut or sesame brittle).
9:00
am
Darajani Market
Enter on Market Street
Market St.
Zanzibar
(+255) 712 890 005
Get Directions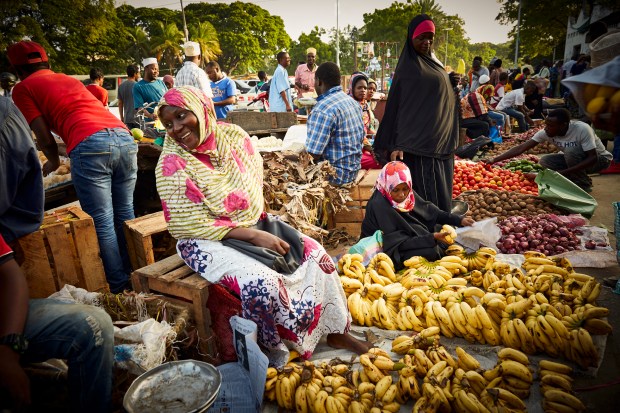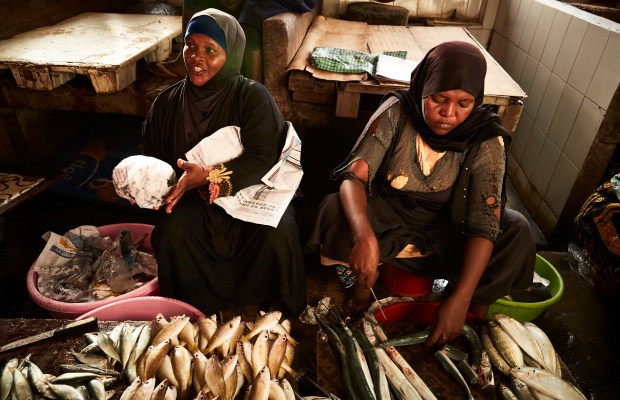 Before the sun blazes, take advantage of the cool morning weather and head straight to bustling Darajani Market, the central hub for trinkets and treasures, produce and practicalities. From pungent, salt-dried, flattened octopus to freshly roasted cashews, aromatic oils, and natural healing herbs, it's worth taking a long, dizzying walk around without an agenda. Don't miss the spice and fruit market, where you can pick up newly harvested vanilla beans or freshly ground black pepper. Brace yourself for the blood and guts of the fish market where sellers proudly hawk their shark fin, red snapper, kingfish, and tuna.
Don't leave Darajani without winding your way to the kanga market that starts at the intersection of Tharia and Market streets. Kanga, the wildly colorful cotton textiles printed with Swahili sayings, are unique to East Africa's fashion landscape. At around just $2.50 a pair, no trip to Zanzibar is complete without picking up one or two. Look for Moody, one of the most knowledgeable kanga dealers, who has memorized hundreds of proverbs and can help you translate their meanings. Also visit Chavda Textiles, Zanzibar's largest and most famous kanga shop, where women from all over the island line up to get their kanga fill. With hundreds to choose from, you may experience kanga delirium.
10:30
am
Zanzibar Coffee House
Tharia Street
Zanzibar
(+255) 24 223 9319
Get Directions
Need a break from the market's hustle and bustle? Take a short walk to Zanzibar Coffee House for an excellent espresso macchiato, made with freshly ground Tanzanian beans from Utengule Coffee Estate in Tanzania's Southern Highlands region. The friendly staff grind these delicious arabica beans on the premises, jolting the cafe with a heady coffee aroma. Indulge in a piece of chocolate cake or a passionfruit tart, and grab the large table by the open window so you can watch the world go by. Better yet, ask to head up to the secluded rooftop tearoom for a 360-degree view of the city. This stunningly restored vintage building is one of the oldest in Stone Town, constructed in 1885 by Sir Tharia Topan, a former minister to Sultan Barghash.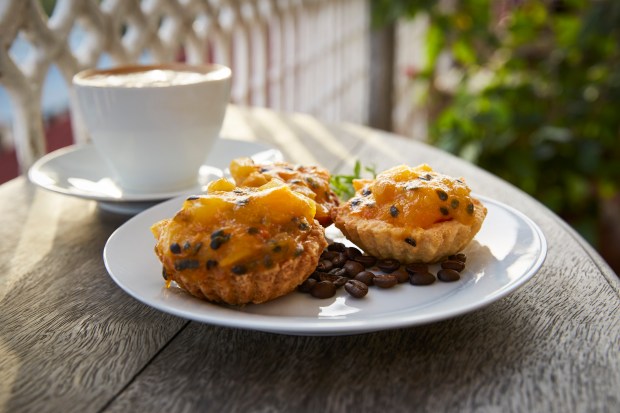 11:30
am
East African Slave Trade Exhibit / Old Slave Market / Anglican Cathedral
New Mkunazini Road
Zanzibar
Get Directions
It's impossible to wander through Stone Town without considering its expansive and complex history. For many years Zanzibar's relationship to the slave trade was mired in controversy. The Anglican Cathedral was built in 1873 on the site of the old slave market, and it maintained slave chambers as haunting reminders of the cruel conditions that thousands of slaves endured or perished under. Visiting the oppressive chambers is a sobering experience, but even more powerful is the excellent new exhibit adjacent to the cathedral. For a modest entrance fee, visitors take in the full story of the slave trade in Zanzibar and East Africa as linked to the greater history of global slavery. Take some time to ponder the weight of history before continuing your day in this extraordinarily layered city.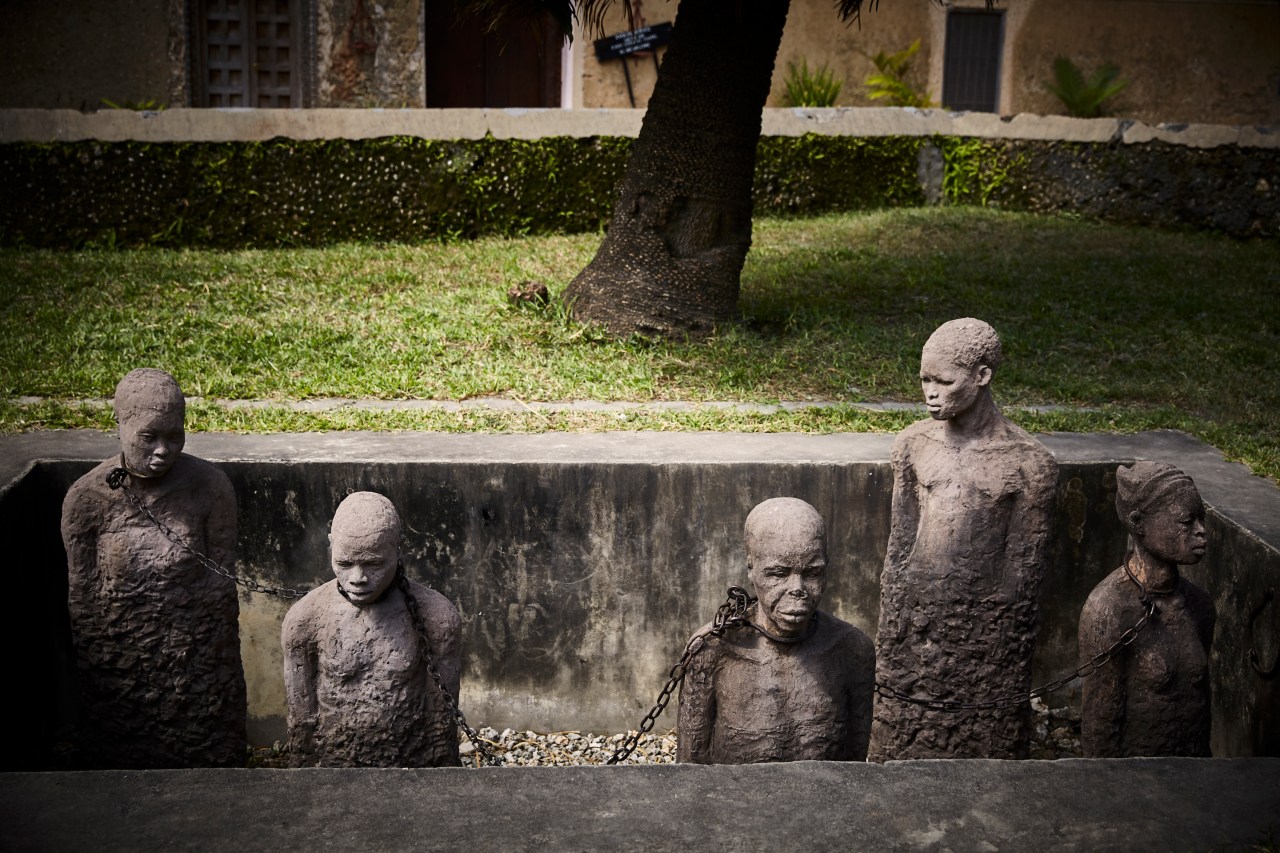 1:00
pm
Lukmaan Restaurant
The Mkunazini Baobab tree
New Mkunazini Rd.
Zanzibar
(+255) 777 482 131
Get Directions
Re-energize at Lukmaan, one of the most popular lunch spots in Stone Town. This spacious eatery is like a Swahili diner of sorts. Hungry visitors can sample an array of classic spiced coconut curries, broth soups, rich stews, biryani, pilau, grilled kebab, broiled chicken, and fresh fruit juices, all under one roof. This place gets packed at lunchtime, so don't hesitate to share a table with strangers. I'm particularly partial to a large plate of wali (jasmine rice,) mbaazi (pigeon peas in coconut sauce), mchicha (sauteed cardamom-infused spinach), grilled samaki (fish), and ndizi mbivu (sweet bananas stewed in coconut-cardamom cream), washed down with a cold glass of ukwaju (tamarind), ndimu (lime), or maembe (mango) juice.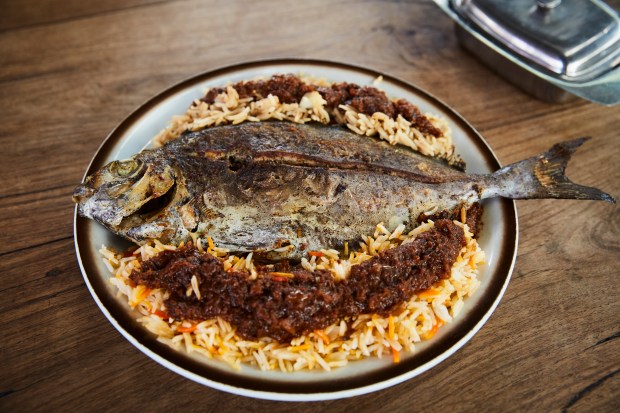 2:30
pm
Gizenga, Hurumzi, and Sokomuhugo Shopping
Start on Hurumzi Street near the Shiv Shakti Hindu Temple
Hurumzi St.
Zanzibar
Get Directions
Walk off your hearty lunch—and distract yourself from the desire to take a nap—with a slow stroll through Stone Town's shopping districts. Zanzibar has a vibrant tradition of craftsmanship and handiwork that is on full display in the curio shops, boutiques, storefronts, and studios along Hurumzi, Gizenga, and Sokomuhogo streets. On Hurumzi Street, be sure to visit Moto Handicrafts and Dada, where you can pick up exfoliating charcoal scrubs or spicy mango chutneys that feature all-natural ingredients while supporting local women's cooperatives. Organize a henna painting session or marvel at dizzying henna designs on canvas at the nearby Hurumzi Henna Art Gallery. On Sokomuhogo Street, visit Al-Tamimi Curio Shop, run by a Zanzibari family with Yemeni roots. They carry maritime antiques, vintage jewelry from far-flung deserts, and stunning hand-painted tiles. On Gizenga Street, visit the Wonders Boutique for contemporary African-inspired clothing and jewelry designs, or check out Surti & Sons, the oldest and friendliest family of leather shoemakers in the city. Come for the sandals; stay for the Surtis' poetic and philosophical insights.
4:00
pm
Mrembo Spa
Enter on Sokomuhogo Street or Cathedral Street
Cathedral St.
Zanzibar
(+255) 777 430 117
Get Directions
If you're wandering down Sokomuhogo Street, simply follow your nose to the intoxicating scents of Mrembo Spa, Stone Town's homage to natural beauty. Entering this restored vintage storefront with its maze of hidden rooms will awaken your senses. There's something here for everyone, from traditional singo scrubs, which use a blend of crushed jasmine, ylang-ylang, rose petals, sandalwood, and rose water, to mbarika, an ancient medicinal treatment of custard-seed leaves soaked in scalding water for strained muscles. You can also pick up some unique moringa oil or spiced soaps or learn how to make your own oud (incense) or body scrubs when you sign up for one of their many workshops. Mrembo's ingredients are carefully grown, plucked, and dried from their private plantation nearby.
Sunsets in Zanzibar are revelatory, and everyone has their ultimate spot for watching this divine daily gift. Some people enjoy hotel roof hopping to catch the sunset at Emerson on Hurumzi, Swahili House, and Africa House, just to name a few. Travellers Cafe, on the beachfront next door to the Serena Hotel, is a favorite for those who pair their sunsets with a cool beer. For me, nothing's better than taking in the sunset at Forodhani Gardens, Zanzibar's vibrant seafront and promenade, where the city converges at dusk for a collective chill. Head to Cafe Foro, a humble little kiosk with ample seafront seating, to sip masala chai while dhows bobbing in the turquoise water kiss the fat, red sun.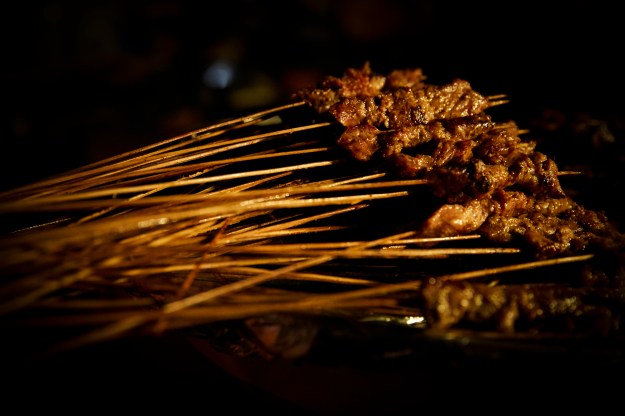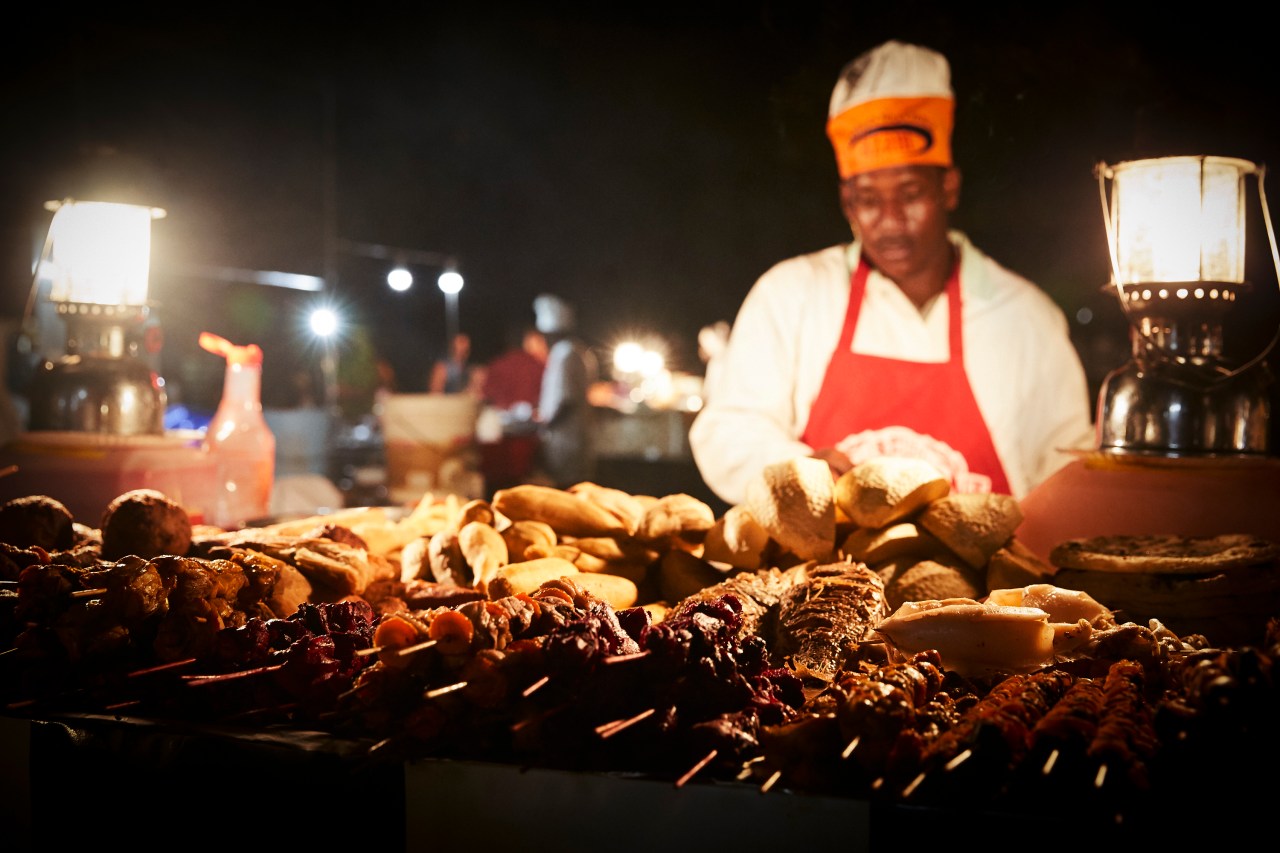 6:30
pm
Forodhani Night Market
Forodhani Gardens
Zanzibar
Get Directions
In the evening, "Foro" becomes an impromptu fashion show, as Zanzibari youth show off their best bling while others run around soaking wet after taking running jumps to flip into the sea. Wander through the nearby nightly food market to sample Zanzibar's favorite street foods (at your own risk), including the famous urojo, a tangy bowl of deep-fried bagia (nutty lentil falafel), muhogo (cassava), kachori (spiced potato ball), mishkaki (grilled beef kebab), and mayai (boiled eggs), steeped in a tangy ripe mango or tamarind broth and topped with coconut-lime chutney and chili sauce. Wash it all down with a fresh stafeli (soursop) juice, and let the day drift away as you ponder where to wander tomorrow.