For a country that is often described as fun loving and freewheeling, Thailand has never had much of a formal drinking culture. Unlike the French with wine, the Japanese with sake, and the Germans with beer, Thais have not traditionally paired alcohol with their food, preferring water, fruit juices, or iced teas or coffees. If alcohol is to be had, it marks a special occasion, worthy of serious partying.
And no one parties more thoroughly than rural Thais, who have historically brewed their own moonshine for these celebrations. Called lao khao, or "white spirits," the rice liquor was for a long time illegal, although few policemen ever ventured into the villages to put a stop to the festivities. In 2003 the Thailand Liquor Act allowed small producers the right to make "fermented or distilled" alcohol (dark rum is still out of bounds for some reason).
Lao khao is frequently referred to as "Thai whiskey," but that is simple marketing. Because whiskey is an aspirational beverage for most Thais, liquor makers like Mekhong and SangSom slapped the word onto their labels even though the "whiskey" was a rum-like drink made from sugar cane. The stuff was titanically strong, made infinitely more palatable with the addition of ice and soda—which explains why some city Thais like to water down their glasses of Johnnie Walker Black Label with Pepsi or Sprite.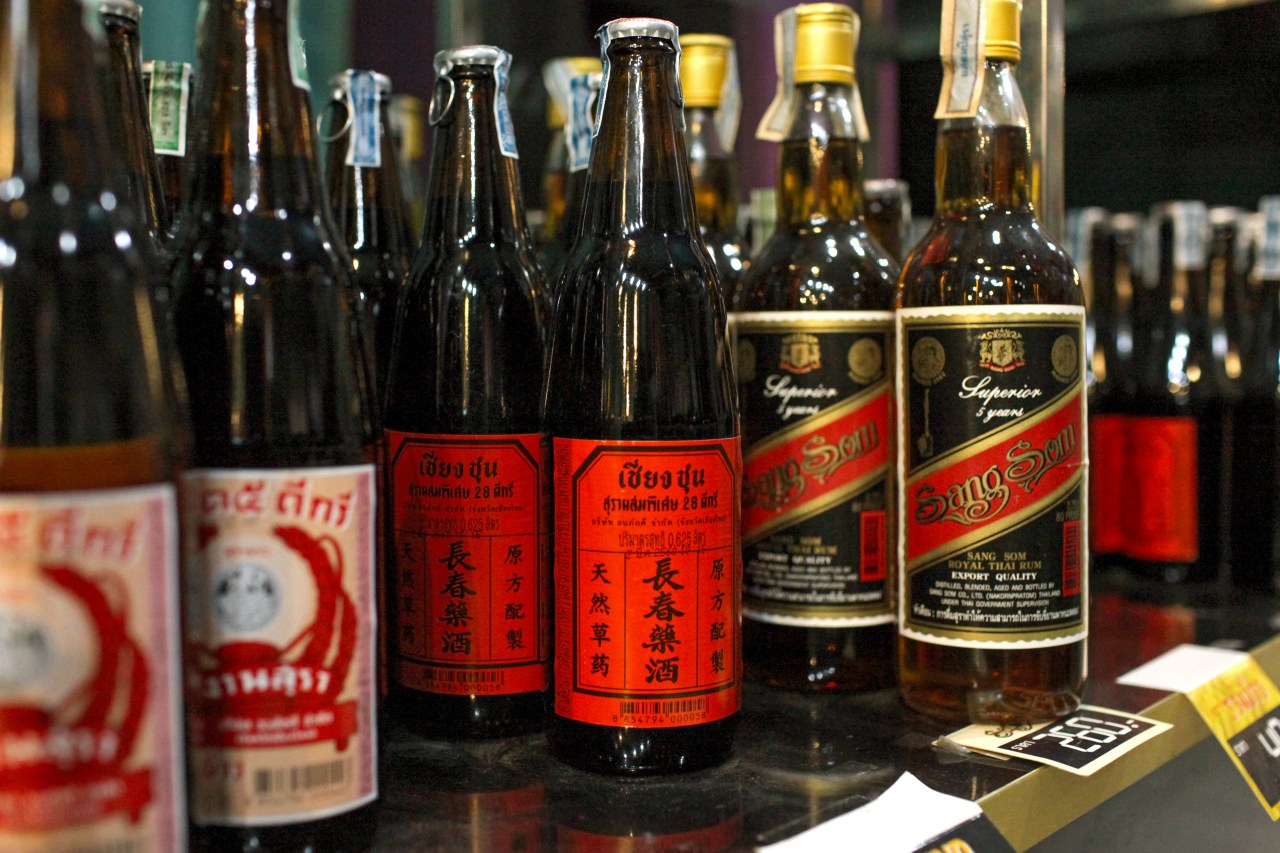 Lao khao is not the only local drink for celebrating. Thais who want a little purpose to their partying go for ya dong, which is lao khao with added herbs for "medicinal" purposes. Ya dong is hot on the street, where vendors hawk concoctions that promise to enhance sex drive, strength, or energy. The drink has become so desirable in its own right that stalls will now sell bottles of ya dong with a scorpion or snake inside for tourists to take home as souvenirs.
Sato, also brewed from rice, is similar to Japanese sake in taste and at 8 percent alcohol has a less vicious kick than its lao khao counterpart (commonly 35 percent).
As sought-after as locally made hooch has always been, it never really grabbed the attention of middle-class city dwellers. (And that's despite exorbitant taxes of up to 150 percent on store-bought alcohol.) Or rather, it never grabbed their attention until now. The explosion of craft beers worldwide has led to a recent boom in Thai craft beers (technically still illegal, although little has been done to combat it thus far), which feature local flavors like passionfruit, lemongrass, and chrysanthemum. The boom has in turn inspired other Thai liquor makers to press forward with their own creations, distilled from local ingredients such as corn, sugar cane, tropical fruit, and, of course, rice.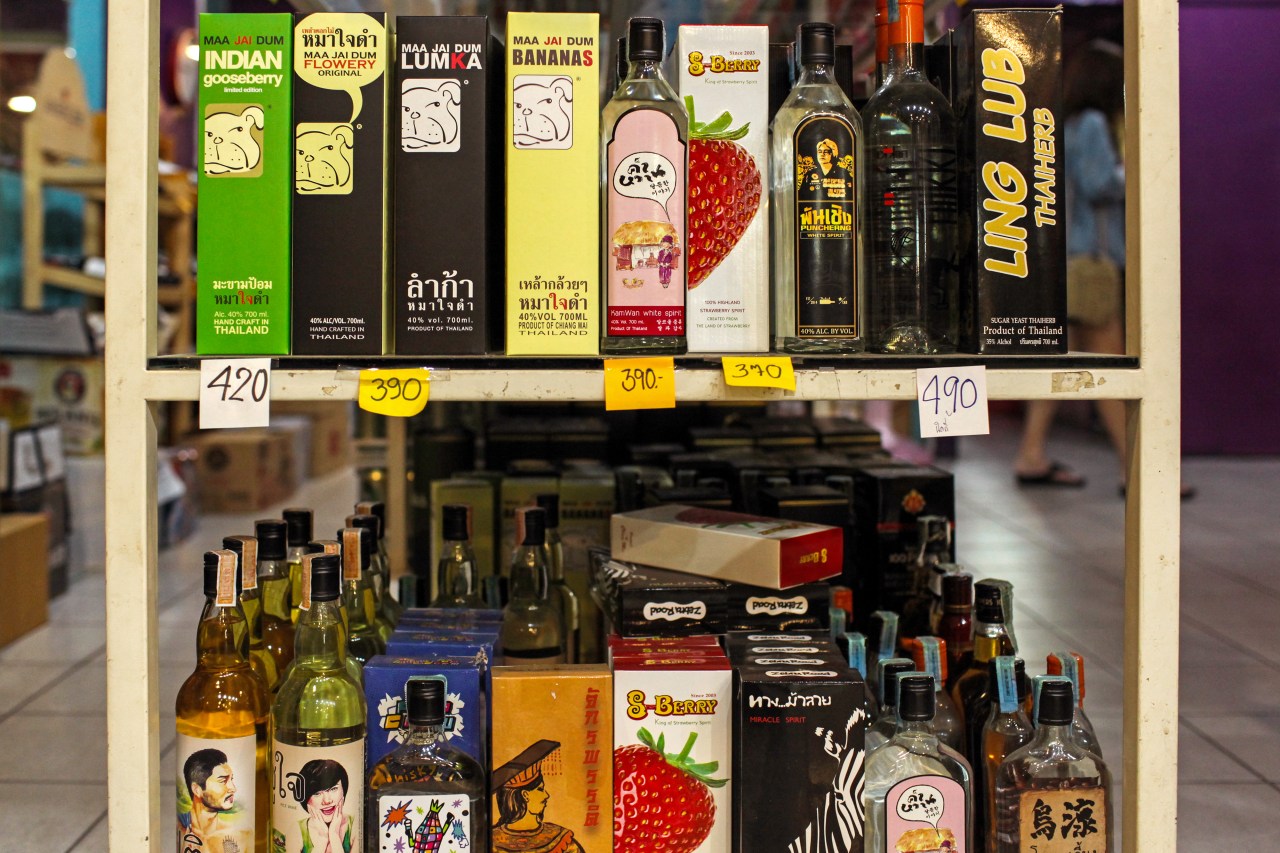 At popular riverside Bangkok restaurant Err, owners Dylan Jones and Bo Songvisava pair their artful versions of Thai street-food favorites with a carefully curated selection of alcohols from mostly local producers. "Ultimately, taste was the deciding factor," Jones says. "Another reason was locality and cutting down on the carbon emission or food miles the restaurant was responsible for."
Among the bottles on Err's rustic-chic shelves are Phuket's Chalong Bay rum, a rice vodka from Chiang Mai's Niikki Pure Spirit, and Chiang Mai's Maa Jai Dum Loa Kuay Kuay, a spirit made from fermented bananas. These liquors are mixed into cocktails such as Waan Noi (A Little Sweet), for which the banana spirit and coffee liqueur are combined, and the namesake Err, featuring Chalong Bay rum, passion-fruit juice, and chili. Unadulterated rural drinks are also available: U, a traditional rice drink similar to sato, costs 450 baht (about $13), while some satos will set you back 1,200 baht (about $35).
Maa Jai Dum (Black-Hearted Dog) is a 10-year-old firm that makes liquor distilled from coconut flowers and potatoes as well as banana. Chalong Bay, started by French liquor maker Thibault Spithakis, applies rum-making methods to his sugar cane, which is grown solely on Phuket. Niikki Pure Spirit was founded by Thailand-based Nikolaus Prachensky, who plans to launch his own gin and rum soon. These and other local alcohols, such as Iron Balls gin, can be found at Soul Food Mahanakorn, Quince, and A R Sutton & Co Engineers Siam.
The bar Studio Lam, owned by local DJ Maft Sai, displays an entire wall of house-made ya dong, flavored with ingredients like lemongrass, lime leaf, and chilies and butterfly pea. Thai restaurants Saneh Jaan and Tep Bar offer customers samples of their medicinal brews (7-11 promises to keep you up all night), accompanied by magok (pickled Thai water olives) and pinches of sea salt. Upscale nightspots such as these are starting to compete with streetside vendors, brewing their own potent concoctions for an urban clientele that may never venture into a rural soiree.