It's a mild Tuesday evening in May, and Yuval Dekel is telling me, a little wistfully, about the potato salad that almost was.
Nestled in a mermaid-teal padded booth in the back of Liebman's Kosher Delicatessen in the Bronx, Dekel, a second-generation deli man, says that a few years ago, he decided to forgo the prepackaged brand from his supplier and serve his own in-house variety.
"It's kind of a commendable thing to do, right? Well, I did do it, and I thought the recipe was pretty good," Dekel sighs. "It didn't work. Let me tell you—I got my head chewed off for that."
Under pressure from his ever exacting (and vocal) regulars, Dekel corrected course and switched back to the original, pre-packaged version. The great potato salad revolt of the aughts was just another reminder that Liebman's loyal customers in Riverdale, a sleepy Bronx suburb with a vibrant Jewish community, are deeply protective of what they have: the experience of dining in an old-school kosher deli, the kind that is fast disappearing from New York.
It's easy to imagine that walking into Liebman's today is not so different from walking in when a man named Joseph Liebman first opened the place in 1953. Glistening hot dogs and fat knishes beckon from the window underneath the cursive neon sign that announces the place. Trays packed with whitefish salad, stuffed cabbages swimming in tomato gravy, sour pickles, gefilte fish, chopped liver, and fluffy matzo balls are on display as you make your way to the seating area. Even the counter is designed to resemble a '57 Chevy Bel Air."
Before my chat with Dekel about the idiosyncrasies of delis, I sit down at a Formica tabletop and happily clog my arteries. The Liebman's favorite is an open-faced sandwich stacked heavenward with moist, sinewy pastrami and corned beef. I eat it with a disc of derma—a kind of Jewish stuffing made from matzo meal and schmaltz—slathered in a rich gravy that does double duty as a dipping sauce for the stubby steak fries. I wash it all down with a Dr. Brown's cream soda and afterward feel both slightly sick and extremely content.
We are long past the heyday of the Jewish deli, when its kind numbered more than 1,500 in New York. In the 1920s and '30s, running a deli was a way for the children of European immigrants to assert a distinct identity, says Ted Merwin, a scholar of Judaism and the author of Pastrami on Rye: An Overstuffed History of the Jewish Deli. To some, gathering at the neighborhood deli became a custom almost as sacred as going to synagogue.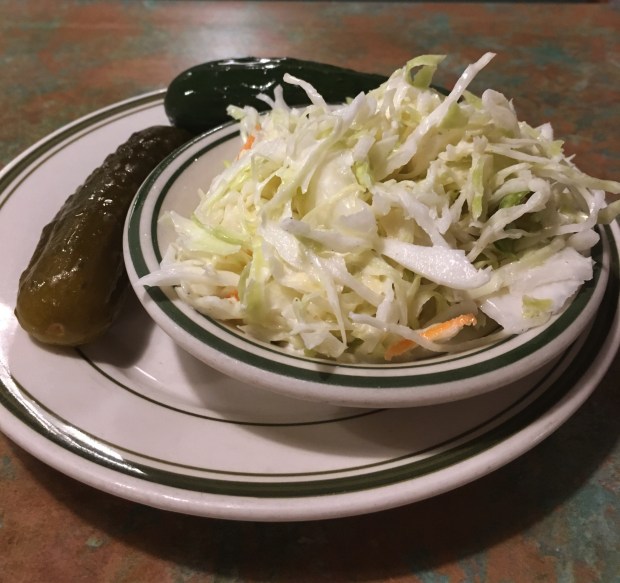 "Deli food is a fusion cuisine, because there were so many different countries that Jews came from … they were coming from everywhere," Merwin says. "The deli helped to forge this unified American Jewish identity."
Jewish delis were once a staple of every street corner in the Bronx; now Liebman's is one of just two remaining in the borough. In 1980 it was purchased by Yuval's father, Joseph Dekel, an Israeli immigrant who didn't know much about delis—or food, in fact—but was determined to respect the institution. He took pains to preserve the old recipes.
When Joseph passed away in 2002, Yuval, then 24 years old and the drummer in a heavy-metal band, felt it was his responsibility to carry on the family business. In a nod to his former life, he now regales patrons with the dulcet sounds of Iron Maiden, Guns N' Roses, and Ozzy Osbourne as they bite into their pastrami sandwiches and slurp their matzo-ball soup.
Owning a Jewish deli, Dekel tells me, is something of a balancing act these days. Some say that Jewish delis are dying out because of their inability to adapt to changing demographics and tastes. But just as Dekel is telling me of things he's thought about tweaking—perhaps the layout of the restaurant or the religious paintings adorning the walls—a middle-aged customer saunters over.
"Don't change it! Anything!" he says emphatically. "It's like the real deal. Just leave it the way that it is. Don't mess with it."
Dekel laughs, then shrugs.
"People want to come here and have a slice of the past," he says. "They're really reluctant to try something new at the old deli. But at the same time, if there's a new cafe or something, they flock to it. Go figure."