I have spent some of my most joyous moments mapping out the culinary and cultural tapestry of the Bronx. When I moved to the Boogie Down in the late 90s after film school in Pittsburgh, I taped a detailed city map to my wall which was soon covered in pins, pen marks, and sticky notes. If I was going to live here, I wanted to know every shortcut, back alley, dive bar, record store and jerk pork joint in the city. In time, the collected knowledge became of interest to others. I was surprised to find out that many of my friends who were Bronx natives knew little about the borough outside of their own neighborhoods. "How the f*** do you know the Bronx better than I do?" was a phrase I heard often. I started to take pride in any opportunity to champion the borough's greatness to its denizens as well as to outsiders. I also became quick to attack anyone who spoke dismissively about the place I had come to love.
As a filmmaker, my most successful championing of the Bronx manifested itself in a cinematic format. For years I paid my bills by crafting a television show entitled Bronx Flavor. The psychedelic novella followed the cravat-sporting satyr Baron Ambrosia as he set out to protect his beloved Bronx from gentrification, hipsters, and villains the likes of Dona Sofrito. The Baron would utilize powerful delicacies prepared by small immigrant-owned eateries to defeat the villain and win the around-the-way-girl.
Offscreen, the show's design afforded me the opportunity to recklessly indulge all of my own Bronx desires. Every day became an uptown marathon of orgiastic proportions. My reputation for excess was such that if I didn't eat and drink everything in sight, my hosts assumed there was something wrong.
To avoid an early grave, I've since toned down my debauchery and now I only have one Bronx crawl a month—a day set aside to visit friends, eat, drink, and get preposterous. This is what it looks like.
Sundial Herbs is an iconic Rastafarian compound in the North Bronx. For decades, Bronxites wishing to live healthier or heal their ills have visited 74-year-old Jamaican "bush doctor" Baba Rashon. He takes appointments where he gives a consultation before prescribing one of his many house-brewed root tonics. Every morning he starts out the day by doing an Ethiopian coffee ceremony. This involves making a small campfire in the yard of the compound over which he roasts the green coffee beans and burns frankincense. We hand grind the beans and boil them in a clay vessel over the coals. The muddy liquid is poured into tiny cups, seasoned with honey, cayenne pepper, and the Ethiopian herb tena'Adam. Over several cups of bunna (coffee), Baba will share the secrets of the universe as well as tell a few jokes.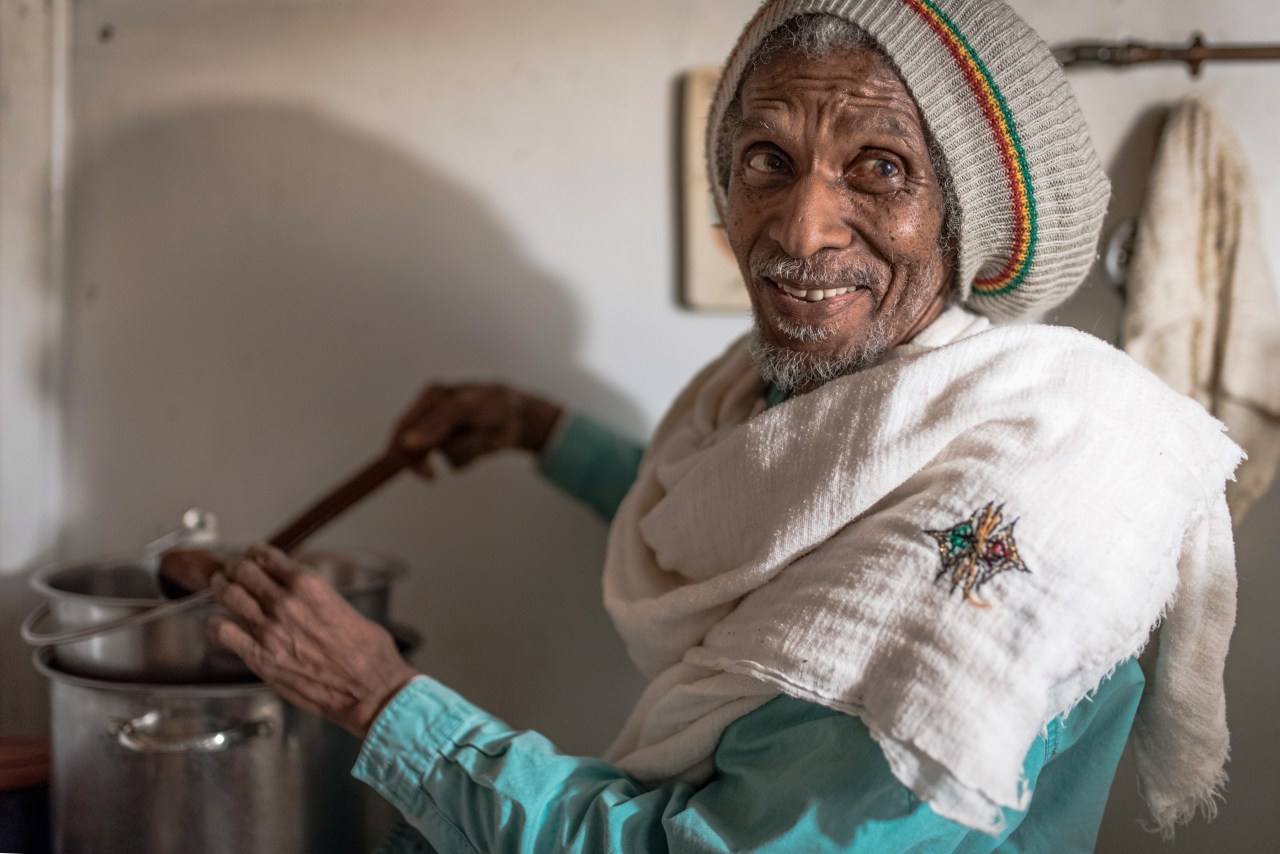 188 Cuchifritos has long served as my home base in the Bronx. The window is filled with a glowing display of pork, plantains, alcapurria (fritters), and glorious offal. I get there early while the steam trays are being filled from the kitchen. My plate consists of crunchy chicharrón (fried pork skins), pernil (roast pork shoulder), blood sausage, a pig tongue and ear, and two pieces of fried cheese, all of it chopped up and served on a bed of creamy mangu (boiled plantain). I cover the dish with pickled red onions and pique (hot peppers in vinegar). Every day the staff all wears the same color; I try to go on a Thursday as that is purple day at 188.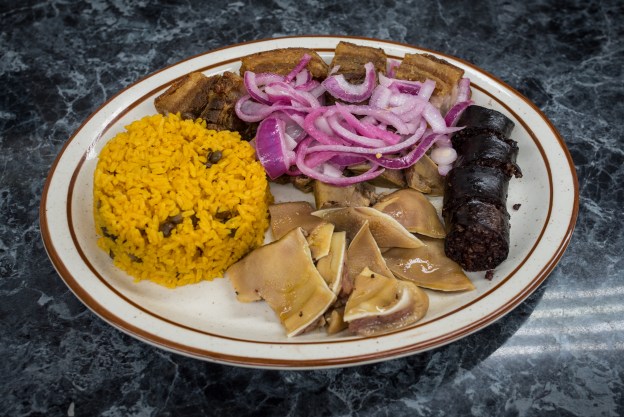 Coquito is a traditional home-brewed Puerto Rican eggnog infused with rum. To say the coquito craft is taken seriously in the Bronx is an understatement. Folks will come to blows over who they believe makes it best. I have had the honor of serving as a judge for the Coquito Masters, one of the more serious competitions. I get coquito from my friend Selo, an old school aerosol artist. He is one of the many OG street historians who can regale you with stories of the Bronx in the 70s. Tales of brawls, break battles, and outlaw fashion all go well with spice-freckled 'nog and classic wax. By request, he will personalize your label with some airbrushed original artwork. I usually pick up bottles for friends from out of town. It works out well that he lives a few blocks from my pastele lady.
The Bronx Beer Hall is a bar located inside of the Arthur Avenue Retail Market. It is owned by brothers Paul and Anthony Ramirez. The bar offers six New York State-brewed beers on tap. The selection changes frequently and is always Bronx heavy. The Hall has become a convenient meeting spot for movers and shakers from around the borough. The "Brothers Ramiri" are plugged into everything happening in the borough. I stop in early to sample the suds and find out what is happening for the week. When leaving the beer hall, I always stop by either Randazzo's or Cosenza's sidewalk stall for a dozen razor clams or oysters.
Ali's Roti is a small lunch counter on White Plains Road wrapped in bulletproof glass and curry goat mist. I poke my head through the window to the back and get buzzed into the steamy kitchen. Head chef Saga and I compete to see who can throw the more offensive insult at the other while the beautiful Sunita makes fresh roti on a flat pan known as a tawa. I sit on a milk crate and inhale the grand oxtail, curry goat, and braised bacalao trifecta covered in kuchela (papaya chutney) and hot Scotch bonnet pepper sauce. In place of a fork, I use a large wrinkly mound of roti bread known as a buss up shot (busted up shirt). Wash this down with a bottle of house-made sorrel (hibiscus drink) or mavi (a drink made with the medicinal bark of colubrina elliptica). I take a paper bag of four chickpea doubles (small sandwiches made from fried bara bread and filled with curried chickpeas) for the road.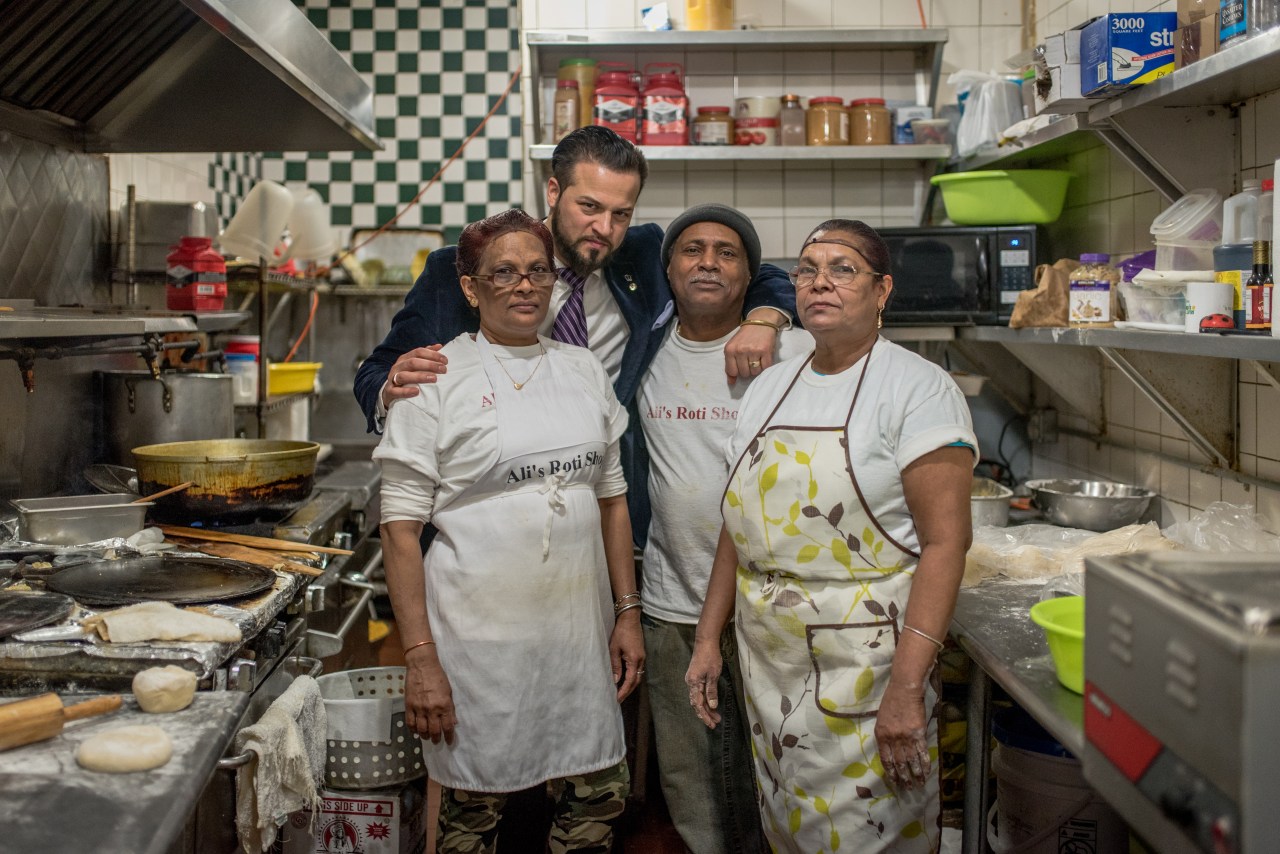 Around the corner from Ali's is Barry's, a small Jamaican dive bar with a religiously dedicated cast of boisterous regulars generally over the age of 50. Most days Barry's showcases a single pot of soup: Monday is chicken dumpling, Tuesday is pig tail and pea, Thursday is cowfoot, Friday is goat, Saturday is beef.  Wednesday and Sunday there is no soup. Depending on the day's selection I may get a bowl, but I am always expected to drink at least one Steel Bottom; the official cocktail of Barry's. The Steel Bottom consists of a shot of J. Wray & Nephew's Overproof White Rum mixed with Red Stripe Beer. If a good rub-a-dub dance hall track is on the speakers I will find someone willing to dance and burn off some of the roti.
Andrew Freedman Home is one of the best creative venues in the borough. Many local Bronx artists have their works featured on the walls. It is an old Beaux Arts estate right on the Grand Concourse and 166th street. I have been hosting my annual game dinner there going on five years; each spring, a group of Bronx chefs prepares different indigenous protein sources we have gathered in the wild. The menu always includes porcupine, skunk, coyote, and raccoon.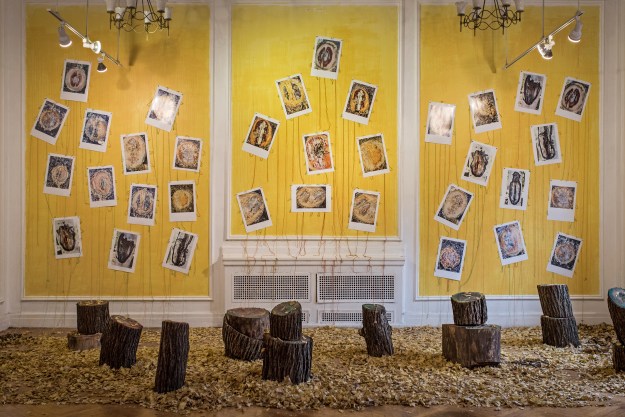 If I happen to have a meeting in the borough, I'll usually have it at the Freedman Home. It's a great spot to stroll the grounds and smoke a pipe. If there is time, I walk down the block to the Nano Billiard Cafe, a great Dominican lunch spot to drink an ice-cold Presidente, play a game of dominos, and nibble a crunchy bowl of concón (toasted rice scrapped from the bottom of the pot). Also, a great spot to see Bachata Queen Andre Veloz perform.
Pelham Parkway is my old neighborhood. No matter how full I am there is always room for one slice of Albanian meat bread, burek, at Dukagjini. Marjan Kolnrekaj and his crew hand make the pies by layering paper-thin dough with crumbled meat and seasoning. It's best served with a small bowl of house-made yogurt and a cup of espresso. Up the street is the European Meat Market. They have Suho meso, Balkan style smoked beef that can only be described as the world's best beef jerky. I get a pound sliced thin and take it to go in a paper bag. If I have no more commitments between myself and complete self-destruction, I head across the street to John & Joe's Pizzeria. A dozen garlic knots immersed in marinara and melted cheese come sizzling in a foil to-go container—like baked ziti.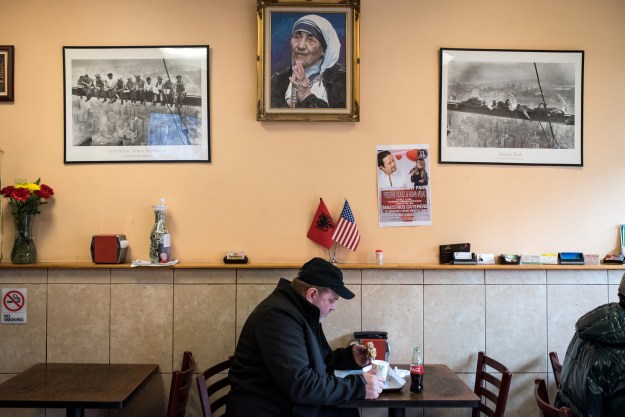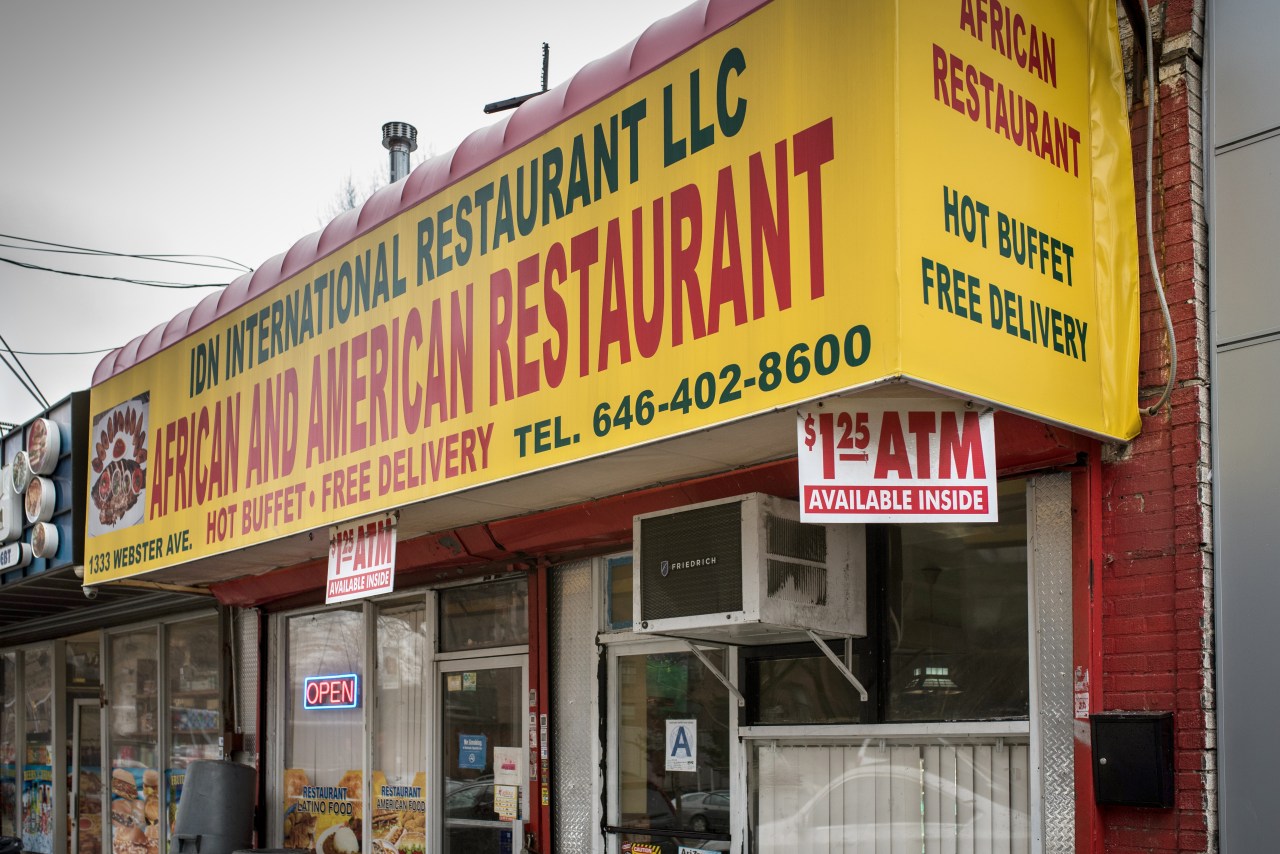 Across from the Claremont Houses is IDN International Restaurant. It is a great no-frills West African spot specializing in recipes from Cote d'Ivoire. For a few bucks, you can get lamb soup with a mound of fufu and a small plate of smoked fish pepper paste, with coffee to go.
Every Thursday in the month of July one can experience hip-hop in its purest form right in the heart of the South Bronx. For 14 years, in partnership with the Friends of Crotona Park, Christie Z and Fabel Pabon have organized the Crotona Park Jam Series from 4 p.m. to 8 p.m. Hundreds flood Crotona Park to see their favorite hip-hop icons and pioneers in person. Legends such as DJ Jazzy Jay, Kool Red Alert, Grand Wizzard Theodore, Biz Markie, and Lord Finesse can be heard on the mic, spinning vinyl, or just hanging out. With Grandmaster Caz calling the shots as the lifetime host, breakers bring out their best moves and street organizations—the Savage Skulls, Ching-A-Lings, the Black Spades, La West Side Familia—proudly fly their colors. No Bronx summer is complete without rolling through this bass thumping cacophony that manages to balance the best elements of "Beat Street" and "The Warriors" into one funky old school throw down.  Come early if you want to reserve a place to grill. Coco-helado optional.
Behind the Point Community Center in Hunt's Point is the operations base of the mural kings of NYC, Tat's Cru. This collective of aerosol artists gets commissions to design and paint graffiti around the world. Their home base is a clubhouse complete with a giant outdoor canvas built to look like the side of a subway train car with a  paint job that changes almost daily. This is one of my favorite spots to stop in, have a beer, and watch the masters at work. Inside the Point is the kitchen for Bascom Catering. If you call a day ahead of time, brother-sister team Kelston and Dina Bascom of Bascom Catering will have a bucket of spicy cow heel souse (pickle) waiting for you.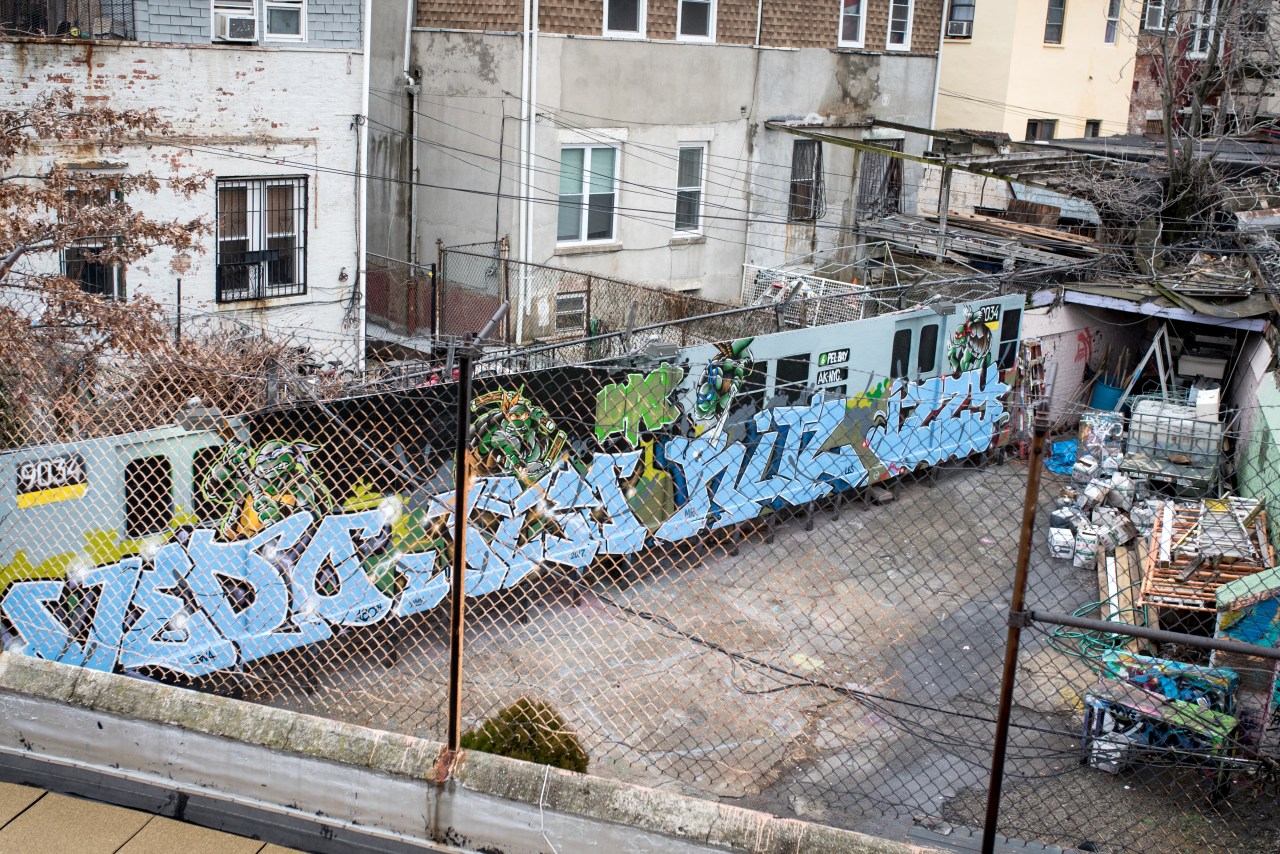 This stop unfortunately isn't open to the public, but it's so crucial to my perfect day in the Bronx I'm including it anyway. My friend Callita is the high Priestess of Garifuna culture in the South Bronx. Aside from being a beloved singer, she is also one of the few BX Garinagu to still hand craft Afro-Caribbean fermented beverages such as mamara, jiyu, and gifiti.  She is one of my dearest friends and I love stopping by her place on Fox Street to drink her beverages, eat coconut milk-soaked pork neck bones, dance punta, and talk about Honduras.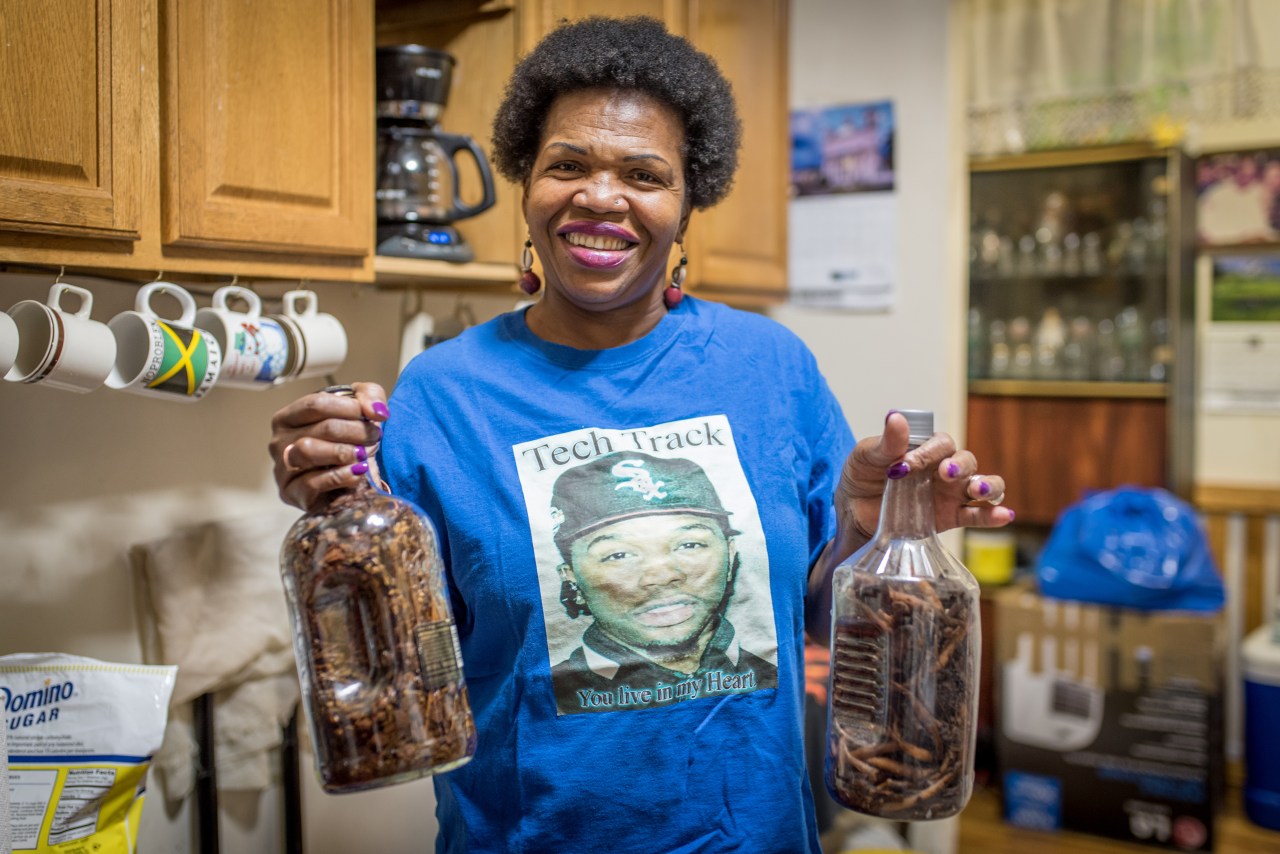 Walking distance from Callita's place is Xochimilco Restaurant, a southern Mexican joint with majestic mole and a ranchero-rich jukebox. Upon entering, a towering michelada magically appears in my hand. I usually call ahead to owner Rafael earlier in the day before he goes to the meat market to put in a special order. My house favorite is the pancita: a whole roasted goat's stomach stuffed tight with chilies and a "Who's Who" of offal. This comes with a majestic goat's head steamed with avocado leaves and dried chilies. These two show-stopping platters are served with fresh tortillas and a tray of condiments including chopped cilantro, radishes, onions, and jalapeños in vinegar, tangy tomatillo and a dark, smokey chipotle salsa. With the Bronx Documentary Center right around the corner, this is another location where it is easy to run into familiar faces.
Some of the streets in the Port Morris neighborhood are so industrial you feel like you are driving on a private factory lot. In recent years the opening of the Randall's Island Connector walkway and businesses such as Port Morris Distillery have brought fresh foot traffic. All of the cocktails and infusions served in the distillery's tasting room are made with their exquisite house made pitorro (Puerto Rican moonshine). The bar is dim, sexy, and has a great view of the beautiful copper still. Childhood friends Ralph Barbosa and Billy Valentin run the show and are true ambassadors of liquid indulgence.
I still prefer a dark house party with good music over a large nightclub. After working up a sweat on an apartment dance floor, it is time for a cool down. The Bronx River is accessible at spots throughout the borough. One of my favorite places to slide in is via the staircase on Bronx Boulevard near East Gun Hill Road. This is best in the summer—bring a bottle, swim buck, and wear sneakers. Although most people will shriek at the idea of bathing in what they consider a polluted waterway, I believe a dip in the Bronx River is a spiritually purifying experience much like the waters of Lake Minnetonka.
The perfect end to any day of indulgence is to crawl to the nearest chimi truck for a Dominican-style chimi burger. The heavily seasoned burgers come on a hero roll covered in cabbage. I advise getting one topped with a few slices of morcilla (blood sausage). Wash it down with an ice cold morir soñando. My favorite Bronx chimi trucks are El Rincon de Los Taxistas at Jerome Avenue right above the Cross Bronx Expressway and Darada Tropical at West Kingsbridge and Bailey Avenue above the Major Deegan Expressway.
This is just one of a hundred different combinations of ways to spend a day in the Bronx that does not include the Yankees, the Zoo, or even the beautiful Botanical Gardens. These are the people and flavors that make it my favorite city in the known world.
For many immigrants who are moving to America, the Bronx is the first place they call home. It is an affordable haven where diverse old world cultures and groundbreaking creativity can co-exist side by side. This unique blending of languages, style, art, music, food, and attitude have given the Bronx a unique cultural heritage unto itself.
This culture needs to be protected, and it will be. So I say unto every opportunistic real estate vulture and fair weather investor who is out to bulldoze the Boogie Down and "rebrand" it as a watered down homogenized strip mall of gentrification:
Watch your f***ing back.