Synopsis:
Bourdain travels to Huế, Vietnam. He visits underground tunnels from World War II and a massive open-air market. He is joined by his close friend Dinh Hoang Linh
and
author Nguyen Qui Duc. Bourdain eats soup from the Dong Ba Market, samples Imperial-era cuisine, and tries
bánh xèo
(rice-flour pancakes) topped with fried shallots and cassava paste. He reflects on why he loves Vietnam—and the city of Huế in particular.
On eating in the street in Huế:
"This is the way so many of the great meals of my life have been enjoyed. Sitting in the street, eating something out of a bowl that I'm not exactly sure what it is. And scooters going by. So delicious. I feel like an animal. Where have you been all my life? Fellow travelers, this is what you want. This is what you need. This is the path to true happiness and wisdom."
"In my way of thinking, in the hierarchy of delicious slurpy stuff in a bowl, bún bò Huế is at the very top."
On visiting Huế:
"It's very laid-back. The food's great. It's pretty—there's a lot to see. It's a perfect place to go if you want to take your time. It's beautiful to me."
"Does everybody fall in love with the country like I did? I came here and it stole my heart, you know."
On eating soup in Dong Ba Market:
"People are put on earth for various purposes. I was put on earth to do this: Eat noodles right here."
"This is as sophisticated and complex a bowl of soup as any French restaurant."
Guests weigh in:
Nguyen Qui Duc (writer) [on the future of Vietnam]: "We need to let the country open up and let the people have a moment of enjoyment, have a better life. When you ask me to be hopeful, I'm hopeful because it's a young country, it's a young population. It's energetic, and that drives me. That gives me hope, that makes me young. That makes me want to believe in this country and in this town. It's such a wonderful place to be."
Linh (fixer): "I think there's a very good meeting point between Vietnamese and Americans. The past [is] over, and now is a new time."
Linh: "Sometimes at work I try to be serious, and I just think about work. But I don't know why when I meet you, I just think about drinking and getting something good to eat."
Boi Tran (artist and restaurant owner) [on Huế cuisine]: "The ingredients are so fresh and good, they require very little seasoning."
Bourdain [on traditional imperial Huế cooking]: "How much of that persists? Those imperial roots? That need for variety?"
Tran: "Yes, the tradition has stayed, and it will stay forever here to cook all these different things all the time."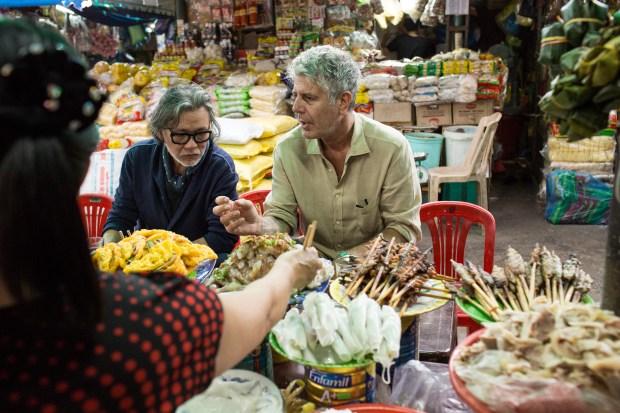 Bourdain [on Huế and its people]: "How does Huế differ from the rest of Vietnam?"
Jean-François Hubert (art collector): "A wonderful architecture and very quiet people. If you stay some time in Huế, after some days you feel quiet, you take your time."
Tran [on what life was like after the Vietnam War]: "When the officials allowed Mom to come out, she was so overjoyed by the brightness of the world outside the tunnels. We came out and began cutting grass and bamboo to rebuild our house. Then I started fishing, following after my father as a fisherman."