One of my favorite childhood memories of growing up in Hue is of walking to Dong Ba Market with my mother on the weekend. We would stroll down to the fish market and grocery section before heading up to the second floor to look at clothes. Even though my mom was always busy dealing with the vendors, she would figure out a way to cool me down. "Are you OK, my son? We'll go for your favorite jelly soup next," she would promise. The lure of food was all around at Dong Ba Market.
Today the market still boasts a whole host of Hue's culinary delights. One could spend a whole day snacking on the endless delicacies. Here are some of the market's great cooks.
Mrs. Cuc's bun chay Hue (Hue-style vegetarian noodle soup)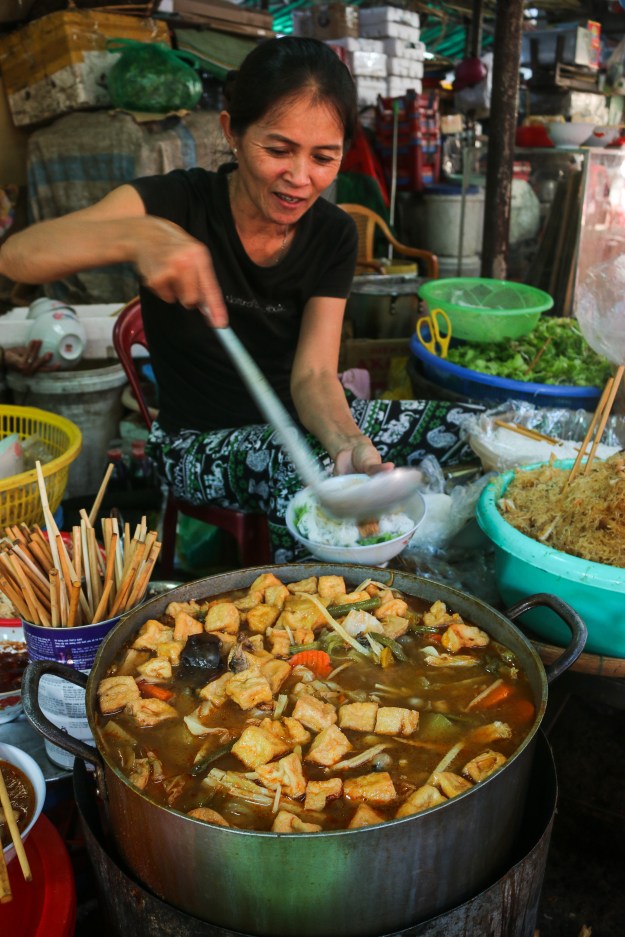 The fragrance from the huge broth bun chay Hue pots will engage your olfactory sense as you navigate the narrow pathways inside Dong Ba Market. The multilayered flavorsome broth from Cuc's food stall forms a one-of-a-kind delight that proudly takes its place among the best vegetarian dishes in the market. A sixty-cent bowl comes topped with thick cuts of deep-fried tofu, soft tofu skin, straw and wood ear mushrooms, crispy rice paper and carrot, surrounded by noodles. The secret to this bun chay Hue is its condiment called chao, a savory mix of fermented bean curd paste, ground black pepper, chopped chili, and soy sauce.
Mrs. Gai's baskets of khoai san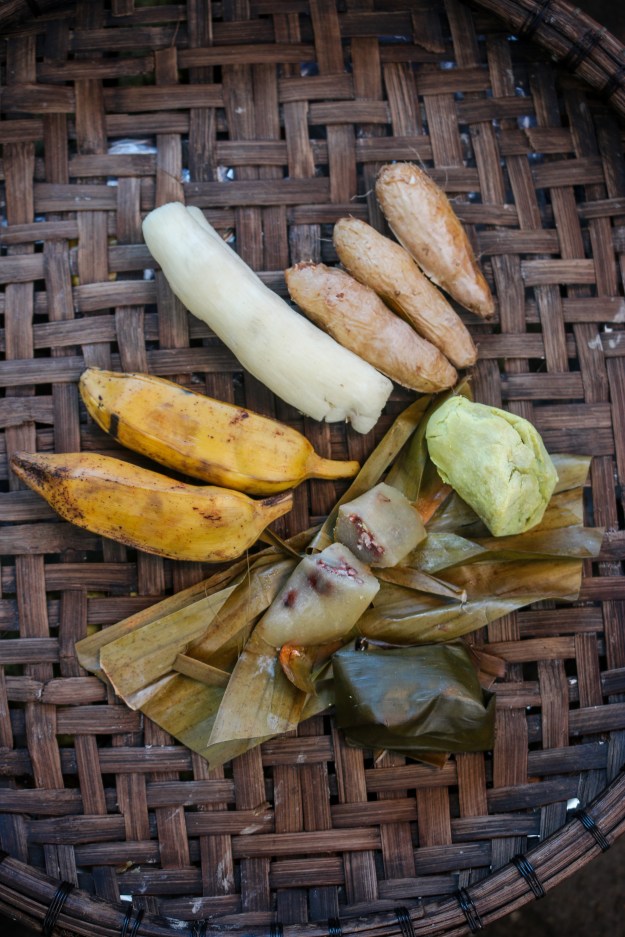 Khoai san, or cooked sweet potatoes and cassava, is a much-loved dish that is common year round at Dong Ba Market. Most local people use the common term khoai san to describe all kinds of cooked root vegetables—such as sweet potatoes, cassava, yams, taro, and field corn—that are regularly sold from vendors' baskets.
Mrs. Phuong and the famous bun nghe Hue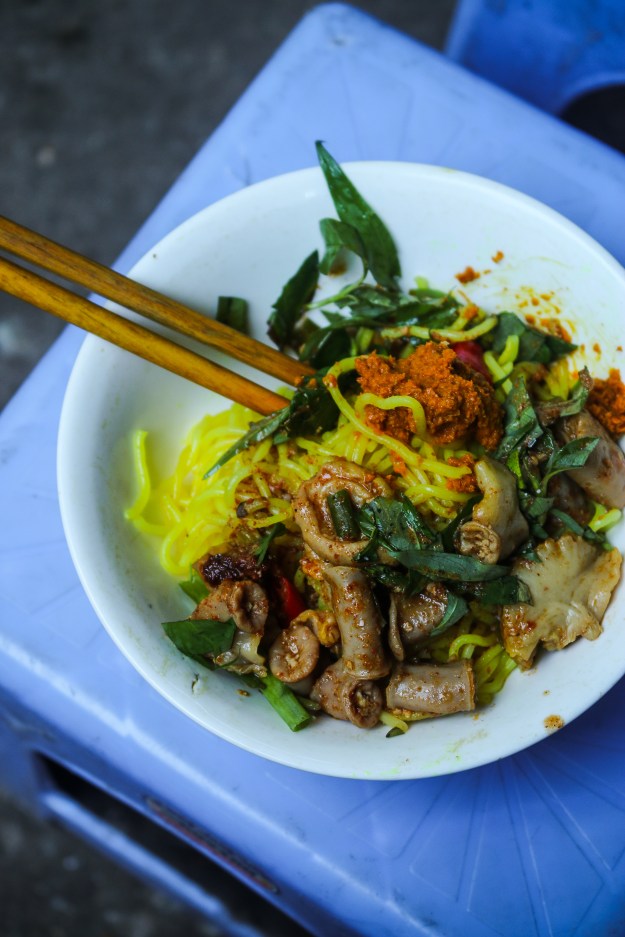 Traditionally, turmeric is used as a medicine to help cure coughs, and locals still believe it's true when it comes to bun nghe Hue, or Hue-style rice noodles with stir-fried pork intestine. A healthy bowl of bun nghe Hue is filled with rice noodles topped with a portion of stir-fried pork intestine, turmeric, and a spoonful of turmeric paste. The combination of colors—the yellow of the turmeric and the green of the laksa leaves—sets the dish alive.
Mrs. Mien's delicious pots of oc xao sa ot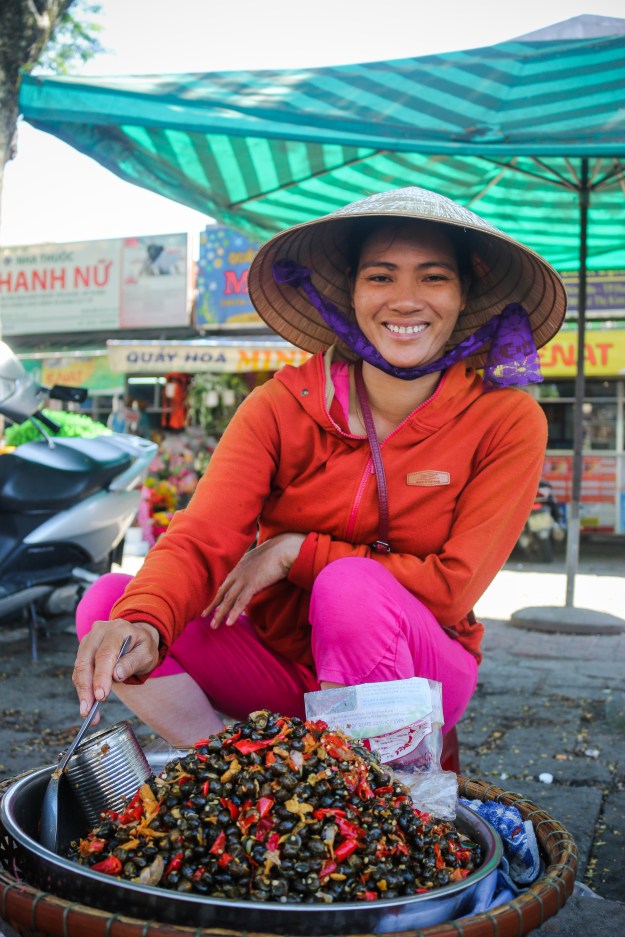 Oc xao sa ot, or stir-fried snails with lemongrass and chile, is one of Hue's must-try street food delights. A few mobile snail stalls can be found at the front of the main entrance to Dong Ba Market. Mien, an experienced 35-year-old street cook, moved there five years ago from another market on the south bank of the Perfume River. "The most frequent customers are high-school students, expats, and locals in the neighborhood," she said.
Mrs. Quynh's colorful sweet soup stall
The tasty desserts at the food court opposite the joss paper stalls should not be missed, especially if you are a huge fan of sweet treats. The 48-year-old Quynh cooks 14 varieties of che, sweet soupy pudding, from mung bean (che dau xanh) to red kidney bean (che dau do), lotus seed (che hat sen), banana with sago pearls (che chuoi), taro (che khoai mon), and many more. Quynh has been serving this local favorite since 1990.
If you have two days in Hue, squeeze in a trip to Dong Ba Market. There you'll be able to shop, eat, and encounter many untold stories.
"Mom, shall we stop for some food?" that's me, in my thirties, still asking the same question every time my mom asks me to join her on a trip to Dong Ba Market. She smiles at me, and I know what it means.