Just in the few years since I've moved away from San Francisco I've seen some of my favorite restaurants (R.I.P. Lafayette Coffee Shop) and stores shut down because of skyrocketing rents. Businesses—even some that have been open for over a century—have closed for this reason. As we all know, so much of the city's grit and character is being scrubbed out by dudes wearing Google glasses.
Thankfully, in 2015 the city of San Francisco passed a bill that would help about 300 "legacy businesses" by supplementing their rent and financially incentivizing landlords to sign longer leases with longtime local businesses. In order to qualify as a legacy business you had to be nominated by the city's board of supervisors and open for at least 30 years. Luckily for me, that meant some of my favorite bookstores were eligible.
The original Dog Eared Books, located on Valencia Street in the Mission district, is one of my favorites. While the shop is small, its collection is immense and diverse. They have everything from cookbooks to queer politics, best-sellers, and even some out-of-print classics. Booksmith, a lovely spot which just celebrated its 40th anniversary in 2016, was also granted legacy status. It has since even been able to expand into a second building.
But the one that tops my list, the creme de la creme of bookstores, is City Lights, in North Beach. There is no bookstore on this Earth that I love more than City Lights. I love it so much that I even have their bumper sticker on my car.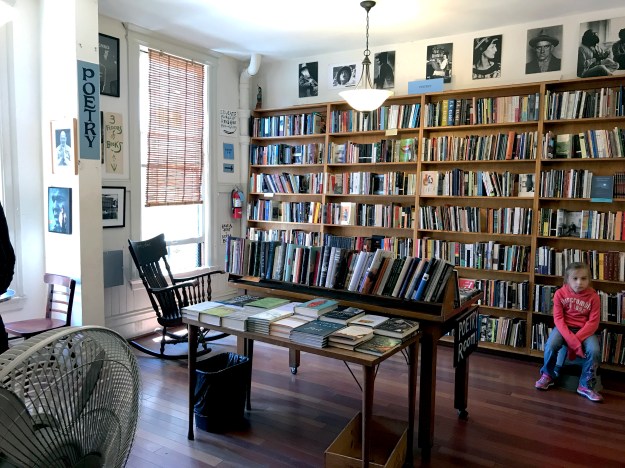 The store was opened by poet Lawrence Ferlinghetti and Peter D. Martin in 1953, and it was the first all-paperback bookstore in the U.S. Two years after the store opened, City Lights Publishers was started.
City Lights Publishers is probably best known for the Pocket Poets series. The most famous (and controversial) volume in the series is Allen Ginsberg's Howl and Other Poems, but they have also published Angela Davis, David Shapiro, Charles Bukowski, Jack Kerouac, and many others in varied genres.
The store has three floors and is somewhat organized by genre (I say "somewhat" because the cup always runneth over with fiction). The first floor, where you enter, houses fiction, magazines, and City Lights Publishers books. The black-and-white tile gives you the feeling you're walking in Wonderland as you comb the tall shelves. The staff often creates new displays with more specific categories on this floor. Right now, there is a Pedagogies of Resistance section, which "is designed to act as an educational course in revolutionary competence."  Also on the first floor is a zine library, where local artists sell copies of their DIY pamphlets and art books. In the back, past the register, is where you descend to the basement. The narrow staircase fits only one person at a time and twists while following shelves of books on popular topics. The basement houses nonfiction, as well as science fiction, philosophy, politics, and children's literature. City Lights has published one of the most beloved (and badass) children's books of the last few years: Rad American Women A-Z, written by Kate Schatz and illustrated by Miriam Klein Stahl. The top floor, the poetry room, is home to thousands of books and regularly hosts readings.
City Lights is such a cultural icon that in 2001 the city deemed it a historic landmark for its "seminal role in the literary and cultural development of San Francisco and the nation." It is an irreplaceable mecca of literary excellence. Even if everything else leaves and San Francisco gets eaten by the techies, I hope they leave City Lights.