Jamil Haddad was 16 years old when he stole his parents' car to make alcohol for the first time. He drove to Tripoli, the nearest city, and bought 1,000 empty bottles. It was days before Christmas, and many people in his hometown of Batroun served shots of liqueur to guests during the holidays. He made liqueur flavored with mint, banana, and Irish cream. He sold all the bottles within days for $5,000, which was $1,000 more than what he needed for surf gear—the real reason he was hawking bootleg liqueur.
In 2013, Haddad skipped town again to make alcohol. He left a career in marketing for Adidas at the company's Middle East headquarters in Dubai, sold his car and boat, returned home, and took out at a loan to open Colonel Craft Beer. "All my life I wanted to live in Batroun, in my city here next to the sea," he says. "To go to the sea at any second I want, this was my dream. And to make good beer in Batroun, it was the best thing for me ever." Haddad's city is a rocky stretch on the northern coast of Lebanon with great fish and surfing, and Colonel is a few minutes from a surfer beach nicknamed the "Colonel spot." The brewery and bars are on a piece of land Haddad rented from the Catholic church, which owns a lot of land in Lebanon. They were built and furnished mostly with reused materials, including 14,000 wood pallets and more than 2 million plastic bags.
Although beer is available across Lebanon, Colonel is a new attraction, because it's the first brewpub in the region. Some Lebanese drive two or three hours to hang out there. As another brewer describes it, Haddad is "promoting the cool side of beer." He's also part of a small but growing craft-beer movement in the Middle East.
"I know that what I made here is not about beer," Haddad says. "It's more about the culture, the vibes, the attitude, the spirit. I wanted to make it different."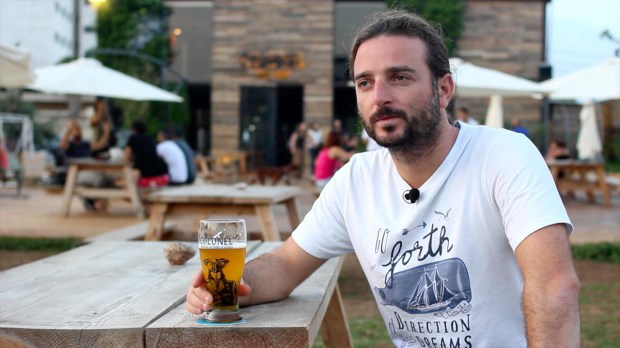 After 10 years in the Middle East, I can definitively say that good beer is hard to find. Beer of the fizzy, yellow, and hopefully cold type is available to varying degrees in the region, depending on the country and city. Any liquor store or half-decent hotel serves Heineken and Corona or a local brand owned by an international parent company. For many people from the region, beer is the least sophisticated of drinks. It's a soft drink with alcohol.
Craft brewers in the Middle East aren't just trying to sell beers. They are seeking to disrupt the culture. The idea that a beer can be appreciated on its own challenges the traditional notion of eating and drinking in a region where drinks often come secondary to food. Arak, the traditional anise-flavored alcohol of the Levant, is often the complement to food like grilled meats and tabbouleh. Tea goes with falafel. Coffee comes after the meal. Beer is for chugging, not for tasting.
"We added our beer in restaurants that are serving traditional food," says Alaa Sayej, the founder of Shepherds Beer in Birzeit, Palestine. "If you want to eat hummus, falafel, and fuul, you can drink Shepherds Beer instead of tea in Bethlehem. This is a huge step in the country."
Each brewery is finding ways to spread beer culture. Sayej started a trend of having kegs at wedding parties in the West Bank. In tours with locals, Yazan Karadsheh of Carakale Brewing Company in Jordan compares the roasted malts that make beer to his countrymen's ubiquitous drink: coffee. And Lebanese home brewers source their ingredients from 961, the first craft brewery in the region.
At the same time, brewers have to fend off tough competition. In Lebanon and Jordan, Heineken installs draft systems and refrigerators in bars and restaurants with the caveat that no other beers may be sold in those establishments. In some places, 961 was pulled off the shelves because local Heineken representatives enforced a contract making it the exclusive local distributor. Sayej also believes a competitor sabotaged his carbon dioxide lines when he launched in bars in Palestine.
Retailers themselves sometimes share the blame for failing to read the fine print of the contracts they sign or for simply caring more about getting a good deal than giving more choices to their customers. But some say lack of demand is also a barrier. One bar owner in Lebanon says he doesn't sell craft beer because people don't come in asking for it.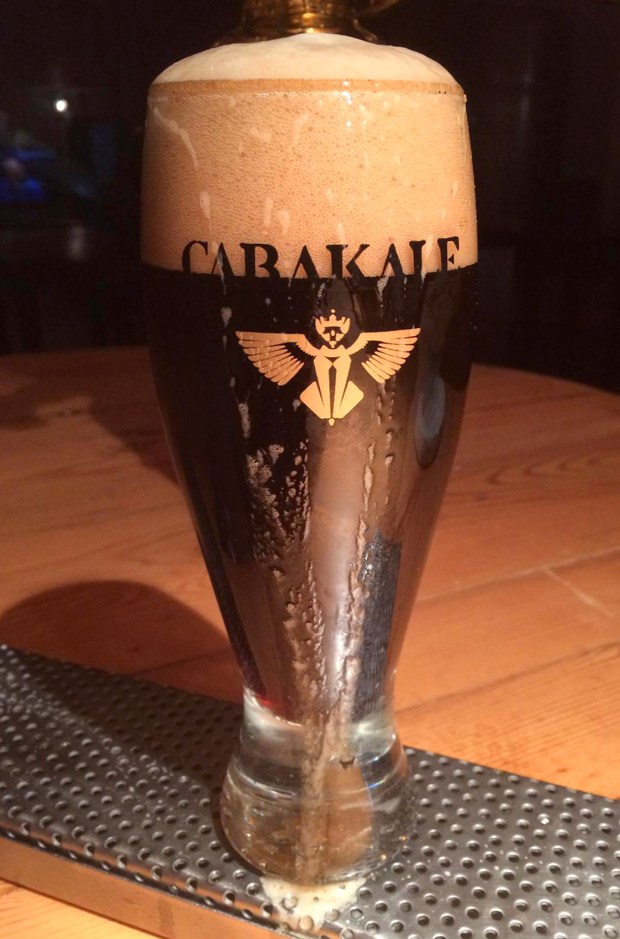 "A lot of liquor stores tell me, 'You're confusing us,'" Karadsheh says. "'Once you give us a blond, then you give us a pale, then a mocha stout, a whiskey, a winter ale. We just want one beer.' I say, 'This isn't why we're here. We don't want to give you one beer. We want to give you styles of beer. This is what we do.'"
"Who the f*** buys Lebanese beers?" says Mazen Hajjar, founder of 961, the first microbrewery in the region. "You buy Belgian beer or German beer."
Yet here we were, drinking pints of 961 red ale in a rare bar in Beirut that sells Belgian beer. Like all four commercial craft brewers in the region, Hajjar is obviously in love with beer. He can't help but feel limited by the demands of the market.
Getting drinkers to accept different kinds of beer has been a challenge. People are often attached to a specific brand or influenced by what other people like even if blind taste tests show they themselves don't. At the end of the day, the microbrewers have to sell what people are comfortable drinking, so their most popular beers are the least complex. 961's Lebanese Pale Ale incorporates local herbs like thyme, and its imperial stout is flavored with coffee; but the company has been more successful abroad than at home.
"The more beers I release, the more they'll wake up," Karadsheh of Carakale says. "And once they wake up, it's really hard to go back to mainstream beer because it's monotone." He also notes, "I knew in the beginning we would have to be very tame about the styles of beer we release, but after a certain amount of time I'm going to just open the doors and let the Willy Wonka of all these beer styles come to the market."
I built a 2.5-barrel system in my parents' backyard.
Carakale is set into a cliff in Fuhais, a small town about a 45-minute drive from Jordan's capital, Amman. Karadsheh is an engineer who worked in the craft-beer industry in Colorado before returning home to establish a national beer. He first decided to make a national beer when he found a book that showed Amstel, the beer dominating the country's market, is actually from the Netherlands. His father (and co-founder) was an executive in a company that makes metal structures, like airport hangars or, in this case, a brewery. The main hall has beer tanks, a packaging line, and a small room with a 2.5-barrel system for special batches, which Karadsheh designed and built while he waited more than a year to get the government's first approval to start the brewery. When I met him, he was still waiting for permission to turn the tasting room upstairs into a brewpub.
"I built a 2.5-barrel system in my parents' backyard," he says. "Went to a place and got stainless-steel flat sheets, another place rolled them and made them into a cylinder. A blacksmith welded them. I did all the designs, the piping work. I had a few parts that took six months to find, 'cause there's no Google search for parts in Jordan. You have to ask somebody to ask somebody to ask somebody."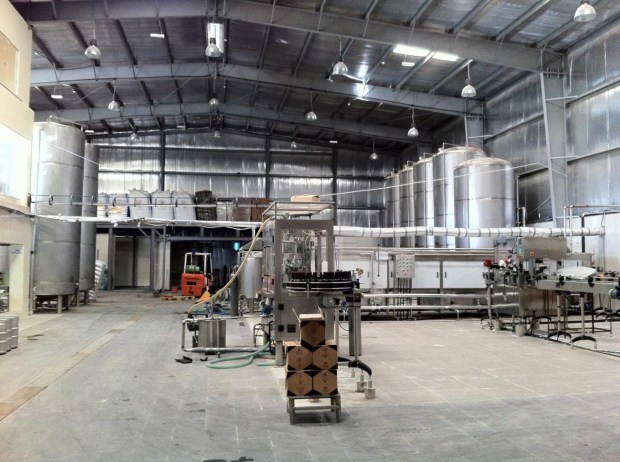 Being an early adopter means you have to overcome a lot of problems before everyone else. For example, the ingredients for beer have to be imported into the region. Items can easily get stuck at customs, especially the first time they reach port. Many businesses can't get credit terms abroad, so they have to pay even after they've waited for customs to clear the imports. And then they will pay taxes at the whim of a customs officer.
"Some smartass [in the Lebanese government] decided that malt is cooked, because it's roasted before it gets here," Hajjar says. "So it is a 'cooked food product.' And at some point they wanted to charge us an import tax of 30 percent to protect the local producers. What local producers of malted barley? They don't exist!"
Problems with the government were a running theme in conversations I had with Middle East craft brewers. Corruption and bribery are rampant in Lebanon, while many of the rules are either unclear or unenforced. Jordan has an onerous bureaucracy, the tax on alcohol is about 75 percent, and only Christians can produce it. Palestine has no functional government, and the Israelis will hold up shipments for months at a time. Across the region, knowing someone influential is the easiest way to do business.
"Jordan is going through an identity crisis," Karadsheh says. "We need more people from outside with skills to come back and try to help out the country for a brighter future. The only part I can play in this is giving us an identity with beer. Something local, craft, and different—that's unique for us."
Originally published on Roads & Kingdoms on May 18, 2016.