Abu Waseem laughs as he sips sweet tea outside his namesake restaurant, one of the most popular joints serving shawarma in the Lebanese capital.
Inside, two spits bearing lamb meat and chicken spin slowly, glistening in the dimming daylight. In a couple of hours, the restaurant at the end of the bustling Hamra street will begin filling up, with customers seeking their daily dose of the ubiquitous Levantine snack.
"I'm a professor of meat," he said, chuckling.
Shawarma is the pinnacle of Middle Eastern fast food. The rotating spits of meat are all over Beirut—the blocks are slow-grilled all afternoon, the outer layers shaved off to fill succulent wraps topped with garlic sauce, pickles, tahini, coriander, and french fries.
But this place is special. Abu Waseem is a shawarma master chef, and he comes from Syria.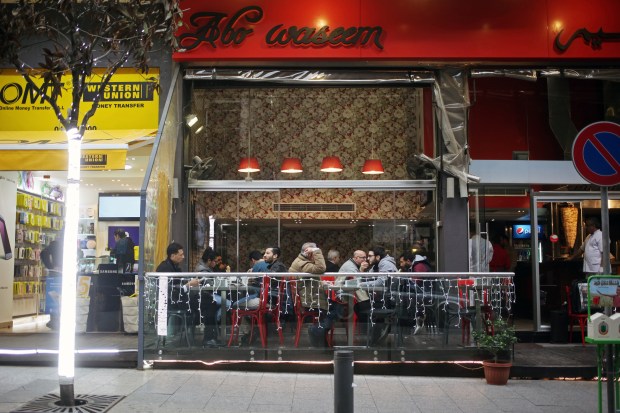 The war in Syria has displaced half the country's population of over 20 million; roughly five million fled into neighboring countries. In Lebanon, a tiny nation-state with 18 official religious sects and a population of four -and-a-half million before the war, more than a million Syrians have taken refuge. It would be the equivalent, per capita, of more than 70 million refugees arriving in the United States.
The influx has brought about a revolution in food traditions. The cuisines of Damascus and Aleppo, with their Armenian influences and focus on meat-based dishes, have swept through the region. Kitchens and restaurants run by Syrians have flourished in Egypt, Jordan, and Lebanon.
Abu Waseem knew early on that he wanted to be a shawarma chef. Originally from Maarat al-Nu'man, a town famed for its greenery and olive oil, he dropped out of school in 1981 and landed his first job at 15 as a dishwasher in one of the largest shawarma restaurants in Damascus. His given name is Ahmad al-Othman—Abu means "father of" in Arabic, and Waseem is the name of his son.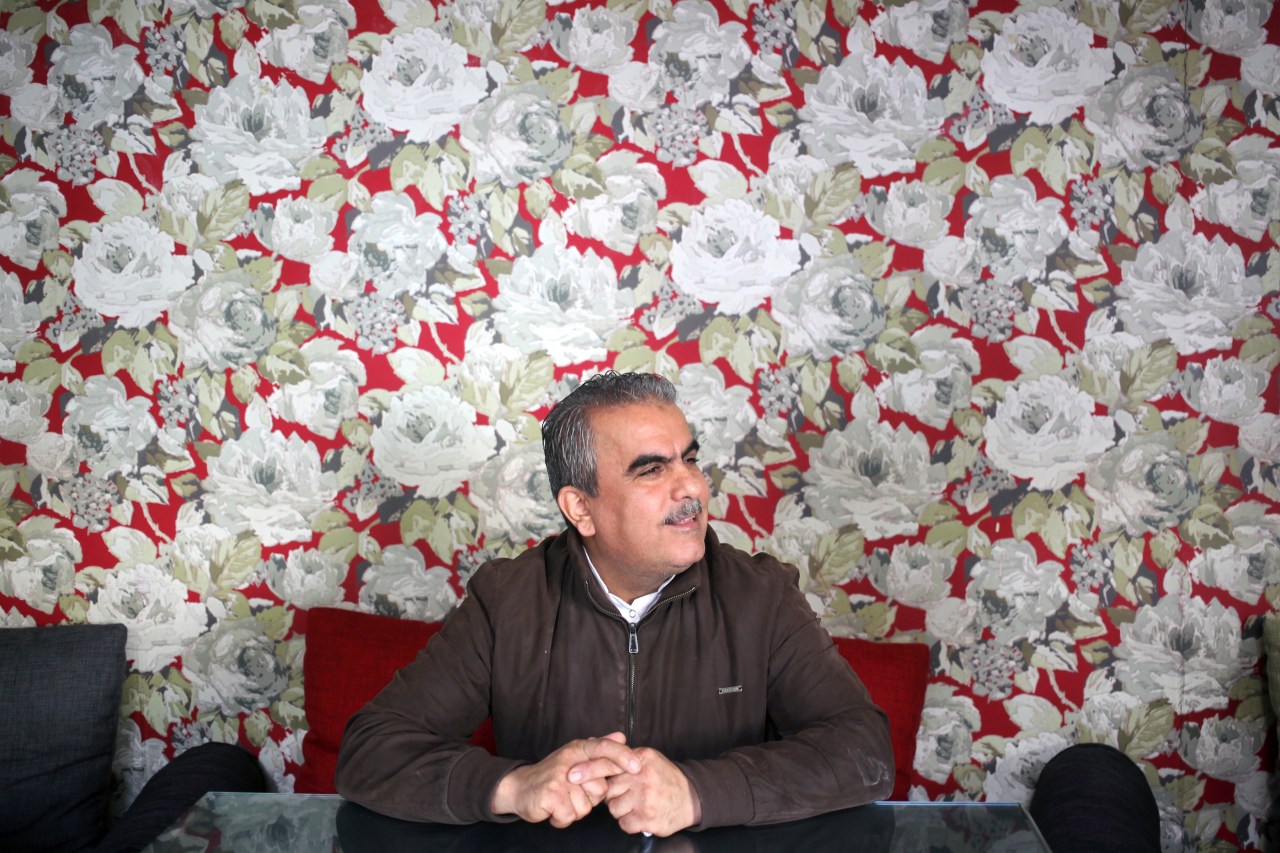 There were only about a dozen shawarma master chefs in Damascus at the time; the craft was secretly guarded because it conferred its own benefits (back then a university professor earned approximately 800 Syrian pounds a month while a shawarma master chef earned about 1200).
After being promoted to waiter, Abu Waseem grew curious about the master chef's work. Since the chef wouldn't teach Abu Waseem the trade voluntarily, he spent hours watching him from a crack in the door to the kitchen where the chef meticulously cleaned the meat, carved and dressed it, methodically removed the veins, and then slowly set it up on the spit.
So Abu Waseem was well-positioned a few months later when a business fallout saw the master chef walk out of the restaurant. He volunteered to take over and, to the disbelief of the restaurant's owners, set up his first shawarma spit in July 1983.
"I did it exactly as he did it, and they couldn't believe how I'd learned it," he said.
After a few years, he would move on to work at one of the most famous shawarma restaurants in Damascus, Abu al-Abed, before going on to open his own restaurant in the neighborhood of Abu Rummanah in 1990.
The portly chef's recipe attracted people from all over the city. According to Abu Waseem, waits of one and a half hours to get a dozen shawarma wraps were not unheard of, and they often sold upwards of 3,000 sandwiches a day. People would wait in long queues despite the fact there was no seating area, and then eat standing up.
When asked about the secrets to his restaurant's success, Abu Waseem lists several. First, knowing your customers and treating them like they're at home. He claims to have memorized the usual orders of some 70 percent of his regular clientele, for example, whether they like their wraps with extra garlic or no pickles.
The second thing is the recipe. The meat mix is deceptively simple—usually just a bit of salt and a slab of ice placed on top to tenderize the meat before cooking it.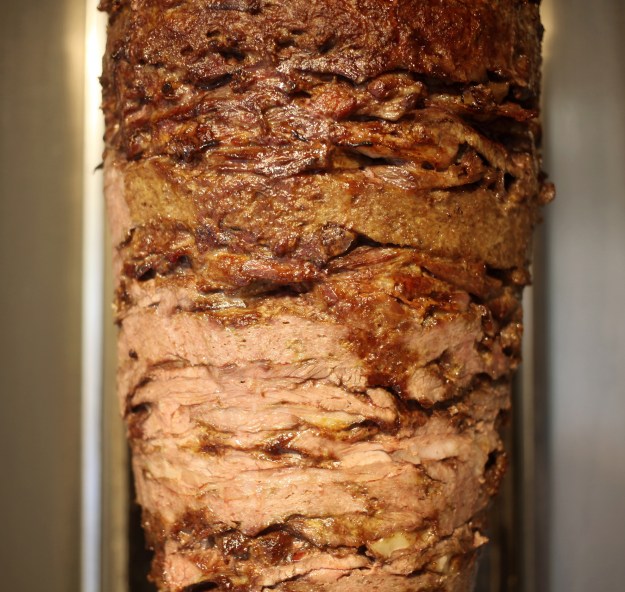 The meat obsession is a key element that differentiates Syrian from Lebanese cuisine. Syrian chefs invariably complain that the meat in Lebanon is substandard, and Abu Waseem gets regular deliveries of lamb from Hama in Syria, a province known for its great pastures and dairy. Sheep is also rarely eaten in image- and fitness-conscious Lebanon because it is fattier.
Abu Waseem goes off on a tangent extolling the virtues of sheep meat, explaining how it is vastly more delicious precisely because of the fat. He stops and recalls a story from the Qur'an: Abraham is on the verge of sacrificing his son Ishmael as a tribute to God when God sends Abraham a sheep to slaughter in his son's stead.
"Do you remember the story of Abraham and Ishmael?" he asked. "What did God save Ishmael with when Abraham wanted to slaughter him? Did he save him with a cow? Of course not! He sent a fat sheep!"
For the chicken, Abu Waseem lists off the top of his head the spices he uses, a recipe he got from his mother "Everyone in the neighborhood would smell the chicken by the time it was cooking" he chuckled. The mix includes garlic, cumin, coriander, cardamom, ginger, nutmeg, tomato paste, orange, and lemon juice.
He isn't particularly worried that his recipe would be stolen because there's a missing ingredient that is wholly dependent on the chef. It's a concept that one hears from all the good Arab cooks all over the region, whether in Syria, Lebanon, Egypt, or beyond. It's the nebulous concept of nafas.
Nafas literally means breath, but the word is intended to portray a level of soulful care and love with which a cook prepares the food. Home-cooked meals have nafas because the person making the food is creating it with love, and Abu Waseem believes in the same thing. It's not uncommon in a Syrian shawarma restaurant, for example, if a favorite client is waiting on an order, for the chef to cut off a slab of meat and hand feed it to him or her as a show of adoration.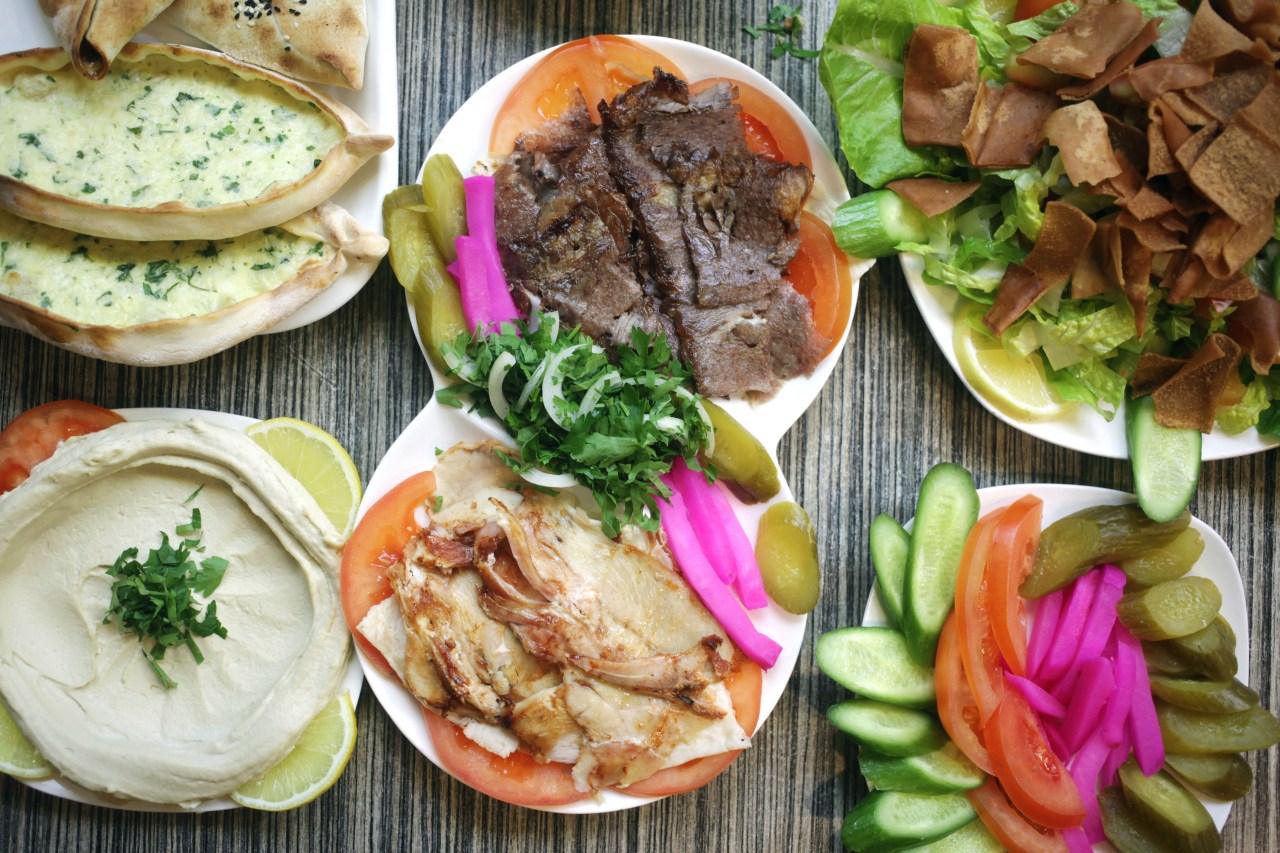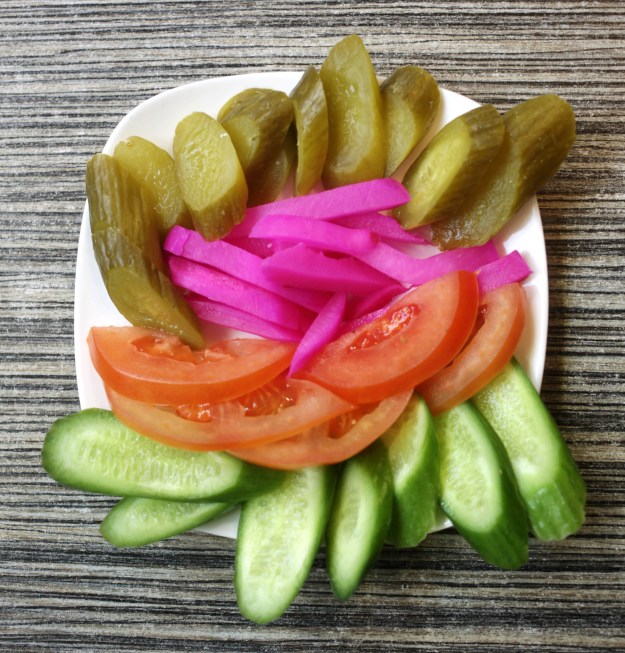 Abu Waseem packed up his recipes and nafas and moved to Beirut in July 2012. It was a turbulent time in Damascus. The war had just taken a serious turn with the assassination of President Bashar al-Assad's top four generals and security advisers, an event that many observers expected would usher in the collapse of the government (it didn't).
By the end of the summer of 2013, he had found a venue for his restaurant at the end of Hamra, one of the most popular streets in Beirut. He set up shop with a partner who was a former customer at his restaurant in Damascus.
Many Syrian restaurants have opened in Lebanon including the nearby Beit Halab serving home-cooked Aleppine cuisine, led proudly by various forms of kibbeh, a sort of minced meat ball with spices and onions surrounded by a layer of bulgur, and fried or roasted. Other dishes include a lamb sandwich, kibbeh labanieh (kibbeh cooked in yogurt and herbs), Syrian versions of hummus (much creamier than the Lebanese version) and muhammara, a walnut paste dip that is made with pomegranate molasses and red pepper paste. All the staff here are Syrian, the vast majority from Aleppo.
If you're lucky on a Tuesday evening, you might get serenaded by Aleppine qudud, popular folkloric songs from the ancient city performed by Abul Fadl, an 'ud musician who learned to play in the same class as Sabah Fakhri, the most famous of Syrian singers. You can enjoy it with the restaurant's version of the argileh water pipe, which in Beit Halab is inverted so the coals are suspended above the tobacco, giving it a smoother taste than you'll find in more traditional cafes.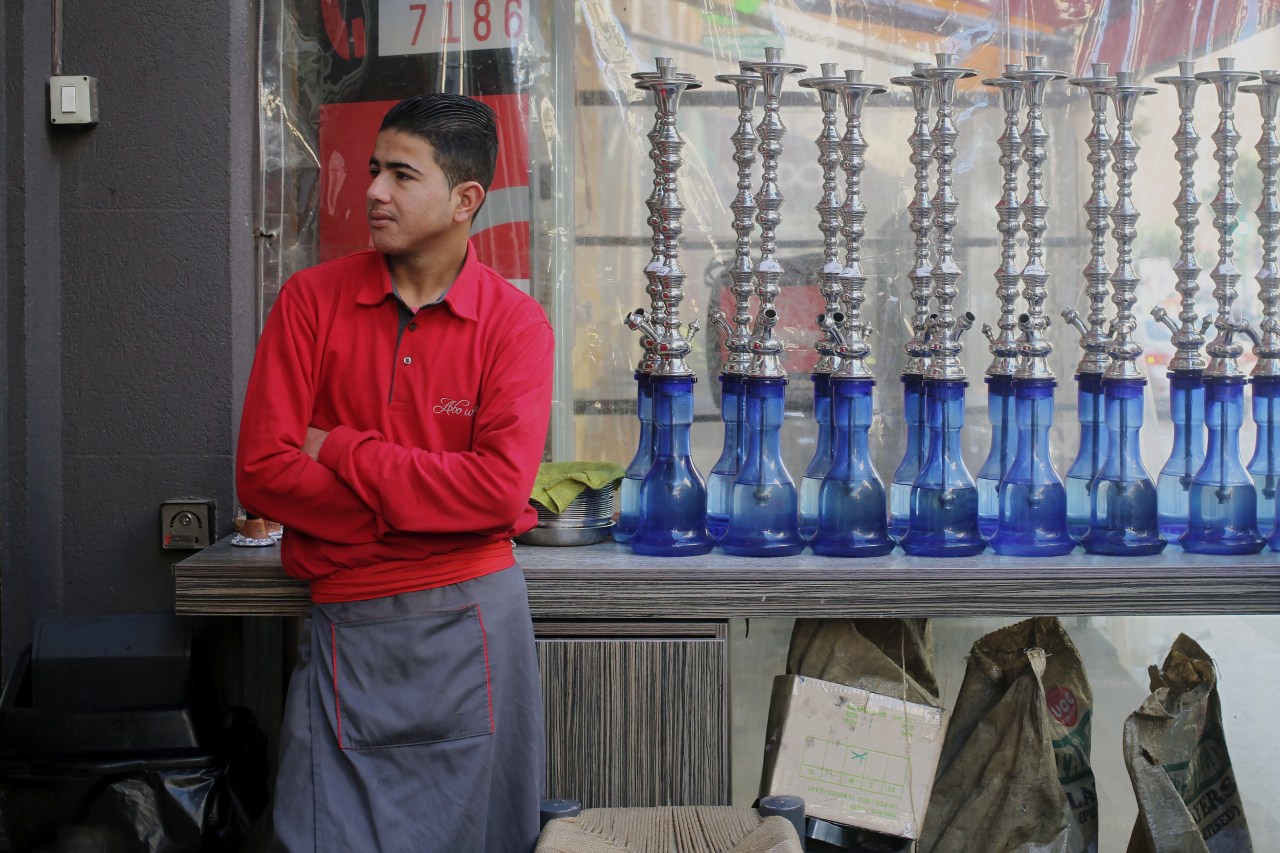 This has all enriched the region's cuisine, introducing new blends and ways of eating that have long defined Syrian food and spread it across the region as the nation shook under civil war. But what of these explorers who popularized that vibrant tradition?
They want to go back. It's an impossibility to meet a Syrian who does not miss his home, who wishes once again to walk the ancient pathways of Damascus, the Hamidiya souk, the courtyard of the Umayyad mosque, or the Aleppo citadel.
Abu Waseem said he'd like to set up shop again in the Syrian capital when the violence subsides.
"I miss Damascus," he said. "It has a special flavor. If you spent time in Damascus, and drink from its water, you can't leave it."