On a blisteringly cold morning in a Berlin suburb, Muhammad Radwan is unusually upbeat as he neatly loads his food truck with plastic plates, cooking gas, gloves, and fresh ingredients. He then drives for about 40 minutes into town, where he serves the city's latest favorite vegan dish.
He clamors for space at the Kulturbrauerei, a former brewery surrounded by manicured, tree-lined streets in the trendy northeastern suburb of Prenzlauer Berg, where dozens of other food trucks have also set up shop. Radwan, relaxed and rocking a scruffy beard, waits for new customers to sample his homemade concoction, letting out a few forlorn puffs from his e-cigarette. He spends about five to seven hours cooking a batch that will serve up around a hundred plates and repeats the process twice a week for various events on weekends.
Radwan runs a food truck that sells koshary, a carb-heavy Egyptian dish made with chickpeas, lentils, pasta, rice, vermicelli, fried onions, garlic, salsa, and hot sauce. As a young man in Egypt, he sampled many times the household restaurants that served up the dish on late nights, so he felt koshary would be his key to getting noticed on Berlin's street-food scene. The city already had a thriving vegan market, and very few places were serving Egyptian cuisine.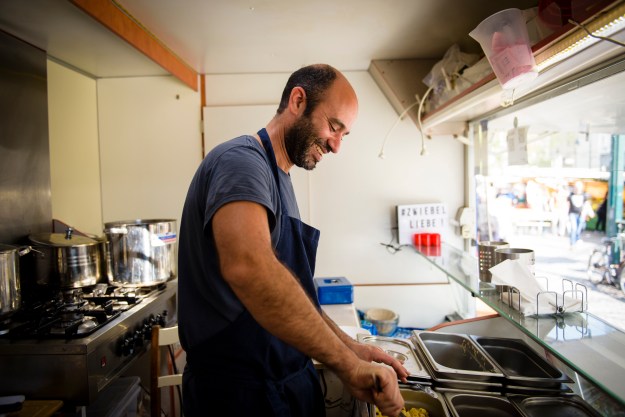 "It's a grind," Radwan, 39, says, describing his preparation rituals. But he is quick to add that he is content with what Berlin has had to offer since he moved here three years ago. "I give customers an opportunity to get a proper vegan meal that is filling, healthy, and garlicky as hell."
The origins of koshary are hard to nail down. There's some Indian influence: the name itself is believed to come from the Hindi word khichdi, a dish made of rice and lentils. The British, who ruled India at the time, brought the dish to Egypt, which was a major trading center on the route through the Red Sea and on to India. The Italians, who arrived in Egypt later, added pasta to the dish. Then the Egyptians contributed spicy tomato sauce, beans, and fried onions. Today koshary is a street favorite, the unofficial national food of Egypt.
"From the ghafeer (doorman) to the wazeer (government minister), everyone eats koshary in Egypt," Radwan says, invoking an old Egyptian adage that koshary is a dish for the masses.
Radwan's blue truck, Kairo Koshary, and its two-wheel symbol—a reference to how koshary is traditionally served in Egypt as a street dish from a wooden cart—also sum up his itinerant life: from a revolutionary on the streets of Egypt to a prisoner in Syria and now an immigrant entrepreneur in Germany.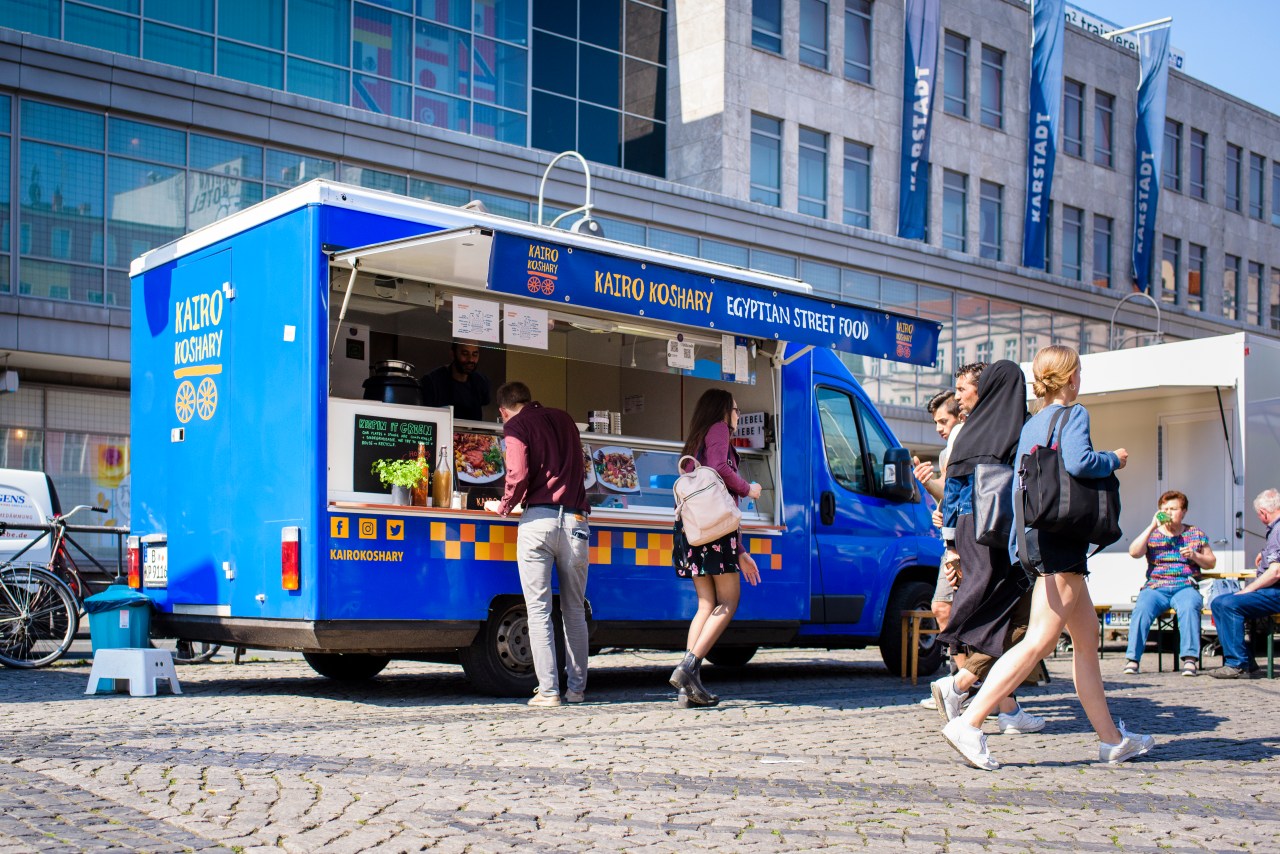 The German capital has in recent years become a hospitable hub for people from all across the Arab world. While many European countries were overwhelmed by the influx of refugees in 2015, Chancellor Angela Merkel opened the country's borders temporarily to refugees and migrants, many of whom were fleeing conflict in Syria, Afghanistan, and Iraq. Their harrowing route included dealing with smugglers and checkpoints across the border headed to Turkey, then a perilous journey on rubber boats to Greece, followed by walking through Eastern Europe before finally settling in Germany.
Germany's multicultural experiment, for which Merkel was (and still is) heavily criticized, has brought together Arabs—exiles, refugees, and migrants—in cities such as Berlin where they have made a new home. For Radwan, this new home also presented a new kind of opportunity.
"Berlin already had dozens of new Syrian restaurants, which are not that different from the Palestinian and Lebanese restaurants that have been here for decades," Radwan says. "So I thought Egyptian cuisine would have great potential here."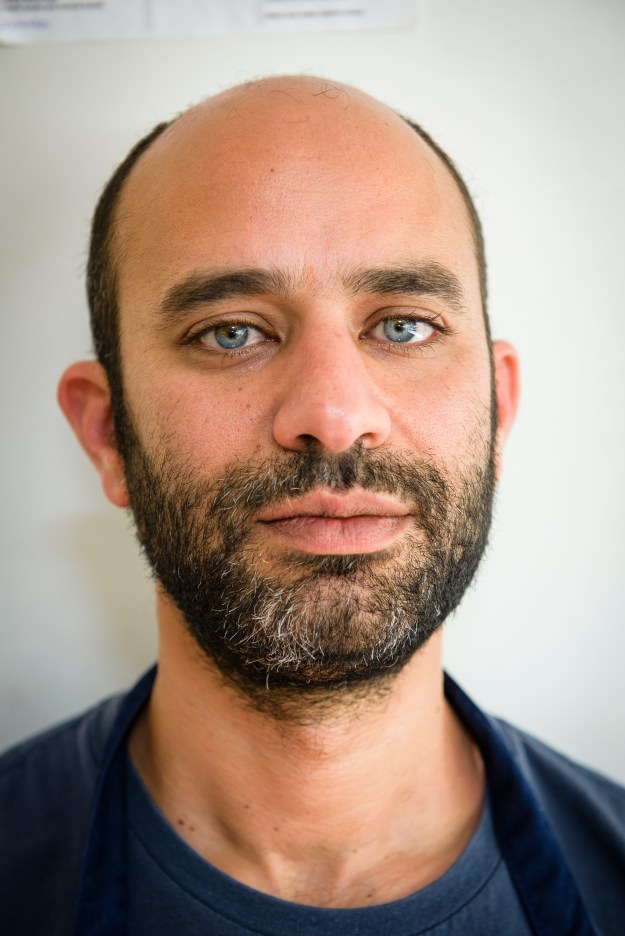 Radwan was born in Houston in 1979 to Egyptian parents, so he grew up in Cairo and the United States. In 2002 he graduated in industrial engineering from Texas A&M University.
A couple years later Radwan moved to the Middle East, working in Morocco first and then for a few years in Saudi Arabia. He left his job in Riyadh and returned to Egypt in 2010, just as momentous political changes were bursting at the country's seams.
Radwan says he went to Tahrir Square every day when the protests began. During a demonstration in late January, Radwan and several hundred protesters were shot at by the police, who were trying to prevent demonstrators from marching into the interior-ministry compound. The mass protests that shook the Arab world had become a pivotal moment for Radwan and his generation, who wanted to stay in Egypt to rebuild their country after living most of their lives under only one ruler. Less than a month after the popular uprising, Egypt's President Hosni Mubarak, who had ruled the country with an iron fist for nearly three decades, announced that he would step down.
"One of my most vivid memories with Muhammad is the morning after January 28," says Nora Shalaby, Radwan's cousin and an Egyptian archaeologist, recalling the day of rage when tens of thousands of protesters clashed with security forces in Cairo.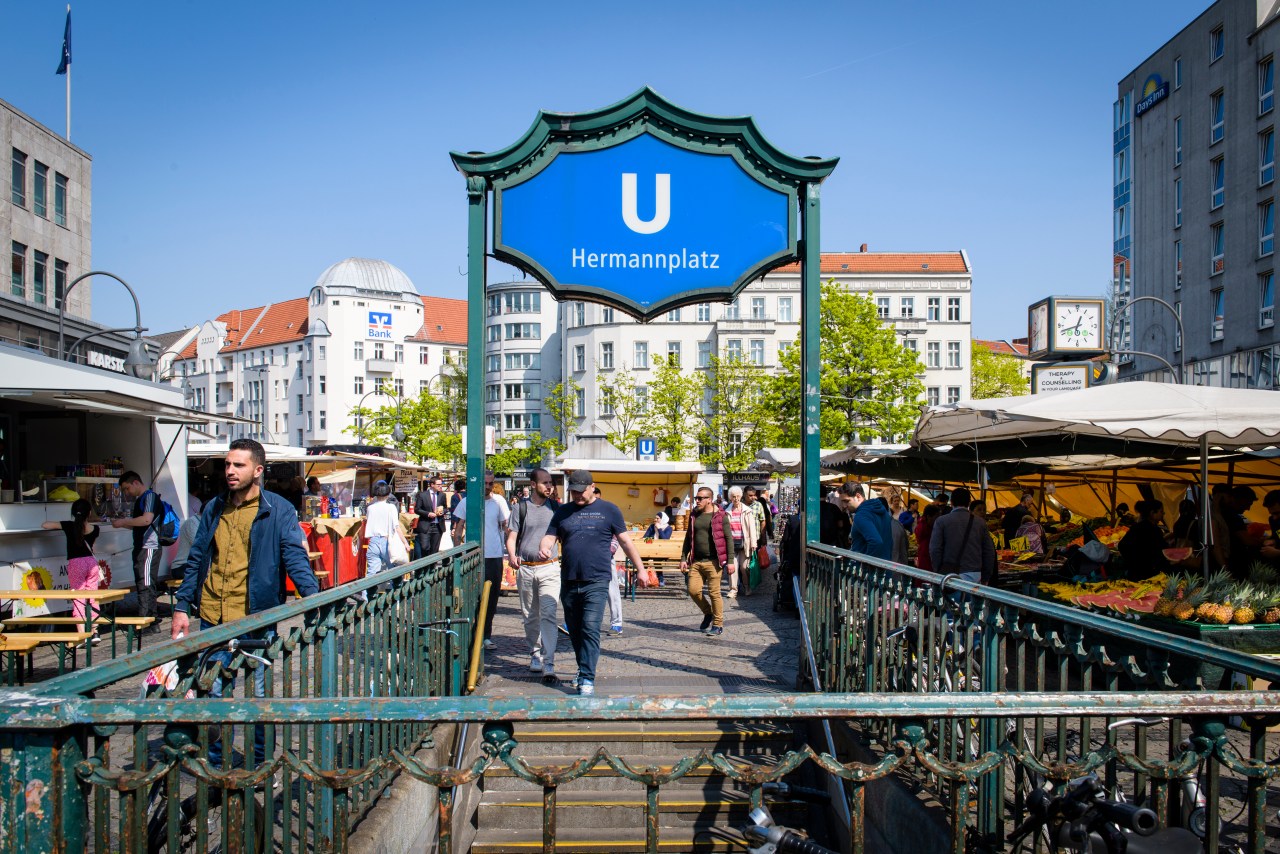 "We met up in the morning and took a cab to Tahrir Square," Shalaby recalls. "But the exit from October Bridge to Tahrir was closed, so we got on top of the bridge and continued walking towards the square. It was an amazing moment."
After moving to Cairo, Radwan had taken a job managing the Damascus office of a Cairo-based petroleum firm. He routinely flew into Syria to manage projects and meet with the company's local staff. In February 2011 Radwan returned to Damascus as a part of his usual work trip. Fresh from his monthlong experience protesting in Tahrir, Radwan quickly noticed the revolutionary seeds that had sprung up in Syria after both Tunisia and Egypt successfully toppled their dictators. A smattering of smaller protests had begun in the Syrian cities of Hama and Homs.
On March 25, 2011, 10 days after the first protests began in Damascus, Radwan was at the historic Umayyad Mosque when a group of people started chanting anti-government slogans during a fiery session of Friday prayers. Radwan took some photos; and just as he was tweeting, two men approached him, grabbed him by his arms, and pulled him out of the room.
Minutes later they tied his hands, taped his mouth, and drove him to a detention facility. Radwan was accused of being a spy, and after beating him on the day of his arrest, his interrogators forced him to confess a made-up story: He had secretly traveled to Israel and received money from abroad in exchange for photos and videos from Syria. His entire "confession" was taped by the interrogators.
Later that night Syrian State TV aired the footage in which Radwan, appearing disheveled yet calm, said that he had conspired to sell videos and images about Syria.
Radwan says labeling him a spy bolstered the Bashar Assad regime's claims that protests inside the country were part of a foreign plot. Even as government forces gunned down demonstrators in the country's northwestern province, Syrian officials continued to blame the killings on foreigners and outsiders.
"They kept on making up these wild stories that I had known a Colombian journalist who worked for Mossad," Radwan says, recalling his interrogation. "They were hinting that it was in my interest to repeat these lines, so I did what they told me because my life was in their hands."
Andrew Bossone, a close friend in Cairo, says he was the first to raise the alarm about Radwan's disappearance.
"I got a very short phone call from a Syrian friend telling me that there was a TV report saying an Egyptian engineer had been arrested at a protest and authorities are accusing him of being a spy," Bossone says. "Radwan had disappeared, I hadn't seen him post anything, he wasn't picking up his phone."
Radwan vividly recalls the harrowing eight days he spent in a Syrian prison in Damascus: "Assad's dungeons." He says he shared a cell with an elderly man, and bright lights were kept on 24 hours a day. After the fourth day Radwan was transferred to solitary confinement.
That's when the beatings began. He was held by several men and beaten with a metal rod for an entire day, his body bruised and blood dripping from his feet. "One of the interrogators told me he would smash my genitals until they burst," Radwan says, "so I would not be able to have children if I didn't cooperate."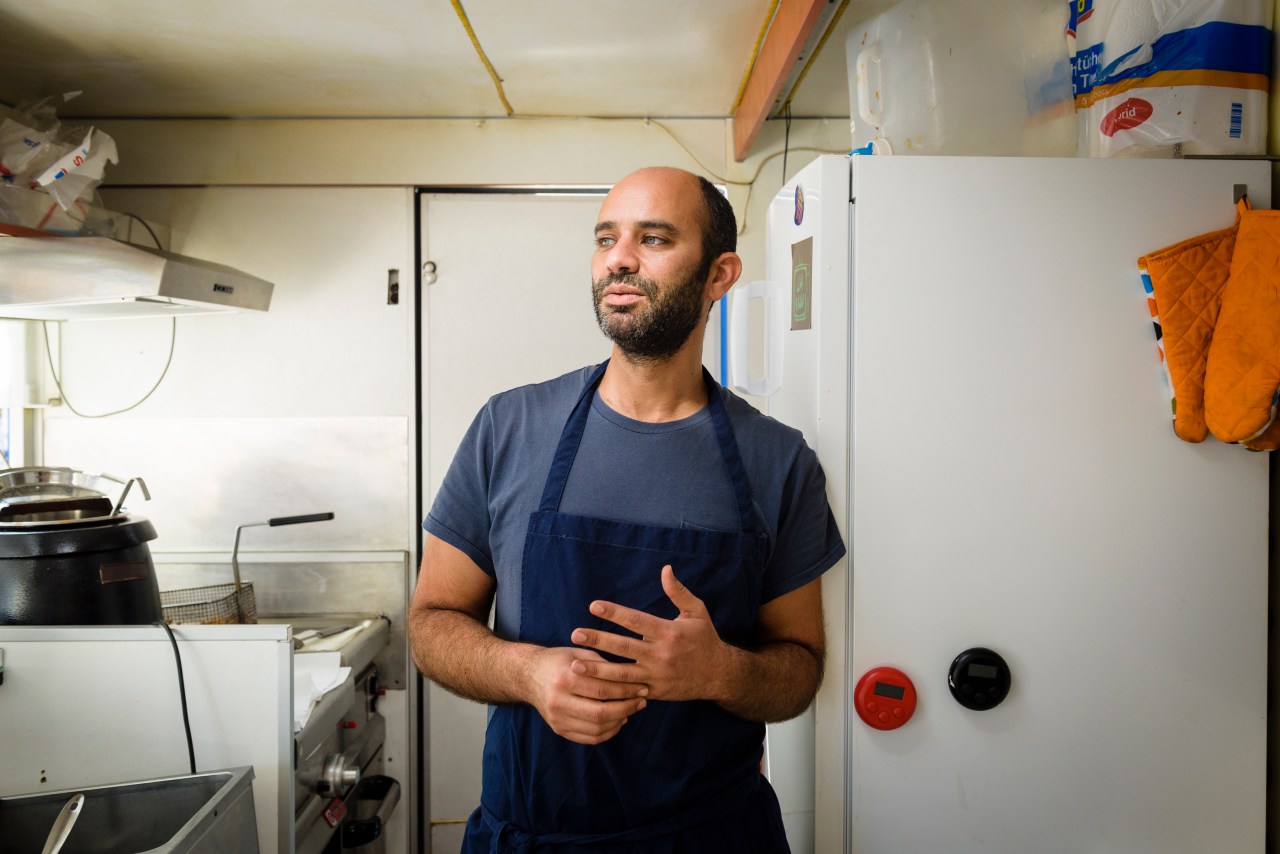 On the sixth night Radwan was handcuffed, blindfolded, and led to a secret facility where his interrogators laid out his options: Either confess to concocted crimes or "go behind the sun," a term used in the Arab world to imply that he would disappear.
After a burgeoning social media campaign by his family and friends highlighting his ordeal, he was released on April 1, 2011, without any explanation.
"I was taken to the Egyptian ambassador's house where I met my father and the consul general," Radwan says. "Shortly after I got there, the U.S. ambassador called the Egyptian ambassador to ask how I was. When he hung up, I asked the consul general, 'Who got me out?' He told me I would never find out."
After returning to Cairo, Radwan spent the first few months recovering from the ordeal he had been through. Then in November 2012, buoyed by the budding startup scene in Cairo, he co-founded a green tech-innovation hub called Ice Cairo. The lab, decked out with 3-D printers and laser cutters for young inventors, focused on finding sustainable tech solutions primarily in the agricultural sector. For the next three years, Radwan transitioned from engineering to being a social-entrepreneurship consultant, traveling for gigs in Kigali, Nairobi, and Rio de Janeiro before deciding to move to Germany.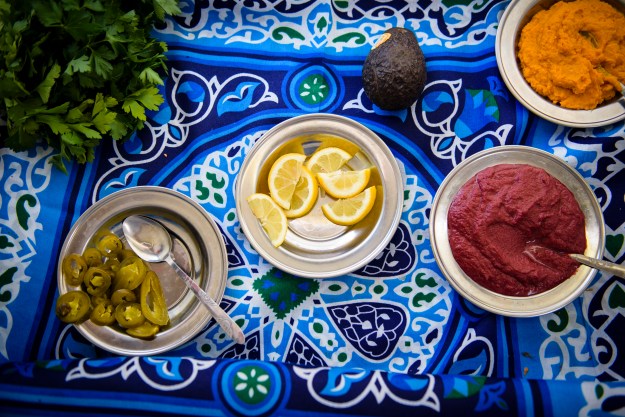 In September 2015 Radwan moved to Neukölln, a rapidly gentrifying suburb in southeastern Berlin that is home to sizable Turkish, Arab, and Kurdish populations. According to a 2010 census, nearly 40 percent of those who lived in the borough were of non-German ethnicity. That number has likely risen in recent years, following the influx of new refugees from the Middle East and sub-Saharan Africa.
For his ingredients, Radwan mostly relies on the Turkish Market and the Arab market called Azzam. "They are lively, fun, and give me particular ingredients that are harder to score in other parts of town," he says.
Radwan says he is focused on his new life in Berlin, serving up koshary to the city's foodies. But he's also doing something that's much more meaningful: connecting with Arab migrants who pine for the vegan taste of home while recalling a less calamitous political landscape.
Radwan says he makes a decent income from selling koshary when the weather is beautiful, but it is still a hustle and nothing like running a tech startup. "Running a food truck as a one-man team can take its toll," he says.
Radwan has remixed the Egyptian dish, offering avocado and quinoa in the Kalifornia plate, olives in the Greek-inspired Kalamata dish, and couscous and raisins in the Moroccan-infused Kasablanca. He uses the letter K, signalling how these places or ingredients are spelled in German, as a way to connect with his growing German-speaking customer base.
But he's also doing something that's much more meaningful: connecting with Arab migrants who pine for a taste of home while recalling a less calamitous political landscape.
On a good day Radwan now spends between 10 and 15 hours in his food truck, taking breaks to meet his Egyptian friends when they drop by to chat and get a taste of koshary.
Many of Cairo's revolutionary core, including artists and tech-savvy entrepreneurs whom Radwan spent time with during the protests in Tahrir Square, have moved to Berlin in recent years. They are escaping the stifling political climate under Egypt's president Gen. Abdel-Fattah el-Sissi. El-Sissi, who came to power in 2013 after a military takeover that ousted democratically elected president Mohammed Morsi of the Muslim Brotherhood, has jailed thousands of opponents. Last month he won a landslide victory with nearly 97 percent of the vote, following an election in which the only challenger was someone who supported his rule.
Now, seven years after taking to the streets to topple one strongman—and thousands of miles away in another country—Radwan says he can't stop thinking about what's next.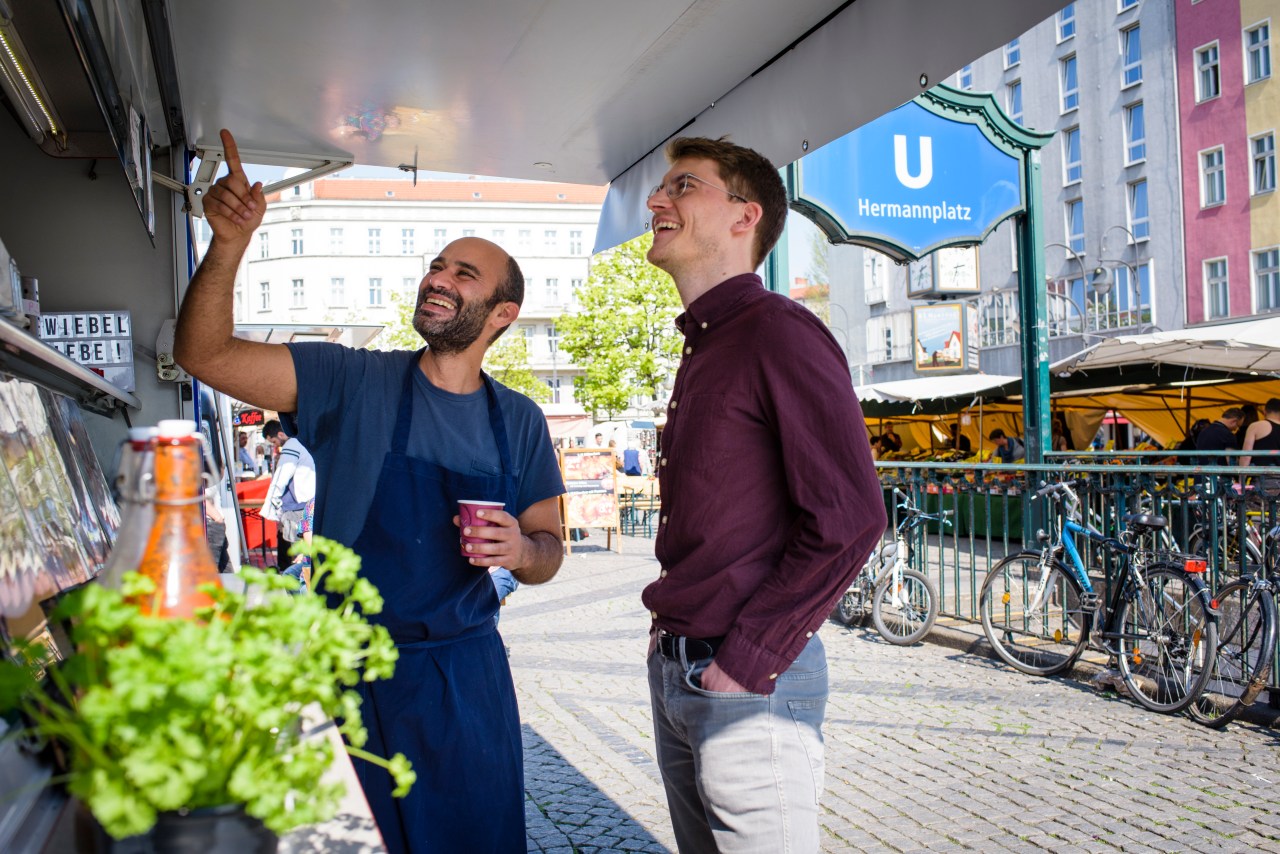 "It impossible to continue expressing our ideas in Egypt's current political climate," he says. "We are always reminded of the reach of our government back home as the Egyptian embassy in Berlin is infamous for reporting on the activities of Egyptians in the city."
Shalaby, Radwan's cousin, who also participated in the Tahrir protests in 2011, is now based in Berlin and occasionally makes it out to Radwan's food truck.
"Good old Radwan is easygoing, down-to-earth, and always on the lookout for places where he can listen to good live music," she says.
On weekends his truck has become a meeting point of sorts for Arab activists and artists who are keen to connect, reminisce, and feast on his home cooking. In a way, his food truck has become sort of a Little Egypt on wheels, a mimetic remnant of a not-too-distant past.
"Now and then," Radwan says, "I see people here whom I'd met in Tahrir Square. And it's the koshary that brings us all together."
Originally published on Road & Kingdoms on April 27, 2018.