Ask anyone hanging out around the Kottbussor Tor U-Bahn station about the difference between Berlin and the rest of Germany and their answer will probably be "Berlin is not Germany. Berlin is Berlin."
It's a simple statement that betrays the deep cultural complexity in the spirit of this historically troubled German capital. Caught somewhere between the shadow of its past and the uncertainty of its future, Berlin struggles to emerge as a leader of innovation or industry but has a grand tradition of housing international artists, poets, philosophers, and writers who draw inspiration from its streets. From the iconic feminism of activist and poet Audre Lorde to the nebulous sounds of David Bowie and the bass-heavy thrust of "The Teaches of Peaches," Berlin has a history of contributing to the global art ecosystem.
Berlin is known for its attitude. The less you care about your appearance, the more you'll fit in. The only uniform anyone respects is the ticket inspector on the U-Bahn, which hardly ever runs on time or functions as it should. Be prepared to get lectured—a lot. For anything. By complete strangers. In the bathroom, on the street, or while waiting for a doner kebab in Neukölln. Public drinking is perfectly legal and more affordable than in other Western European countries. Dogs are respected and constant companions on trains, in markets, and beneath restaurant chairs. Berlin has a cash economy; so make sure your wallet is well equipped, and hold onto it tight in Neukölln, Kreuzberg, and Checkpoint Charlie. They're hot spots for tourists and pickpockets. If you don't like the weather, wait five minutes—because it's just as temperamental as the residents.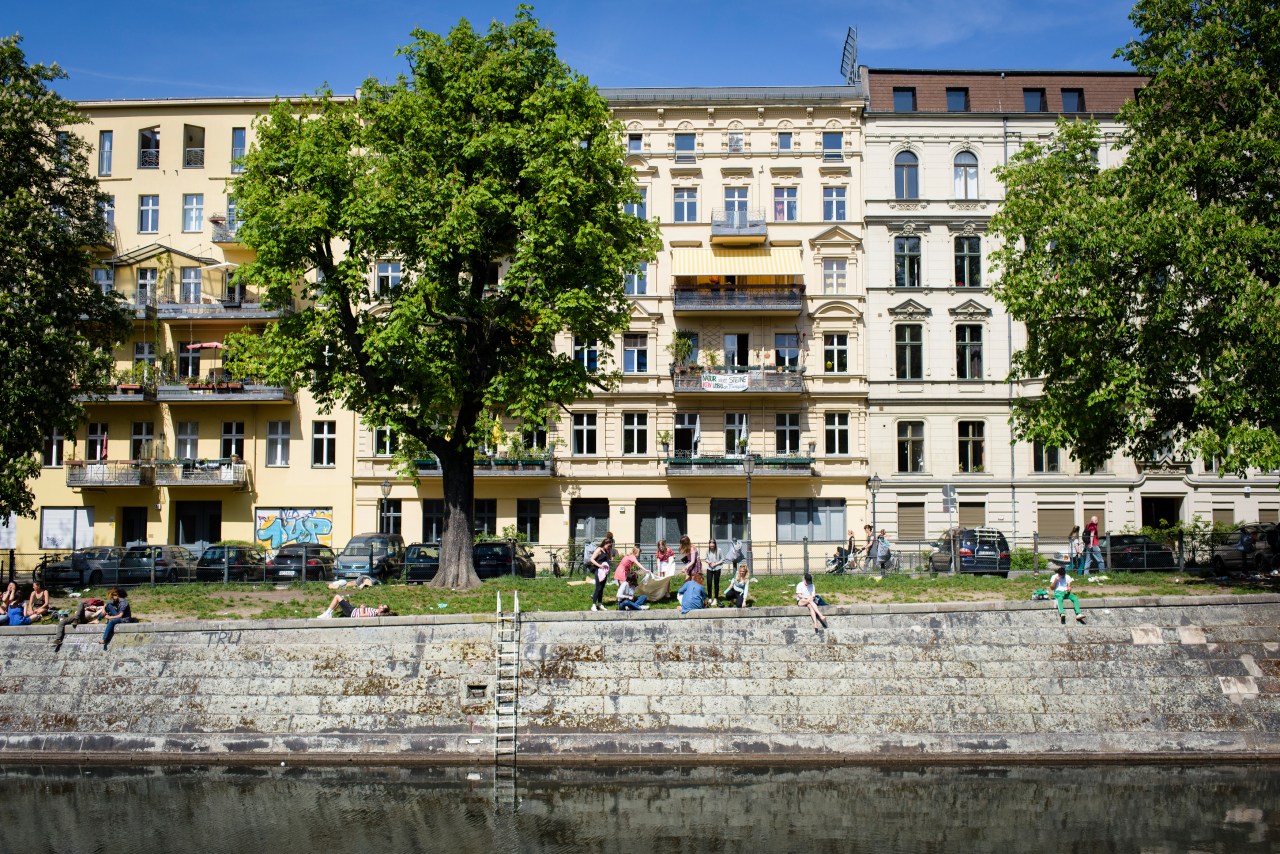 With more than 3 million residents, there's something for everyone. Friedrichshain and Kreuzberg are renowned for their trendy cafes and trendier nightclubs, while Neukölln has a high concentration of aromatic Turkish hookah bars and delis. Mitte is a commercial hub, also known for its assortment of kid-friendly museums and historic churches. But if the weather allows, get to the sprawling greens of Tempelhof Field, Mauerpark, or Treptower Park to enjoy makeshift barbecues and cheap beer from the corner store.
If you don't have to go to work and you're out of bed before 9:30 a.m., you're doing Berlin wrong. Most cafes outside of Mitte don't open their doors until 10 a.m., and even then servers are only too happy to make you wait. That said, Distrikt Coffee is a restaurant that consistently performs in both quality and customer service. Long bereft of any brunch culture, Berlin still has far too many cafes that serve the usual assortment of stale pastries and questionable meats. But Distrikt plays refuge to coffee aficionados and foodies alike, serving Western favorites like soft-boiled eggs, avocado on toast, and fluffy pancakes with fresh fruit.
Berlin is world-famous for its political and emotionally provocative street art and graffiti, and there's no better example than East Side Gallery. After the Berlin Wall came down in 1989, this notorious demarcation point between East and West was transformed into a poetic testimonial of artistic expression. The gallery consists of more than 100 paintings by artists from around the world, including the legendary Dmitri Vrubel painting that depicts a passionate embrace between former Soviet leader Leonid Brezhnev and East German president Erich Honecker.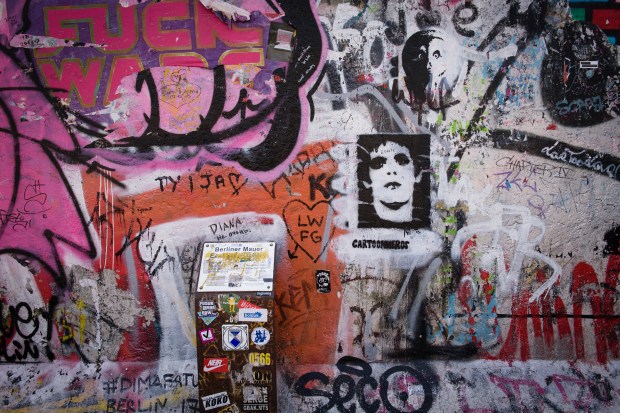 Berlin is less a German city and more an international one, and in few places is that more apparent than at the market hall. A Kreuzberg cornerstone, Markthalle Neun makes a point of showcasing local culinary talent—whether it's Sironi's exquisite Roman-style pizza, Heidenpeters' robust beers, the Jewish Breakfast Market's deli foods—and the mood is always warm, friendly, and jovial. If you don't have time for lunch, stop by for Street Food Thursdays, an evening that attracts every cuisine under the sun, including Nigerian fufu, Brazilian tapioca, Hungarian goulash, and juicy portions of German blood sausage.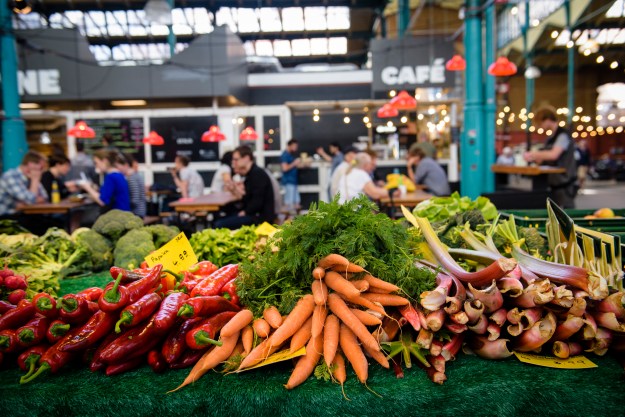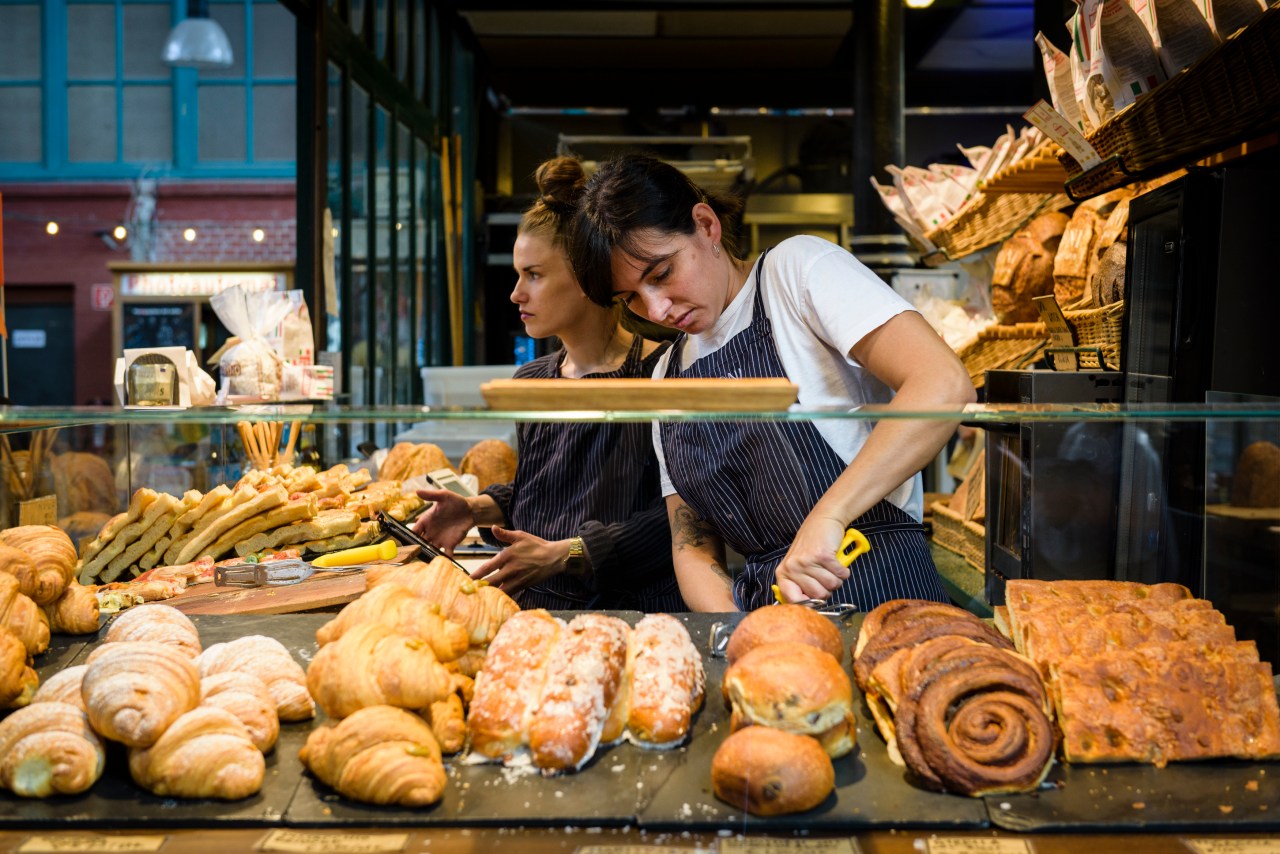 It's a site that never ceases to take my breath away. The 18th-century monument was built during the reign of Prussian king Friedrich Wilhelm II and acts as an interesting visual juxtaposition to an otherwise modern plaza in the heart of Berlin. Having survived significant gunfire during World War II, it's now a popular site for public celebrations, like the Festival of Lights, and political demonstrations. It's an excellent gateway to the more historic leg of our day.
There are many notable memorials to the victims of the atrocities Germany committed during WWII. All are worthy of a visit and provide historical context for the anti-authoritarian attitude you'll witness in the city today. A five-minute walk from Brandenburg Gate is the Memorial to the Murdered Jews of Europe. The result of several design competitions and numerous changes over the course of more than a decade, the final structure opened to the public in May 2005. More than 2,000 coffin-like concrete statues are aligned with jarring precision. Please refrain from taking selfies, doing yoga poses, or making out with your Tinder date. Otherwise, you might end up being (rightfully) shamed on Yolocaust.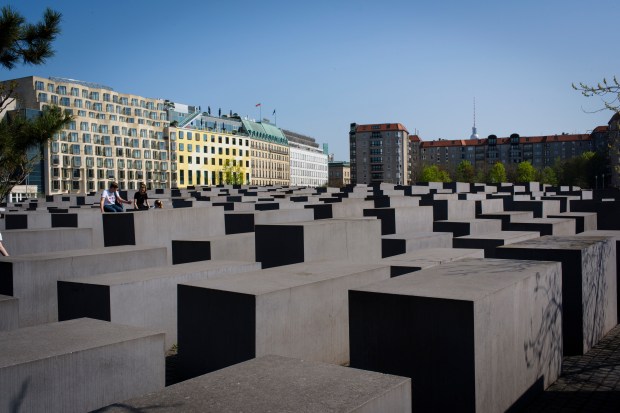 The view from Siegessäule (the Victory Column) in Tiergarten (Berlin's answer to Central Park) is unbeatable. Climb atop the 220-foot monument to the Prussian victory in the Danish-Prussian War for 360-degree views of the city. If the place looks familiar, it might be because it served as the backdrop for the famous 2008 speech Barack Obama gave before he was elected president of the U.S. Arrive by bicycle if possible to take in the lush, picturesque greenery of surrounding Tiergarten.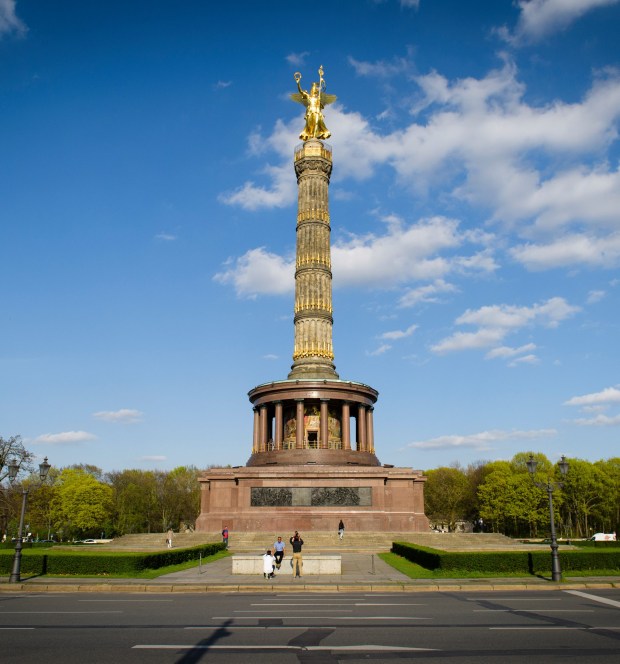 On your way there, check out the Reichstag, home of the German parliament. Enjoy an eis (ice cream) from one of the snack vendors often parked nearby. Or stop at the Soviet War Memorial, the Memorial to Homosexuals Persecuted Under Nazism, and the Memorial to the Sinti and Roma Victims of National Socialism, all within short walking distance of one another. Allow two to three hours to make the most of your visit.
It's time to sit back, relax, and do what Germans do best—drink beer. Not to be outshined by her Bavarian neighbor Munich, Berlin has been stepping up her game in the craft-beer department in a big way. Hop in a taxi from the nearby Bellevue S-Bahn stop and head over to one of Berlin's most popular breweries, Eschenbräu. The staff are friendly, the atmosphere is warm, the beers are seasonal, the pretzels are salty, and the Flammkuchen (German-style savory tart) is tasty. Whether it's a light, refreshing golden ale you crave or a thick, dark stout with coffee and chocolate undertones, you'll find an appealing brew on tap.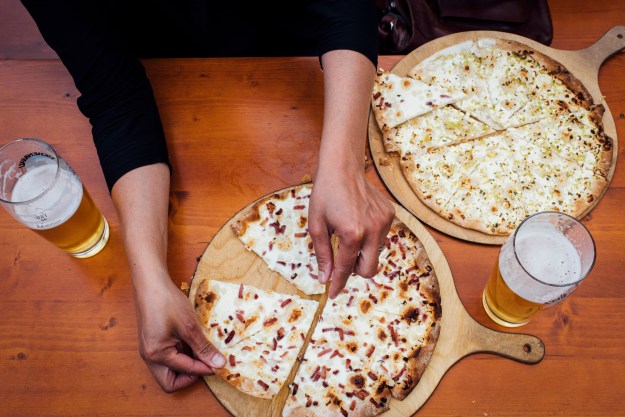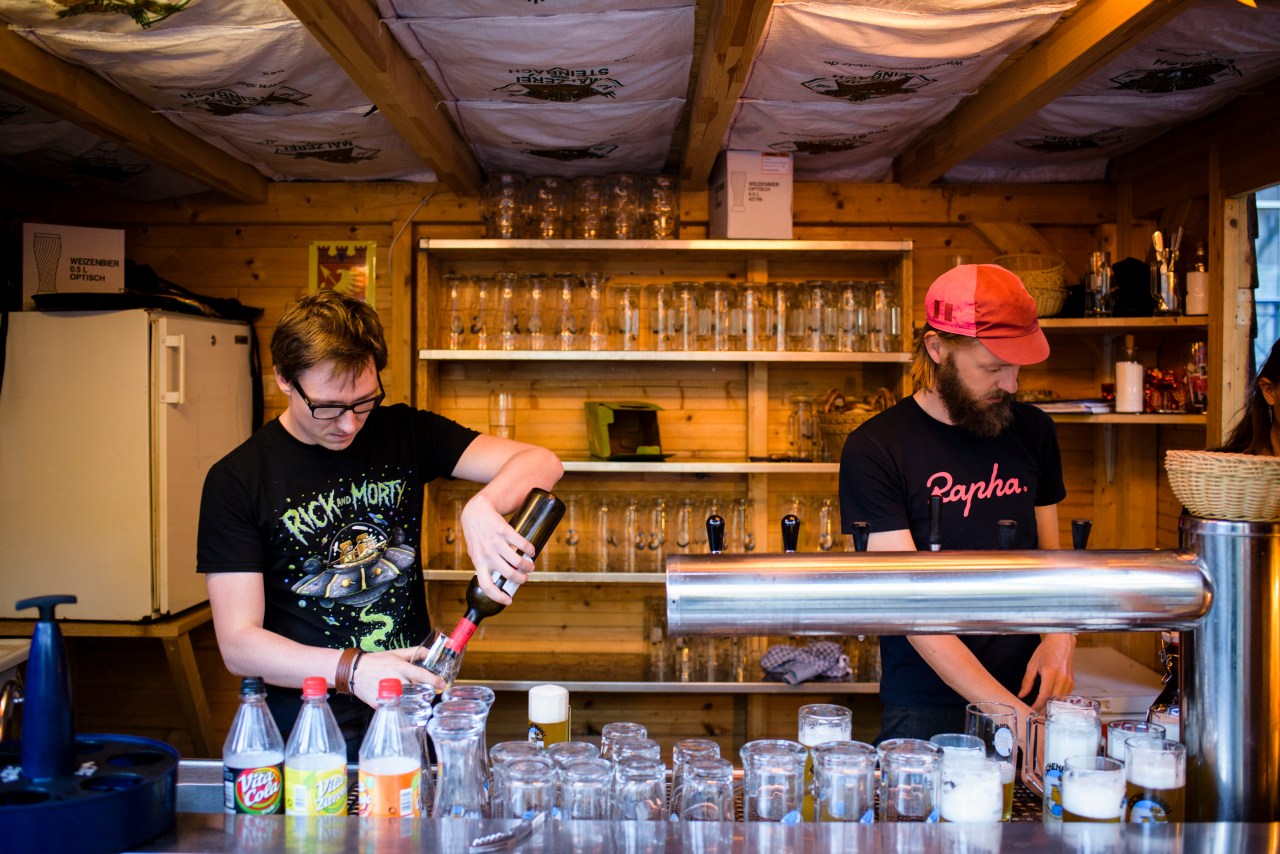 8:00
pm
Cosmic Comedy Club
Belushi's, Rosa-Luxemburg-Strasse 41
Get Directions
Stand-up comedy is having a moment in Berlin, and English-speaking comedy clubs are popping up everywhere. Whether it's the queer and person-of-color-friendly monthly Issa Comedy Show or Adorable Creatures, a local favorite at Bar in a Jar in Kreuzkölln, the laughs are guaranteed to debunk the most stubborn myths about German humor. Dharmander Singh and Neil Numb have cultivated this scene for more than a decade and run comedy out of different venues around the city several nights every week, so they know how to make guests feel welcome. Their best-known venture is Cosmic Comedy, which is run out of Belushi's near the Rosa-Luxemburg-Platz U-Bahn stop. Price of admission is 8 euros and includes pizza and shots.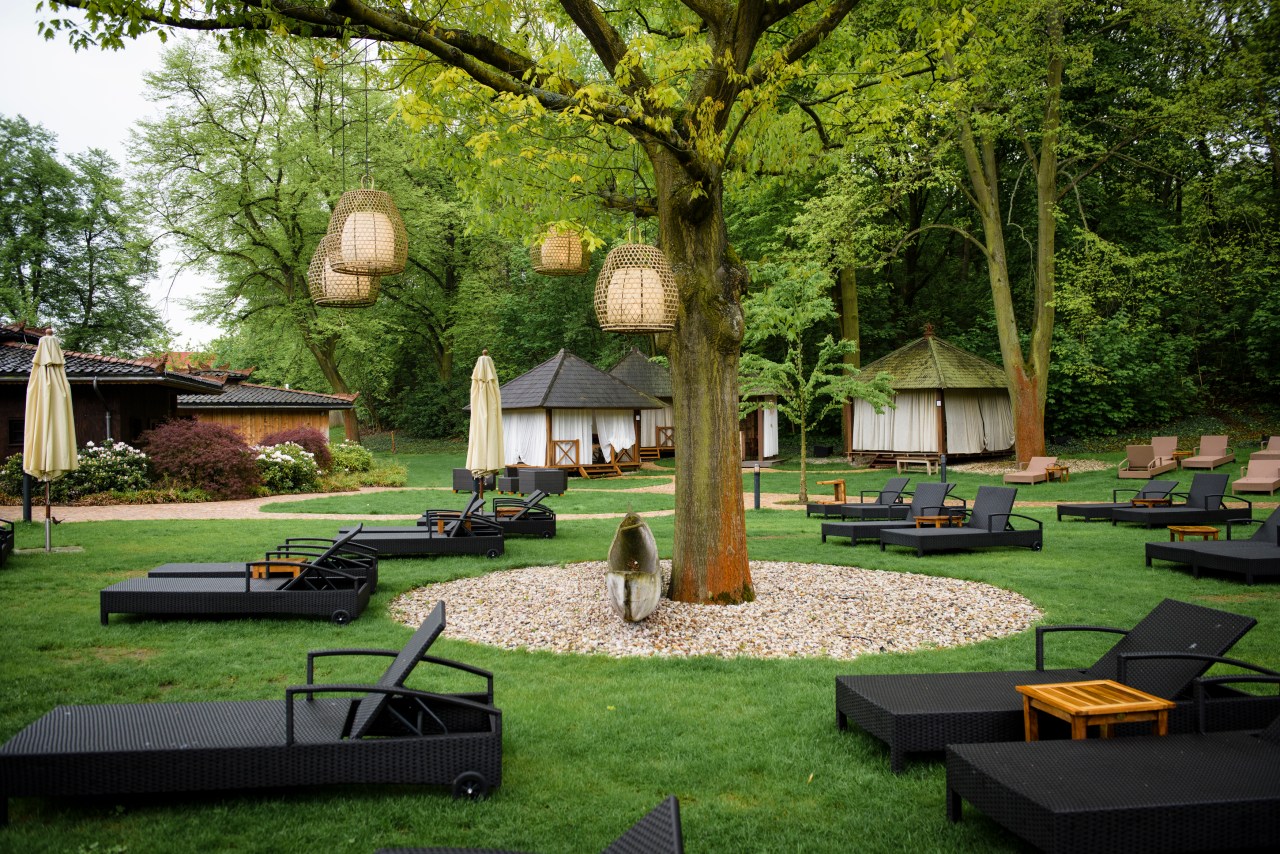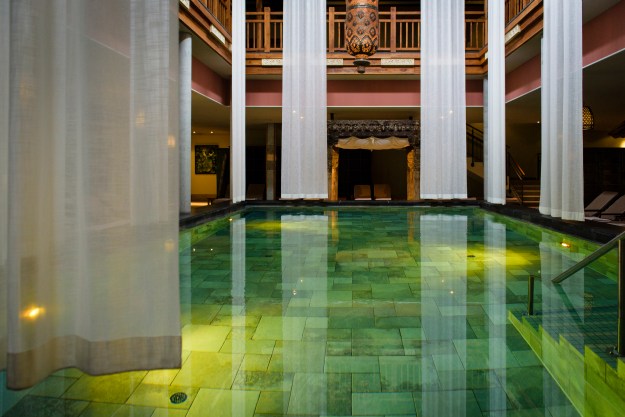 Nothing is more Berlin than being completely comfortable while nude among strangers. A 15-minute walk from Hauptbahnhof in Mitte, Vabali is a local sanctuary of indulgence. A two-hour pass buys you access to coconut scrubs, leisurely pool lounging, steam rooms, outdoor baths, and a low-lit room lined with water beds and velvet blankets to relax between sessions. Make friends (or don't) while enjoying the body-positive environment for which Berlin is famous. Patrons are highly discouraged from getting frisky, which—if you're caught—results in a permanent ban from the facility. Not like I would know or anything.
Flaunt your newfound nude self-confidence at one of the city's most notorious fetish clubs. Berghain might have the reputation as the most hedonistic sex club in the world, but it also has the longest line and pickiest bouncers. I've never tried to get in. Weekends at KitKatClub are fetish events, so be sure to dress the part. If you find skin-tight latex too restrictive, you can always strip bare before jumping into the indoor swimming pool or taking on one of the five dance floors. If you're lucky enough to be in Berlin on the night of Gegen, the legendary queer fetish party, line up before midnight to avoid the wait.