On a recent weeknight in Berlin's Prenzlauer Berg, the local joint was rocking an unabashedly unhip playlist: Abba, Queen, and Rod Stewart. The wood-paneled walls were unevenly covered with sports memorabilia, old enamel beer signs, and vintage taps. The six seats at the bar were all claimed by regulars; a seventh customer came in with a tiara and a bag full of balloons and streamers  for herself.
Nightlife in Germany's capital city is the stuff of legend: anything-goes hedonistic parties, 72-hour techno clubs, underground pingpong bars.
But if you need to slow your roll, visit one of Berlin's Eckkneipen, or corner bars. Eckkneipen are aggressively unpretentious and actively analog. (When a customer at the Prenzlauer Berg bar asked for a Wi-Fi code, the bartender answered, "We don't have internet access—we're in the Stone Age.") They're neighborhood nerve centers, opening early and closing late. The clientele are largely working-class longtime residents: Most live within stumbling distance of the door, have first dibs on their favorite seats, and won't hesitate to claim them.
The food's usually nothing to write home about. Offerings tend to range from single-serving bags of chips to vending-machine nuts. And since most small bars that don't serve food are exempt from the city's indoor-smoking ban, you may leave smelling like an ashtray.
But if you're looking for a sense of history—or continuity—in this ever-changing city, the Eckkneipe is your high-proof time capsule. The decor—wood paneling, bright lights, and blaring TVs—evokes a time before the fall of the Wall, with prices to match. The pubs in the former East still have some Soviet flair; the ones in the West tend to be tonier. A glass of beer or shot of Korn (a pure grain spirit) go for about a dollar; a glass of wine goes for two.
This is the original Cheers, where everyone knows everyone's name. If you're a first-timer, regulars might eye you with suspicion. But you're just as likely to leave with a handful of new friends at the end of the night.
Eckkneipen cropped up in Berlin and in western Germany's Ruhr area in the late 1800s. Having moved to industrial areas for work, laborers lived in cramped tenement buildings, and the Eckkneipe served as a kind of makeshift shared living room.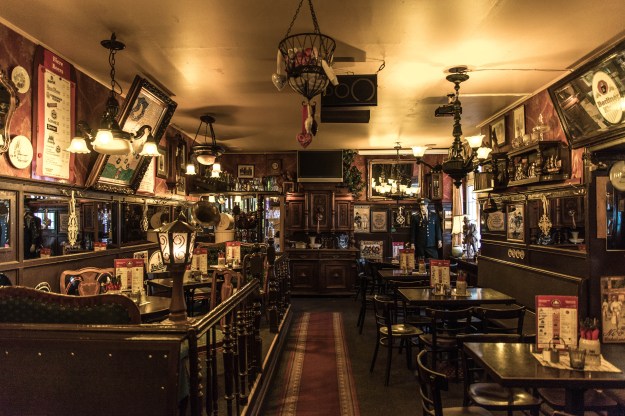 In 1930 Berlin was home to around 30,000 Eckkneipen, according to Clemens Füsers, the author of three books documenting the pubs of Berlin. That figure fell to 15,000 by 2002, and Füsers says there are now fewer than 2,500 in the city.
Füsers points to a runaway real-estate market and changing tastes to explain the Eckkneipen's decline. Berlin rents have risen roughly 75 percent in the past decade; they rose more than 20 percent in 2017. Berlin's young bourgeoisie are more likely to opt for smoothies and expensive craft cocktails than Schultheiss or schnapps.
Präpel-Eck, a pub in the city's northern Wedding district, shut its doors after 102 years when its rent nearly doubled in 2015, according to local news reports. Its replacement, Prinzinger, was a hipster interpretation of an Eckkneipe, with naked Edison bulbs hanging above the bar. It closed its doors this spring.
So go to an Eckkneipe while they're still around. Take your cigarettes—no one is judging you—but not your laptop. Read a newspaper or a book, or watch whatever soccer game is on TV. Be patient. There's likely just one person behind the bar. She'll get to you eventually. Chat with your neighbors and, for bonus points, try ordering in German. And take cash—Eckkneipen do not accept credit cards.