When American comedian Dave Chappelle played a show in Berlin in January, he spotted Oliver Polak in the front row and asked where he was from. Polak, who was born in Germany, divulged his Jewish and Russian roots.
"[Chappelle] said, 'German, Jewish, and Russian. Man … you must have a lot of anger in yourself. I'll buy this man a beer. No, get this man some heroin!'" Polak recalls.
"I felt like Dave Chappelle understood who I am in about 45 seconds, [whereas] in Germany, people don't know anything about me after 41 years," Polak says. "That just shows how deep stand-up can be."
Polak is also a stand-up comedian. In 2010 he made headlines when he posed as a swastika in front of a red and white flag for his critically acclaimed stand-up special Jud Süss Sauer (Sweet, Angry Jew). The title refers to a 1940 anti-Semitic Nazi propaganda film, Jud Süss. It was a bold choice, considering it lampoons Germany's greatest shame.
Germany has seen a rise in anti-Semitic attacks in recent years, nearly doubling in the last five years. German officials have responded by appointing a special commissioner to combat anti-Semitism, and Jewish leaders have issued warnings against wearing religious dress in certain Berlin neighborhoods. Meanwhile, the populist Alternative for Germany party, known for its anti-refugee rhetoric and links to Holocaust deniers, won 12.6 percent of the vote in national elections last year.
So it would seem an especially precarious time to joke about anti-Semitism before a German audience. But that's exactly what Polak and other Jewish comedians are doing.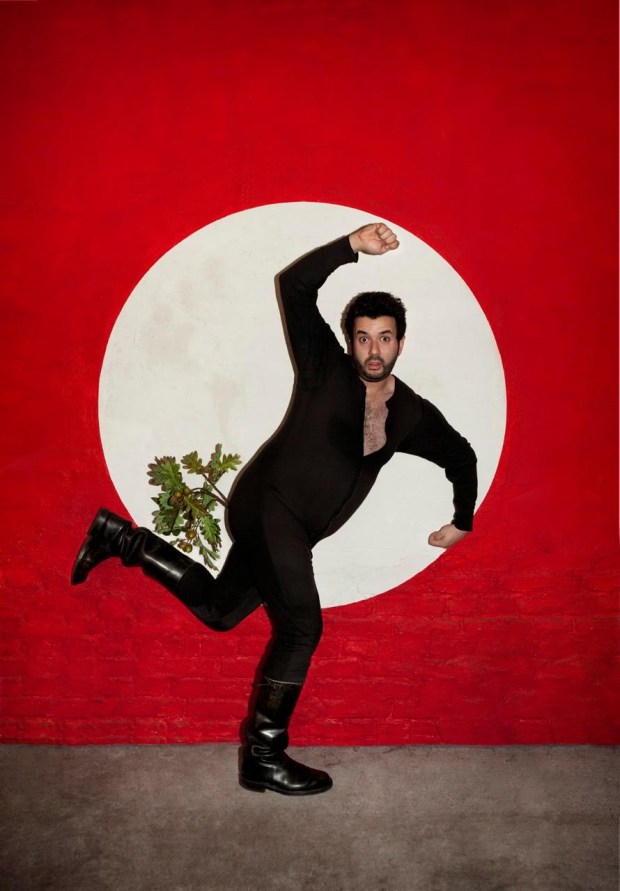 Polak's relationship with Germany is complicated. His father, who died in 2015, was a Holocaust survivor; his mother is from St. Petersburg, Russia. He's one of a few Jewish comedians on the Berlin stand-up circuit, and his act is noticeably darker than many of his contemporaries'.
"When I first started doing stand-up comedy, people were really confused because there had not been a Jewish comedian in Germany since World War II," he says.
From Charlie Chaplin's 1940 film The Great Dictator, a lacerating piece of satire that targets Nazi Germany and Adolf Hitler, to the South Park episode "The Passion of the Jew," a lot of people make Nazi jokes and references at Germany's expense, and many Germans don't like it. It's one of the reasons the musical version of Mel Brooks' 1967 film The Producers—which includes the satirical number "Springtime for Hitler," with goose-stepping dancers in Gestapo dress forming a twirling swastika—was met apprehension when it arrived in Germany in 2009.
"After the Second World War, people didn't talk [about the Holocaust or Nazism]. People here have a very weird relationship to their own identity, to their own parents," Polak says.
He describes mainstream German comedy as belanglos—inconsequential, safe, and boring—and it's not hard to see why. Largely relegated to the confines of cabaret-style performances, German comedy often includes juggling, music, and physical gags.
"My humor is very hard, very extreme," he says. "My comedy makes many people feel uncomfortable."
Earlier this year, German hip-hop act Farid Bang and Kollegah released a song in which they brag about having bodies more "defined than Auschwitz prisoners" and vow to "make another Holocaust." The blowback was swift, and Kollegah responded by inviting Jewish people to attend the duo's concerts free of charge. Polak's response? He released a scathing video asking Kollegah how he would identify Jews in attendance, then slapped a yellow Star of David on his chest.
Provocative, self-deprecating social commentary is at the core of Polak's brand. Also a TV presenter and the author of several critically acclaimed books, he pulls no punches about confronting the demons of Germany's past—because they've shaped his life.
"As a comedian, you take comedy from your own experiences, of course," he says. "The purpose of my stand-up is to make people laugh and to be interesting."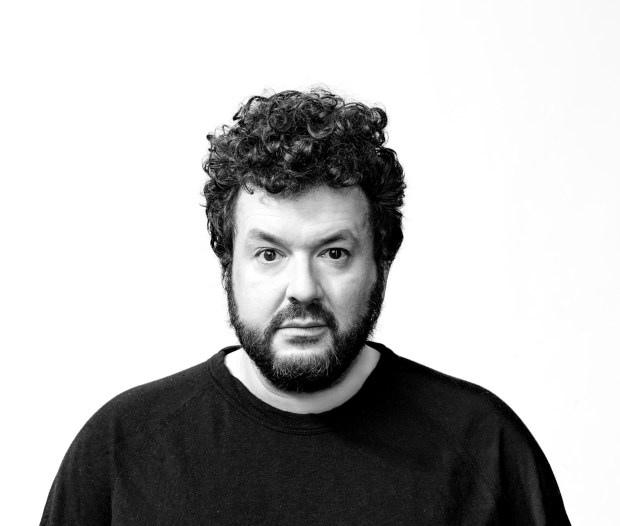 It's an approach shared by Marne Litfin, a native of Long Island in New York and a longtime Berlin resident. She says being a gay, foreign, Jewish woman informs much of her comedy.
"The theme of the comedy is my life, and that can be inherently political because I get onstage with the confidence that I deserve to exist, and that upsets people," she says from her apartment in Berlin's Neukölln neighborhood. She hosts a monthly comedy night in the city called Witch Hunt: Dangerous Comedy, in which she highlights female comedians.
Though she says she presents as a "butch" woman, it wasn't her sexual identity that gave her cause for concern when she moved to Berlin.
"I was worried about being Jewish more than anything else," she says.  
Liftin says she veers away from discussing her Jewish roots onstage. "I have a couple Jewish jokes that I don't do anymore because I didn't like the laughs I was getting from the audience," she says. "They didn't feel good. We were not laughing at the same thing."
Her humor revolves more around being a lesbian and the misadventures that entails. She says most of her acquaintances in Berlin don't know she's Jewish, and this makes her privy to underlying prejudices.
"If people don't know you're Jewish, then sometimes you hear things that aren't meant for your ears," she says.
I was worried about being Jewish more than anything else.
"If there's a penny on the ground, then someone will say something," she says. And I'm like, 'You're still making those jokes?' I make much better Jew jokes."
Liftin describes her stage presence as combative. She gets up close and interacts with her audience. "If I'm being made fun of because of homophobia and sexism, I can poke fun at that. And that's the butt of the joke, not me," she says.
Despite her razor-sharp wit, she turns melancholy when she talks about the dearth of Jewish voices in Germany's comedy scene. "There are public spaces that have been completely shaped by the lives of Jews, who are now gone," she says. "Everywhere you look, you see places where Jews should be. And they're not. They've been erased."
Being a Jew in Berlin is a complicated experience but can be a source of inspiration. Ori Halevy, an Israeli stand-up comedian, writer, and filmmaker, takes the latter approach.
"Thirteen percent of Germans are against minorities," he says, referring to the percentage of Germans who voted for the AfD. "But they are [only] 13 percent. They are the minority," he jokes. "They should just deport themselves and get it over with."
A high-energy entertainer, he has made a name for himself in Berlin with shows like The 4 Jews – Give Us Our Money Back and Overthinking It, with German-Italian comedian Francesco Kirchoff.
Halevy seems at ease in the smoky, packed bars of Kreuzberg, leaning up against a microphone stand or hopping around wildly onstage to techno music.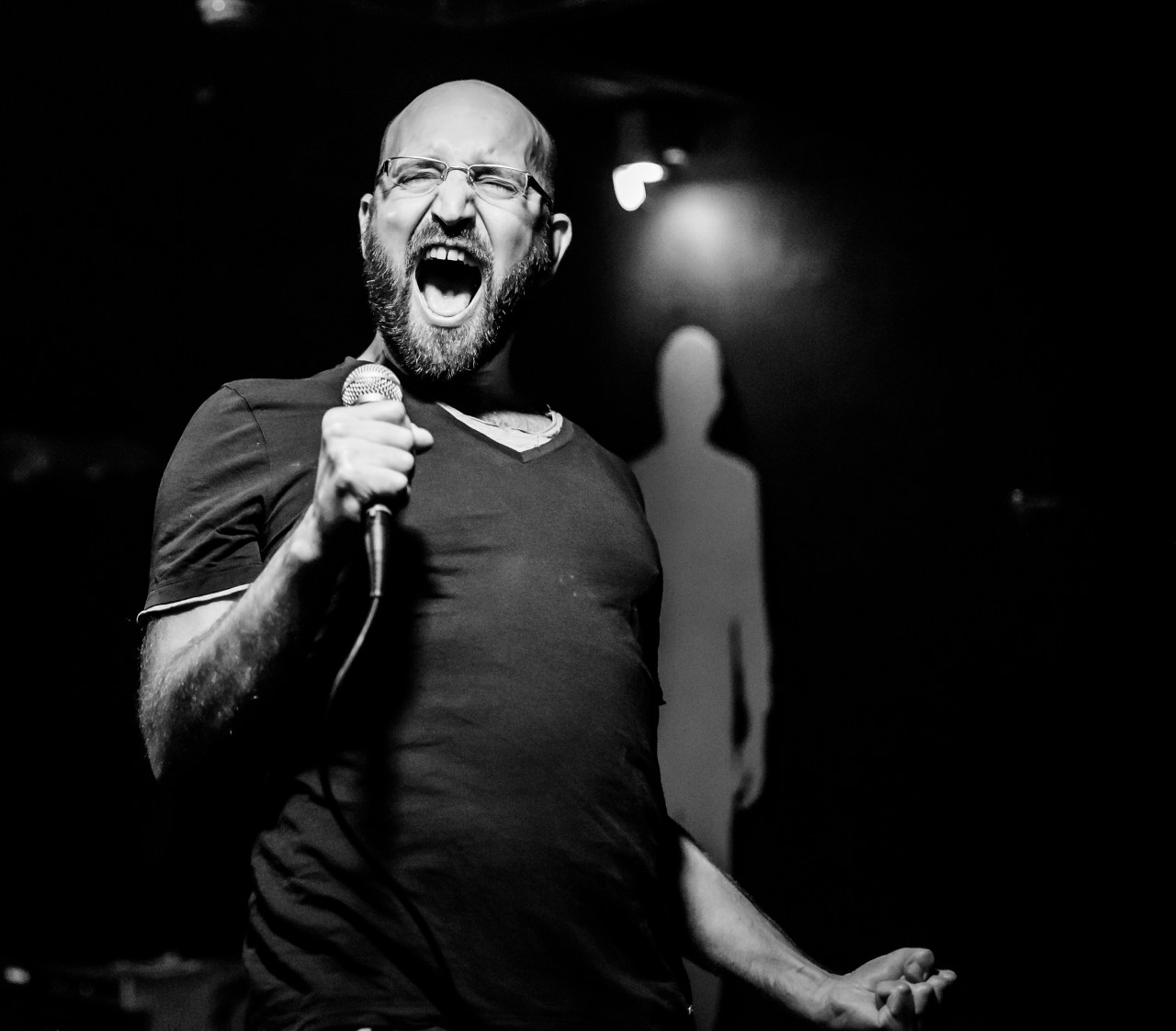 "I moved to Berlin recently from Israel," he sometimes opens with onstage, "which really shows you how fucked up things are in Israel. I moved to Germany thinking, 'Oh, this will be safer.'"
Offstage, he's low key and philosophical. It's a common contrast among stand-up comedians—deftly walking the tightrope between razor-sharp observations and loud (sometimes abrasive) humor but reflective of the audience's reaction afterward.  
"I'll talk to an audience that's reserved. I just look at who's in front of me and try to find a way to talk to open them up," he says.
The son of a Holocaust survivor, Halevy says part of the reason he moved to Berlin (where he lived briefly as a young child) was to confront the trauma that his mother—and 6 million other people who didn't survive—experienced.  
He says he was at first surprised by how warmly Berliners received him. He describes encounters with Germans expressing their love for Israel and Judaism at length—which, while well-meaning, makes him uncomfortable.
"It's just a topic of conversation that is way more interesting to them than it is to me, and when it's excessive, I can feel the guilt behind what they say," he says. "I understand their need to talk about this thing, but I'm not their therapist."
Halevy says he feels a different kind of anti-Semitism when people he meets in Berlin place the weight of Israel's policy decisions on his shoulders.
"You want me to change my government's mind?" he says. "I can barely get 30 people in a basement to laugh."