Yalorixá Mãe Marta de Oyá spends much of her time split between satisfying the demands of restless spirits and troubled souls.
As head priestess of the only Candomblé temple in Santo Antônio do Carmo, the historic center of Salvador da Bahia in northeast Brazil, the 45-year-old has her work cut out for her.
When not preparing feasts and festivals in the Candomblé tradition, she is catering to the needs of adherents to the faith who need a little guidance. She also conducts cleansings for those who believe their home could benefit from a better spiritual balance.
It isn't necessarily a role that Mãe Marta was born into. Her spiritual journey began at the age of 10, when, she says, she was cured of a life-threatening condition by a priestess who claimed to have exorcised the illness from the child.
Mãe Marta reveals few details about the childhood condition but believes that the sickness developed because she had hitherto been unwilling to accept her true spiritual destiny. Ever since the recovery, Mãe Marta has dedicated her time to honoring the spirits of her religion.
Candomblé is a syncretic religion that blends Catholicism with practices that arrived in Brazil with enslaved Africans. They disguised their traditional rituals in the cloak of local customs, so they could worship their gods, the orixás, without interference from their Portuguese colonial masters.
Although its followers have practiced more openly since the 1985 fall of Brazil's military dictatorship—which curbed the freedom of assembly of alternative religious groups—practitioners are still eyed with suspicion, especially by Brazil's dominant Catholic population.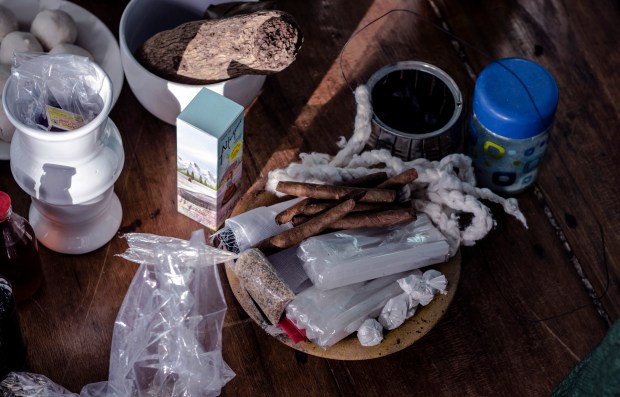 "I've received a lot of threats—many things which I don't even want to talk about," says Mãe Marta. She is now on good terms with Catholic leaders in Salvador, but gaining their confidence took a long time: "It was very difficult to win the Church over, and there are still many people who don't accept me. They just put up with it."
"But I respect the others, so they should treat me the same way," she continues. "We are human beings, like everyone else, and I receive anyone in my terreiro [temple]."
Mãe Marta holds regular rituals at the temple, where she lives with her partner and children. Friends and congregants often call on her with special requests, such as divining messages from the spirit world via a reading of scattered cowrie shells.
And then there are specific ceremonies, such as the spiritual cleansings to improve the energy of a particular place.
Eric Gouguenheim is in need of such a service. As the result of a messy divorce, the 58-year-old French expat had to hand over the keys to a successful bed-and-breakfast he shared with his now ex-wife and sell the family home.
Now in a new home, a colonial-era mansion on the coast, Eric is hoping that cleansing the space by honoring Candomblé spirits will bring him better fortune.
In preparation, Mãe Marta takes Gouguenheim to an enormous open-air market to buy supplies for performing the ritual.
These include black-eyed-pea paste, candles, ceramic bowls, cigars, living and dried plants and herbs, and sugarcane liquor.
"The intricacies of the ceremony are too complex to explain," Mãe Marta says.
Prior to the cleansing, the priestess, dressed in a simple, traditional, starched white dress and head wrap, carefully prepares the pemba (a white powder), material offerings, and incense. "These processes clear the pathway for the house and those who live there, assuring that all of the negative spirits give way to positive spirits," she says.
"There is no Candomblé without the plants," Mãe Marta continues. The plants used have colloquial names, such as "path opener," "battle winner" and "knock it all down." They represent episodes of ancestral lore in the Candomblé religion, which often find a universal resonance.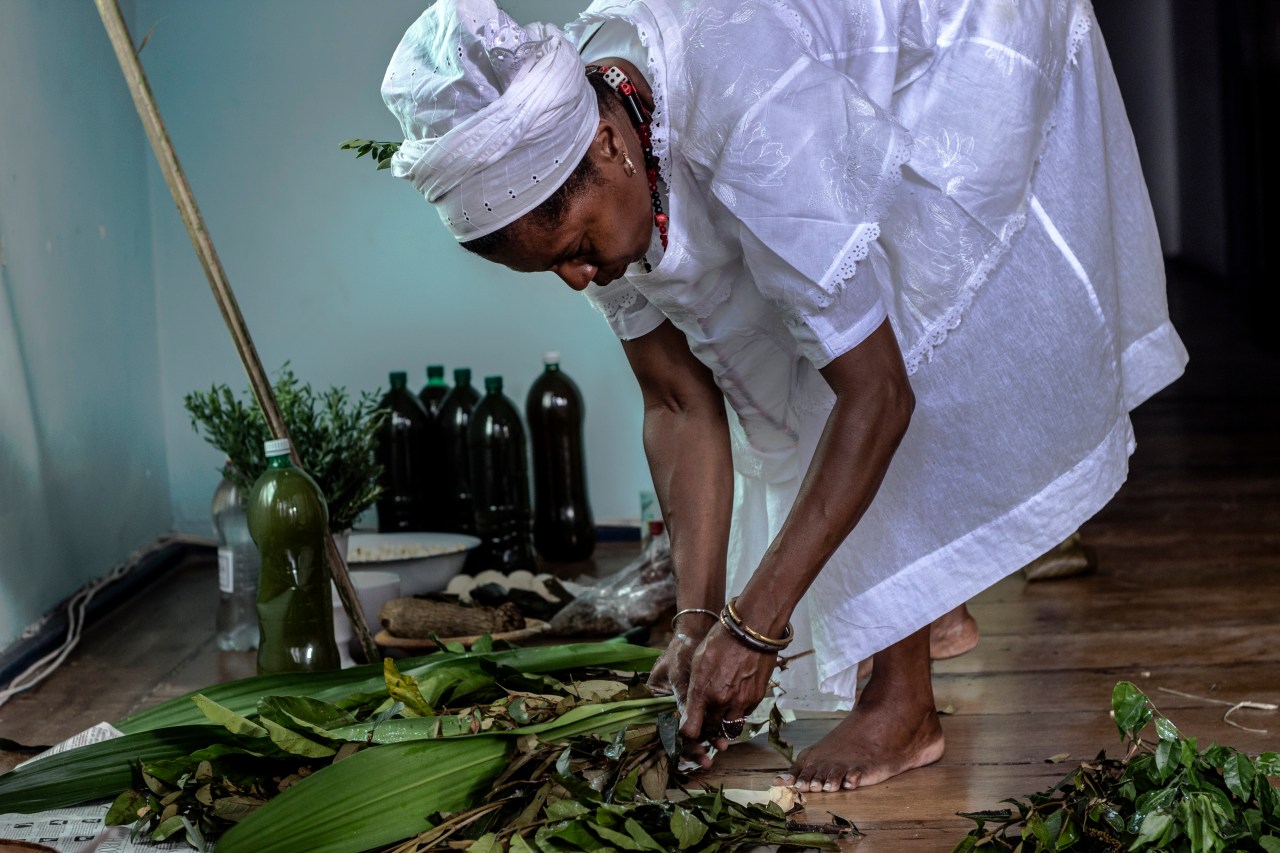 The flora is brewed in baths for each resident of the household; the process is intended to cleanse the physical, mental, and spiritual body.
Over his many years living in Bahia, Gouguenheim has become a loyal practitioner of Candomblé. His home lies right in front Mãe Marta's bright-pink terreiro, and he regularly consults the priestess for advice.
On his first visit to the terreiro, she divined that Gouguenheim's guiding orixá was Oxalá, the deity of peace and patience.
One of Mãe Marta's other responsibilities in the community is to organize monthly festas (parties) for particular spirits and orixás. "We give thanks to the orixás and compensate them for the abundance and goodwill they have brought," she explains.
The deities are not easy to please. Each event involves a lengthy preparation of food and other offerings. It's a full-time job for Mãe Marta, who is assisted by her 70-year-old mother, Erotílde Santos de Assis.
These celebrations are boisterous affairs with drumming and song spilling out from the tiny terreiro and echoing around the neighborhood into the early morning. But not everyone shares the joviality.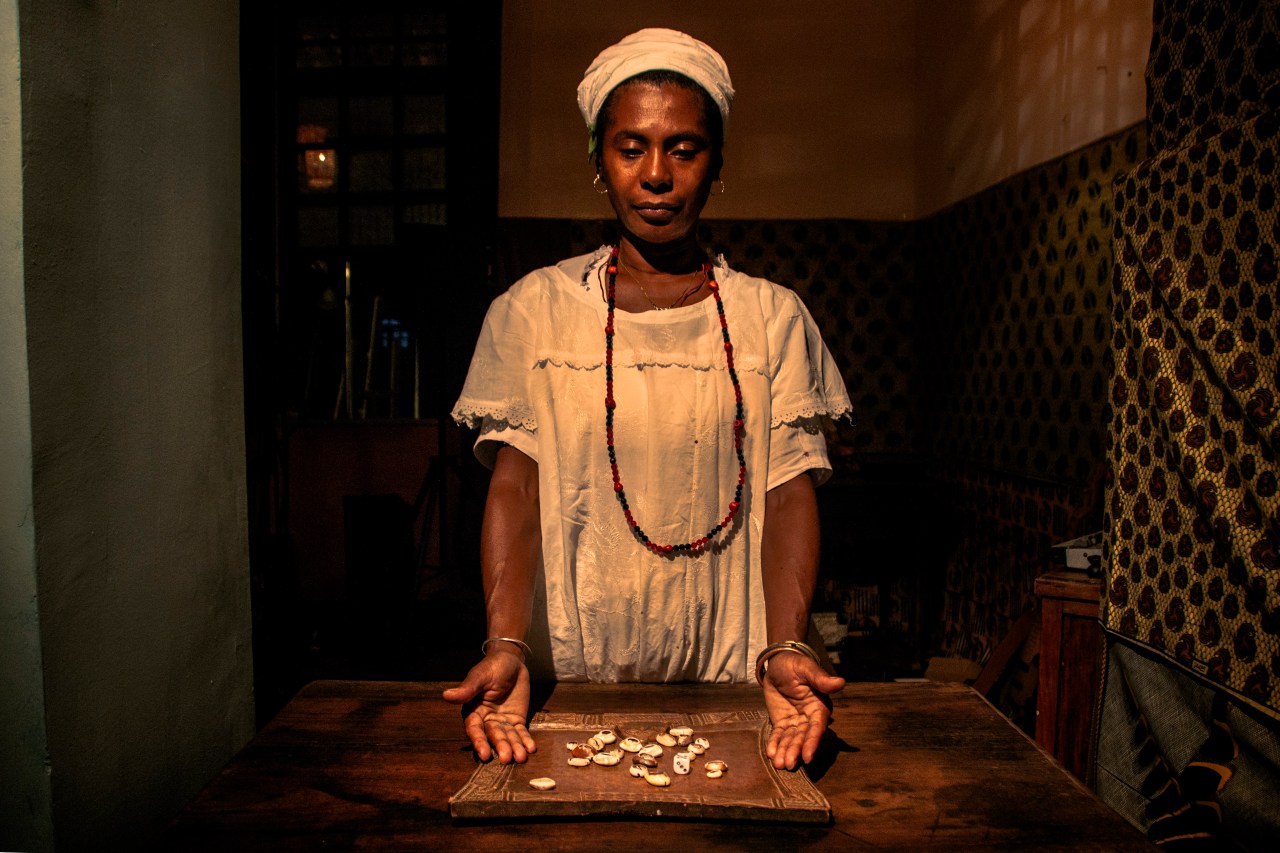 "The neighborhood is inherently Catholic and conservative, so they think I have invaded their space," Mãe Marta observes. "They don't understand that the orixás have no conception of who 'owns' the space. An orixá roots itself exactly where it feels it needs to be. The spirits told me to develop my temple here, and that is what I fight to preserve."
Sometimes resentment and suspicion give way to more tangible forms of discrimination. Mãe Marta says that authorities have denied permits for her events or ignored her official requests for as long as possible. Elsewhere in Brazil, Candomblé meeting places have been attacked; conservative voices in the growing evangelical movement have derided the religion as "Satanic."
Nonetheless, Mãe Marta remains resolute. "This is a struggle against racism and the imposition of a dictatorship that has never accepted our religion, our ancestry, and the beautiful culture that comes from the slaves," she says. "But I consider myself victorious, because I refuse to bow my head."