After a week or two here, even confirmed carnivores like myself will fall to their knees, praying for a vegetable.
Eats
Av Brasil 401, C1154AAE CABA
+54-11-4300-8450
What Bourdain ate: Argentinian picada (nibbles)  
The delicious, delicious choripan is an iconic street food around here for reasons that are immediately obvious once you bite into one.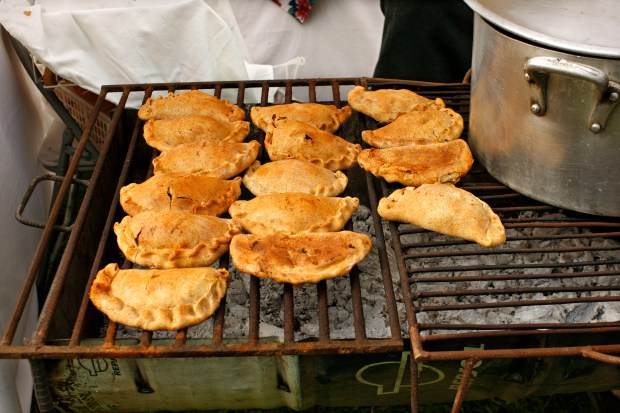 Suárez 699, La Boca
+54-11-4302-2443
What Bourdain ate: Pizza and beer
Brandsen 699 – La Boca, Buenos Aires C1161AAM
+54-11-4362-2433
What Bourdain ate: An empanada, beef, blood sausage
Av. Brigadier Juan Manuel de Rosas 1391, Jose Leon Suarez
+54-11-4729-8527
What Bourdain ate: Parrilla, a traditional Argentine grilled meat extravaganza
Ate a lot of meat. Do you have any vegetables in this country at all?
Sidekicks
Francis Mallmann: World-renowned fire master, whose aggressive brand of open-flame cooking has helped expand the definition of grilling. Argentina's most famous chef.
Soledad Nardelli: Executive chef of Chila, one of Buenos Aires' most ambitious restaurants. Named "Chef of the Future" by the International Academy of Gastronomy.
One of the stereotypes is that Argentinians are too proud. That they are full of themselves, vain, proud. If this is so, why is psychotherapy so huge in this country?