The catch-all Kölsch refers collectively to Cologne's residents, the somewhat-Dutchy dialect heard mainly in the city's periphery, and, most commonly, the slightly acidic top-fermented beer beloved by locals and quickly gaining fans abroad. Between 8 a.m. and midnight in Germany's smallest big city, the nearest active Kölsch tap is rarely more than a few blocks away; earlier or later, you might have to walk a few more blocks or settle for a bottle from one of the city's many kiosks. The major brands—Reissdorf, Gaffel, and Früh, which share 60 percent of the market—are stocked at all the supermarkets and dominate the taps at kölschkneipen (small corner cafes) and restaurants citywide.
Many visitors spend their weekend in Cologne (or hours off from conventions) contentedly shuffling from river-view café to river-view restaurant to river-view bar; others find spots that do triple-duty and never leave them. Having tried the three majors, visitors might leave town with a preferred brand of Kölsch. But if they stay within the area where most tourists amble (bounded by the Rhine River on the east, the ring road on the west, the Cathedral on the north and the Schildergasse shopping street on south), they'll miss so much of Cologne—and therefore plenty of Kölsch.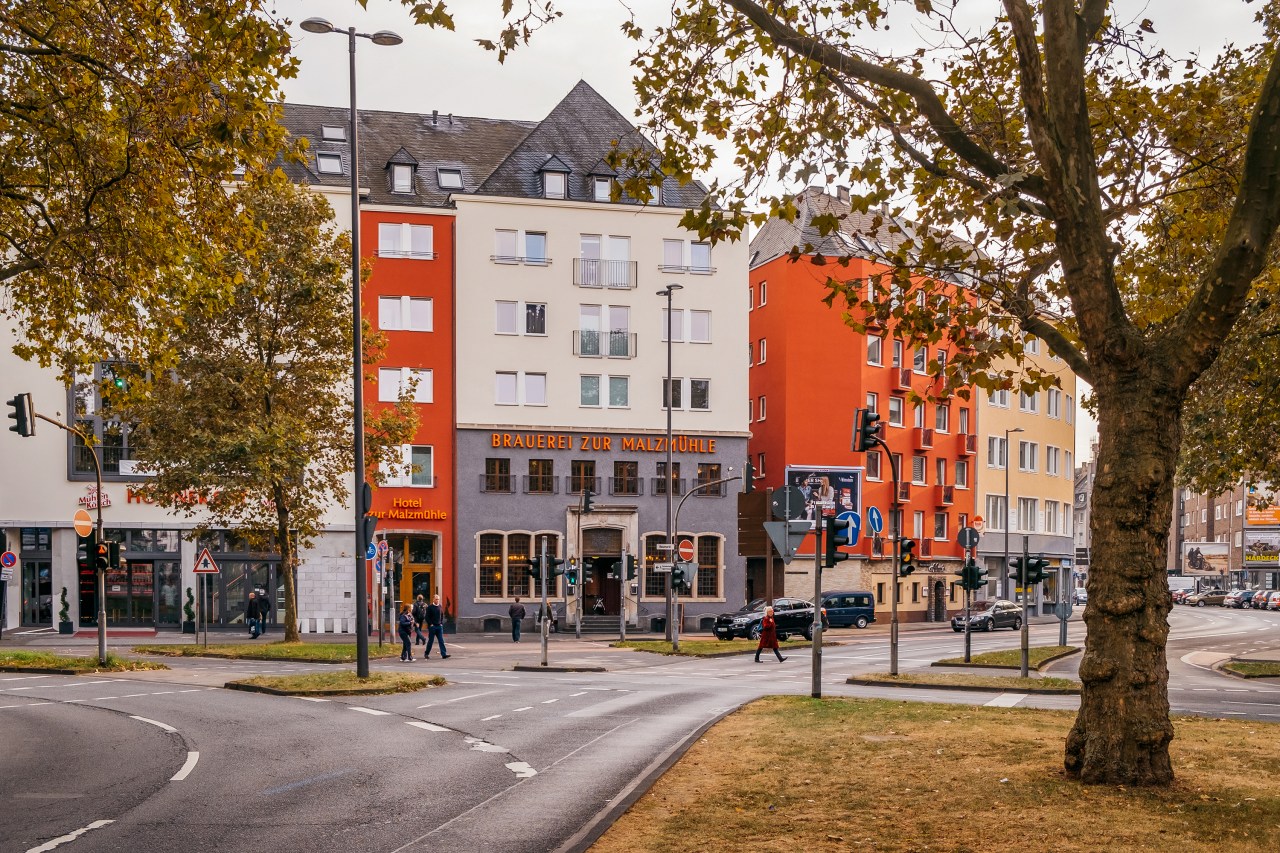 The perfect day starts a block south of Heumarkt, the last big plaza on the well-trodden tourist path. The Malzmühle, or malt mill, is a traditional beer hall and the home to Mühlen Kölsch. Opposite the Heumarkt transit stop, the Malzmühle draws a mix of tourists curious enough to cross the street and longtime locals looking for a small glass (or several small glasses) of one of Cologne's bigger "smaller" brews.
During a 1999 presidential visit, Bill Clinton drank half a glass before switching to soda, saying he didn't want to get tired. He should have been advised to go with a house-made non-alcoholic malt beer. The Malzmühle also offers direct elevator access to the hotel upstairs for those who have had one too many Kölschs, and some rooms even have lines connected to the pub's kegs that allow guests to fill their glasses without so much as putting on their pants. But if you're already dressed, there's still so much more Kölsch to discover in Cologne.
It's a calm stretch of Rhine bank south of the Malzmühle. There's the river to the left, quiet when freighters aren't roaring by with their loads en route to Rotterdam and the Atlantic in the north or down to Basel, in Switzerland. And there are the bench-sitters, dog-walkers, smokers, break-takers to the right, all watching the river just flow along.
Just a quarter mile south and right on the Rhine, museums dedicated to mustard and chocolate offer easy ways to break up the breweries. Another afternoon option is the €9.80 hour-long narrated boat tour that departs from the Rhine bank near the Malzmühle. Kölsch is tapped on board, of course.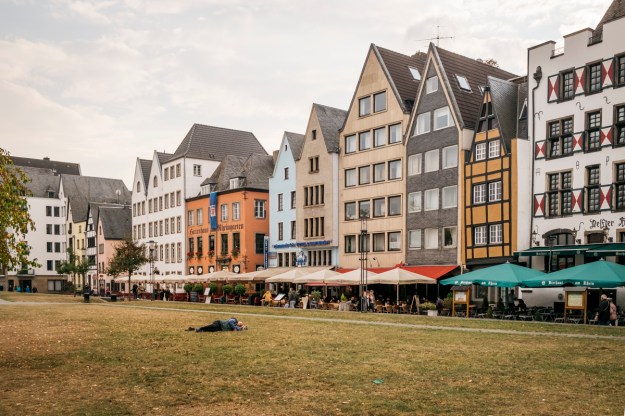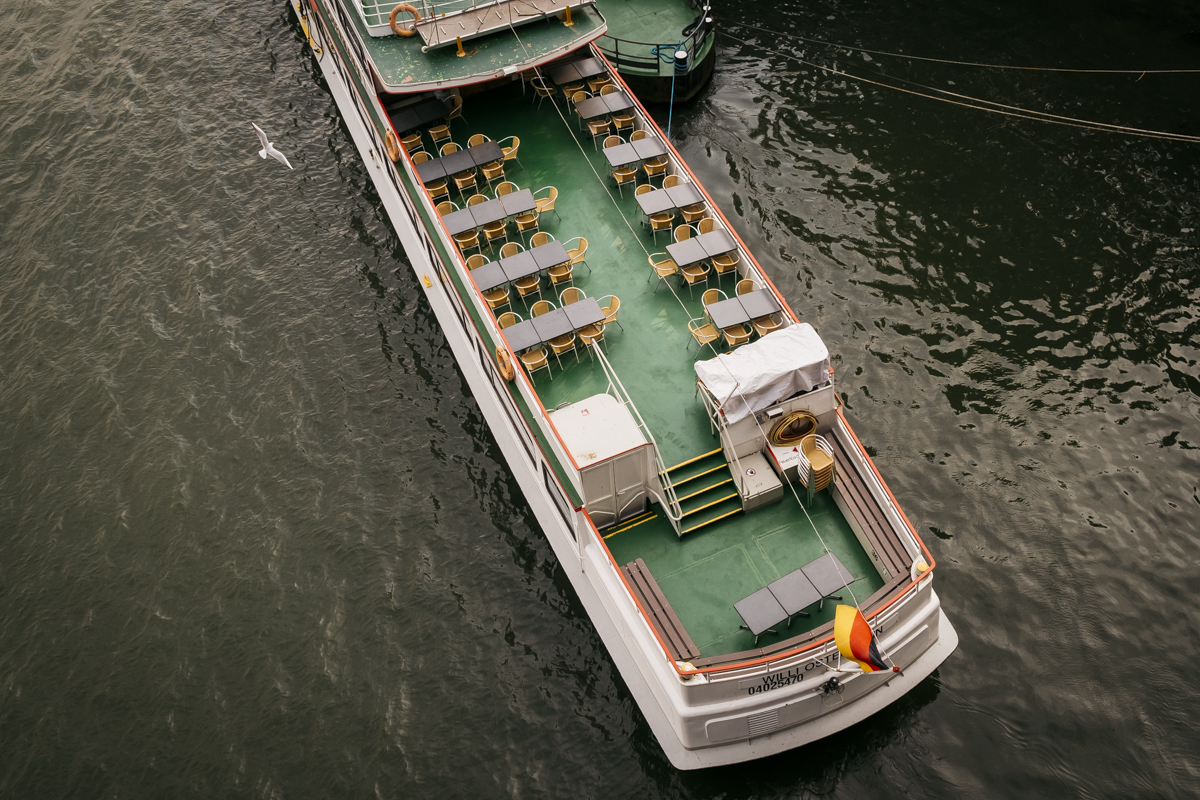 Turn right at Friedenspark (Peace Park) and walk the ruins of a 19th-century Prussian fortification against invaders from the Rhine. (Nowadays it provides a haven for bunnies seeking refuge from people and their dogs.)
2 p.m. is the last chance to get your money's worth at the yuppie food-from-everywhere "speed brunch" buffet at Ecco, near Chlodwigplatz train station, just a mile's walk from the Malzmühle. Between 10 a.m. and 3 p.m. and for €9.90 Monday to Friday and €11.90 on weekends, Ecco offers brunchers an hour's worth of pastas, curries, salads, desserts, fresh-baked breads, spreads, and so on. It's all clearly labeled for vegetarians, vegans, and the gluten-free. For days when there's work to do, Ecco offers the Wi-Fi so rarely found in Germany and the even rarer plugs to keep charged with. On tap is Sion Kölsch at a bargain €1.60 per standard 0.2L glass.
Just outside Ecco's door is the Severinstorburg, an 800-year-old stone gateway and popular wedding destination. Walking through this historic landmark en route to the 125-year-old Heller's beer garden is one of the many perks of drinking in Cologne. If you're not thirsty yet after walking the half-mile to the 650-seat garden in the Volksgarten (People's Yard) you could join the amateur acrobats putting one foot in front of the other on the slacklines strung from tree to tree, or rent a boat to pedal around in the park's petite pond. The beer garden taps Kölsch from the all-organic Heller's brewery a few blocks away, as well as the more southern German styles of weiss and weizen, and offers pils and Düsseldorf-style altbiers in bottles. (In the winter or on drizzly summer days, it's worth making the half-mile trudge to the university district for the brewery itself for the roof over your head.)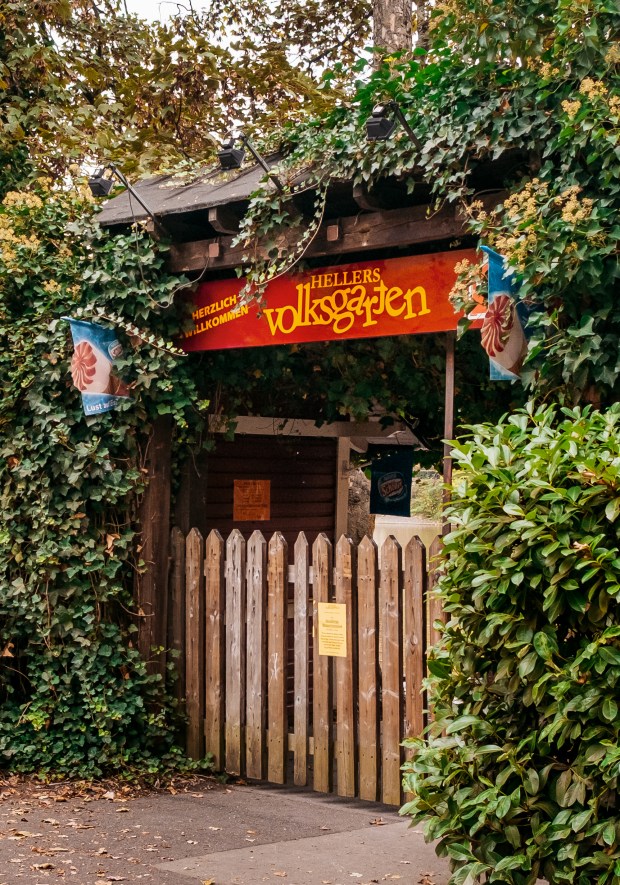 One long block from the Volksgarten, Cologne's Greenbelt offers 4 miles of parkland broken roughly every half-mile by roads and tram tracks. University students can be found with cases of Kölsch picnicking in Hiroshima-Nagasaki Park on pretty much any day from April to October. The greenbelt is the best route to the Salon Schmitz compound on patio-packed Aachener Street, where passersby navigate narrow sidewalk space between seats and swirling servers. One could spend an entire day at the Schmitz spot, which roasts its own coffee, makes its own ice cream and vegan sorbet, has a gourmet deli that's open till 1 a.m. on the weekends, and spins records in the basement well past that. But, at about 5 p.m., the preferred Schmitz product is the house-brewed Kölsch, a slightly crisper version than the city's standard and, at €1.90 for 0.2L, a good 30 percent pricier—emphasis, though, on the good. You could add a pour of the house herbal liquor, in which case you might consider a cup of Schmitz-roasted coffee after all.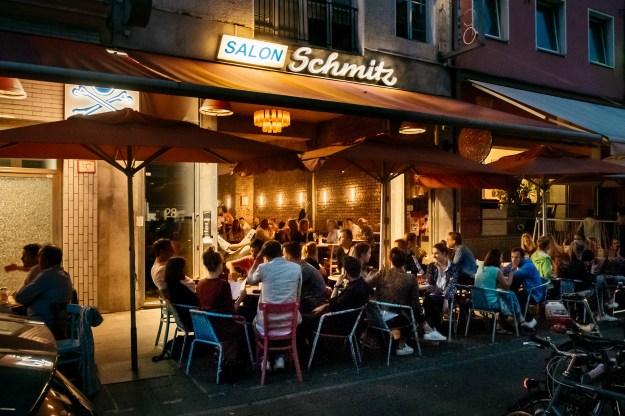 The laziest mile to dinner meanders through Cologne's "Belgian Quarter." Aside from streets named for Brussels and Liége, the neighborhood doesn't seem to have much to do with Germany's western neighbor: there's no fancy chocolate, and Kölsch is the neighborhood drink. It's worth a browse in the neighborhood's boutiques, which will happily take a few dozen of your euros for locally-made goods.
Late at night Qlosterstüffje is a DJ-propelled punk bar; in the evening, it's a bar that offers highly praised regional cuisine with (properly punk) vegan and vegetarian options. It's all accompanied by whatever the bartender wants to listen to cranked several decibels too loud. And, at just €1.40 a glass of Mühlen Kölsch, you may feel encouraged to spend the rest of your night here.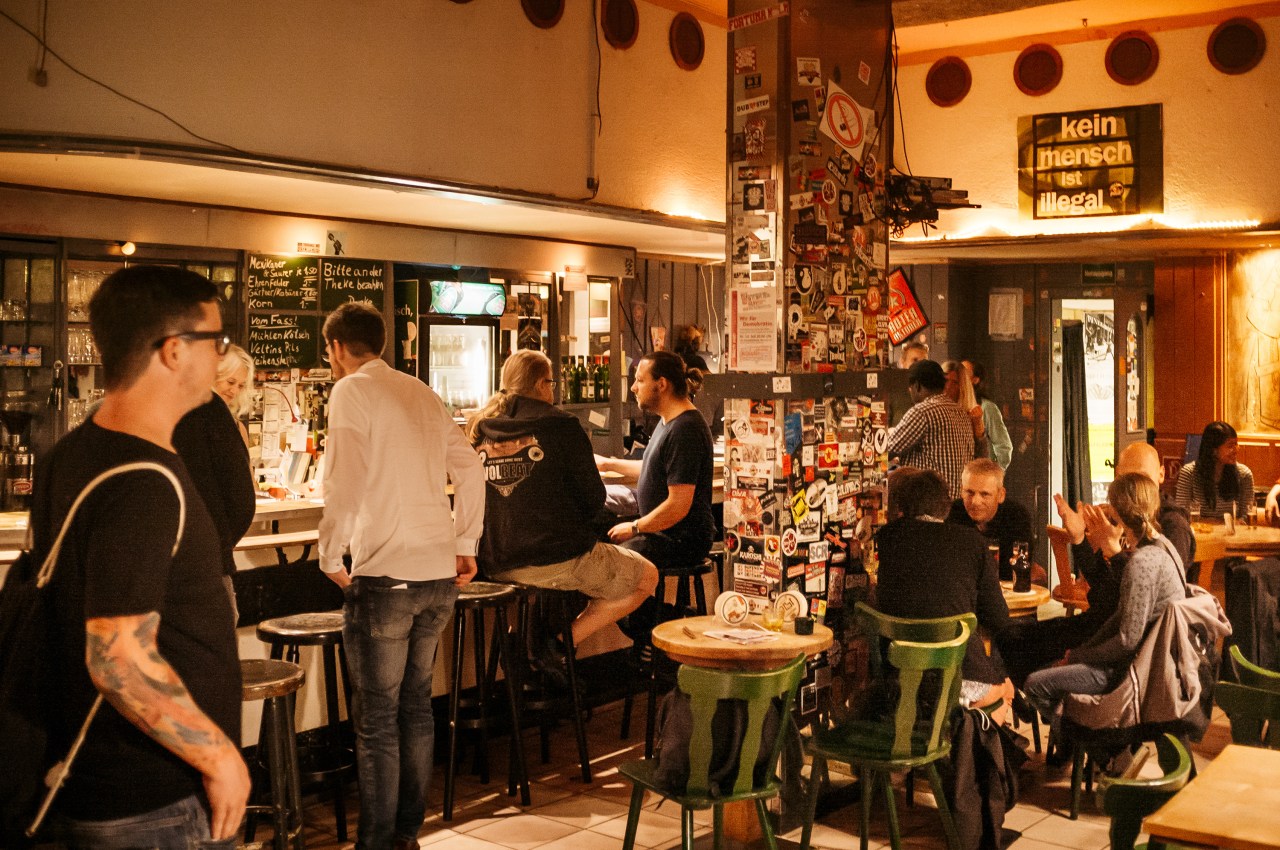 8:30
pm
Venloer, Ehrenfeld
But Qlosterstüffje is a mile east of Cologne's smallest brewery, which is about what it will take to walk that dinner off anyway. By 9 p.m. on Venloer, the high street of the Ehrenfeld neighborhood, most folks have finished their shopping and the restaurant patios are filled with people chain-smoking and debating whether to order another bottle of wine. Clubbers just beginning their night drink €1.30 bottles of Kölsch at kiosks. In the early hours of the morning said clubbers will make this street start to smell a lot less inviting (keep an eye out for the spoils of binge drinking on your way home), but at this hour Venloer smells of Turkish grills and pizzas baked in wood-fired ovens.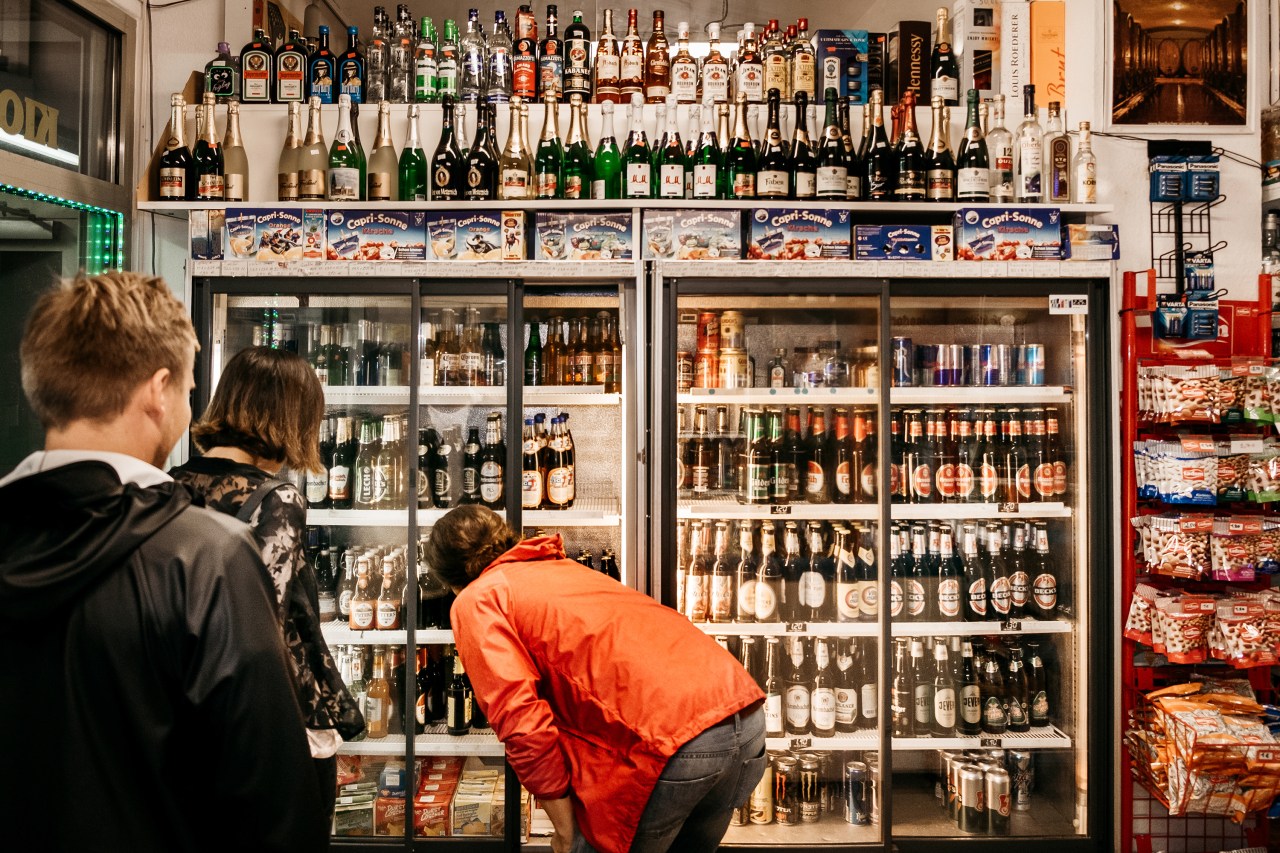 The Kölsch at Braustelle is fresh as hell. Alt and Weizen, the other top-fermented beers at Braustelle, also go down very easily. The staff is friendly and glad to serve as guides through the four or so beers on the specials board but here's a tip: steer clear of the specials board, especially if the server describes a brew that sounds impossibly good. Too often Braustelle overreaches, attempting to alchemize one ingredient—or maybe five or six ingredients—too many, resulting in a beer that is unique and funky, but overwhelming. After choosing wisely for a round or so, you might try one of three house-distilled liquors as a digestif and call it a night, or you might get a malt beer to recharge if you're heading out for an even longer Ehrenfeld evening.
"Ich bin ein Kölsch," Bill Clinton had said leaving the Malzmühle 17 years ago. Now you can say that, too, and with considerably more Kölsch savvy than he had.