Houston is not an easy city to get to know. I moved here from Southern California more than two decades ago, and my first impression was of an endless expanse of flat concrete jungle that also happened to be excruciatingly hot during the summer. Where Los Angeles was prone to earthquakes, Houston suffered from hurricanes and floods.
The city's lack of zoning laws means that businesses can open up next to residences—neat, circumscribed neighborhoods aren't the norm. There is a downtown, yes, but the city's makeup is largely decentralized.
Our home may not be the prettiest city, but it's filled with everything that a great metropolis should have. Our main industry, oil and gas, has allowed the city to prosper even in times of recession. We have world-class performing-arts companies, such as the Houston Ballet, the Houston Grand Opera, and the Houston Symphony. Our sports teams—the Texans, Rockets, Dynamo, and Astros—are among the country's best. The Texas Medical Center is the largest medical complex in the world, the largest cancer hospital and children's hospital in the world, and a leader in cancer treatment.
Public green spaces, from Discovery Green and Buffalo Bayou Park in the heart of the city to the new Levy Park and reimagined Emancipation Park, have also emerged in recent years, all the result of long-term planning and development.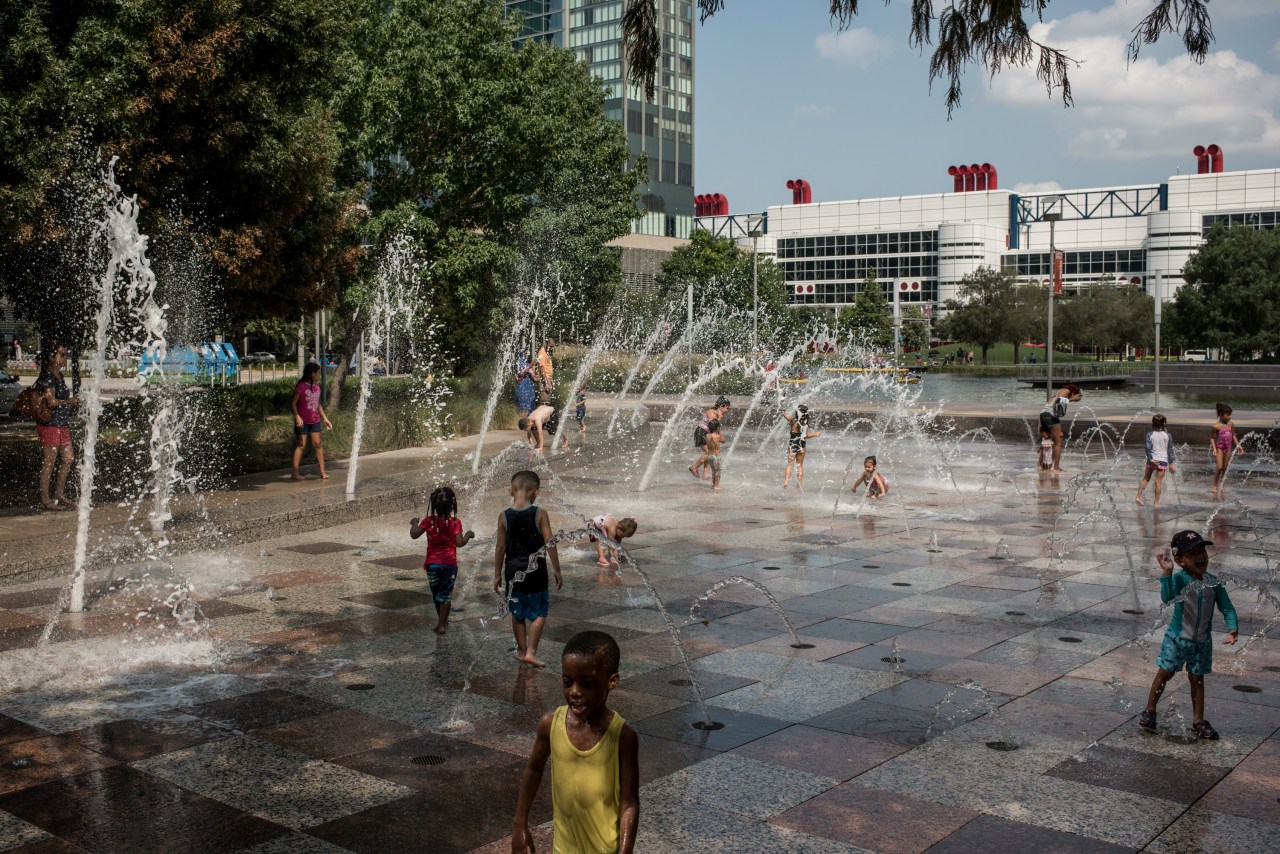 And in case you haven't heard, Houston is now the most diverse city in the nation, a collection of immigrants from all walks of life—some arriving from foreign countries and some, as in my case, from different states. People come for a variety of reasons—family, low cost of living, opportunity, the pursuit of the American dream.
Our culinary scene is also finally getting the recognition it deserves. Three out of the last five years Houston chefs were honored with James Beard Awards.
In the aftermath of Hurricane Harvey, one of the worst and costliest natural disasters in the history of the United States, Houston's indomitable spirit showed that its diversity was its strength, that humanity trumps race, religion, political affiliation, and sexual orientation.
Get yourself car. Then scratch below the surface.
6:00
am
James Turrell's Twilight Epiphany Skyspace
Suzanne Deal Booth Centennial Pavilion
Get Directions
Get an early start, when it's cool outside and the streets are empty, to Rice University's Suzanne Deal Booth Centennial Pavilion. Take a seat beneath the stunning 72- by 72-foot white roof of artist James Turrell's Twilight Epiphany Skyspace, and watch the sunrise through the skylight. Marvel at the way your perception of light changes during the Sunrise Light Sequence, an LED show that alters the color of the sky right before your eyes. Is the sky really blue, after all? Snap some photos during the 30- to 40-minute spectacle to find out. The results may surprise you.
Entrance is free, but tickets should be reserved in advance.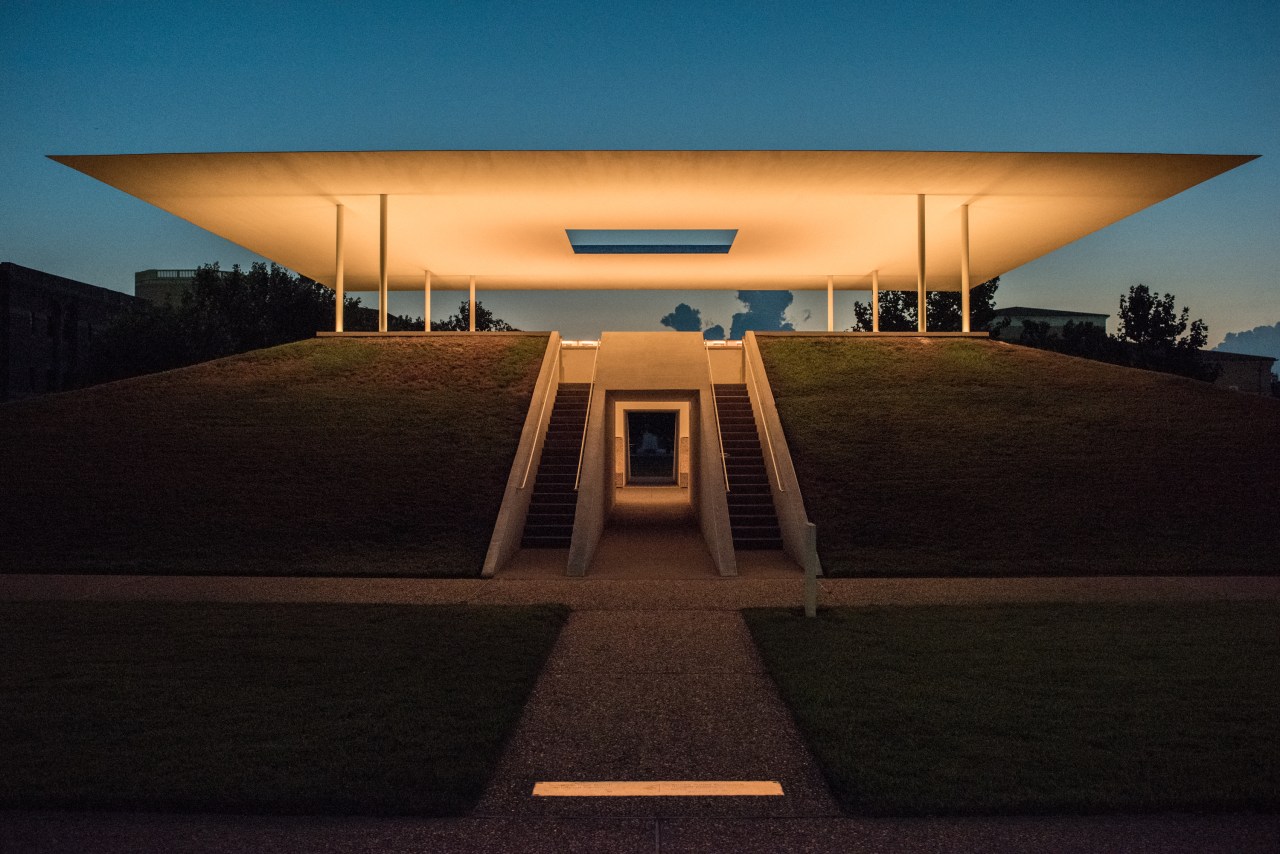 7:00
am
Anish Kapoor's Cloud Column, at the Museum of Fine Arts, Houston
Get Directions
Stop by the MFAH to see the outdoor Cloud Column, a 32-foot-tall shiny, metal, vertical-bean sculpture by Anish Kapoor, the same artist who erected Chicago's Cloud Gate bean. Then head over to nearby Blacksmith, my go-to for a fantastic flat white. The baristas here pour competition-worthy latte art, and it's a great place for people-watching.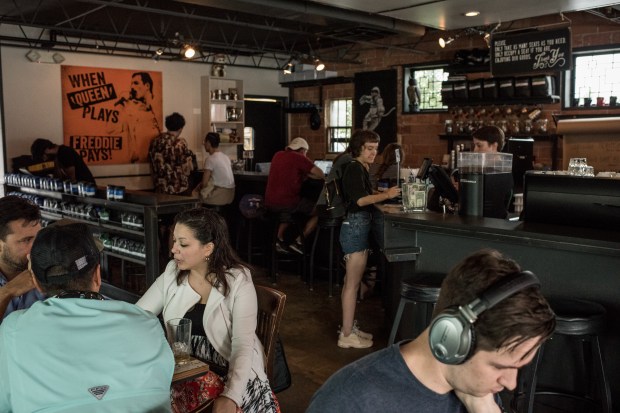 Head to Buffalo Bayou Park, which houses one of Houston's most beautiful spaces: the Dunlavy. Floor-to-ceiling windows surround the main dining room, which looks out on a canopy of lush Bayou greenery. The fairytale setting—which includes a collection of 39 crystal chandeliers—always makes me feel like I've stepped into an enchanted forest.
Order gravlax or avocado toast with a toasted strawberry smoothie at the counter, then grab a seat at one of the communal tables and bask in the ambient glow over your morning meal.
If the temperatures are amenable, explore the park's hiking trails just outside the restaurant. Both the Wortham Memorial Fountain and Jaume Plensa's seven aluminum Tolerance sculptures are easily accessible from the restaurant.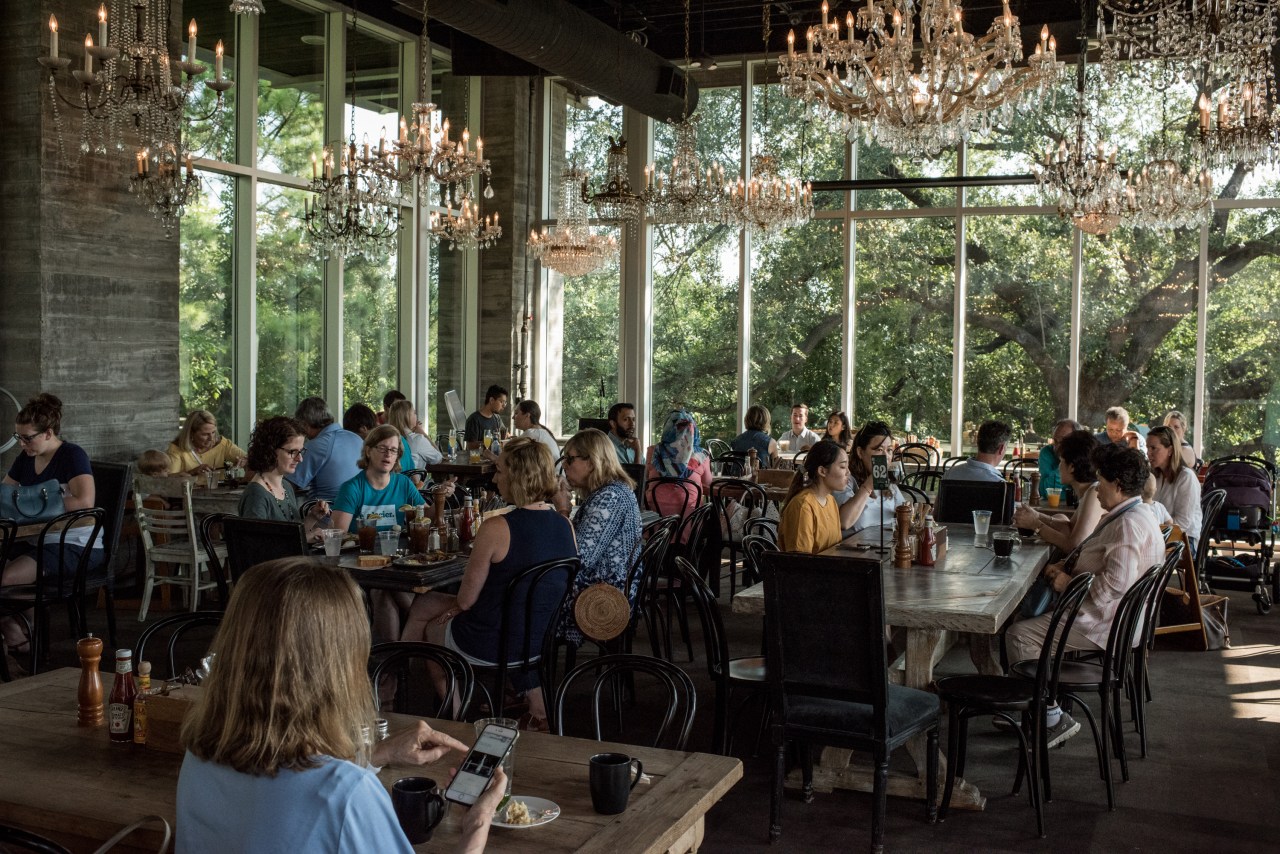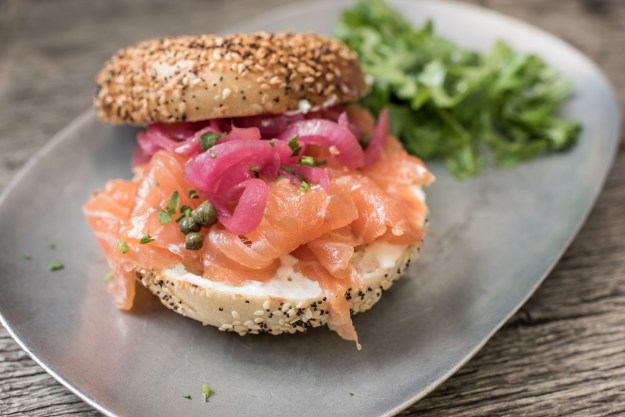 10:00
am
BAPS Shri Swaminarayan Mandir
1150 Brand Lane, Stafford
Get Directions
Drive about 30 minutes to BAPS Shri Swaminarayan Mandir, a Hindu temple whose magnificence makes the trek worthwhile. From afar the mandir vaguely resembles the Taj Mahal. It is so intricately detailed, you might think for a moment you've made a sacred pilgrimage to India. In fact, the structure was built in the early 2000s from tens of thousands of pieces of hand-carved Italian marble and Turkish limestone that were shipped to Houston from India, then assembled by a crew of desi volunteers from Houston's thriving Indian community. Spend some time exploring the 22 acres of immaculate, beautifully landscaped grounds, paying attention to the interior shrines, which pay homage to Hindu deities.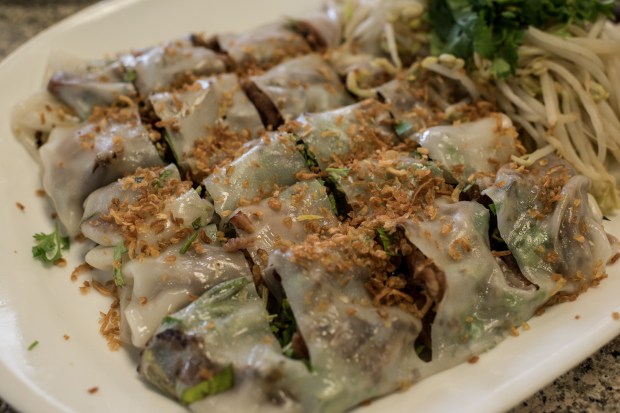 Next head over to Asiatown. Though you could easily take your pick of Chinese, Singaporean, Malaysian, Taiwanese, Japanese, Korean, and more, today you're going to Thien Thanh, one of Houston's most beloved northern-Vietnamese restaurants.
An institution since it opened in 1993, the restaurant is renowned for its rendition of the steamed, rolled rice noodles called bánh cuôn. Order the classic nhán thit, stuffed with minced pork, wood ears, and onions; then drizzle it with nuóc mam pha, a diluted, mixed fish sauce, to taste a true classic. If you're hungry, the restaurant is also one of the few places in Houston to offer the northern-Vietnamese specialty known as cha ca (turmeric fish). Since it's an old-school kind of place, it's still cash only.
Unlike the walkable Chinatowns in New York and San Francisco, Houston's Asiatown is more of a get-in-your-car-and-go type of area. That said, there are two large strip malls where it is possible to explore on foot if you're so inclined.
The first is just across the street from Thien Thanh at the Hong-Kong City Mall. At the largest Asian indoor shopping mall in the area, you can explore gift shops, music stores, jewelry, the food court, and the anchor grocery store, the Hong Kong Food Market, on foot in an air-conditioned space.
As you wander the hallways, you'll hear the tell-tale strains of Vietnamese rhumba and cha-cha on the loudspeakers. Stop by Coco Sweets for pandan waffles, Quan Binh Minh for fresh-pressed nuóc mía sugarcane juice, and Alpha Bakery & Deli for made-to-order bánh mì.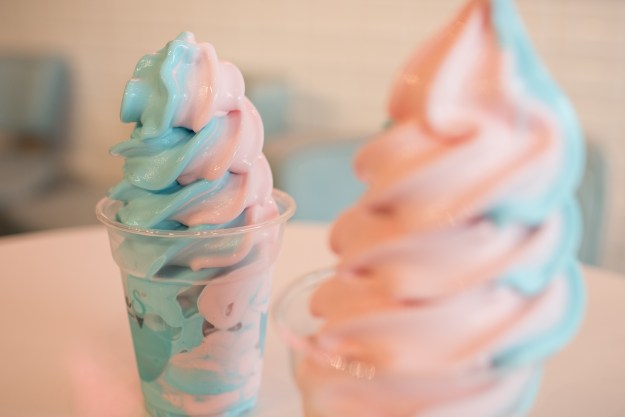 Head east on Bellaire Boulevard to Dun Huang Plaza, a two-story complex with more than 50 shops and restaurants. It's a one-stop shop for all kinds of Asian desserts, so find a parking spot and explore on foot. Twisted Love, the latest soft-serve spot, offers flavors like ube and matcha. Australian import Aqua S offers cotton candy– and popcorn-covered soft-serve creations. Nu Cafe features mounds of freshly shaved Taiwanese snowflake ice, served with toppings like mochi balls and coffee jelly. Juice Box has the best Taiwanese fresh-fruit shaved ice. And Kamalan Bakery features inexpensive cakes and ice cream–filled taiyakis (fish-shaped waffles).
Not in the mood for sweets? Stop by Gong Cha or Sharetea for Taiwanese boba tea, Ichimaru Japanese Beauty for imported Japanese cosmetics, or Blooming Cosmetics to pick up the latest BB Cream or Korean cult beauty products. Then relax at Canyon Foot Massage, where $50 gets you a half-hour foot massage and one-hour body massage.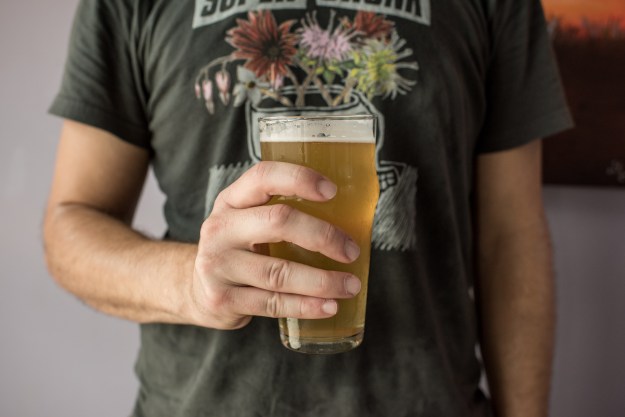 If you happen to be in Houston from Monday through Thursday, head to the Marriott Marquis to float in the world's only Texas-shaped rooftop lazy river. It's just one of those only-in-Houston things that you can and should do. Located on the sixth floor, the pool offers some of the best views of downtown.
Alternatively, head west to Sawyer Yards, a 55-acre creative community that hosts more than 350 working artists and studios. Silver Street Studios, which offers rotating exhibitions year-round,  is a good starting point. Next visit the Art Alley Mural Project, an 800-foot-long wall of murals by 14 different artists. Then check out Site Gallery at the Silos, an immersive installation housed within 34 repurposed rice silos. When you're finished, relax with a pint at Holler Brewing, and take in the view of Houston's downtown skyline. Sawyer Yards is open to the public Monday through Saturday.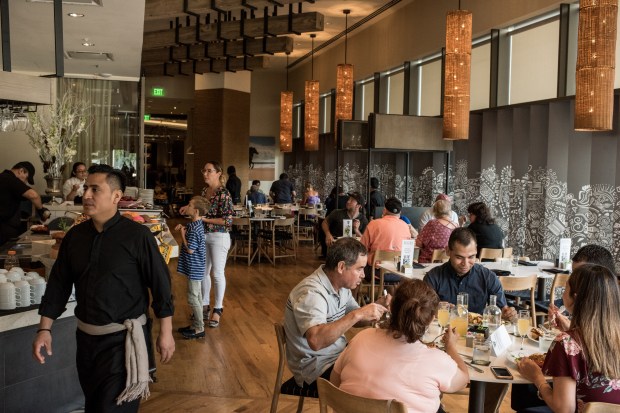 For dinner you've booked reservations in advance at Xochi, beloved by Houston for many reasons. It's topped all kinds of best-of lists. It's helped executive chef and owner Hugo Ortega clinch the James Beard Award for Best Chef: Southwest in 2017. But most important, it shows how far Houston—for too long only known for Tex-Mex—has come on the culinary front.
Ortega serves dishes like the bistec con mole de chicatana, a grilled rib-eye served in a mole sauce made with a base of flying ants, and queso del rancho, a house-made cotija cheese topped with edible gusanos (larvae), chicatanas, and chapulines (grasshoppers). It's all fantastic. Order either or both of the above or perhaps a mole tasting, and make sure to get a mezcal cocktail to go with. Finish your meal with the signature cacao dessert from the chocolate menu.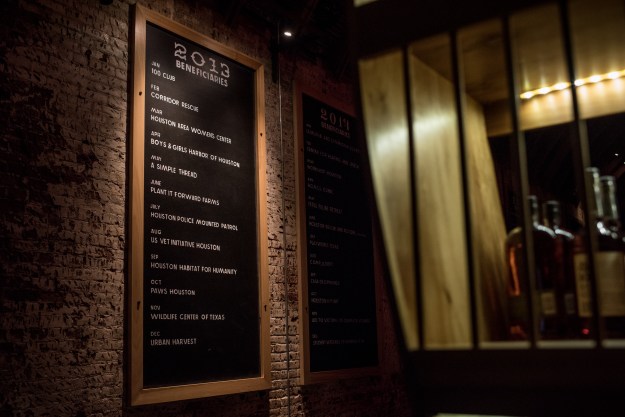 End the night with drinks in downtown Houston, where the bar scene has exploded in the last five years. Start at OKRA Charity Saloon (OKRA is an acronym for Organized Kollaboration on Restaurant Affairs) which, in addition to being housed in an 1880s saloon, has given away more than a million dollars to charity since it opened. Order a classic cocktail—let's say an Old Fashioned—and you will be given a token. Take it to the poll-style voting booth, where you'll find the names and missions of the featured charities. Drop your token in the box of the one you hope will win.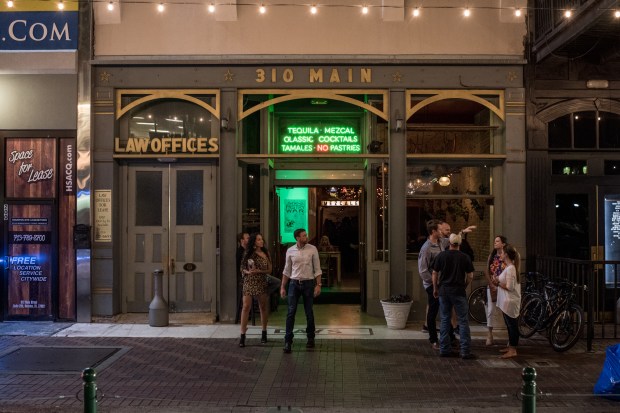 Moving right along, turn the corner onto Main Street for a glimpse into Bayou City nightlife. There are more than 10 bars on this block, each with a unique vibe, clientele, and playlist. Captain Foxheart's Bad News Bar & Spirit Lodge has a balcony with excellent views. Moving Sidewalk does craft cocktails with hand-cut ice and liquid nitrogen.
There's a mezcaleria called The Pastry War. And, hidden in the back behind an unmarked wooden door at the top of a semi-hidden stairwell is a small bar called Tongue-Cut Sparrow. This is your last stop for the night. Due to the seating capacity, reservations are recommended—though they do accept walk-ins. It's intimate, and the impeccable service is modeled on bars in Tokyo's Ginza district. Pull up a seat, request a meticulously crafted martini, and call it a day.