The San Gabriel Valley has the sleepy, sepia tones of a cowboy Western—a lot of buildings look, from afar, like they just might be a country-style honky-tonk joint. A closer look will reveal the Chinese-language signage, and you'll realize you're in one of the hidden treasures of cosmopolitan Los Angeles, about to experience taste sensations once landlocked in the Chinese mainland and Taiwan.
It's a bit of a trek from anywhere tourists typically stay in the Los Angeles area, but imagine the savings on international airfare.
I'm a native Angeleno and also a bottomless pit, food-wise, who has lived in China and also in New York, where I frequently went out to Flushing, Queens—the city's largest concentration of Chinese-Americans—to recall the tastes of my coming-of-age years. Flushing has some stellar Chinese food; it's a real departure from the Americanized Cantonese swill (which does fulfill a specific and valid kind of craving) more typically found in the U.S.
But while Flushing only offers a faint taste of some of the culinary magic that happens in China, the San Gabriel Valley is the real deal. There are some big names here that came directly from China: a chain found in the country's big cities called 海底捞 / Hai Di Lao Hotpot, for instance, where you cook your own meat, fish, veggies, and most importantly fresh, hand-pulled noodles. Some smaller touches found in China are missing—mainly, the manicures, shoe-shining and copious snacks provided while you wait. But the level of service and the taste are the same as in the People's Republic.
One of the things I miss most about eating in China is the friendship of it.
I never thought I'd end up hungry not just for China's legendary cuisine, but for food so superbly prepared and potent that it helps me recall my past—another life, a world away.
One of the things I miss most about eating in China is the friendship of it. When I lived in China, people were quick to note the difference between Chinese-style communal activities and American-style individualism. Chinese people believe they have a proclivity to engage in group activities—that this is a result of a society premised on socialism with Chinese characteristics, whereas American capitalists need their space.
There's a rib-sticking, socialist sort of camaraderie in a Chinese food crawl. In cities across the mainland and Taiwan, there are night markets with stalls where friends and lovers enjoy specialities from the cook's home region. You sit around a folding table on a stool. You might have a cigarette, maybe a Tsingtao beer or something harder. And you feel that—in an often lonely, cutthroat city like Beijing—you've got your close friends, and they've got your back.
Together with friends, you experience new tastes, comment on the food, and enjoy. The person who orders must know their shit. Maybe it's your best friend from Beijing. She now lives in faraway Hong Kong. You used to eat together to forget life is hard and competition is stiff. You used to eat certain foods to prove to each other and to yourselves that you know how to live well—to show that you know a good cut of meat, an obscure sauce or a fine wine. The point being, you may make a writer's wages, but you know how to live.
That same yearning to eat well and emotionally happens here in the San Gabriel Valley. L.A. is a lonely place, particularly if you have a hard time accepting our insipid, often empty-headed love of beauty.
With all of that in mind, there's nothing this food can't solve. Here is a recipe for all that ails you—as you'll see, a lot of Chinese food is said to have medicinal properties.
For this antidote-for-all-things to work, you must follow this gastronomic map with friends.
Chengdu Taste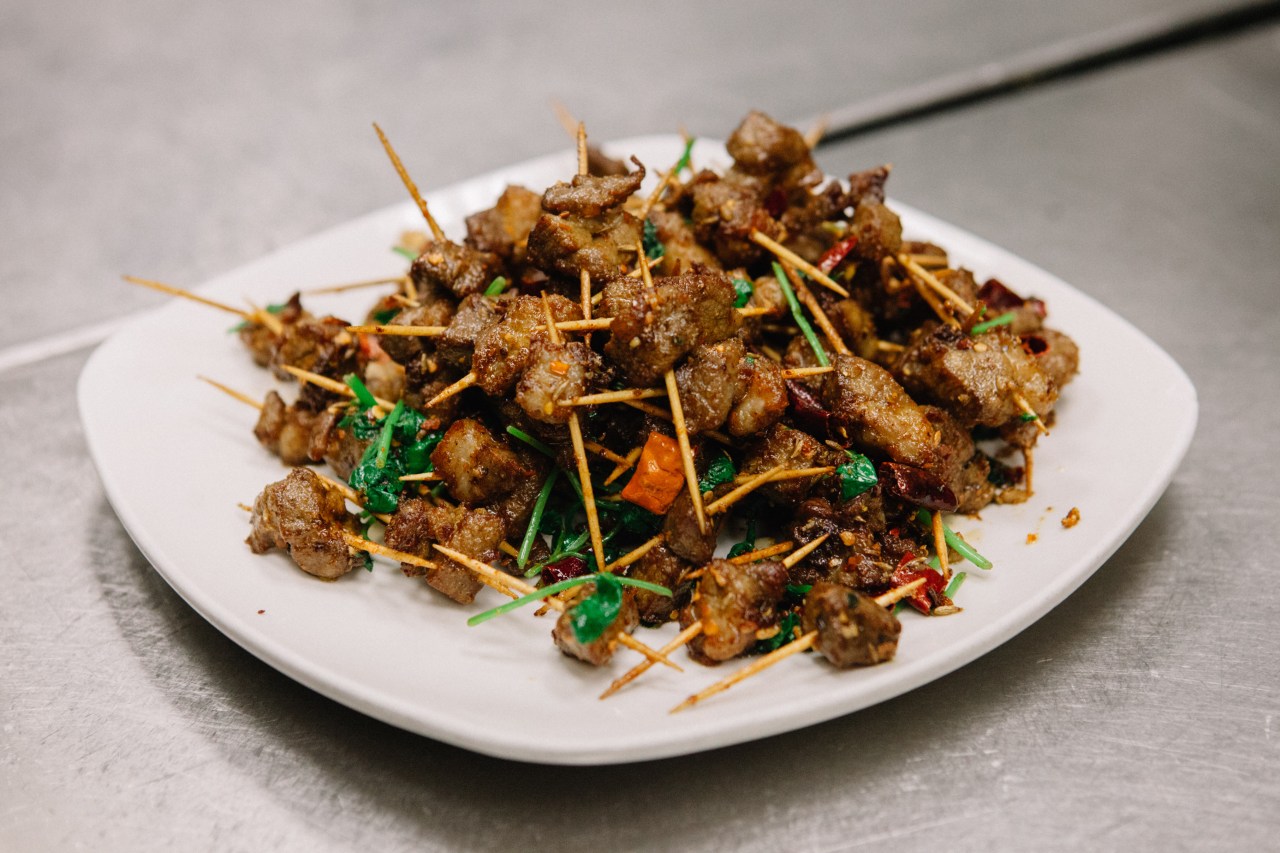 This Sichuan-style Chinese food restaurant will bring a tear to your eye—particularly if you're a wimp who can't handle a little signature southern Chinese spice.
It's also the hottest thing in the San Gabriel Valley at the moment. Make reservations, or find yourself trapped in the parking lot for up to three hours (!) with a very tense crowd. Locals tell stories about occasional altercations between customers eager for a table here on the weekend.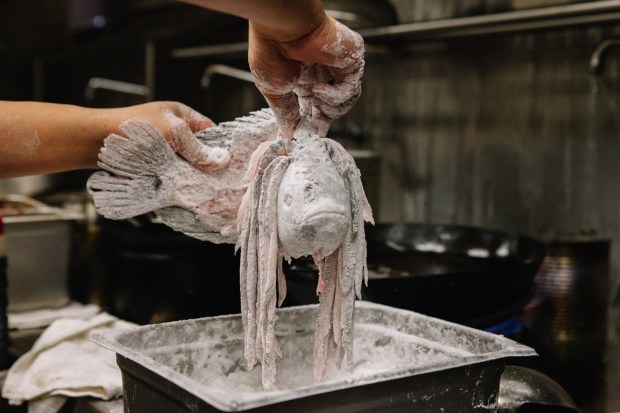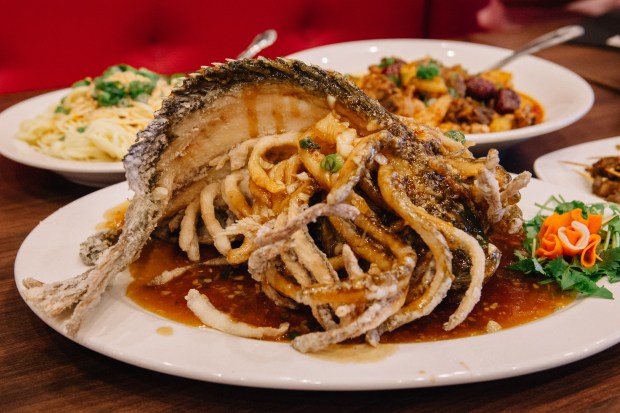 The signature toothpick lamb (牙签羊肉 / yaqian yangrou) costs $13.99. It's the perfect finger food for a big group: Small bites of fresh lamb, cooked in a tangy peppercorn rub that gently numbs the tongue, skewered onto a toothpick. The dish is dynamic—a mountain of spikes, just right for big, ravenous groups to scoop from, chatting between bites.
Spicy foods are said to make you break out, according to Chinese beauty lore. Sichuan people are said to have the best, acne-free skin, because they've eaten so many peppers that they are impervious to the pimple-inducing heat. The staff here say that's a myth.
If you find yourself looking for the kind of spice that comes out of your pores, you should try the whimsically named classic "Diced Rabbit with Younger Sister's Recipe" (二姐兔丁 / erjie tuding). They also serve frog and gizzards.
Insider tip: If you aren't feeling the spice, but don't want to sit this one out, ask for the lion fish (狮子鱼 / shi zi yu). It's not on the menu, but it's a favorite among diners in the know. It's a whole, delicately sliced, breaded, fried fish for $25.99—a lot of bang for your buck. Break off and share the light, airy strips with your friends.
Omar's Xinjiang Halal Restaurant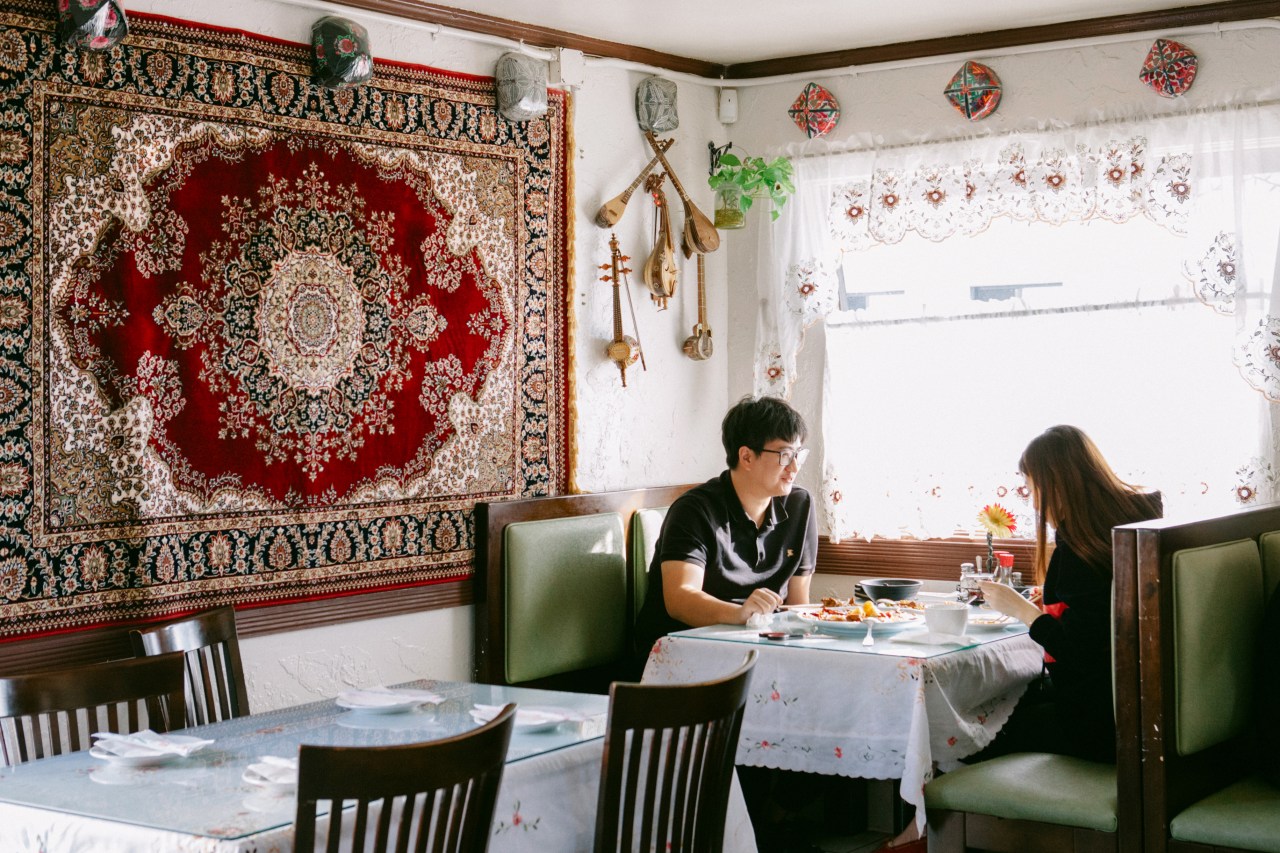 This restaurant offers something rare enough for an American Chinese restaurant—ethnic Uyghur Halal cuisine from China's oft-restive far-West—and it's expertly prepared. When you walk into the small space, subtle, saliva-inducing perfumes waft from the kitchen: meat pies, breads, noodle dishes. Warm flavors.
Uyghurs are a Turkic people, and their native Chinese region of Xinjiang is abutted by countries including Russia, Kazakhstan, and Pakistan. That means there are notes of Central Asian, Turkish, Russian, and Chinese cuisines in this food. Per the owner (who goes by 'Mrs. Omar'), this was the first Uyghur restaurant in the U.S. These days, there are a few more, but in my experience, none prepare their food with the dexterity and skill of this restaurant.
Appreciate the quaint, homey atmosphere and the Uyghur baubles—traditional clothing and instruments—adorning the walls.
Try the famous Uyghur Big-plate Chicken 大盘鸡 / dapanji, perhaps the most ubiquitous dish in the Uyghur culinary canon. If you're not a fan of lamb—it figures heavily in this cuisine—or you are a vegetarian, there are Chinese-style vegetable dishes like the refreshing, cold, garlic-infused cucumber 凉拌黄瓜 / liangban huanggua.
Half & Half Tea Express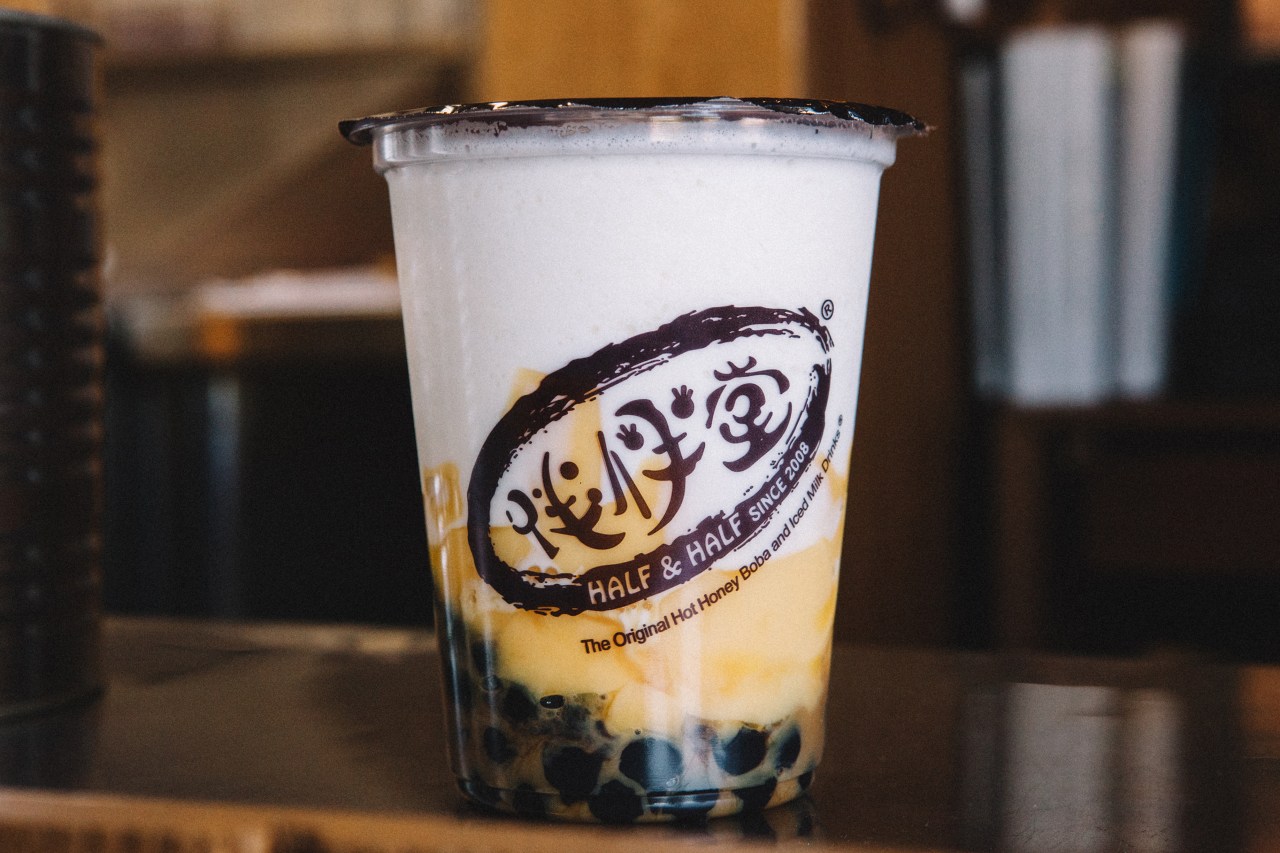 No trip to the San Gabriel Valley would be complete without a favorite among the young people here: Taiwanese-style bubble milk tea, or boba.
There are a lot of boba places in the San Gabriel Valley and throughout Los Angeles. It would be difficult to try them all, but in my experience, Half & Half is by far the best in quantity and quality.
Some milk teas fall flat on the tongue, but at Half & Half, honeyed milk tea is frothy and soothes the throat. The flavors are natural, revitalizing. And the tea comes generously served in a cup that's as big as a small bucket.
If you've never had boba, take the broad-shafted straw and pierce the drink's plastic container. It's a drink and a snack!
Huge Tree Pastry
The fanciest decoration in this restaurant is a wilting bamboo tree, cast aside in the corner. Take that as a sign of confidence in what this literal mom-and-pop shop is serving up: delicious Taiwanese-style pastries.
Be warned, the incredibly lovely owners will parent you. Their suggestions from the menu will take into account the weather and probably a guesstimate of your BMI. They may ask you if you're dating anyone serious lately.
Their best-selling green onion pastry goes for just $1.50 each—the sesame casing is bursting with flavor, and all that onion will banish the toxins from your pores.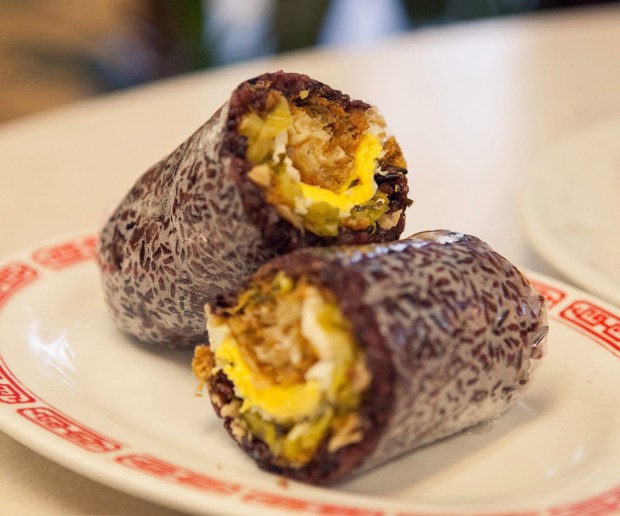 Also try the rice roll (饭团 / fan tuan). It's a visually tantalizing treat—almost like a Taiwanese burrito: black rice (actually a deep purple) on the outside, stuffed with a long Chinese 油条 / youtiao donut, egg and pork.
Wash all that down with some lightly sweet fresh soy milk (豆浆 / doujiang).
Huge Tree Pastry
Location: 423 N Atlantic Blvd #115, Monterey Park, CA 91754
Contact: 626-458-8689
Cost: Wonderfully cheap, but cash only
Lee's Sandwiches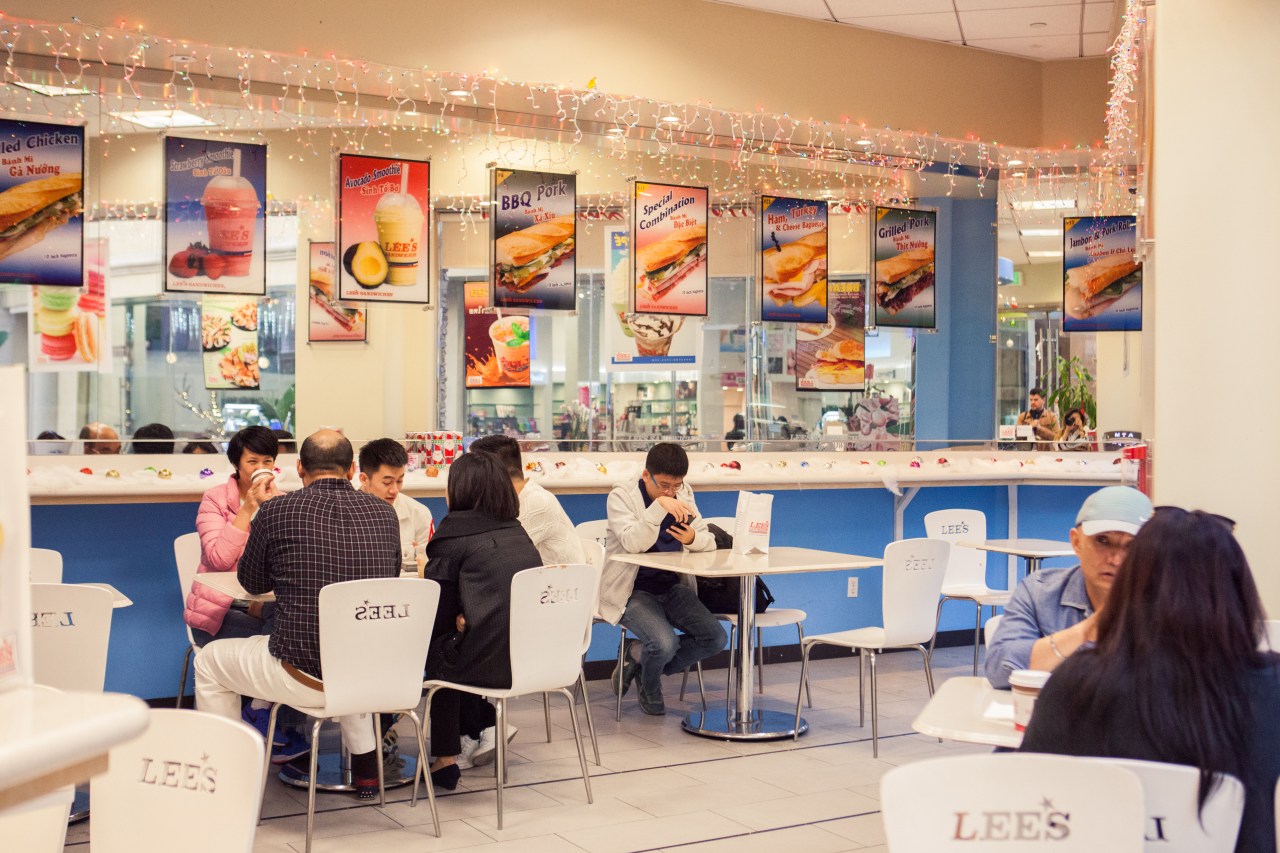 Lee's is a Vietnamese-food chain operating in Taiwan and the United States that is endearing in its neon-colored kitsch.
Why end a San Gabriel Valley Chinese food tour at a Vietnamese restaurant? In this community, where many people are ethnic Chinese-Vietnamese, this cuisine is not to be discounted.
Enjoy a Vietnamese banh mi sandwich on a fresh-baked baguette, then wash it down with a creamy slow-dripped, condensed-milk-infused Vietnamese iced coffee. Finish the meal with a luridly-colored macaron sure to dye your tongue.
Then do it all again yourself: the shop sells Vietnamese coffee accoutrements and other kitchen goods, so you can take home the flavors of Ho Chi Minh City, Taipei, and Monterey Park.