In the lush highland jungles of northern Laos, the tropical monsoon reaches its full force in August. Storm clouds gallop over the mighty Mekong River and its surrounding mountains, humidity levels can reach as high as 85 percent and intense, heavy rains erode the rice and corn grown by indigenous tribes in ravines and on slopes.
It was around noon on a steamy August Saturday in 2013 that 11-year-old Luu Sinai, an ethnic Khmu villager from the far-flung hamlet of Ban Houay Khey in Luang Prabang province, found a strange looking metal ball that had washed up in a nearby forest he and his three friends were playing in. They took the ball back to the center of the village and began tapping it with a stick and putting it around like a golf ball. None of the other villagers took notice—it was lunchtime and they were busy cooking bamboo shoot soups and orlam, an eggplant, meat, and pepperwood stew.
It took half an hour for the metal ball, an American-made cluster "bombie," to fulfill its original mission when it was dropped from a warplane 50-odd years ago. Bounyeun, a four-year-old girl nearby, nibbling on sticky rice, died on the scene. So did another teenage boy, Kaey. Shards of metal pierced through Luu's abdomen, his intestines spilling out on the ground. Shrapnel sliced through the feet, legs, and ears of the three friends he was playing with.
Luu was carried to a boat and traveled for two hours to Luang Prabang's provincial hospital, where emergency surgery saved his life. Although the accident happened almost four years ago, when I met with now 15-year-old Luu and his family in their simple wooden home, he says he still suffers pain from his wound and his entire village is still traumatized.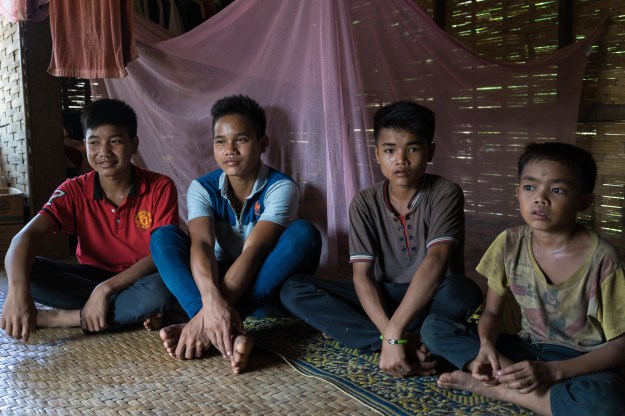 One of his friends, Ty, whose ear and legs had been injured in the accident, had recently cut a remaining shard of ordinance from the arch of his foot himself, using a kitchen knife. His family could not afford the boat trip to the hospital to have the shrapnel removed by a doctor or nurse.
Luu's father, Bun Sinai, was working in the fields when news broke of the accident and rushed back to take his youngest child by boat to Luang Prabang, renting a boat for LAK1.5 million ($182).
"I felt very scared for the two hours on the boat; our tears were falling and we were afraid our son was dying. If the doctor had not been in Luang Prabang when we arrived, my son would have died. When we came back, I had to sell all of my cows and buffalos to pay for it," Sinai said.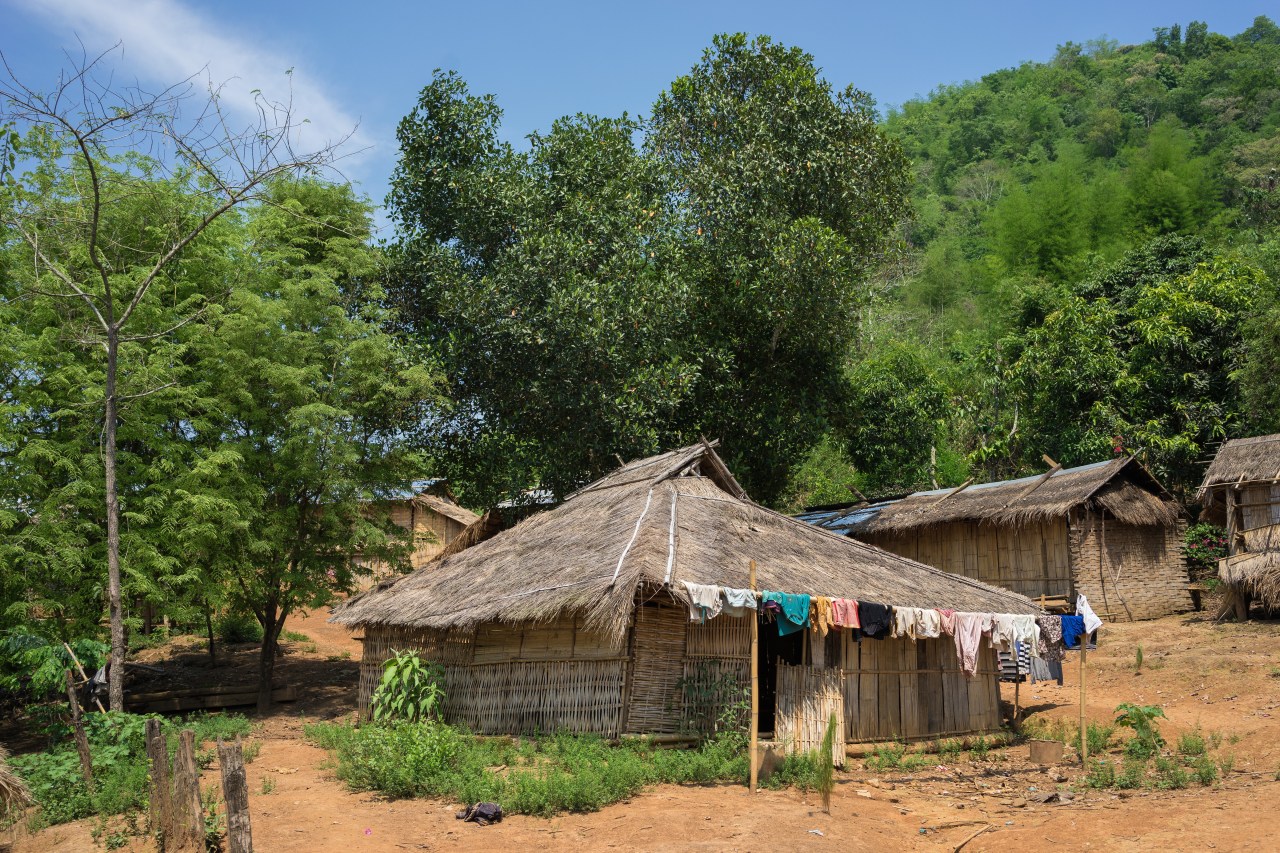 From 1964 to 1973, U.S. warplanes dropped more than 270 million cluster munitions on Laos in 580,000 intensive, CIA-run secret bombing missions, one-third of which did not explode. The targets were the North Vietnamese troops—whose Ho Chi Minh Trail sliced into the neutral country's north and west—as well as North Vietnam's Laotian communist allies, the Pathet Laos, who ultimately assumed power in 1975.
Since America withdrew from Vietnam and the bombing of Laos ceased, more than 20,000 civilians have been killed or injured by unexploded ordnance, also known as UXO, according to the government's National Regulatory Authority for the Mine Action Sector. Tragic stories of bombs being detonated by kids like Luu are alarmingly common—about 40 percent of the casualties have been children.
When we visited Ban Houay Khey on a searing, hot day in early May, the dusty village was eerily quiet, most of its 83 families out tending to rice crops some seven miles away and its children in school. We were there to visit the victims of the 2013 accident, with Channapha Khamvongsa, a calm and charismatic Lao-American who founded the organization Legacies Of War (LOW), a Washington-based group dedicated to ensuring U.S. government and financial support for bomb clearance and victim assistance in Laos.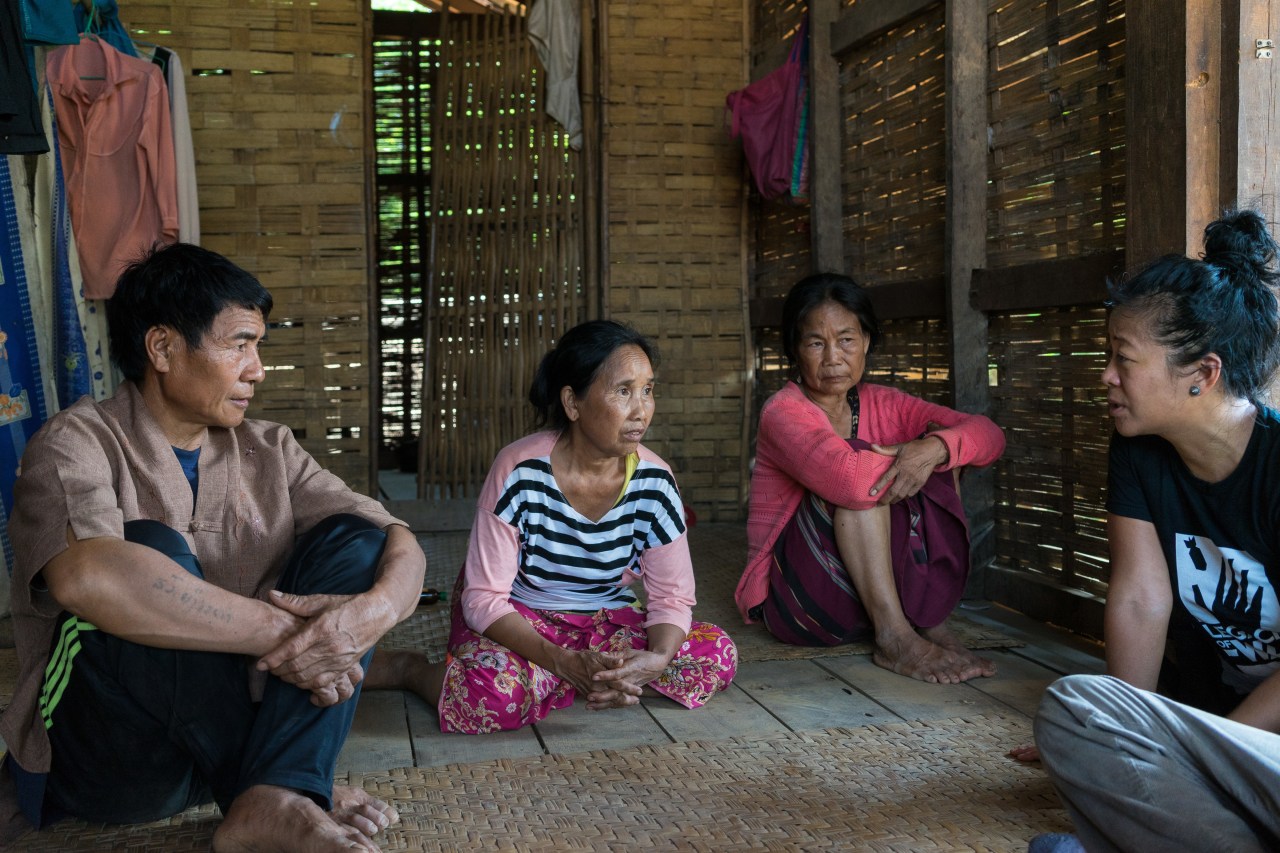 Khamvongsa fled war-ravaged Laos as a seven-year-old, and, like many young Lao migrants, the gap in her own history "was history itself."
"When we learned about the Vietnam War in high school, I think Laos was a footnote. And my parents did not want to talk about it, they wanted to forget that painful past," she said. The diasporic community she grew up with in Virginia was much the same. Everything changed when she came across a series of drawings of the catastrophic bombings, predominantly from Xieng Khouang province, made by refugees and collected by the antiwar activist Fred Branfman. When she founded LOW in 2004, she used the drawings in a traveling exhibition.
We'd traveled up the Mekong to Ban Houay Khey from the Pak Ou Caves, passing some of the most picturesque, bucolic countryside I've seen. Vast, jungle-swathed mountain ranges gave way to shimmering green rice fields, punctuated by soaring limestone cliffs and waterfalls cascading down into the wide, serpentine river. With us was a cohort of LOW board members, including Pennsylvanian Titus Peachey, the organization's chair. After working in Laos between 1980-85, Peachey brought the first demining project, through the Mines Advisory Group, to the country in 1994. "When I was up in those mountains, seeing the impact of the bombing campaign, I just thought, jeez, as an American here, how could I not do anything about it," he told me as we chugged upstream.
The UXO incident in Ban Houay Khey was the worst in Laos for that year and the biggest to have rocked Luang Prabang, which is not as heavily contaminated as provinces closer to the Vietnam border such as Xieng Khouang and Savannakhet. Still, what this means, Khamvongsa said, is that NGOs and demining groups tend to focus on the worst hit areas, creating gaping holes in victim assistance and education in villages like this one.
"I first came back here in November 2013, just a few months after the incident to see how they were all doing. It was one of the saddest visits I have been on. The whole community was really depressed and deeply shocked. There had never been an accident in this village and before this, they had no real knowledge or idea about the war and why it had happened, other than there were these foreigners in their country dropping bombs"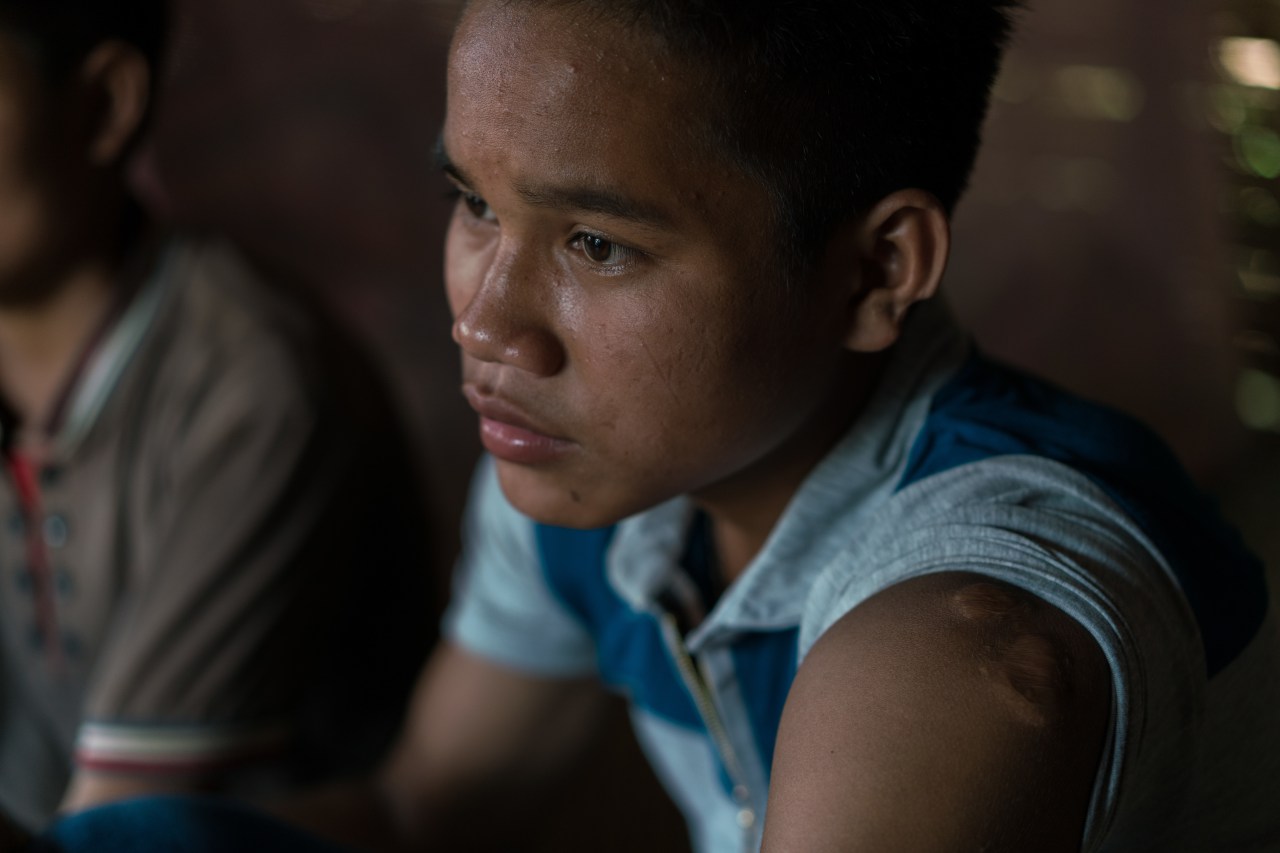 Khamvongsa said what had struck her was that Luu still had the drip bag he'd been hooked up to immediately after his surgery, even though it was more than two months on. "He'd never had any follow-up care," she said. "This made me realize the inequity in victim support in Laos. Here we were in the province of Luang Prabang, one of the most touristy parts of the country, and while there were demining groups active, there was not a single organization working here in additional, follow-up services."
Luu's father said his son still suffered the psychological scars of the incident, waking most nights from vivid nightmares. Many of the other villagers have the same disturbing dreams, his mother added. "There was no counseling after the accident or anything to help us deal with the collective trauma of what happened to us," she said.
Luu doesn't tell me much about what he remembers from that day, or the two children that died, but he said he avoids walking past the spot where the bomb went off. "It makes me scared. I don't like to be in the forest or the fields anymore, either," he said softly.
The family said they only recently paid off their medical debts, and yet while Khamvongsa confirmed that a war victims medical fund, set up by U.S.-based non-profit World Education and administered provincially through the local government and hospitals, officially covers costs such as surgeries and transportation, it often did not reach victims.
"Although the money is there, it's all so layered and often lacks coordination. In some provinces, it works more seamlessly than in others," she said. Khamvongsa also highlighted the fact that families of victims who die do not receive any of the assistance or services through the fund. "Funerals, which are deeply spiritual and require the slaughter of a whole cow, are not covered, which can cost up to the equivalent of about $500," she said.
"The biggest challenge we face is that most aid goes towards clearance and not victim assistance. That's why I bring people to this village," she said. "Even though Luang Prabang isn't the most heavily contaminated area, the victim support here is deplorable."
These gaps could be filled once a desperately needed national survey takes place, which people such as Khamvongsa hope will make all the difference, helping to map and determine how long the entire demining process will actually take, and how much it will really cost.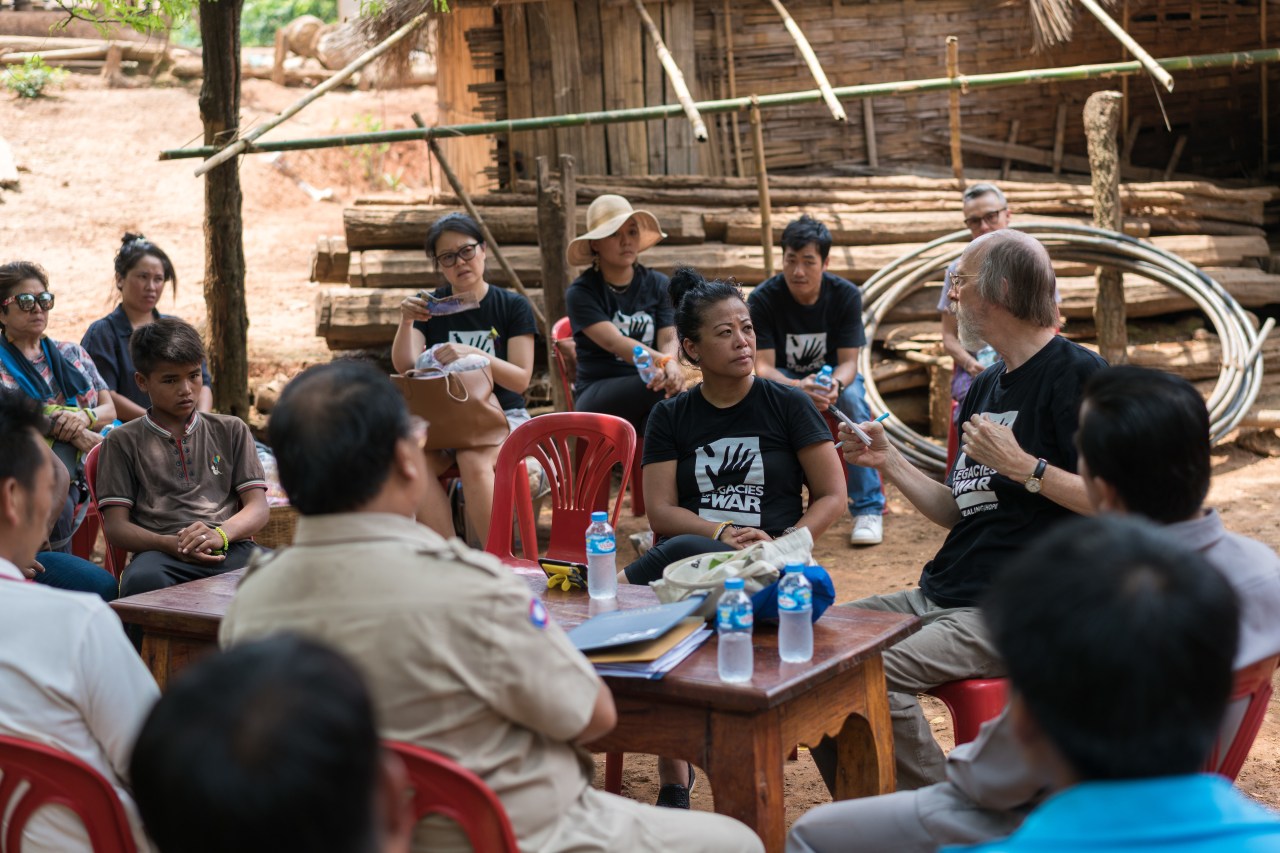 Last September, on one of his final trips as president, Barack Obama made a historic four-day trip to Laos—the first sitting U.S. president to ever visit. He also announced that over a three-year period, $90 million would be funded by the U.S. to help clear unexploded bombs. Half of which would go towards this national survey, while the other half would be allocated to demining groups such as UXO Laos and managed through the Laos government.
The new Trump administration, however, has brought with it dark clouds of uncertainty over the pledge, particularly with the announcement that the foreign aid budget would be slashed by up to 30 percent. With that said, the second installment of the $30 million was, just weeks ago, approved in the 2017 budget, right after Khamvongsa and the LOW team touched down in the Laos capital, Vientiane.
"After the incredible high of Obama's visit, we felt like we were in limbo. But there has been a positive side because it's meant we've had to head back to The Hill and increase our lobbying and outreach. For the first time, we were able to coordinate a "dear colleague" letter that was signed by both democrat and republican congress members," she said. Khamvongsa added that what also worried her was that the few victim support centers in Laos, such as COPE, rely on funding from USAID.
Houmphanh Chanthavong, the animated Luang Prabang provincial coordinator for UXO Laos said both he and his team of deminers felt frustrated by government and NGO estimates that the demining process could be complete by 2020.
"In my office, we have a piece of weaponry from 1945, from the French days. This stuff stays around a long time. UXO is littered in ravines and deep, impenetrable forest, you can't just go in and take it out, it's too dangerous. People that don't work on the ground don't understand the complexity and expertise it takes to work on this issue," he said.
For Luu and his family, the biggest solution is more obvious: money. "What is needed most in our village is for victims to be reimbursed for the burden it places on us. I also want to see more education about UXO. My son cannot work in the field when he grows up because of this injury," Luu's father, Bun, said. "I want him to study to be a teacher or doctor, yet to send him to high school is beyond our means. I want to see the Americans pay for the legacy they left behind."