Locals know there's another Las Vegas that's as artsy and outdoorsy as the Strip is mainstream and confined, where air-conditioned casino floors give way to breathtaking desert vistas, art galleries, and cozy coffee shops. To experience this side of Sin City, you'll want to start in the historic downtown that lies just north of the Strip's glitter, and leave plenty of time to check out some of the Valley's natural wonders.
9:30
am
Makers & Finders
1120 S Main St #110
Las Vegas, NV 89104
Get Directions
Greet the morning with a lavender latte at Makers & Finders, an Arts District spot that also serves up Latin comfort food like an arepa Eggs Benedict with coffee-rubbed beef, grilled tomatoes, and salsa verde hollandaise. Twentysomething owners and hospitality industry veterans, Josh Molina and Valeria Varela, decided Las Vegans needed a taste of the Third Wave java culture sweeping the country. The coffee menu of pour-overs, cold brews, and traditional cortaditos is informed by the pair's visits to farms throughout South America. Lounge on the outdoor patio, or take a seat at the communal table where writers, non-profit workers, and entrepreneurs plug in and caffeinate.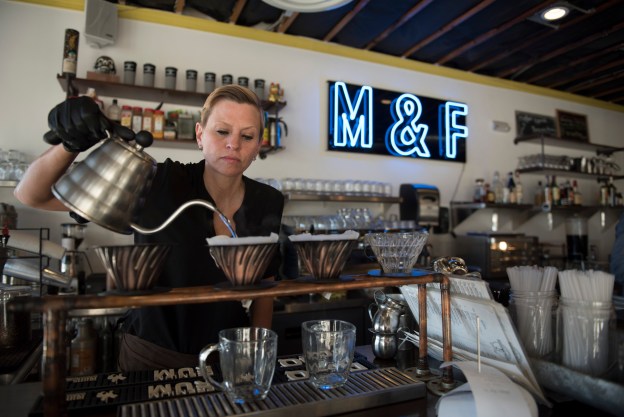 Thus fortified, it's time to shop for Atomic-era scores at the vintage shops that line Main Street, Las Vegas' unofficial furniture district. Developers are keenly eyeing this area as the post-recession revitalization of downtown continues, but for now, it remains a locals' bastion with a mix of budget emporiums, auto shops, and quirky stores that pay homage to the Vegas of yesteryear. Stop by Retro Vegas to ogle their collection of mid-century hanging lamps at affordable prices, then visit Patina Décor, a neighborhood favorite with a deftly curated selection of furnishings, apparel, and accessories. Don't forget to peek in the windows at one of the area's newest arrivals, ReBAR, a retro-glam dive bar where everything inside, from tables to glassware, is for sale.
A 20-minute walk or short cab ride will get you to historic Fremont Street, once the heart of Las Vegas' gambling and entertainment scene. Neon cowboy Vegas Vic still lights the way to throwback casinos like the El Cortez and the Golden Nugget. Skip the crowds of yard marg-wielding tourists at the Fremont Street Experience, and head east along Fremont from Las Vegas Boulevard, where Zappos CEO Tony Hsieh's Downtown Project has invested $350 million in real estate and interest-free loans to small, locally-owned businesses. Pause to take in the murals splashed over the walls of buildings, many painted in preparation for the Life Is Beautiful music festival which takes over the downtown streets for one weekend each fall.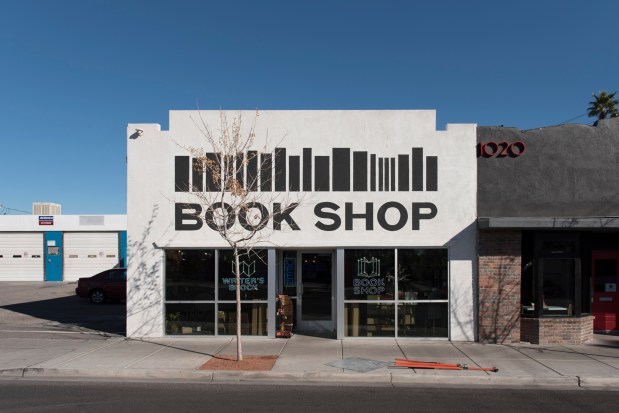 Check out The Writer's Block on Fremont between 10th and 11th Streets. Due in part to its suburban sprawl and relatively recent population explosion, Las Vegas doesn't have many bookstores. So when this whimsical, paperback-sized shop—which also bills itself as an artificial bird sanctuary—opened in 2014, it immediately became a favorite among literary locals. Inspired by the national 826 network of writing centers, the store hosts workshops for both children and adults in a rear classroom, and you can even print your own book on its binding machine. Across the street, 11th Street Records woos vinyl heads with selections both popular and obscure.
Double back to Seventh Street for a visit to Container Park—you'll recognize the indie shopping mall-slash-gathering space by the giant, fire-breathing praying mantis sculpture stationed outside. The park's repurposed shipping containers provide a colorful (and affordable) setting for mom-and-pop stores and eateries purveying everything from vegan jerky to sequined clutches. Go ahead and take a ride down one of the giant, twisty slides in the on-site playground; no judgment here.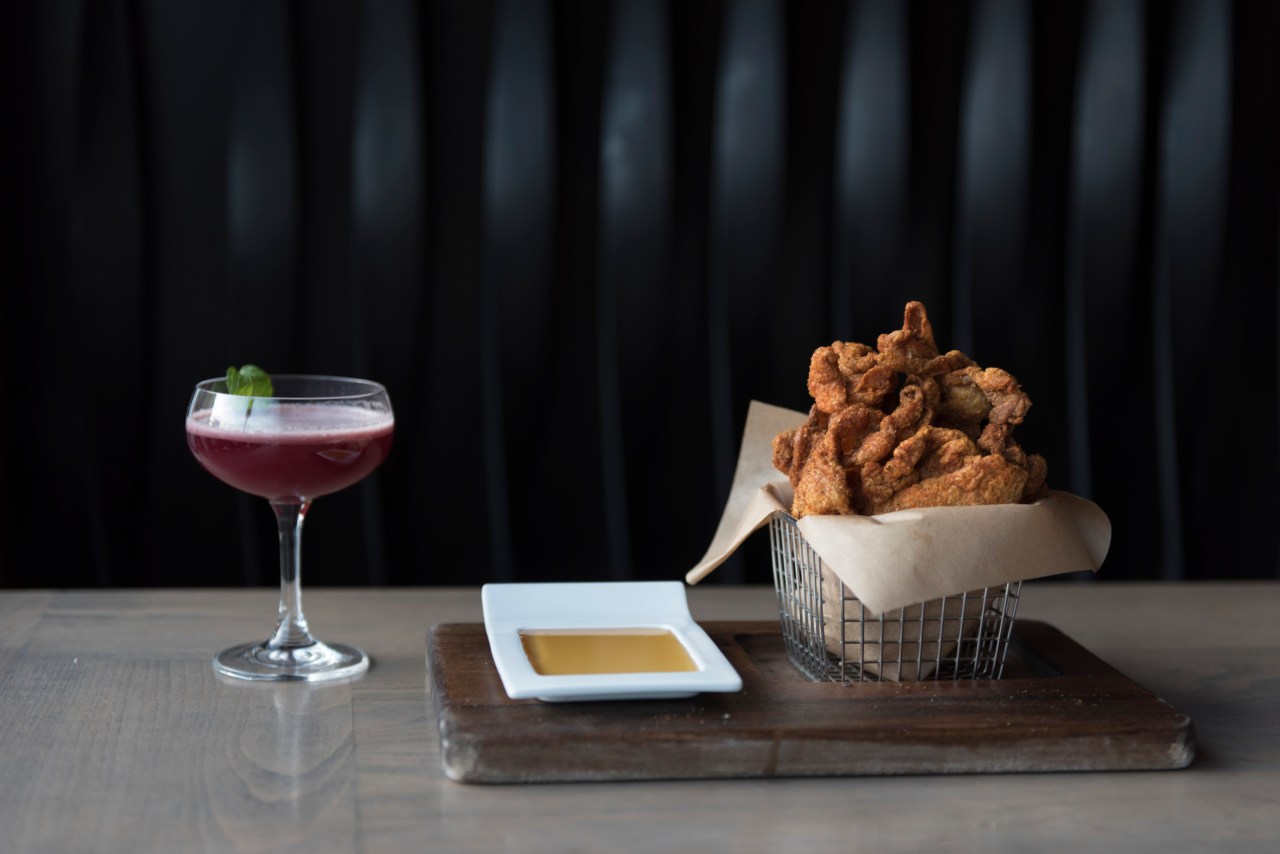 1:30
pm
John E. Carson Hotel
124 S 6th St
Las Vegas, NV 89101
Get Directions
Long before the rise of reality TV's celebrity chefs, beloved "Rock 'n Roll Chef" Kerry Simon became famous for his gourmet approach to casual dishes while rubbing elbows with musicians and other bold-faced names at his restaurants in Las Vegas, and around the world. He passed away last year, but his legacy lives on in Carson Kitchen, a bustling neighborhood eatery inside the repurposed John E. Carson Hotel, also home to office space, a donut shop, and a sushi restaurant. If it's nice out, nab a spot on the rooftop patio, where you can lunch on tempura green beans, gyro tacos, and oxtail risotto.
2:30
pm
Valley of Fire State Park
29450 Valley of Fire Hwy
Overton, NV 89040
Get Directions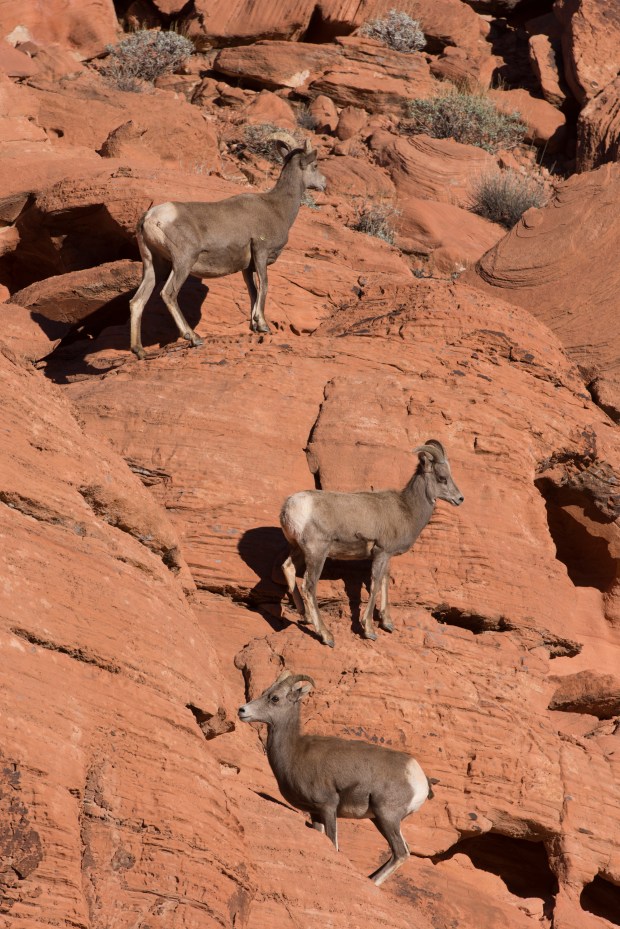 You could spend all day downtown, but then you'd miss out on the Valley of Fire. Nevada's oldest state park is well worth picking up a rental car downtown for the one-hour drive to its ancient petroglyphs and dramatic rainbow-striated rock formations. The landscape varies rapidly, from deep red to dazzling white, arches to domes, and craggy outcrops. There are several short, easy to moderate hikes—opt for the Mouse's Tank trail, named for an outlaw who supposedly hid out here in the 1800s—for your best view of the petroglyphs.
Both the Anasazi and Basket Maker tribes spent time here, and their etchings can work like an optical illusion; at first, you see only smudged rock, then you catch sight of one figure, and you soon realize they're all around you. Have fun inventing your own explanations for the scenes, which include many depictions of the bighorn sheep that still roam the park.
Looking for a shorter drive? Head 20 minutes west from downtown to Red Rock Canyon National Conservation Area, where you can drive a scenic loop along sandstone cliffs, hike through a slot canyon and meet endangered desert tortoises at the modern, solar-powered visitors' center.
6:30
pm
Neon Museum
770 N Las Vegas Blvd
Las Vegas, NV 89101
Get Directions
Dusk is the perfect time to explore the Neon Museum's boneyard, where docents give tours of old illuminated signs from classic Vegas haunts, accompanied by the most entertaining local history lesson you'll find anywhere in Sin City. Tours begin in the La Concha lobby, a curvy, Googie-style structure salvaged from a now-demolished hotel that was built in the 1960s, and they're packed with juicy tidbits about the Rat Pack era, the development of the casino industry, and the role of signs in luring in customers. You'll need to drive back downtown to reach the museum, and don't forget to book ahead; the hour-long tours fill up quickly.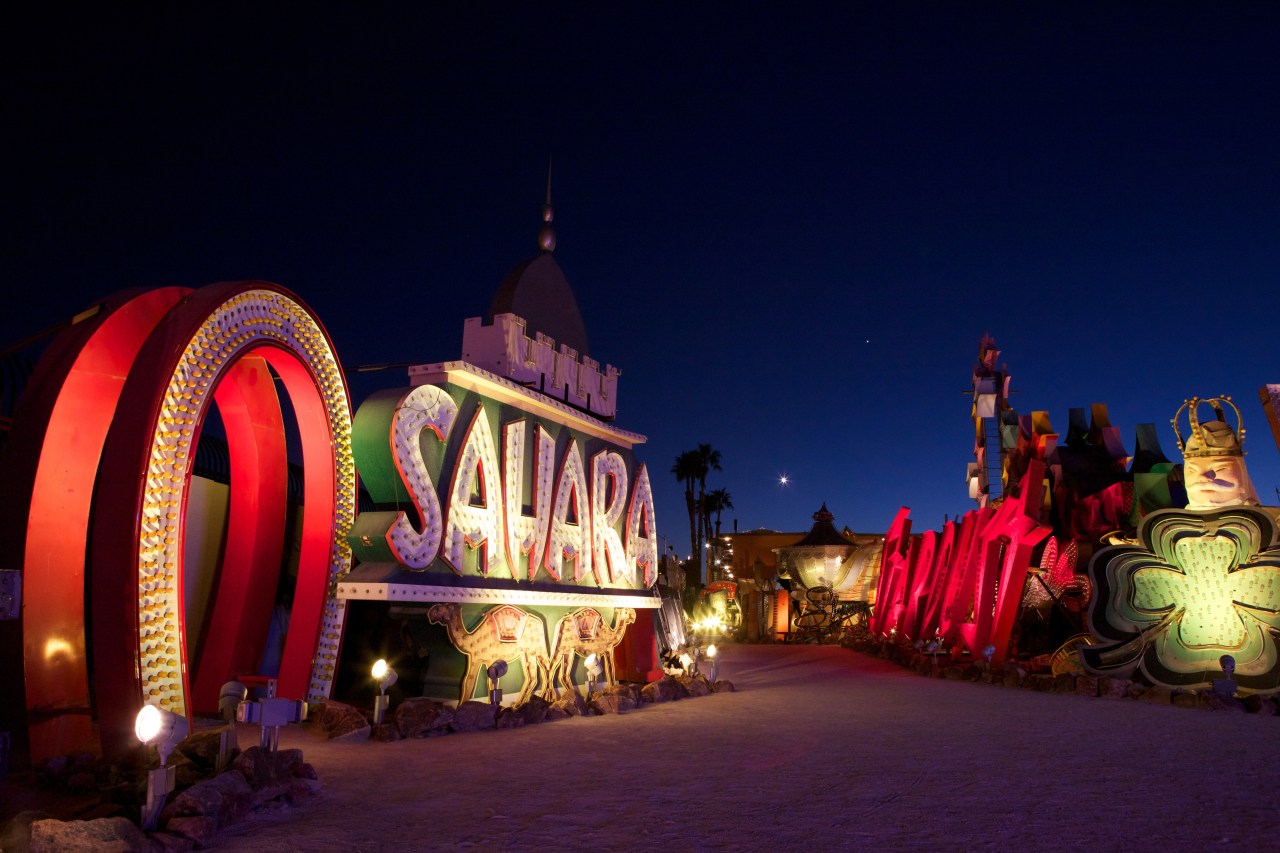 7:30
pm
Ichiza
4355 W Spring Mountain Rd #205
Las Vegas, NV 89102
Get Directions
The Strip's Michelin-starred chefs may attract most of the media attention, but for equally delectable cuisine at more affordable prices, locals head to Chinatown. Here you'll find Ichiza, an izakaya where the most surprising thing is not the enormous menu, but the fact that just about everything is well-executed, from daily sashimi specials to fusion concoctions like the Thai-inspired Tom Yum roll. Ignore the official menu and order from the specials list or the cards tacked up on walls throughout the restaurant. With most of the tapas-sized plates priced under $10, even picky eaters can afford to experiment with more intimidating dishes such as chicken gizzards with garlic sprouts. Large groups can commandeer the sunken, carpeted area in the back (reservations recommended, and no shoes allowed). Cap off your meal with the simple yet addictive honey toast, a buttery loaf stuffed with vanilla ice cream.
9:00
pm
Carbone
3730 S Las Vegas Blvd
Las Vegas, NV 89109
Get Directions
A Vegas visit wouldn't be complete without a quick pilgrimage to the tourist mecca that is the Strip, and luckily, some of the more sophisticated destinations are within walking distance of each other. If your dining tastes run more towards baller than boho, skip Ichiza, park your car at Aria Resort & Casino, and settle in for several courses of impeccable Italian-American cuisine at Carbone. The New York import's Sin City outpost has created an atmosphere that draws on the best of Old Vegas glamor, from the intimate, two-person recessed booths to the lavish chandelier that once hung in a 1960s Ferrari dealership. You can't go wrong with the classic dishes, but consider going for full-on crustacean decadence with a lobster-on-lobster feast of the lobster cocktail, followed by lobster ravioli.
A short walk across a pedestrian bridge from Aria, the alt-luxe Cosmopolitan strives to live up to its slogan: "Just the right amount of wrong." While it's lost a bit of its artsy cool since the takeover of new management in 2014, the Cosmo still offers the most character of any of the Strip's megaresorts, from the cascades of crystal chains that make up its multilevel Chandelier Lounge, to the vending machine selling miniature works of art. Your evening of cavorting and people-watching should include a visit to the bar at Rose.Rabbit.Lie, where tap dancers and soul singers combine for a contemporary update on the Vegas lounge act, as well as Beauty & Essex, the combination pawn shop-supper club that's become a celebrity hangout.
11:00
pm
Mandarin Oriental
The Shops at Crystals
3752 South Las Vegas Boulevard
Las Vegas, NV 89158
Get Directions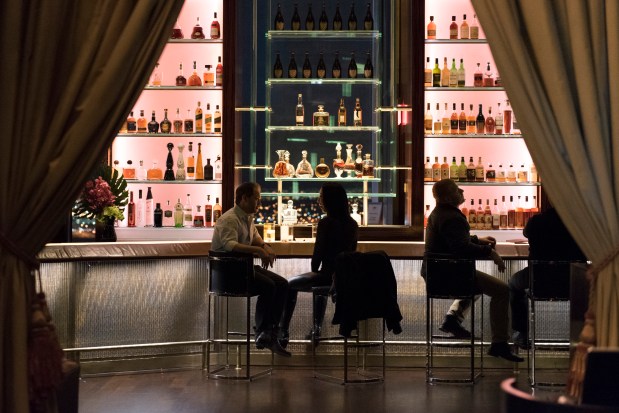 After a day of trekking to Sin City's lesser-known sights, you've earned a quiet respite. Step through the doors of the Mandarin Oriental—which does not have a casino—and immediately feel the energy shift from frenetic to serene. Take the elevator to the 23rd floor where by day, the hotel's classic English tea service is a popular date option in the Tea Lounge. Head farther back to the Mandarin Bar; floor-to-ceiling windows provide an unparalleled view of the Strip. Tea makes its way into the cocktails here, too, and the bar offers non-alcoholic versions as creative and complex as the boozy ones.
It's still early by Vegas standards. Plenty of time left for hitting the club or just enjoying the welcome comfort of a hotel room bed. Many of the tourists scurrying around far below will leave Las Vegas without ever having ventured beyond the Strip. You can lord it over them as you sip contentedly, knowing that, to paraphrase Frank Sinatra, you did Vegas your way.