Why is Marseille so under-appreciated? It took me 27 years on this earth to visit France's second-largest city and most of my Parisian friends still haven't stepped foot there, despite my constant nagging. Yes, I know it has the reputation of being dangerous and dirty. But when I'm on my third pastis on a plastic chair facing the Vieux Port and the sunset reflects on the bobbing sailboats, I keep going back to that question. On my fourth pastis though, I think that maybe, you know what, just maybe it's better that way. Mass tourism has ruined so many of France's cities, turning them into ridiculous caricatures of European "charm." Marseille is far from that. It's messy, it's loud, it smells of the sea, of spices, and yes, sometimes of trash. It's a gritty and sunny Mediterranean mashup, where some women go topless while others wear the hijab. Would you join me for a last drink? In the morning, I'll take you on my perfect day in the city.
9:00
am
Vieux Port fish market
Quai du Port
13002 Marseille
Get Directions
"Fish are born in water and die in olive oil" is a thing people say here. So let's start the day at the peak of their tragic but delicious destiny: the fish market. Every morning from 8 a.m. to noon, fishermen sell their catch—bream, octopus, eel—at the Vieux Port, the historic harbor and central point of the city. Familiarize yourself with this spot because it will be your point of reference for everything that's to come. Here, things are either located right of the Vieux Port or left of the Vieux Port. Simple enough.
This is where the city was born, founded by Greek navigators who, according to legend, took shelter from a storm back in 600 B.C. Today it houses 3,500 boats and takes a good half hour to walk from one end to the other. The Marseillais will tell you it's the most beautiful harbor in the world, and though they're known to exaggerate everything, I'll let them have this one. A sailor friend once told me that nothing compares to sailing into the Vieux Port—and he works in the Caribbean.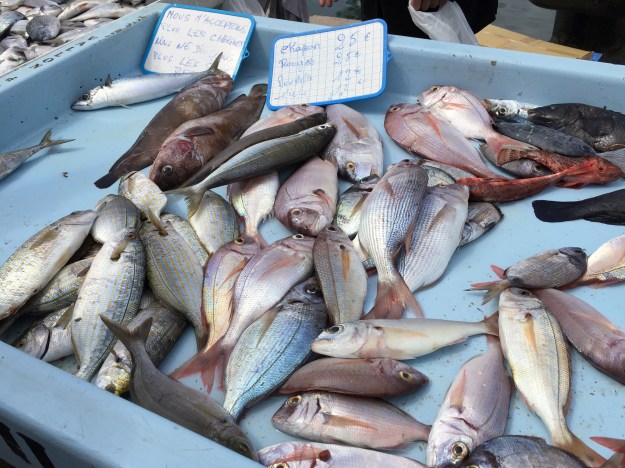 (Opening time varies.) At the right of the Vieux Port, you'll notice a stone tower. Go there. This is the entrance to Fort Saint-Jean, a 17th century beauty built on the orders of King Louis XIV to protect the city from outside threats. Today it's a museum, but unless you're feeling particularly drawn to an exhibition, don't worry about getting a ticket. You're here for the gardens, the gorgeous panorama, and of course, a light breakfast.
A little bit of context first: In 2013, Marseille was designated European Capital of Culture, and things around here started to change. The city put in place an aggressive rebranding strategy, attracting investors, jobs and visitors. It refurbished the Fort Saint Jean and next to it built the MuCEM, Museum of European and Mediterranean Civilizations.
Take the metal footbridge to access the museum's rooftop, where you can enjoy a croissant and a café au lait before getting lost in the elaborate latticework that covers the building.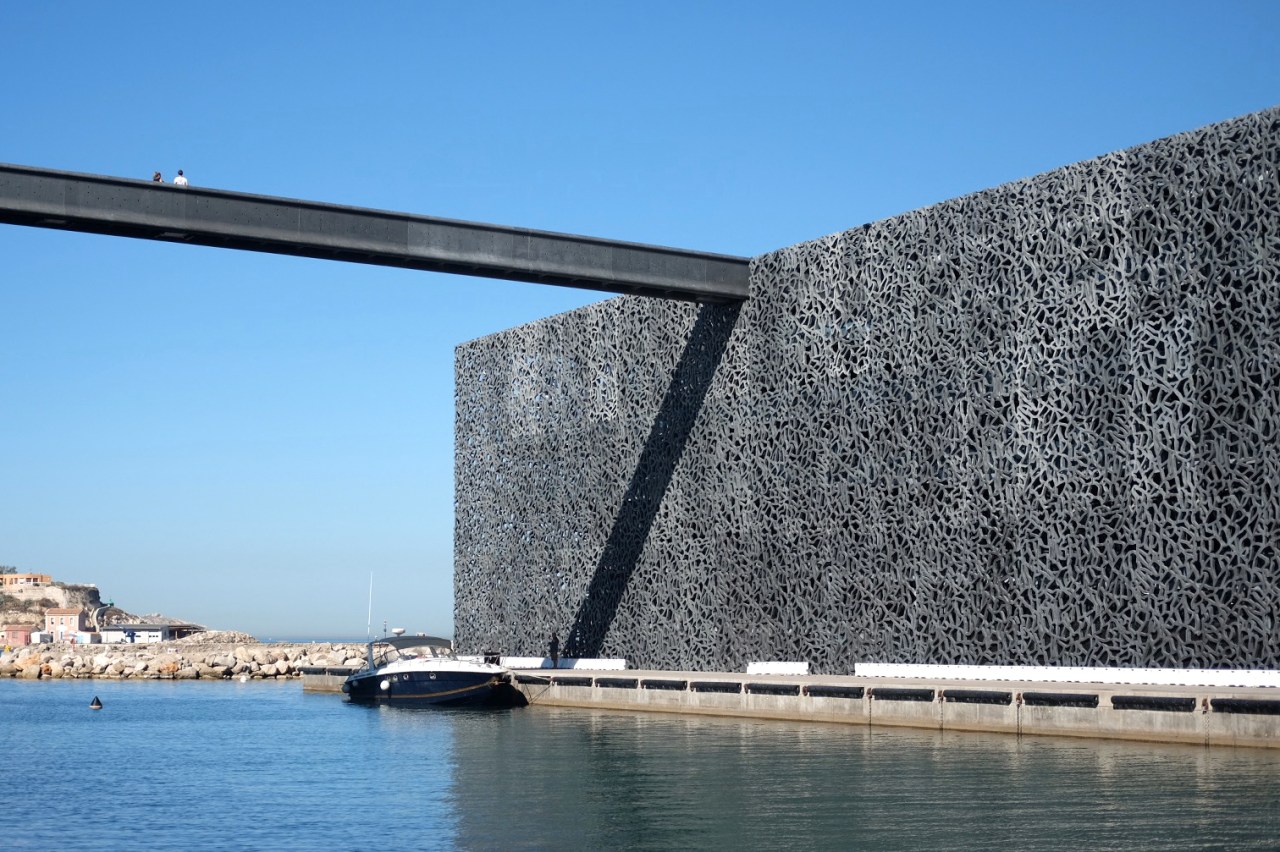 Find the second footbridge, which traverses the fortified wall and brings you directly to the neighborhood of Le Panier, which is somewhat famous for being the setting of France's very terrible TV show "Plus Belle La Vie." More interestingly, it's Marseille's oldest neighborhood and one in which many immigrants have settled throughout the years. First it was the Italians, who fled poverty at the end of the 19th century and then fascism. Armenians escaping the genocide also landed here, as well as Corsicans looking for economic opportunities. The narrow streets that were once said to hide bandits and thieves are now full of the modern tourist's favorite combo: street art and artisanal products.
Take Rue de la République down to La Canebière, the infamous high street that connects the Vieux Port to the neighborhoods of Noailles and Belsunce. The economic center of Marseille until the mid-19th century, the Vieux Port has long played a major role in the development of the city, linking it to France's African colonies and to the Far East. One of the first major cafés to open on La Canebière in the 1840s was Turkish; it served as a stop for travelers and merchants and had a large clock that displayed the time in various parts of the world.
Behind La Canebière, the neighborhood of Noailles reflects the diverse heritage of Marseille, a city often called "la première ville d'Afrique." North African immigration is nothing new here; when their country was still under French colonial rule, Algerians were sent to work in the oil and sugar mills of Marseille. Today they make up the largest immigrant group of the city, with Tunisians and Moroccans in second and third place.
Many ended up in the neighborhood of Noailles; a 2012 survey shows that nearly 50 percent of its 5,000 residents are immigrants. Have a stroll around the Marché des Capucins to stock up on spices, and most importantly, on tasty North African pastries.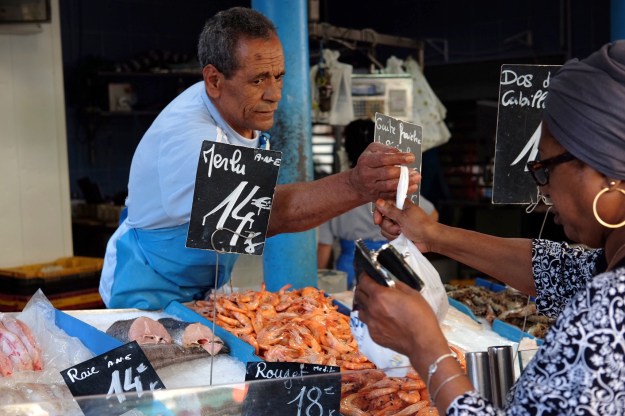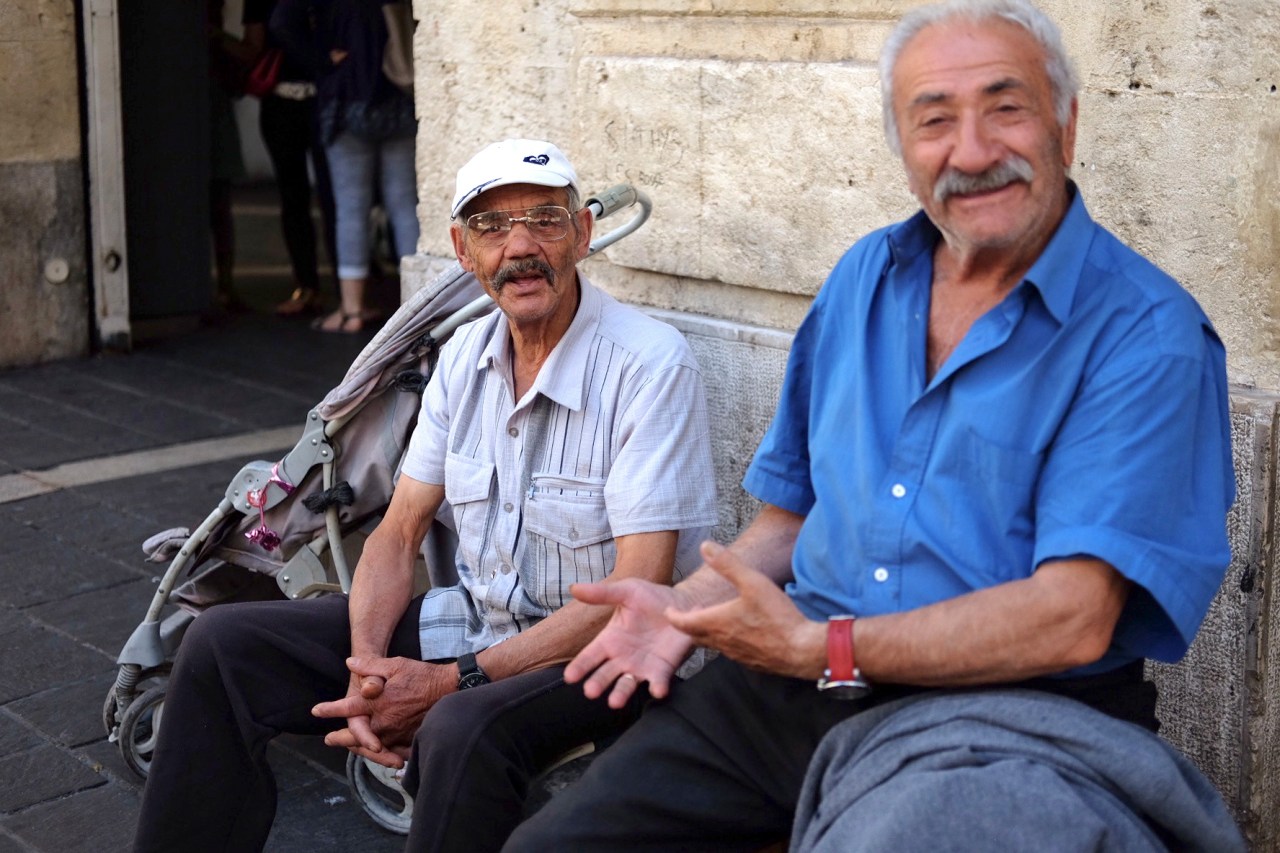 Let's have lunch at Nour d'Egypte, a cozy spot dedicated to promoting Egyptian culture through food, language classes, workshops and exhibitions. Everything on the menu is lovely, but I would suggest the assiette Nour, a selection of Egyptian mezzes that includes falafel, hummus, baba ganoush, fromage blanc, sausage, and is served with an cold coriander soup. Finish with a mint tea.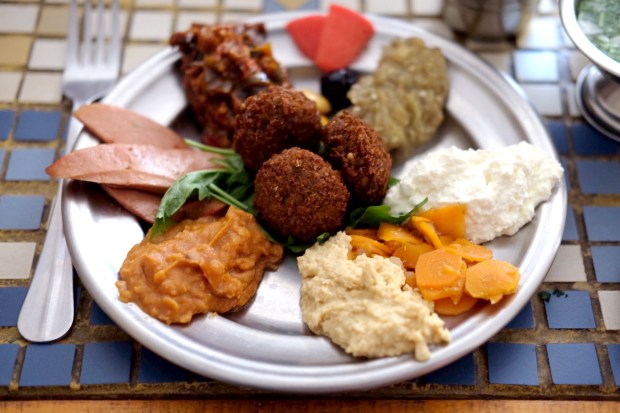 2:00
pm
The Corniche
Corniche Président John Fitzgerald Kennedy
13007 Marseille
Get Directions
Time to swim in the sea. Grab a public bike (they're free for the first 30 minutes) to ride along the Corniche, the famous road that borders the Mediterranean (left of the Vieux Port). It's a bit uphill, but biking is the second best way to get to the city's beaches after renting a scooter, which you should seriously consider. You won't even need a driver's license if you were born before 1987. I swear I'm not making that up.
As you follow the Corniche, you'll pass several beaches: Plage des Catalans (sandy and good for kids), Plage du Prophète (prettier but watch out for the rocks), and Plage du Prado (the biggest one, with something to please everyone). Pick the beach you like most, keeping in mind that the most beautiful spots are further out and require at least an afternoon trip.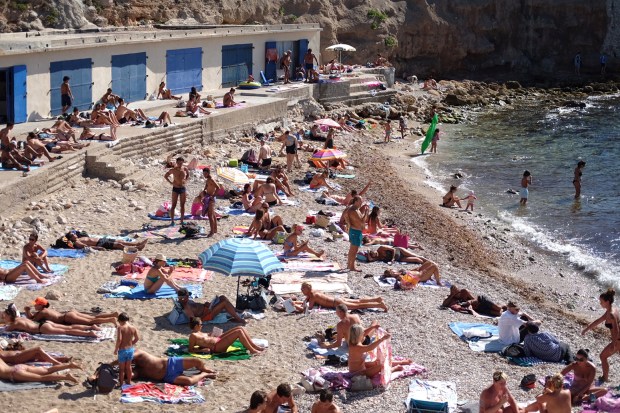 4:00
pm
Notre Dame de la Garde
Rue Fort du Sanctuaire
13281 Marseille
Get Directions
For over 800 years, "la bonne mère" (the good mother) has looked after Marseille's navigators, fishermen and sailors. Chances are you've already spotted Notre Dame de la Garde, a basilica with a golden statue that overlooks the city. Now that you've cooled down, you're due for a short trek up the hill—Marseille's highest point.
Yes, it's touristy, but this church is unlike any you've ever seen: it's covered in paintings, mosaics, and models of ships that seamen have brought over the years to thank the Virgin Mary after they survived a storm or a wreck.
5:00
pm
Au Petit Nice
28 Place Jean Jaurès
13001 Marseille
Get Directions
Drop your bike at Place de Castellane and walk to the neighborhood of La Plaine for an obligatory pastis at Au Petit Nice. Be warned! The name is pretty much the only thing this place shares with the Michelin starred-restaurant Anthony Bourdain visits in the show. I don't know about you but I sure as hell don't have that kind of money. No, this Petit Nice is a casual affair. Plastic chairs and tables cover a large, triangular terrace that's perfect for smoking cigarettes and drinking one euro pastis. You have to, you're in Marseille. And if you're not a fan of the diluted anise spirit, I will only allow you to order a perroquet (pastis with mint) or a tomate (pastis with grenadine).
Take a walk around Cours Julien's colorful streets and watch terraces swell up during apéro time. There are enough great bars, restaurants and shops to spend an entire evening in this neighborhood, but this is my day, and so with that in mind, stay with me as I suggest the next part.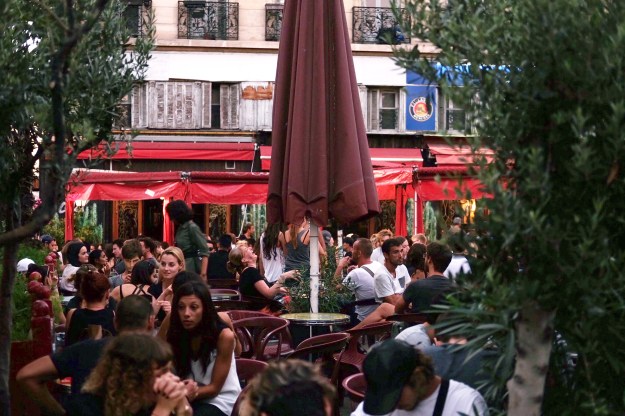 7:00
pm
Stade Vélodrome
3 Boulevard Michelet
13008 Marseille
Get Directions
A perfect day in Marseille is obviously a day when the OM, the city's soccer team and overall obsession, wins a game. Unfortunately, times have been tumultuous. I won't get into the details because I'm Parisian and I'd like to live a few more years, but if you understand French, maybe this recent video of the team's number one superfan after a 6-1 loss can give you a hint (if you don't speak French, anything after the fourth minute is pretty universal).
Despite it all, the OM will always stay close to the hearts of Marseillais. It's one of the oldest clubs in France and the only to have won the Champions League to this day. Watching a good game at the Stade Vélodrome can simply be described as insane. Have I convinced you? From Cours Julien, take the subway line 2, or just follow the large groups of people dressed in blue and white. On the way, stop at any of the many kiosks for pastis on the go.
7:00
pm
Vallon des Auffes
Mer Méditerranée
13007 Marseille
Get Directions
Alternatively, my second favorite thing to do in Marseille as the sun goes down is to hang out in the Vallon des Auffes. Take a bus or walk back to the left side of the Vieux Port until you reach a large, arched monument. Peak down before taking the staircase. This, for me, is the most beautiful spot in Marseille. In the 18th century, fishermen built small cabins here to rest after long days at sea. Now, families who I'm wildly jealous of live my dream life here.
Walk around the tiny, colorful streets, and take an evening dip if you're so inclined. Then, order a drink and some tapas at Viaghji di Fonfon and sit anywhere you'd like in between the boats, they'll bring the food to you.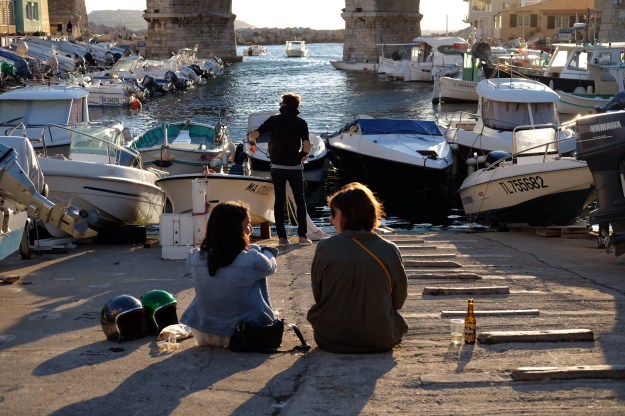 8:30
pm
Chez Fonfon
140 Rue du Vallon des Auffes
13007 Marseille
Get Directions
If you're feeling extravagant, head to Chez Fonfon next door for a bouillabaisse. Yes, it's expensive, but as all Marseillais know, you should never eat a bouillabaisse that's under 50 euros. There are three types of fish in that stew, as well as clams and mussels, so that should explain why. Chez Fonfon serves it for 53 euros per person, and it's always fresh and delicious.
Have a nice, digestive walk down the Corniche back to the Vieux Port and finish your perfect day there. As surprising as it might be for a Mediterranean city, Marseille is a city that sleeps early. The novelist Blaise Cendrars called it one of the most mysterious cities in the world: "Marseille is almost as old as Rome but has no monuments to speak of," he wrote. "Everything is buried underground, everything is secret." Perhaps that's why Marseille is so misunderstood. It is not a city of sites, but a site in itself.