Massachusetts has led the way in so many areas: The Revolutionary War started here, our doctors performed the first anesthesia and organ transplant, and we were the first state to allow same-sex marriage.
We're also culinary innovators. Many of the brands you know and adore got their start right here. Ocean Spray and Welch's? Massachusetts beverages. Necco wafers, Dunkin' Donuts, Fig Newtons, Friendly's restaurants? All native treats.
Certain dishes stand out among the rest. Some might argue about who does them best, but there's no doubt—in my humble opinion as a Boston Globe food writer (and Boston native!)—these six dishes are icons.
Boston Baked Beans
Like most Boston kids, I grew up eating baked beans. Easy Friday-night dinner? Franks and beans. Scoping a cookout? There was always a bowl of baked beans on the picnic table next to the potato chips.
Rich and molasses laden, made with navy beans, sometimes with little cubes of salted pork or soft onions added in, they're a native delicacy and a bit of an acquired taste. My husband, from Connecticut, refuses to eat the turgid little creatures. But I love them.
So did the Native Americans, who cooked beans long before the Pilgrims arrived. The dish became even more popular as Boston began exporting rum in the 1700s, popularizing one of its key ingredients: molasses.
Today Persy's Place, a humble breakfast and lunch spot with locations around Cape Cod, serves the best beans in Massachusetts. Order the fish cakes with a side of Boston baked beans. Tangy, saucy, and thick, they ooze into a brown puddle, softening the fish cake into a sweet stew of mealy joy. The Persy's website notes that "in colonial days, the beans were traditionally cooked overnight on Saturdays in a beanpot on the hearth of a brick oven and then served as a hot meal on Sunday mornings." The restaurant still uses a traditional "beanpot" (a deep, short-necked crock), albeit in a modern oven, to get that smoky flavor.
Oh and just one thing: Never, ever call Boston "Beantown." That kind of thing is reserved for out-of-towners trying to write cute travel stories and earns you nothing but scorn.
Boston Cream Pie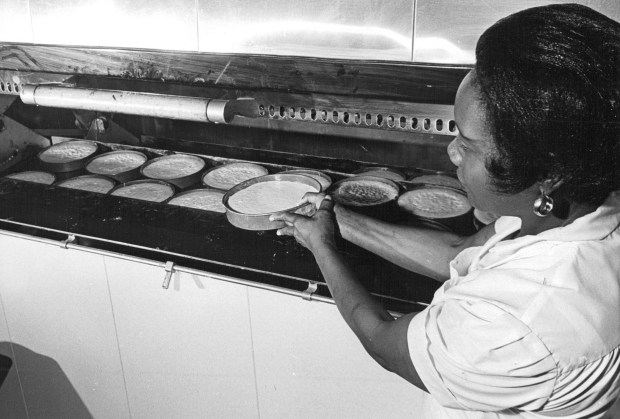 The official state dessert of Massachusetts is sort of like the Loch Ness monster of native sweets. You hear about it plenty, some claim to see it, but it smacks of being some kind of myth.
Boston's upscale Omni Parker House hotel lays claim to creating the dessert, which is more a sponge cake than a pie, really, layered with creamy custard and iced with chocolate. The original Parker House hotel, which opened in 1856, started selling the dish then, drenching chocolate icing onto sponge cake. It was a hit. The hotel restaurant, Parker's, still sells the cake, as does the gift shop.
The icing is firm and rich; the cake is squishy and dense. Is it the world's most innovative or unusual dessert? No. But it's straightforward and satisfying—a metaphor for Boston itself.
Fried Clams
Massachusetts is famous for its seafood: oysters, lobster rolls, haddock. But fried clams, craggy and sweet, are a gluttonous summertime indulgence that tastes so good but can hurt so much—after a certain age, fried mountains are hard to climb.
According to legend, Lawrence "Chubby" Woodman, owner of Woodman's of Essex, fried his first clam in 1916 at a friend's suggestion. It was a hit, and today Woodman's is a landmark shanty on the North Shore.
Order your fried clams piled high with fries and onion rings. The bellies are encased firmly in their battery jackets until you pierce them with your teeth. Then squish! A briny and sweet jiggling balloon explodes in your mouth. Dunk it in chunky tartar sauce for a layer of umami, fatty gloss.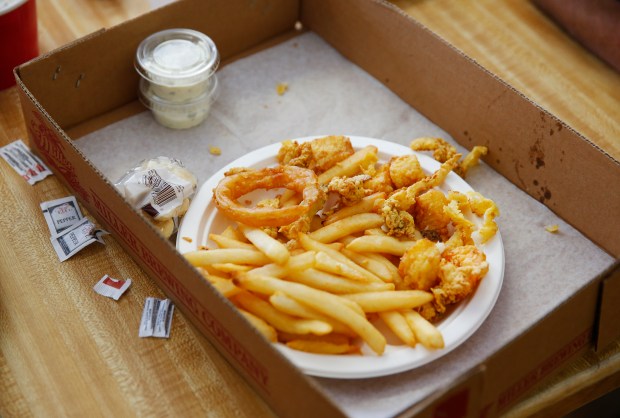 Marshmallow Fluff
Picture gluey white spackle smeared across your peanut butter of choice, sealed with spongy Wonder bread. It's the stuff of school-cafeteria fantasies. This is a Fluffernutter, classic midday fare for many Massachusetts children. Even grown-ups thrill at the sight of the gigantic white and blue Fluff tub, sealed with a cherry-red top.
The sinful goo—a whipped mix of corn syrup, sugar syrup, dried egg whites, and vanilla—was invented in Somerville by Archibald Query, who had been making it in his kitchen and selling it door to door. Or so the story goes. He reportedly sold his formula to local businessmen H. Allen Durkee and Fred L. Mower, who then churned it out in a factory in Lynn. Always enterprising, they even sponsored the Flufferettes radio variety show for a while, on which they advertised their product.
These days Somerville's Union Square hosts an annual Fluff festival of Fluff-themed snacks, like marshmallow taffy, popovers, and even empanadas. And Gracie's Ice Cream in the square serves up cones of Fluffernutterbutter—peanut butter ice cream with a Fluff swirl.
Cider Doughnuts
Nothing like them in the fall: plump, bready, and sometimes ringed with cinnamon sugar that sticks to your lips like an autumnal saccharine gauze. Massachusetts is rife with apple orchards, and you can find cider doughnuts at almost any orchard worth its salt (or sugar) come September. The Doughnut Corporation of America, in New York, reportedly made the earliest versions of these sweets in the 1950s. But over time they have become a distinctly Massachusetts treat.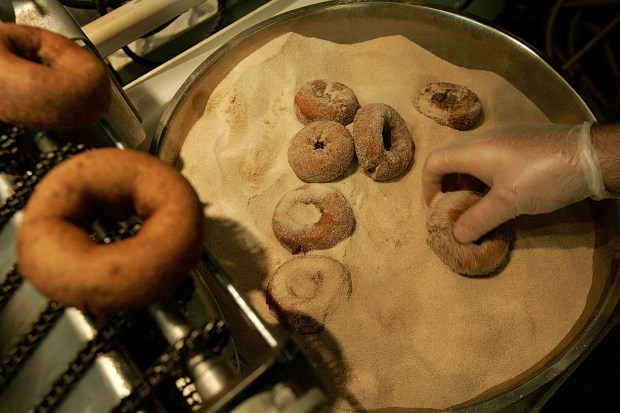 Atkins Farms, in Amherst, serve the best ones. This quintessential New England country mart opened in 1887 as a McIntosh orchard and grew into a retail shop in the 1960s, specializing in apple-themed jams and jellies. In 1972 the Atkins family began making apple cider doughnuts. The warm and mealy stout rings of breaded heaven are usually sold by the half dozen.
The shop is set in the middle of the Five College area, home to the University of Massachusetts and  Amherst, Hampshire, Mount Holyoke, and Smith colleges. It's a rite of passage for students to stop here for doughnuts and a carton of tart, crisp cider on groggy Sunday mornings once those leaves start to turn.
Herrell's Frappes, 1973
Everywhere else it's a milkshake. Here it's a frappe—a sludgy froth of milk, syrup, and ice cream, often served in tall metal canisters, poured into a curved glass like molten lava. Massachusetts natives eat (and drink) ice cream all year round: from boutique parlors, roadside stands, diners. But the best, thickest frappes are at Herrell's in Northampton.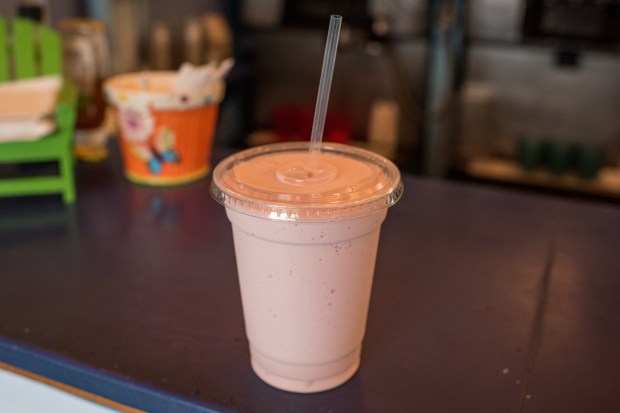 Herrell's was founded in 1973 by Steve Herrell, the guy responsible for Steve's Ice Cream in Somerville, once a local institution. Herrell pioneered the use of what we might call "mix-ins" today—the candy that gets smooshed into ice cream.
Steve's has passed into lore, but Herrell's still thrives down in the basement of Thornes Marketplace, a lovably indie bazaar of bookstores, coffee shops, candle peddlers, and hallway masseurs in the center of Northampton. And their frappes are sublime: They manage to temper classic flavors, like black raspberry, with out-there mix-ins, like jalapeño poppers. All drinkable.
Steve didn't invent the frappe, but he perfected it.