This recipe is our feminist riff on the common frijoles charros (cowboy beans). A vegan dish named after the women who fought in the Mexican Revolution (soldaderas), this features a smoky flavor—as if cooked over a campfire.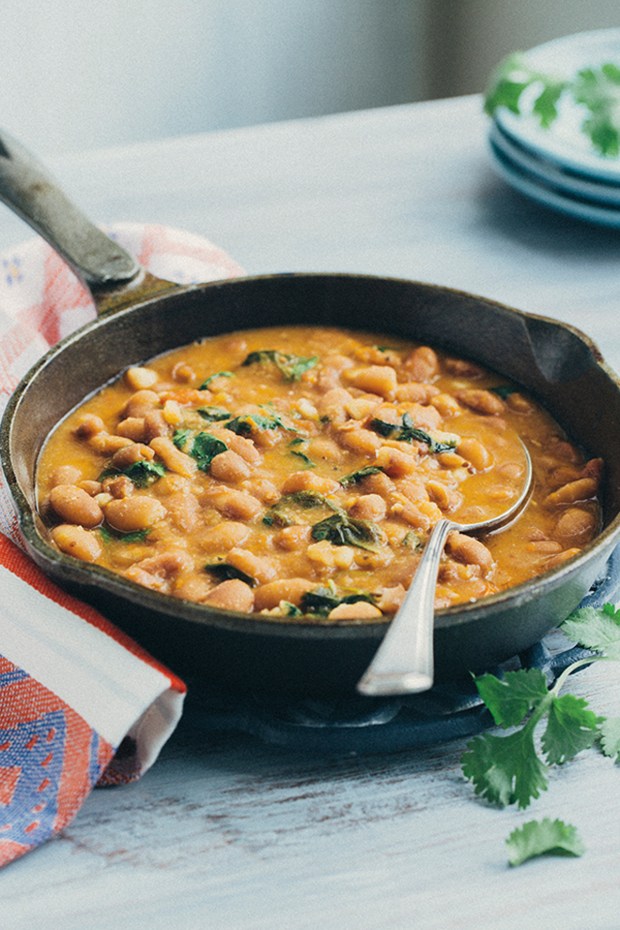 Ingredients:
(serves about 8)
1 tbsp extra virgin coconut oil
2 white onions, peeled and chopped
1 orange or yellow bell pepper, diced
1 head garlic (about 14 cloves), peeled and chopped
1 tsp cumin seeds, toasted and ground
1 tsp coriander seeds, toasted and ground
1 12-oz (355-mL) bottle lager beer (see Shopping Note)
1 tbsp dried oregano, preferably Mexican
2 bay leaves
1/4 tsp liquid smoke concentrate (optional)
1 tbsp minced Chipotles en Adobo or canned
2 cups heirloom beans (pinquito, bolita, vaquero, Good Mother Stallard, or pinto)
1 qt water
4 Roma or plum tomatoes, chopped or 1 14.5-oz (411-g) can fire-roasted chopped tomatoes
1/2 cup chopped cilantro
2 tsp sea salt
Shopping note:
We use a pure-brewed organic lager in this recipe. A Mexican beer would also work well.
Preparation:
In a large frying pan on medium heat, melt coconut oil. Add onions and cook for about 5 minutes. Add bell peppers and cook for 5 minutes. Add garlic, cumin, and coriander and cook until fragrance is released, about 1 minute. Pour in beer and stir in oregano, bay leaves, liquid smoke, and chipotle. Bring up to a slow simmer.
Transfer mixture, along with beans and water, to slow cooker. Cook beans on high heat for 4–6 hours or low 6–9 hours, or until skins are soft and insides are creamy. Add tomatoes, cilantro, and salt.
Reduce heat to low (if necessary) and cook 1 hour to allow tomatoes to soften and seasonings to meld.
Recipe originally published in Decolonize Your Diet: Plant-Based Mexican-American Recipes for Health and Healing, by Luz Calvo & Catriona Rueda Esquibel. Published by Arsenal Pulp Press, 2015.