Flying into Mexico City at night is an impressive sight—a blanket of lights that seems to go on forever. At 573 square miles and home to more than 20 million inhabitants, my hometown is a true megalopolis. This is nothing new, however. Founded in 1325, modern Mexico City arose from the ruins of México-Tenochtitlán, the capital city of the Mexica (also known as Aztec) empire, which finally fell to the disease-bearing troops led by Hernán Cortés on August 13, 1521. At the time, its population was close to 300,000. The city itself, a feat of early engineering, was larger, cleaner, and had better infrastructure than its European counterparts. It boasted floating gardens, sewage systems, and immense markets.
Today it is one of the most important cultural and financial centers in the world. It's a huge melting pot with thriving Jewish, Chinese, Japanese, German, and Spanish communities as well as pockets of indigenous Mexicans, some of whom still speak their native Nahuatl. It is a cultural and architectural wonder, blending global influences and styles spanning centuries. You need years to visit its 170 museums. It's no wonder the World Design Organization chose it as the sixth World Design Capital in 2018.
Much like the rest of the country, it is a city of contrasts, with immense gaps between the haves and have-nots. Mexico City will grab your heart, sometimes lifting it higher than the surrounding snowcapped peaks, other times pulling it right out of your chest, still beating with the anguish felt by the sacrificial victims of the ruthless Mexica rulers. Be prepared to be exhilarated and disgusted, delighted and saddened, amused and scared—possibly all within the span of a few blocks.
Choosing a perfect day to spend in CDMX—the city was officially rebranded in 2016 after decades of being known as the Distrito Federal, or simply DF—is no easy feat. There is so much to experience that I could give you 15 different perfect days all within the same general area, perhaps hundreds across the whole city. Taking into account the nightmarish traffic, I have chosen to highlight a mostly walkable route to begin your journey where it all began, in the heart of the city's Centro Histórico. Although it can be tricky (keep an eye out for uneven sidewalks and holes), look up as often as possible to admire the incredibly beautiful architecture. After all, the entire area is a UNESCO World Heritage site.
9:00
am
Azul Histórico
Calle Isabel la Católica #30, Centro, 06000 Cuauhtémoc, CDMX, Mexico
Get Directions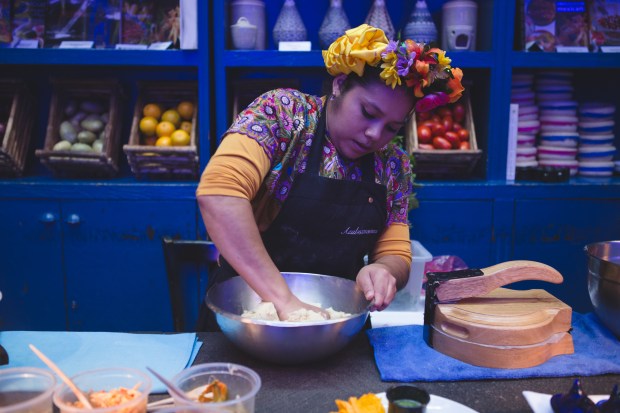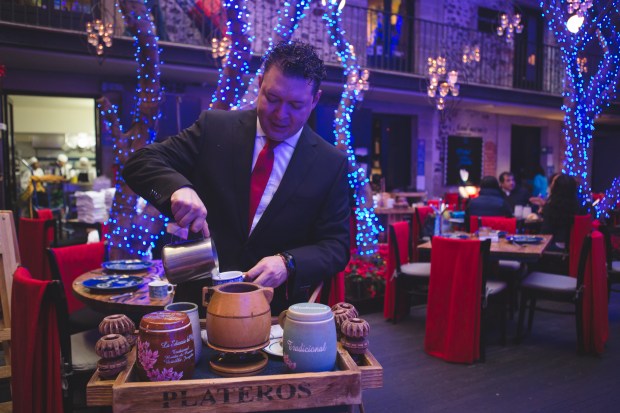 Start with breakfast at Azul Histórico, housed within the Palacio de los Condes de Miravalle, a stunning 17th-century palace, representative of the area's colonial style, built from native volcanic rock. The restaurant occupies the building's courtyard, surrounded by potted trees and strings of hanging lights. The owner, renowned chef and author Ricardo Muñoz Zurita, is a passionate scholar of Mexican gastronomic traditions and an advocate for the preservation of Mexico's biodiversity and indigenous products. His menu showcases classic dishes made with heirloom ingredients and the utmost care, served on handmade pottery. Try the huevos motuleños, a specialty of the Yucatán Peninsula, or the huevos rancheros con hoja santa, an herb of pre-Columbian origin that is still widely used in central and southern Mexico. Zurita hosts special festivals that highlight the cuisine of different states, so be sure to ask about the current festival menu. Mornings in CDMX can be chilly, so a cup of fair-trade Oaxacan coffee or chocolate will do you right. After breakfast take some time to browse the surrounding Shops at Downtown, a series of Mexican-owned boutiques, design shops, and food stores, including the lively mezcalería La Botica, and Que Bo!, manufacturer of artistic high-end chocolate.
10:00
am
Zócalo/Plaza de la Constitucion
Plaza de la Constitución S/N, Centro Histórico, Centro, 06010 Ciudad de México, CDMX, Mexico
Get Directions
Walk around the corner to Avenida Francisco I. Madero, which is now a promenade, and head to the impressive Plaza de la Constitución, also known as Zócalo. I still get chills every time I visit. Surrounded by colonial palaces, the massive Metropolitan Cathedral, and the National Palace, this central plaza hosts everything from seasonal artisan fairs to free concerts, including the now-famous anti-Trump spectacular by Roger Waters. It is also the site of the annual Independence Day festivities on September 16, when the nation's president steps out onto a balcony at the National Palace to reenact the cry for independence in front of an equal number of flag-waving supporters and jeering masses. Inside, the atrium and corridors of the palace are covered by Diego Rivera murals depicting the history of the city, from pre-Columbian to colonial, revolutionary, and modern times, showcasing his well-known Marxist sympathies and the struggle of indigenous and working-class Mexicans. One look outside and you can see that not much has changed since the 1930s.
11:00
am
Museo del Templo Mayor
Seminario 8, Centro Histórico, Cuauhtémoc, 06060 Ciudad de México, CDMX, Mexico
Get Directions
Just one block north is one of my favorite places to visit in Centro Histórico. In 1978, during construction of a new line of the subway system, workers accidentally unearthed a massive circular monolith with a relief carving of the Mexica moon goddess, Coyolxauhqui. This discovery was of great importance not only for its size and beauty; it also sparked the Templo Mayor Project, whose archaeological excavations between 1978 and 1982 recovered a collection of more than 7,000 objects as well as vestiges of the Great Temple of Tenochtitlán and surrounding structures. Built to house one of the most important findings in Mexico City's history, the Museo del Templo Mayor offers an easy-to-follow spiral layout that reveals many layers of history of the Mexica capital. Take your time strolling through the temple's ruins on a guided path that leads to the interior galleries, where you will glimpse life on the city's marshy shores. Aside from Coyolxauhqui, which is best appreciated looking down from the second level, the impressive polychrome relief of the goddess of the earth, Tlaltecuhtli, the largest sculptural piece of Mexica art found to date, is displayed in the main lobby.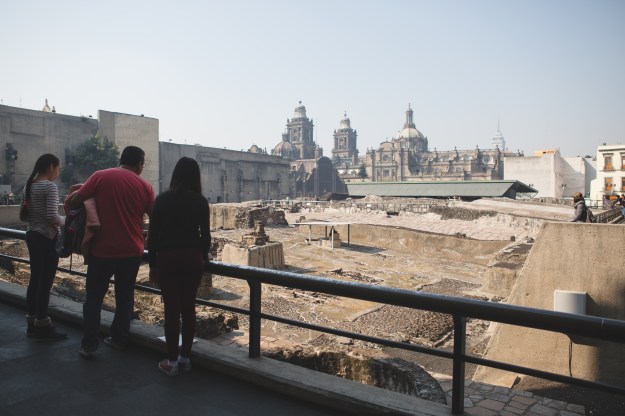 1:00
pm
MUMEDI
Av Francisco I. Madero 74, Centro Histórico, Centro, 06000 Ciudad de México, CDMX, Mexico
Get Directions
Now that you are familiar with the city's cultural past, it's time to look toward the future. Head back to the Madero promenade and walk half a block to the Mexican Design Museum, known as MUMEDI, where young artists and designers showcase the contemporary side of the Mexican experience. You are probably familiar with our fascinating relationship with death; at MUMEDI the theme continues. The gallery hosts four seasonally changing exhibits, the most recent titled "A la Muerte con una Sonrisa" ("To Death with a Smile"). There is a small coffee shop with space to sit back and enjoy a cup and a rest. Be sure to check out the shop, which features ceramics, jewelry, kitchenware, and more designed and made by local artists.
2:00
pm
Marisquería Las Palmas
Av Francisco I. Madero, 60, Primer Piso, Centro Histórico, 06000 Ciudad de México, CDMX, Mexico
Get Directions
All the walking and soaking up knowledge have built up your appetite. You have a few options depending on your mood. The main meal in Mexico City is the midday meal, usually taken between 1 and 2 in the afternoon, so be prepared to wait a few minutes for a table. Just one block west on Madero, you'll see on the right a hanging vinyl sign for Marisquería Las Palmas. Don't be fooled by the narrow entry housing an optical shop; go through to the back and climb the stone staircase to the first floor. The venerable seafood shop was once located in a space as narrow as a subway car. My grandfather used to take my mom there for fresh oysters and seafood cocktails served in tall frosted glasses or piled atop crisp tostadas, and she passed the tradition on to me. The new space lacks the charm of the original, but the increase in size means much shorter waits.
For something more formal, walk two blocks north to Calle Tacuba and head west to the legendary Café de Tacuba, serving traditional regional cuisine since 1912. The cafe is worth a visit for the decor alone, but the food complements the time travel to the old convent kitchens of early colonial Mexico. It is one of the places where my mom can enjoy one of her favorite dishes: batter-fried beef brain patties. I prefer the tender tongue in escabeche or the hearty enchiladas suizas, but the ample menu offers many classics.
Around the corner on Calle Allende, Tacuba's baby brother, Limosneros, is my oasis. At this time of day it is not as busy, and the cool stone walls, low lights, and loungy music offer a respite from the hectic streets. Ask for the mezcales of the day, which come direct from the maestros mezcaleros of the producing regions rather than brand-name distillers. I always order the tacos de carnitas de conejo, made from succulent rabbit, and the hibiscus-flower flautas with the house guacamole. If you are feeling adventurous, add crunchy grasshoppers to it or order other pre-Hispanic insect delicacies like escamoles, the larvae of an endemic species of ant.
3:30
pm
Palacio de Bellas Artes
Av. Juárez, Centro Histórico, 06050 Ciudad de México, CDMX, Mexico
Get Directions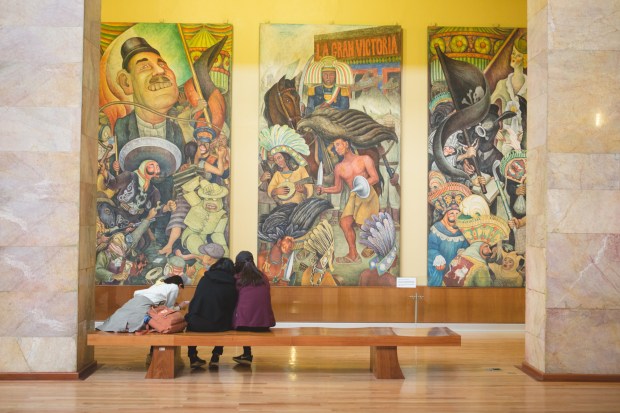 Time to walk off your food again. For a fun little detour, head one block north of Tacuba to Donceles, a street renowned for its many used bookstores. Follow the unmistakable smell of dusty, yellowing pages through the dark corridors lined with books from floor to ceiling. Some stores specialize in classic literature, others in history and coveted collectibles, but all carry a mind-boggling variety of books and magazines from bygone years.
Once you've browsed to your heart's content, and perhaps found something interesting to add to your collection, head west on Tacuba toward the Palacio de Bellas Artes. The iconic theater and museum was designed by Italian architect Adamo Boari at the turn of the 20th century, built from imported marble in art deco style, as desired by President (some will say dictator) Porfirio Díaz. It was to be the crown jewel of the lovely Alameda Central public park. In fact, the building is so heavy that it is sinking into the silty soil. It is home to performances by the Ballet Folklórico de México and the Orquesta Filarmónica de la Ciudad de México, and its sumptuous halls are decked with murals by Mexico's most renowned painters, including Rivera, David Alfaro Siqueiros, Rufino Tamayo, and José Clemente Orozco.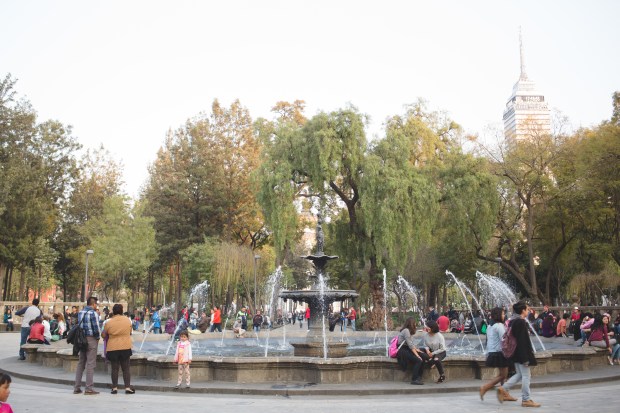 The adjacent Alameda Central, the city's first park and promenade, dates from 1592. In colonial times it became the playground of the high strata, but by the 19th century it returned to public domain, the gardens were updated, and electricity was added in the early 1850s. I love walking its length, admiring its fountains and monuments, all surrounded by concrete benches where school kids play, lovers cavort, and street vendors take a rest. Sundays bring a bustling, lively scene with families, performers, live music, and food stalls. If you haven't had enough Rivera yet, take a peek at his 1947 homage to the park, titled Sueño de una tarde dominical en la Alameda Central, at the Museo Mural Diego Rivera, just one block beyond the end of the park.
6:30
pm
Quintoni
Avenida Isaac Newton 55, Polanco IV Sección, 11560 Miguel Hidalgo, CDMX, Mexico
Get Directions
You can't say you've seen CDMX without at least a drive down Paseo de la Reforma, nicknamed The Mexican Champs-Elysées. Grab a taxi and head toward the plush Polanco neighborhood, en route to dinner at Quintonil. Along the way, gaze at some of our most iconic monuments: the statue of Mexica emperor Cuauhtémoc; the fountain dedicated to Diana, the Roman goddess of the hunt; and the Monument to Independence, better known as "El Ángel." This area is also the city's main financial district, filled with modern, award-winning skyscrapers built after 1985 with state-of-the-art, anti-earthquake technology. You will briefly see the entrance to the Bosque de Chapultepec, the lungs of the city. Its lakes, forests, and museums deserve their own perfect day. But right now you are hungry.
Helmed by chef Jorge Vallejo and his wife, Alejandra Flores, Quintonil is currently my favorite high-end restaurant in CDMX. Other deserving chefs receive more acclaim and publicity, yet Vallejo remains somewhat in the shade, even as his restaurant has appeared on various best-of lists. Quintonil flawlessly balances ancient and cutting-edge, sophisticated and relaxed, professional and friendly. The seasonal menu includes small-production and heirloom ingredients in exciting combinations and merges traditional and unusual Mexican ingredients with international techniques—ceviche de nopales, pork-jowl confit, or Jerusalem artichoke tamales, for instance. It's a true melting pot, with an edible organic garden on the roof. Make sure to make your reservation well in advance, and prepare to experience the future of the Mexican table.
10:30
pm
Licorería Limantour
Av. Álvaro Obregón 106, Roma Nte., 06700 Ciudad de México, CDMX, Mexico
Get Directions
Outside, the brisk night air calls for one more walk to get a nightcap. As luck would have it, a few blocks away is one of CDMX's leading cocktail bars. Sure, it is hip and filled with youthful groups starting their evening, but at Licorería Limantour you will find the perfect cocktail, whatever your preference. The party ambiance will keep you going, and—who knows—you may end up making new friends. I always feel more relaxed once the staff from nearby restaurants start arriving and the people who just served me dinner are now sharing drinks with me.