Yangon, the former and commercial capital of Myanmar, is one of the few cities in Southeast Asia that is on a path of transition towards modernization after having survived several wars, colonialism, and dictatorship. Even as its skylines are filling up with high-rise buildings and its reused spaces are packed with more developments, the city's ambiance still echoes with its traumatic pasts.
For 13 years now, Yangon has been my home. Growing up in a small town where most of its residents commute by motorbike, I never thought that I would end up settling in Yangon, where cars dominate the city. In some other countries' cities cars will stop for you if you're crossing the road. In Yangon they expect you to run. It is challenging and fun at the same time. The city of over 5 million people was the country's capital until 2005, when the ruling military government designated Naypyidaw the new administrative capital. After the country opened up to the world in 2011, the government eased the rules on foreign investment and visa restrictions. Since then a growing number of tourists from across the globe have traveled to Myanmar, formerly called Burma.
The city was originally named Dagon in the early 11th century and was called Rangoon under British colonial rule. In 1989 the military government changed its name to Yangon. The unique charm of Yangon is its attempt to straddle urbanization and heritage preservation. The city's vibrant mix of cultural, religious, and gastronomic identities, along with its rich urban heritage, holds an appeal for curious backpackers from around the world.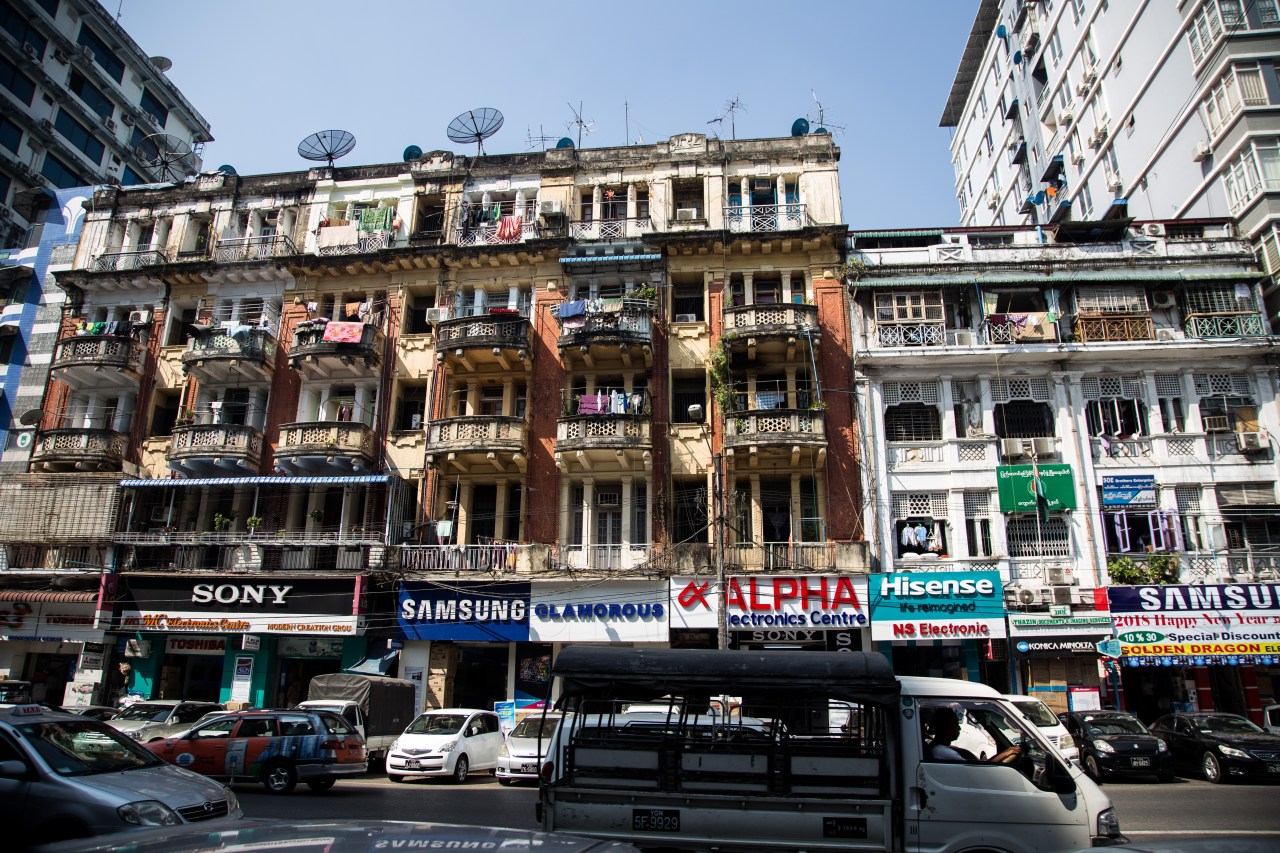 Tour operators recently reported, however, that many tourists shun the country amid one of the greatest humanitarian crises of the decade, which has seen hundreds of thousands of Rohingya fleeing crackdowns by the military, mostly by heading to neighboring Bangladesh. Growing international condemnation of the fledgling civilian government, led by the country's de facto leader, Aung San Suu Kyi, may also discourage foreign visitors from traveling to Myanmar. But Myanmar deserves better than a renewed isolation—so does Yangon.
When foreigners are asked to visualize Myanmar, many conjure up images of hot air balloons over foggy ancient Bagan temples and the leg-rowers of Inle Lake in Shan State. While there is no denying the magic of these tourist hot spots, Yangon is still a huge part of Myanmar's identity. Its streets and neighborhoods offer any resident or visitor an opportunity to explore its character and potential.
6:30
am
Myaung Mya Daw Cho Mohinga
No.16, 11th Street(lower block)
Yangon
Get Directions
Wake up early to start the day like a local—with mohinga and a cup of tea. Make your way to Myaung Mya Daw Cho Mohinga at 11th Street (lower block) in Lanmadaw Township. Mohinga, a rice-noodle dish with fish soup, is one of the favorite, most common breakfasts in Myanmar. It is even considered to be a national dish. The dish consists of rice noodles served in sweet catfish soup. There are several choices for add-ons—fried peas, gourd fritter, boiled egg, fried fish cake or ei kyar kway (deep-fried twisted dough sticks).
Street hawkers, tea shops, and even fine restaurants sell mohinga, but every shop has its own distinct taste according to the origin of the recipes. Most of the famous mohinga recipes are from the Irrawaddy Division, the delta region of the country where fish is abundant. Most mohinga shops mention the town in their name to boast the origin of their recipe. The name of the recommended mohinga shop, Myaung Mya Daw Cho, suggests that its recipe's origin is Myaung Mya, a town in the Irrawaddy Division.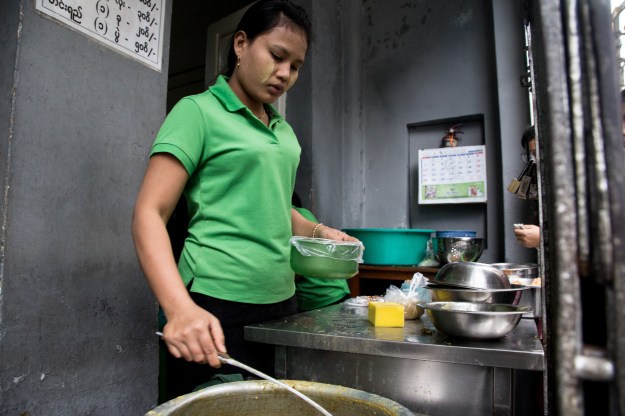 The shop is open to customers before dawn and closes around 9 a.m. when most of the city's commercial businesses begin their operation hours. It is usually packed around 7 and 8, so you might need to wait awhile to get a table. A bowl of mohinga costs around 1,000 kyats (less than a dollar); the inclusion of add-ons adds a few hundred kyats to the cost of the meal. The sweet, pastelike fish soup and noodles will get you ready for the day.
After breakfast, it's time for tea. Walk down to 17 12th Street on the same block. There is a local tea shop called U Chit, one of the better-known traditional tea shops in the area. Tea shops are an important part of Myanmar's cultural identity. They occupy nearly every corner of the commercial capital's streets and have great local energy. Combining black tea, evaporated milk, and sweetened condensed milk, making tea is not as simple as it seems. While there are a variety of tastes for a cup of tea, pone hman (normal sweetness) and kya seint (bitter and creamy) are the more popular choices among the locals. A cup of tea costs no more than 500 kyats.
After fueling up, it's time to discover the central part of the city before it gets too warm. Taking public transportation during rush hour isn't ideal. But from 12th Street it only takes about 15 to 20 minutes to walk to the city's center. On the way you will pass through Chinatown and the Muslim quarter, side by side. Although it can be a little chaotic, walking through the city's narrow pedestrian sidewalks and passing crowded apartment buildings and shops will get you a glimpse of what local life is like.
Yangon City Hall, Independence Monument, Sule Pagoda, Immanuel Baptist Church, and the Bengali Sunni Jameh Mosque are located in close proximity to each other in the center of the city. These structures are evidence of the diverse and harmonious past of Yangon, which, I find, adds to its uniqueness. The Sule Pagoda, situated on a roundabout at the heart of the city, stands over 150 feet high and is said to be more than 2,000 years old. Don't forget to check out the small photo studios that surround the pagoda; some have been around for a couple of generations. Have a classic portrait photo taken at one of them.
9:30
am
Sharky's
No. 81 Pansodan Street, between Mahabandoola Road and Merchant Road
Get Directions
Take a stroll around Maha Bandula Park Street, Bank Street, and Pansodan Street, home to a unique collection of the city's heritage buildings. Along this route you will get a good sense of what Yangon was like in the early 20th century: an important cosmopolitan city in Southeast Asia. This neighborhood was home to government offices, banks, and businesses during that time. The High Court, Lokanat Building, Telegraph Office, and old offices of Irrawaddy Flotilla Company and Bombay Burmah Trading Company have particular architectural significance. Strand Road, at the lower end of Pansodan Street, features more colonial buildings, including the Custom House and the Central Post Office.
After a tour of the heritage buildings around the Pansodan area, you will probably like to head to Sharky's for the best ice cream in town. It will cost you 3,500 kyats (about $2.60) per scoop and 500 kyats more for a cone.
One place you should not miss after walking around the Pansodan area is the Secretariat. The massive complex occupies an entire 16-acre block between Bo Aung Kyaw Street and Thein Phyu Road and between Anawrahta Road and Maha Bandula Road. It is the former seat of the British colonial administration, where General Aung San and his ministerial colleagues were assassinated on July 19, 1947, just prior to Myanmar's independence, in 1948. Although public access was severely restricted in the past, visitors can now enter the compound of the red-brick colonial structure, which has existed for more than 120 years, and sit at its temporary canteen.
Tip: If you want to learn detailed stories of the old buildings in the area, you can book the walking tour organized by the Yangon Heritage Trust, an organization that advocates for the preservation of the city's historical buildings. It takes place on Wednesdays, Saturdays, and Sundays; tours are available in the morning and afternoon. Each tour lasts approximately two and half hours and costs $30 per person.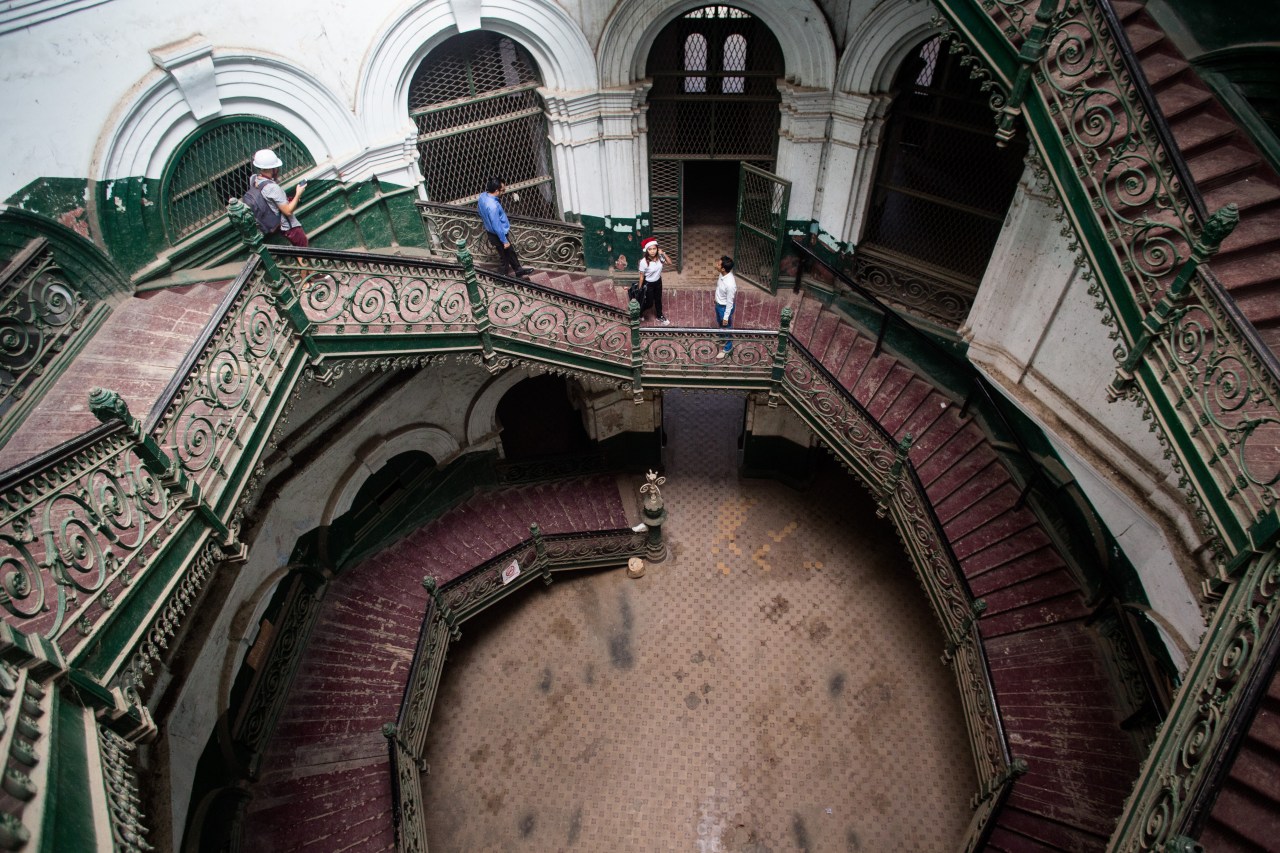 12:00
pm
Khaing Khaing Kyaw Myanmar Food Center
Maha Bandula Park St, Yangon
[Many locations around the city]
Get Directions
It's lunchtime and Khaing Khaing Kyaw Myanmar Food Center, located in the upper Maha Bandula Park Street, is the perfect place in the area to savor the local cuisine. The restaurant is multistoried, but space on each floor is limited, as it is in many other downtown restaurants. I usually go for one of the fish main dishes as it is fresh, tasty, and offers more options than most other Myanmar-cuisine restaurants. My favorite is the spicy fried catfish. And the adventure is very affordable—around 4,000 kyats ($3) for a single course meal including a traditional dessert. But the best part about the restaurant is its self-service section for free side dishes.
1:00
pm
Cafe Genius
No. 220, 31st Street, Upper Block, Yangon
Get Directions
After lunch, let's get caffeinated. Cafe Genius is less than 10 minutes' walk from the lunch restaurant, and it offers the best local coffee. It's owned by Myanmar entrepreneur Ngwe Tun, who has been trying to promote and market local coffee domestically and internationally. His coffee beans are grown and produced in Ywar Ngan Township, in southern Shan State, where he provides the coffee-origin tour around his nursery and plantations. He believes Myanmar coffee deserves more attention than it's receiving now. You will agree with him after you taste his Genius coffee.
1:30
pm
Bogyoke Aung San Market
Bo Gyoke Rd, Yangon
(Closed on Mondays)
Get Directions
It's time to go shopping. Formerly known as Scott Market, old Bogyoke Aung San Market, on Bogyoke Aung San Street, is a hub for textiles, fashion accessories, art supplies, handicraft souvenirs, and jewelry, especially jade. It opened in 1926 and nowadays is not only the most renowned marketplace for Yangon residents but also an attraction for foreign tourists. Make sure to bargain for at least a 30 percent discount off the original prices.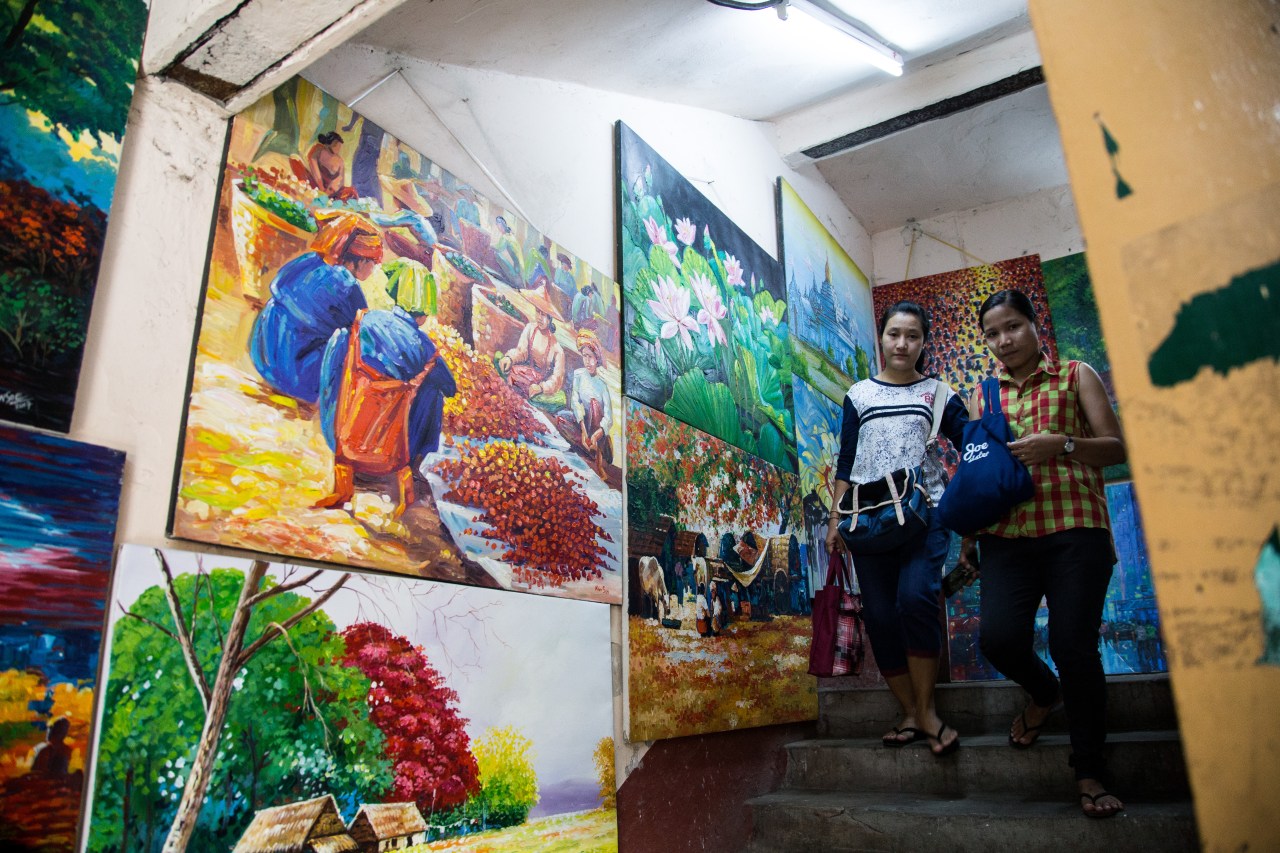 Enough walking—let's go ride a train at the Yangon Central rail station, at the eastern side of Bogyoke Aung San Market. Built in the 1950s, the train station is reminiscent of an era that has passed. The Circle Line covers a railway track of 30 miles and stops at 39 stations; it's the best and cheapest way to get a glimpse into the daily life of Myanmar's people and take a break from the hectic commercial landscape. Many vendors, students, and even company staff take the Circle Line to beat the city's traffic.
It takes about three hours to complete the whole journey, but you can always get off at a station and take a taxi back downtown. Trains depart the Central station every 45 to 60 minutes, and tickets can be purchased for 100 to 200 kyats (7-15 cents). You can opt to ride in an air-conditioned car, but I recommend skipping this more touristy option.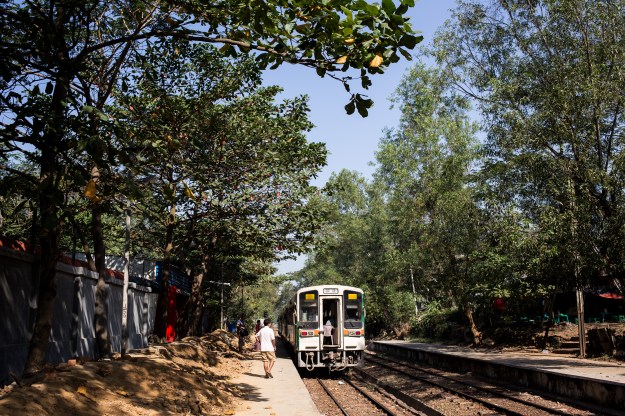 5:00
pm
Shwe Pu Zun (Golden Shrimp) Cafeteria and Bakery House
246-248 Anawrahta Rd.
Yangon, Myanmar (Burma)
Get Directions
Let's treat your stomach to some good local desserts at Shwe Pu Zun (Golden Shrimp) Cafeteria and Bakery House. It has two shops next to each other and serves some of the best local desserts. The bakery is famous for its faluda, a mix of custard, ice cream, and jelly in milk, a real treat for the sweet-toothed. An order of faluda costs 1,500 kyats ($1.12).
A visit to Yangon won't be complete without visiting the Shwedagon Pagoda, the most sacred and famous Buddhist pagoda in Myanmar. The 2,500-year-old, 325-foot-tall pagoda enshrines strands of Buddha's hair and other relics and dominates the city's skyline. There are eight corners, each for a different day of the week, with Wednesday split into two corners according to the time of day. If you know which day you were born on, you can go to your respective corner and pray there. The entrance fee is 10,000 kyats ($8) per person for foreign tourists. Visit Shwedagon before the sun sets to feel the tranquility of the place—unless it's during a festival period, when the pagoda becomes extremely crowded.
Dress code: bare feet—leave your socks and shoes at the bottom of the pagoda. Cover your shoulders, and don't wear shorts or skirts above the knee. If you don't have the appropriate clothing, you can borrow it for free at the entrance.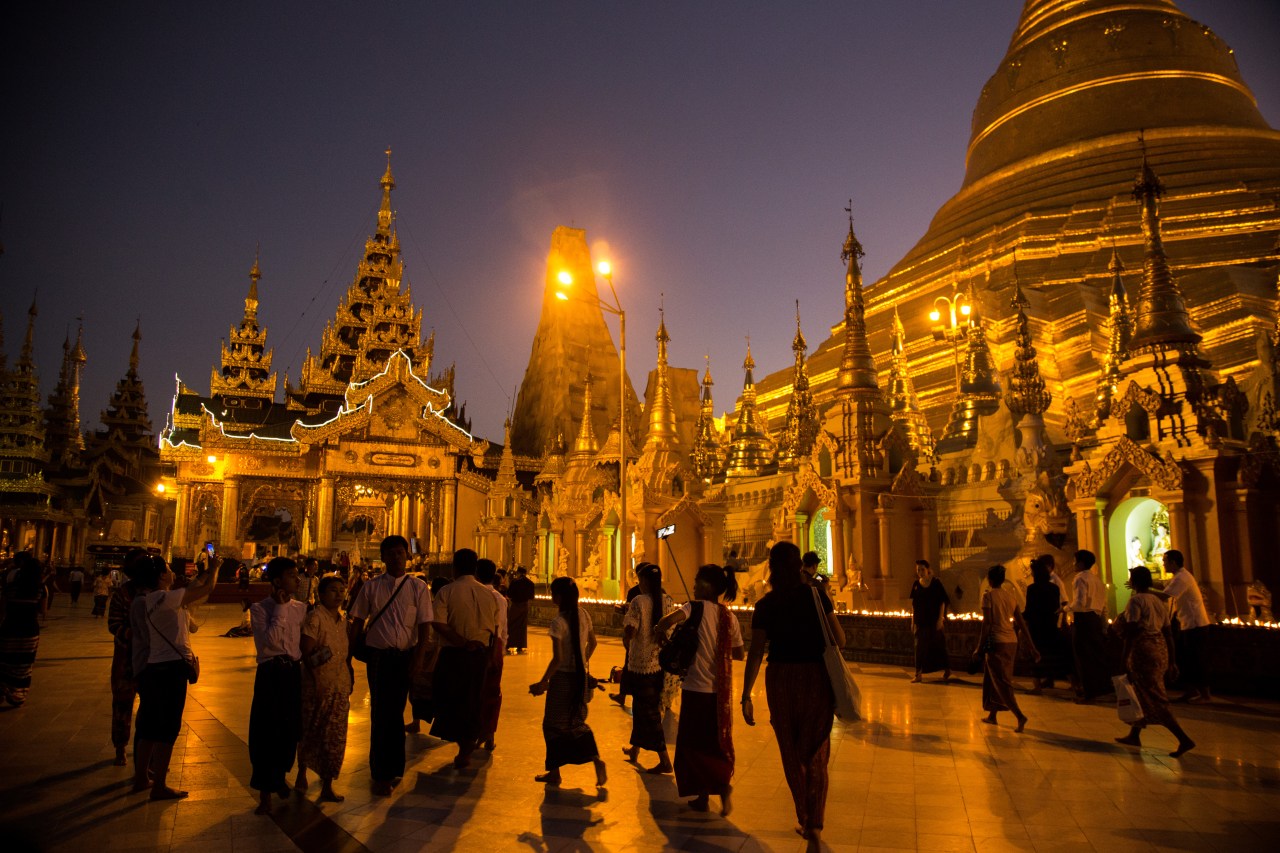 Time for dinner at Shan Yoe Yar. This is an ethnic Shan-style fine-dining restaurant that serves a selection of Shan dishes in an air-conditioned wooden house. Recommended dishes are pounded eggplant, steamed chicken and onion leek, tofu and mustard leaves, and fish rice. The prices at Shan Yoe Yar are a bit higher than other local Shan restaurants, with these dishes ranging from 2,500-3,700 kyats, but it's worth it (and still under $2-$3).
End your perfect day with either Chinese barbecue or a 360-degree view of the city. Yangon doesn't have much nightlife beyond Chinatown's 19th Street and bars. The 19th Street scene can get extremely crowded some nights with both foreigners and locals, but it's definitely worth taking a look at. Nearly every shop on the street sells barbecue and beer.
Another option is Yangon Yangon, a bar with a prime location on the rooftop of the 20-story Sakura Tower on Bogyoke Aung San Road. There's a cover charge of 5,000 kyats ($3.75), but it includes one drink. The drinks can be a bit pricey, but the view from the bar makes up for it.