Ryan Cleary was a 24-year-old cub reporter when Canada's Fisheries Minister John Crosbie announced the shutdown of Newfoundland and Labrador's cod fishing in July 1992. Cleary was sitting in the front row of a tense hotel conference room, and he could hear fishermen gathered outside the room beating on the door.
"The security guards put chairs through the handles so they wouldn't open, but at the same time, you could see the doors being rammed. Afterward, we learned that the fishermen outside had their shoulders to the wheel trying to get in," says Cleary. "They were upset about the fact that Crosbie wasn't speaking to them face to face."
The day before, when Crosbie visited the fishing community of Bay Bulls, near St. John's, he was confronted at the waterfront by a thousand-strong mob of angry townspeople. Finally cracking under the pressure, he shouted back at them, "I didn't take the fish from the goddamn water."
"They were upset about the fact that Crosbie wasn't speaking to them face to face."
Something big did happen, but it wasn't good news. In March of this year, data from the Canadian Department of Fisheries and Oceans came in showing a startling collapse in northern cod stocks, contradicting all its predictions. Karen Dwyer, a stock assessment biologist and the lead scientist on cod stock analysis at the department, says cod survival rates—the percentage that survive annually—dropped from 70 percent to 48 percent in a single year, plunging spawning stock levels further into the critical zone, where they have been since long before the moratorium.
She says there's no clear explanation for the drop-off, which takes into account removals from the fishery and natural mortality, from "starving fish, old age, disease, predation, and competition." The current focus of study is on declines in fish populations that cod prey on: capelin, a small forage fish that fishermen say used to roll in by the hundreds of thousands every year.
"There is a strong link between capelin abundance and cod abundance," says Dwyer. "But also, in the absence of capelin, [cod] look for other fish. There were a lot of forage fish such as shrimp around in the last while, and we've noticed declines in those stocks as well … Shrimp stocks are down, crab stocks are down. So there's something ecosystem-wide going on."
Though she hopes that with caution and better circumstances, stocks might one day return to the levels of the 1980s—still in the critical zone—the unknown factors of these broader changes in the ecosystem mean that there's not a lot they can do to get them there other than manage catch quotas.
"Other than fishing mortality, there's very little we can do to change the way the stock is going," Dwyer says. "If there are more capelin, then stock should do better. However, the scientists for capelin also say that fishing impacts are very low on the capelin stock. So I'm not sure what we can do to increase the cod stock other than controlled fishing."
For fishermen like O'Neill, who have been heading out to water every year and hoping for a return to the old ways, April's bombshell report and its lack of clear answers came as a punch to the gut.
"It's hard to swallow that after 25, 26 years, the cod is no better off," he says. "If there's a total collapse in it, that's it. You have to go."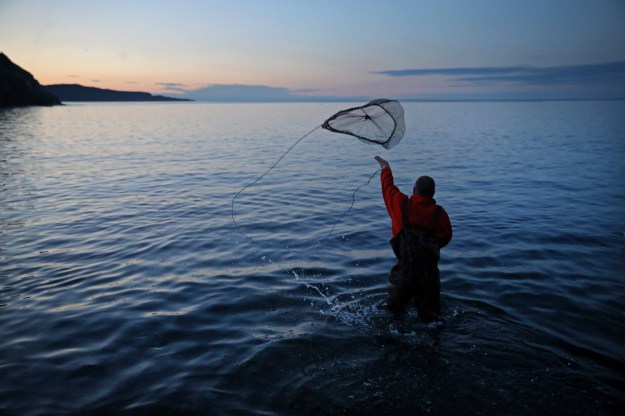 The fishermen who were angry 26 years ago are still angry. As they see healthy cod fisheries in countries like Iceland and Norway—different cod in different ecosystems that can't be compared, according to Dwyer—they wonder aloud about mismanagement or conspiracy that has made their situation futile.
In the time since Cleary worked as a reporter covering the 1992 codfish moratorium, he has been a federal member of Parliament for the progressive New Democratic Party, a failed provincial candidate for the Progressive Conservatives (on the other side of the political spectrum), and now the outspoken leader of the Federation of Independent Sea Harvesters of Newfoundland and Labrador, an unaccredited rebel union of fishermen tired of the status quo claiming that the current situation was entirely avoidable and attributable to poor policy and mismanagement. He says that this isn't about relitigating the mistakes of the 1980s and 1990s and that the union is arguing for stronger approaches to science and better incorporating the knowledge of fishermen, as well as a shakeup of the establishment Fish, Food and Allied Workers union, for those who he says find themselves with no benefits, pension, or right to strike. After this latest report, he worries that those he represents are finally giving up the fight and accepting that the cod aren't coming back.
This year Cleary attended the northern cod management meetings in the same hotel room that he reported from as a young journalist. "Twenty six years ago, you had fishermen trying to barge into the room. This year I don't think there were any fishermen in the room or even near the room. And the news today is worse than it was back then."
One man who hasn't given up is Richard Gillett, a sixth-generation fisherman and the vice president of Cleary's new union. Gillett has been fishing for 33 years out of Twillingate, a spectacular town about five hours north of St. John's. These days, it's better known as one of the best places on earth for tourists to get up close and personal with icebergs. Fishing mostly for herring and mackerel with three boats and six crew members, he hasn't always been popular with authorities. Last year he pleaded guilty to charges of overfishing capelin. Before that, he went on an 11-day hunger strike in front of the offices of the Department of Fisheries and Oceans in St. John's, demanding urgent changes to policy, including an independent review of its science methodology. He says the main point he wanted to get across was that science was looking in the wrong direction, focusing on particular stocks in isolation and not at how everything is entwined in the complex ecology of the Atlantic Ocean.
"People not talking to one another can run you into a situation where the whole fishery and the whole ecosystem is not being managed," he says. "The fishermen know where the fish are, what way the tide is running, and where the fish lay. That is our job."
Gillett hasn't seen much in the way of change, but he doesn't regret taking up the fight. "I said a year ago, before I started the hunger strike, that if we don't do something about it or have an independent review into the science … We're definitely going to go further down the rabbit hole than we're already at."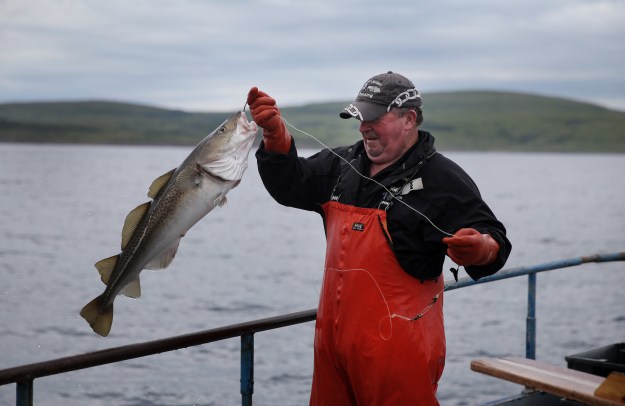 Dwyer acknowledges that relations between the department and those out on the boats have often been fraught but rejects the notion that she and the other scientists aren't taking the advice of harvesters into account.
"This is one of the most data-rich stocks in the world," she says. "We include representatives of the industry at the meetings, and they usually bring their knowledge with them." She added, "They are required to fill out logbooks on their catch, so they're a big part of this equation. I think the relationship between science and the industry has improved. I would like to think that we could improve it even more, but yes, I'd like to think that it's getting better."
Gillett, on the other hand, says he's done with peaceful protests, alluding to rumblings of deeper discontent and conflict ahead as the remaining harvesters find their last surges of anger. But he's not sure where it all goes from here.
"I've been finding in the past couple of months a lot of fishermen have been saying, 'Don't call me if there's any more peaceful demonstrations.'" he says. "'If you're not ready to burn something, beat something up, or throw something out the window, don't call me.'"
In Port Kirwan, Gerald O'Neill carries on with a kind of bleak ambition despite the shock of the latest data and what little hope it promises for the future of his community.
"Us old fellas here now, we're here until we pass away," he says. "You got to be the eternal optimist and hope and pray that tomorrow is going to be better."